Hair Clippings Catcher
Trimming your beard can leave your bathroom sink a real mess. The cleanup can be very problematic, as beard hair goes everywhere, and is hard to get every small hair that falls onto the sink. In this review, Beard King Beard Bib Review I will review this product and put it to the test, see if it is worthy of buying. I have a feeling I will love this thought as I hate cleaning up after trimming my beard.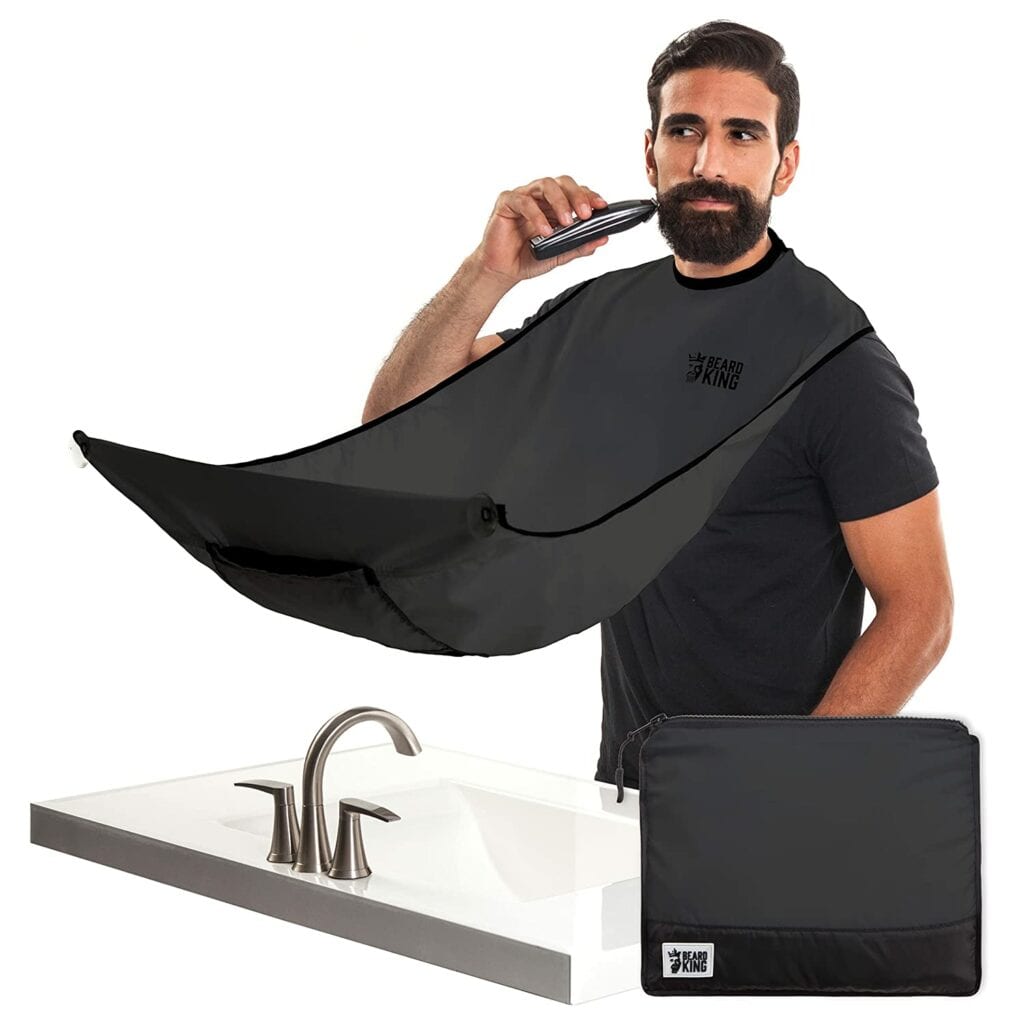 What Is Included?
1 – Beard King Beard Bib
2 – Suctions Cups
2 – Hooks
1 – Plastic Storage Bag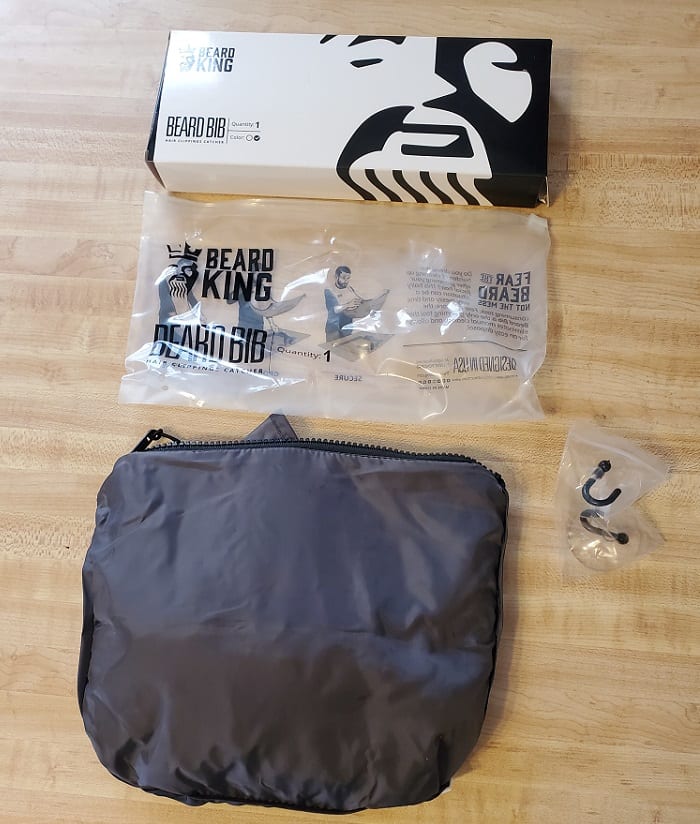 Beard Bib Specs
The dimensions of the Beard Bib are 9.6 x 3.8 x 1.7 inches and weighs 1.76 ounces. The bib attaches in the back of the neck via velcro. There is also an Accessories Tray Table that has printed on it "This Side Up", here you can put any of your grooming products like a beard brush or razor. This area is stiffer and holds items better.
How Well Does It Work?
After using this I have a statement, Every man who shaves trims his beard, goatee, mustache, or sideburns needs this product!!
I just love the simplicity and practicality of this product. Those damn little clippings of hair go everywhere and they also are very hard to clean up as you always seem to miss a bunch of them. Although this is just a bib it does feel a lot of thought and quality has gone into this product.
I had no hairs in the sink, behind the faucet, or on the counter. Okay, Beard King, job well done!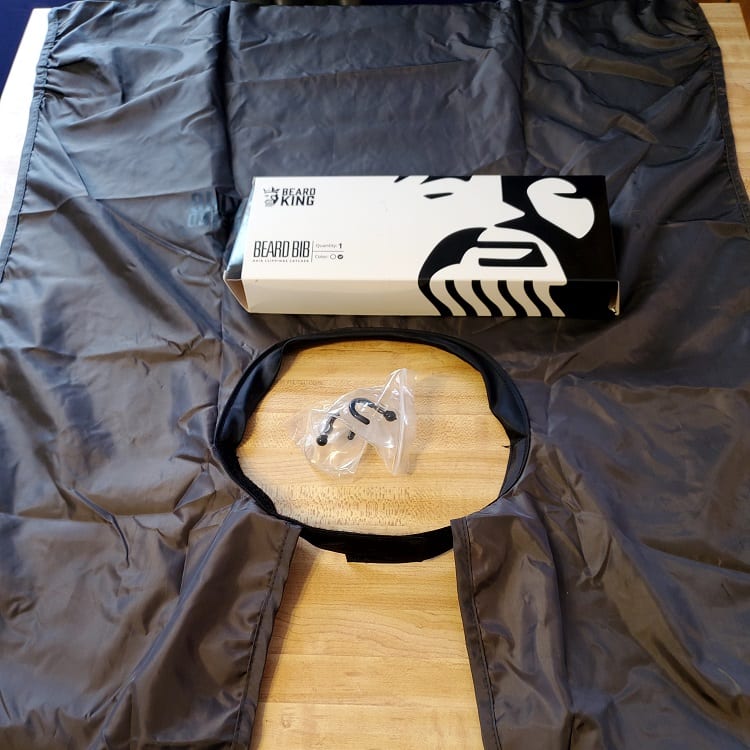 Pros & Cons
Pros
Comes In two colors white and black
No more wetting paper toweling or tissue to grab every small hair..
Suctions cups work really well, as this was a concern of mine as I have dealt with bad suction cups in the past but these cups really work well.
Bib folds in on itself when putting it away and folds out on it self when upacking it that zips itself into a small bag. Great design and very practical.
Traps all beard hair and left none on my bathroom sink.
When attached to mirror it has a nice tight fit againist the mirror so no stray beard hair makes contact with the sink.
Lightweight.
One size fits all.
Catching all the hair allows for no more clogged drains.
Saves so much time in cleanup, worth it alone just for this aspect.
All wifes and fellow household members will also appreciate this as noboby likes seeing hairs in the bathroom.
Simple and easy to use.
Can also be used for haircuts as well but I haven't tried this out yet.
Will fit nicely into a Dopp Kit. If you are looking for a good quality Dopp Kit check out my review of the Habitoux Dopp Kit. It has many compartments and it is quality.
Cons
Needs a mirror or smooth surface to attach the suction cups but most bathrooms have mirrors so this shouldn't be a problem for most people.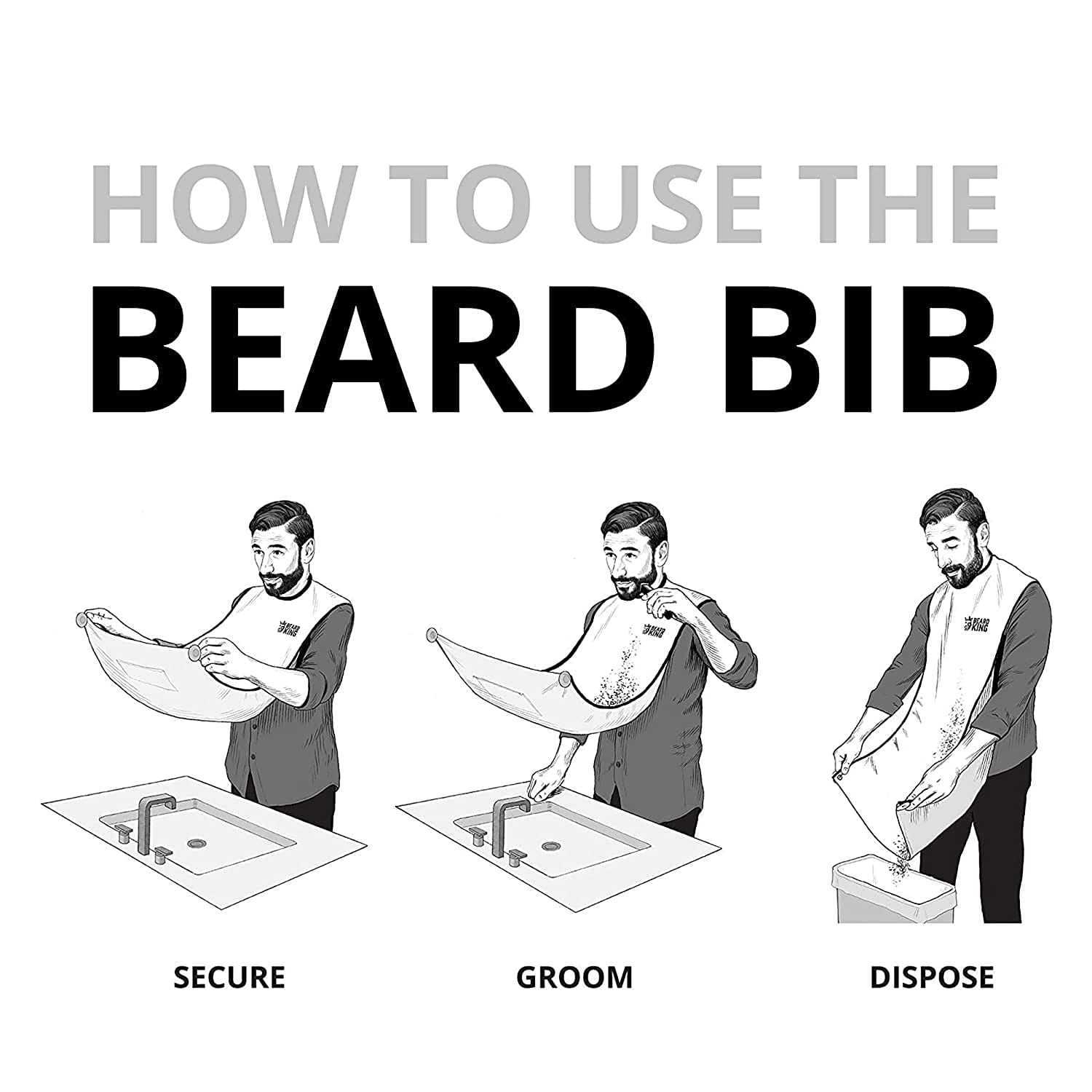 Tips
We have a small wastebasket in the bathroom and was afraid of getting all over the floor, so I just got the majority out over the wastebasket then shook it out over the tub to get all the remaining hairs then washed them down the drain. You could also carefully wrap it up and shake it outside.
Another method of disposing of the hair is to take a wet paper toweling and clean up the hair when the bib is still attached to the mirror.
This should hand-washed and not put into a washing machine if it needs to be cleaned.
The Final Shave
Clean up is so easy after trimming my beard I just love this product and highly recommend you get this if you hate cleaning up as much as I do. Your wife will also love it too. A real must-own!