Happy Nuts & Body? Let's See…
With a name like Happy Nuts…you better deliver…because nobody wants sad nuts or a stinky body but more importantly, stinky nuts. This is where this post comes in Happy Nuts Nut & Body Wash Review to generally help target and deal with washing your balls as well as the rest of your body.
I will run over the usual stuff like ingredients, scent profile, and how well it works. To help you determine if it is worth buying.
Okay, let's get happy people.
Full Disclosure
I am an affiliate of Happy Nuts and will make a small commission on clicked purchase links on this page. This will not affect my review as I will state my opinion both good and bad, highlighting both the positive (if any) and negative (if any) after actually using the product. I believe honesty is missing in the online world and I do my part to help people find quality products online. I am just a real guy with a website.
What Is Happy Nuts Nut & Body Wash?
Basically, this is an all-natural men's body wash you use in the shower to clean yourself with in the shower. To specifically clean your nuts or anywhere on your body. It comes in a hefty bottle that holds 14 fluid ounces and is dispensed from the top. This body wash has a sandalwood scent to it.
Happy Nuts is a newer company that makes grooming products for men and men's grooming problems.
What Ingredients Are Used?
Aloe Barbadensis Leaf Juice, Water, Sodium C14-16 Olefin Sulfonate, Cocamidopropyl Betaine, Cocamidopropylamine Oxide, Glycerin, Polysorbate 20, PEG-150 Distearate, Cocos Nucifera (Coconut) Fruit Juice, Cocos Nucifera (Coconut) Water, Cocos Nucifera (Coconut) Oil, Beta Glucan, Tocopheryl Acetate, Tapioca Starch, Tetrasodium EDTA, Sodium Benzoate, Phenoxyethanol, Fragrance, Ethylhexylglycerin, Sodium Chloride, Citric Acid.
How Well Does It Work? Do I Recommend It?
I do not normally purchase a body wash for my daily cleaning routines, ie. showers but I was excited to do something outside of my wheelhouse to see if I would like it. I normally just use some sort of a bar of soap to get clean and hopefully smell great afterward. Standard missionary position I suppose but why fix what isn't broken, right?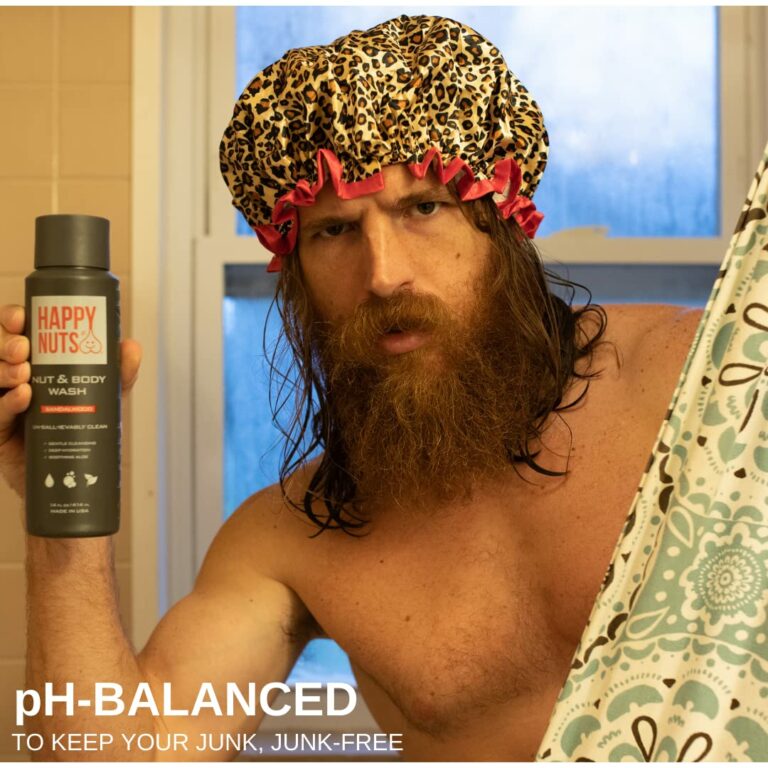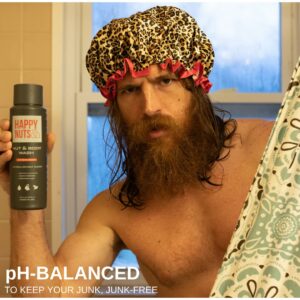 Well, my experience was very enjoyable overall. As I found the body wash was easy to apply evenly. The body wash had a decent lather. Okay, this isn't bad. I applied some to my new Japanese Goshi Exfoliating Shower Towel (highly recommended) and then the lather really started coming out to party. If you use a loofah, shower towel, or washcloth with a body wash it sure makes it better.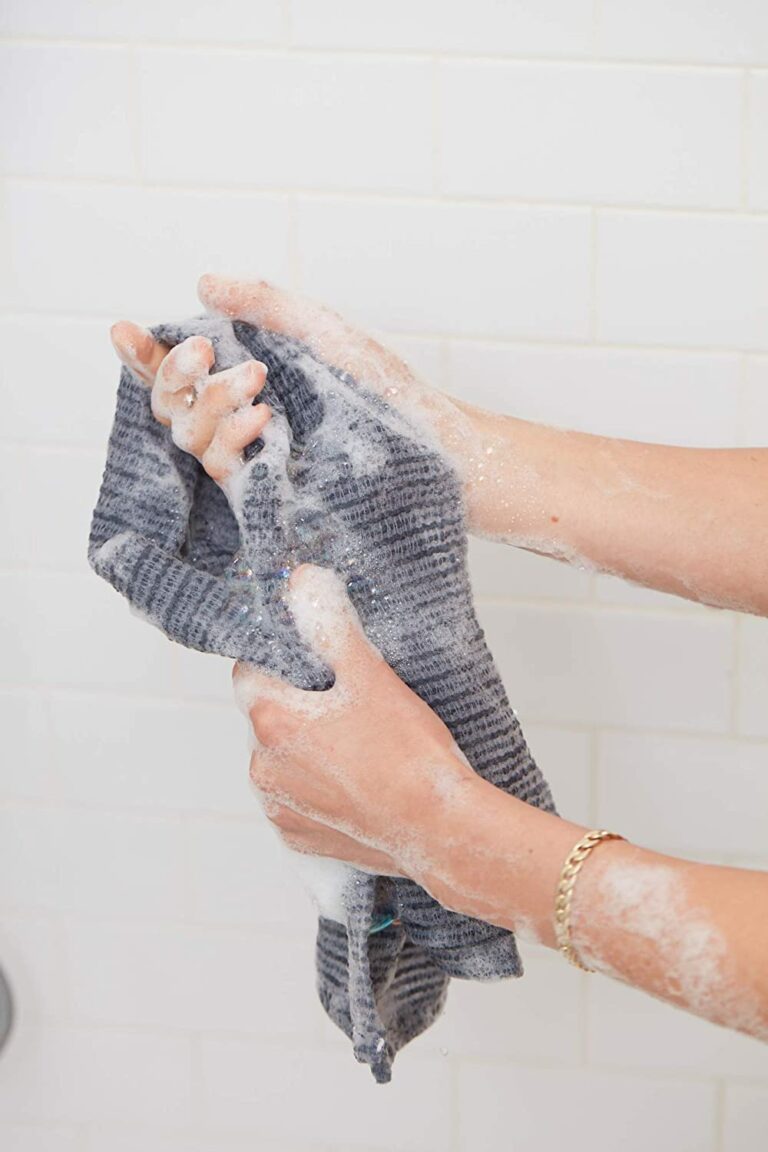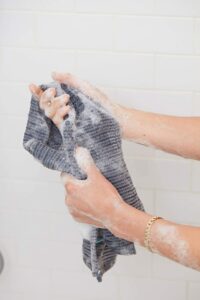 After showering with Happy Nuts I felt very clean and smelled dapper. My skin never felt like it was dry afterward, I feel in large part due to the ingredients which are really hydrating.
A great body wash that did leave me happy!!!
Scent Profile
A big part of a product that you use on your body is how well it smells.
Right?
As we do not want something that doesn't smell good on our bodies lingering around us throughout the day.
So how well does Happy Nuts Nut & Body Wash smell? Simply put, "fantastically". It is definitely a man scent that is very pleasing and clean-smelling. I love the sandalwood scent combined with the other scents of the body wash makes it smell great.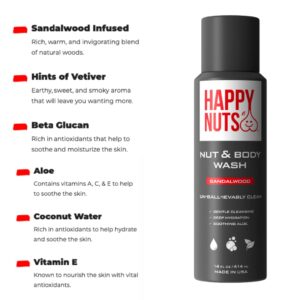 Pros & Cons
Pros
I absolutely love this scent! If you are a regular visitor to my site you would know I love the scent of sandalwood. This sandalwood combined with other scents really has a nice man scent that I believe most men would also love.
Easy to lather up with and spread anywhere on your body.
Made in the USA.
Great company name!!!
A portion of sales will be donated to the Prostate Cancer Prevention and Research.
Never tested on animals.
The first ingredient is aloe which is the most used and everybody knows this is great for the skin.
Left my skin soft and clean without excess stripping of oils.
Gentle cleaning action that cleans but doesn't dry out the skin.
The product should last a long time as it is a pretty big bottle.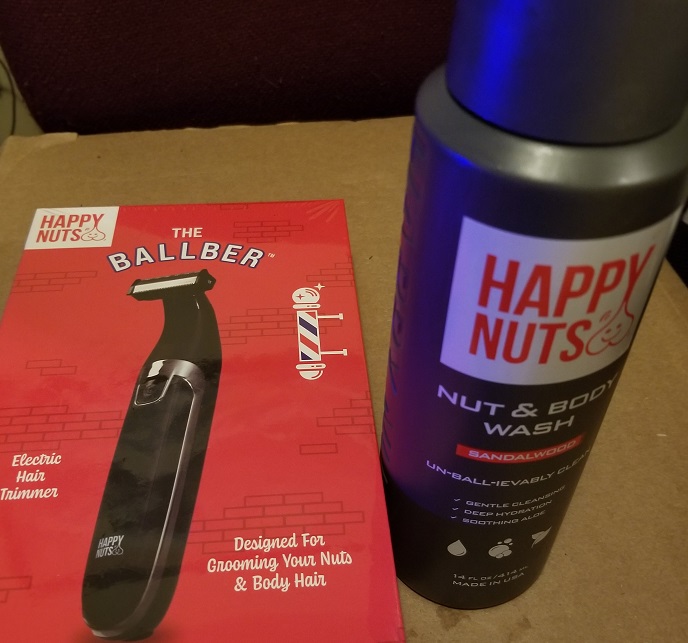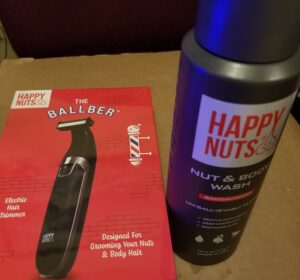 Cons
Needs a better method of dispensing this nut & body wash from the container. Sometimes it is not the easiest to get out and sometimes you have to squeeze hard on the plastic bottle to get the fluid out.
Their website doesn't have a list of ingredients but you can find it on the back of the bottle.
Other Products From Happy Nuts To Check Out
Happy Nuts makes great products which I am figuring out by reviewing most of their products. I would also highly recommend you check out some of their products listed below.
The Ballber is essentially a trimmer for you guessed it your balls. It works great down there as it doesn't nick or cut you. You can read about The Ballber here, Happy Nuts The Ballber Electric Hair Trimmer Review.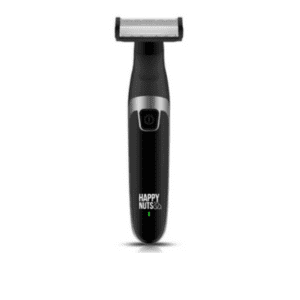 One of the best ball creams out there to help your nuts from stinking, chaffing, and controlling wetness. It goes on wet but quickly dries to a superslick powder that protects you all day long. To find out more about Comfort Cream head on over to my page, Happy Nuts Comfort Cream Review.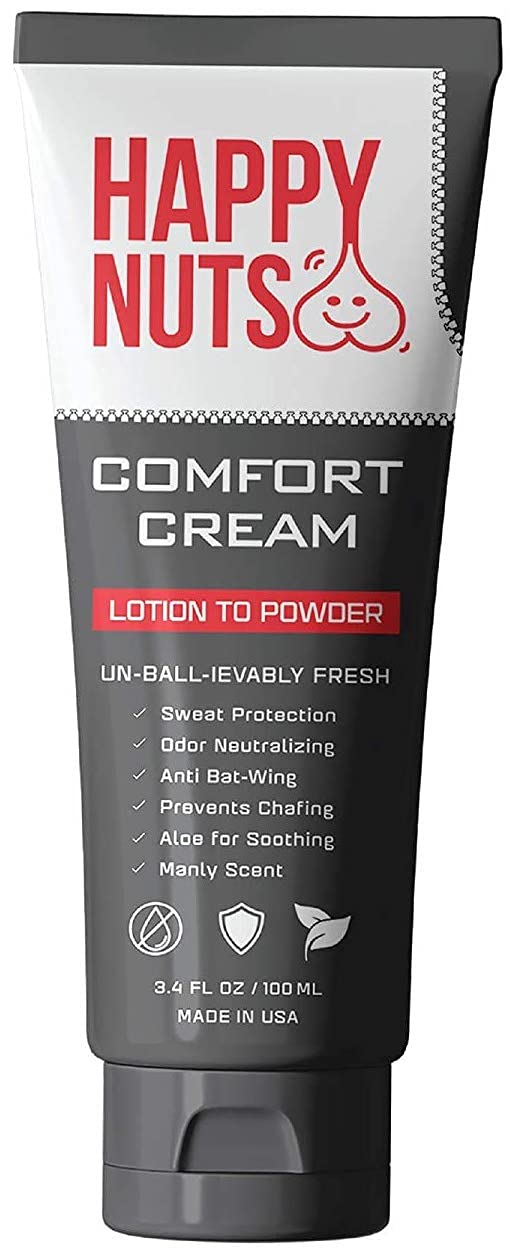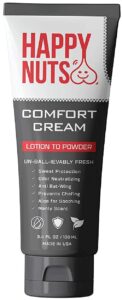 Basically, powder for your nuts or anywhere you have a moisture problem. Another home run product and worth checking out here, Happy Nuts Comfort Powder Review – How Well Does It Work?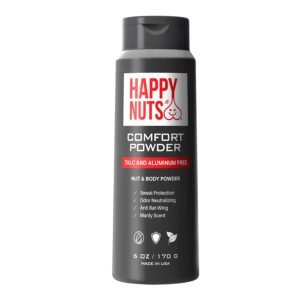 Promo Code
Being an affiliate of Happy Nuts does also help you the potential consumer, as they have provided me with a coupon code for 10% off your order at checkout.
Use the promo code at checkout to save 10% off – BACK10
The Final Shave
I have been very hesitant to use a body wash due to habit I suppose but was overall very pleased with Happy Nuts Nut & Body Wash. Left my skin feeling great and never dry. I was super impressed with the scent (sandalwood) and just love it. Very clean and smelling like a man without smelling synthetic or chemically. I have been impressed with every product I have used from Happy Nuts and highly recommend checking them out.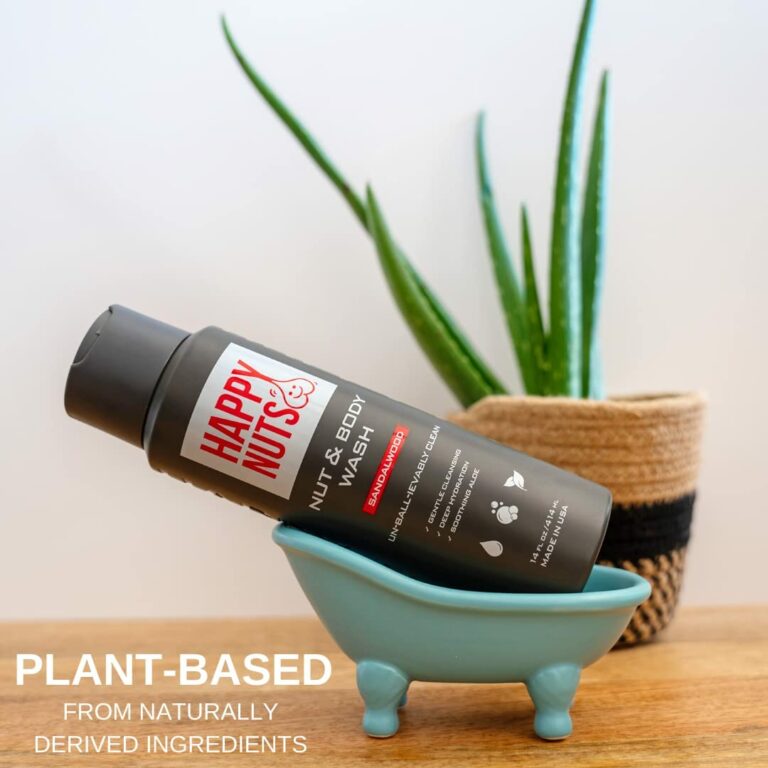 Any comment or question are always welcomed.