Grooming Stocking Stuffers
Christmas is just around the corner and after all, it is the season of giving. Right? In this page Stocking Stuffers Ideas For Men, I hope to refer to some quality stocking stuffers in the field of my expertise, grooming. After all, just about every man wants to look good and every man grooms himself in some way or fashion. In this list are all solid performers as I have reviewed them all and they would make excellent gifts for just about any man.
Note: This page contains affiliate links. This is a small website and earns a small commission for purchased items through these links, at no additional cost to you. If you find my page useful please help support this website and keep bringing you relevant content.
1. BakBlade 2.0 Elite Plus Back Shaver
I would be remiss if I didn't put a back shaver at the top of my list, I know not every man needs a back shaver but if you know a man that is hairy this is the best out there on the market. Note: This is kind of a sensitive subject and I would highly recommend not giving this to someone unless you know them very well. It could be very awkward for them to open the gift in front of people. But if you know they don't like their hairy back it could be a very welcomed gift.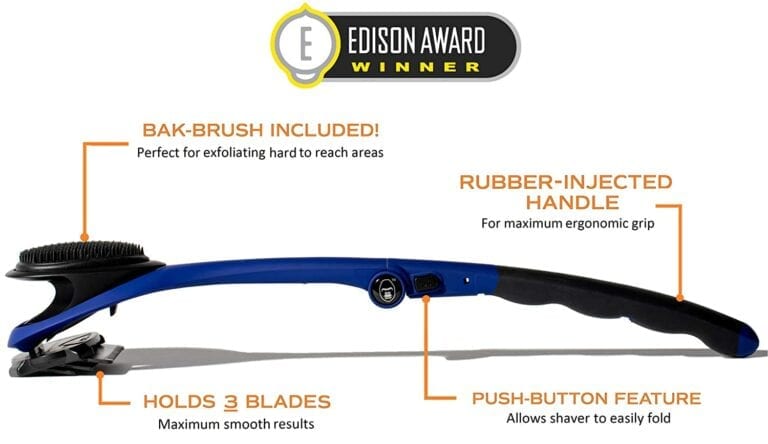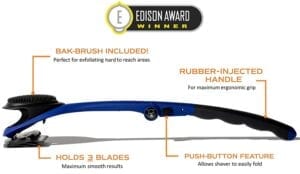 The Bakblade 2.0 Elite Plus is the best back shaver there is…hand down. Super easy to use and mows through the thickest of back hair like nobody's business. This is also my highest ranked back shaver to date and I have reviewed almost every back shaver on the market.
You can read the full breakdown on this amazing back shaver here, Bakblade 2.0 Elite Plus Back Shaver Review.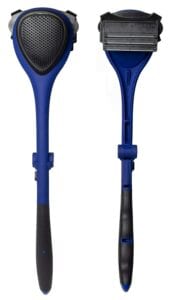 2. SteelBee Razor Saver
Increases razor blade life 2 to 3 times! This fits over most razors
This one is a real no-brainer for a stocking stuffer and would fit great into any stocking. The SteelBee Razor Saver works in two functions. First, it serves as a simple razor guard for storage or traveling so you don't cut yourself or damage the blades. Second, and more importantly, it has a Zerust embedded into the two plastic yellow pieces that off-gas to form a protective shield from micro rusting. This gives your razor blades 2 to 3 times more lifespan. Thus saving you money and increasing your shaving experience.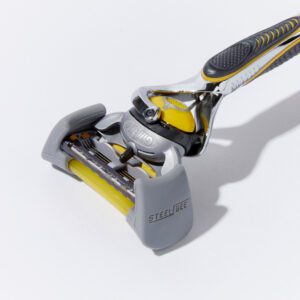 Zerust is used ubiquitously in the oil and gas industry to prevent rusting and corrosion and is safe. Every person that shaves wants their razor blades to last longer and this product does that. I've been using this for a couple of months and I am very happy with the results I am seeing.
Read more about the SteelBee Razor Saver here, SteelBee Razor Saver Review – Will It Keep Your Razor Sharp?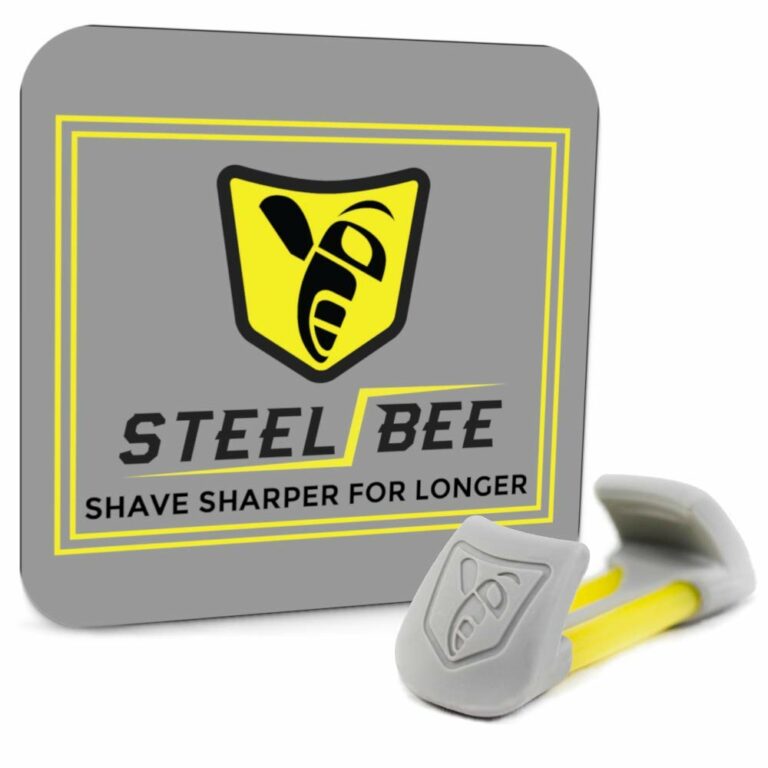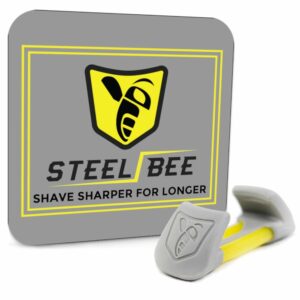 3. The Cut Buddy
Another great affordable stocking stuffer for any man with a beard or facial hair. This clear plastic guide comes with a pencil and can be used with a razor blade or clippers to create crisp clean lines on your face or neck. Great for the seasoned pro or the young and inexperienced. This is such a great product it was featured and picked up on the TV show Shark Tank. This will greatly help avoid shaving mishaps as well as define a fresh look.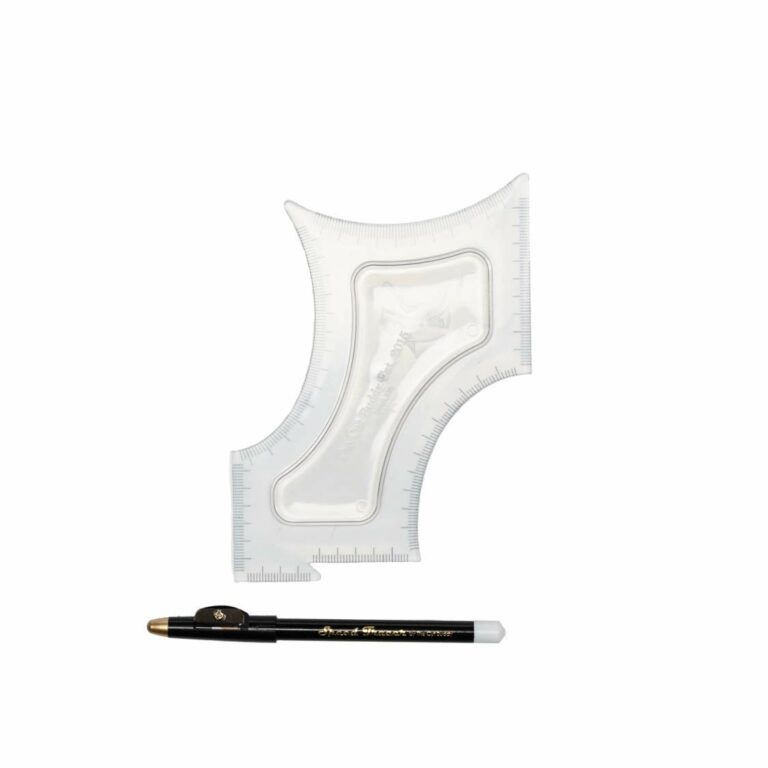 This has a clear guide with all the correct angles and lines to attain clean lines. You can check out my full review here, The Cut Buddy Review.

4. OneBlade Hybrid Razor
I'm so excited about sharing this one!
Just about every man needs a razor. After I purchased this razor and used it, it became my go-to razor from now on. It is that darn good. This will easily fit into a stocking and makes a fantastic gift.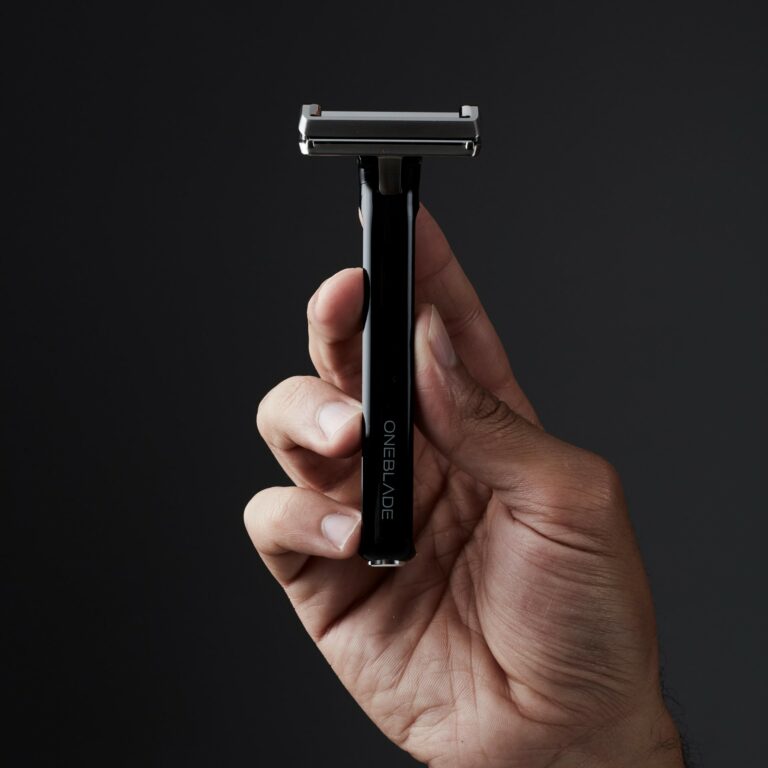 The OneBlade Hybrid Razor is a premium one-blade razor that has a lifetimes guarantee (yes, lifetimes! basically forever) and is made from stainless steel and a super-strong polymer. This comes very package and presented and would make an awesome gift. OneBlade offers three different razors, a beginners razor called the OneBlade Core, the intermediate called the Hybrid, and the expert called the Genesis. I love the Hybrid and it shaves wonderfully. The Hybrid comes in two colors black and white.
The benefit of a one-blade razor over conventional 5 blade razor blades is far less skin irritation. I am prone to razor bumps on my neck when I shave and I experienced zero razor bumps and this is why I made the switch over to a one-blade razor. Another important aspect of this razor is it doesn't clog! Having only one razor keeps it from clogging plus it has a very wide-open area in the back that easily flushes out gunk and hair.
This shaves awesome and is what I reach for every time I need to shave. I think any man would love this razor. Check out my full in-depth review here, OneBlade Hybrid Razor Review.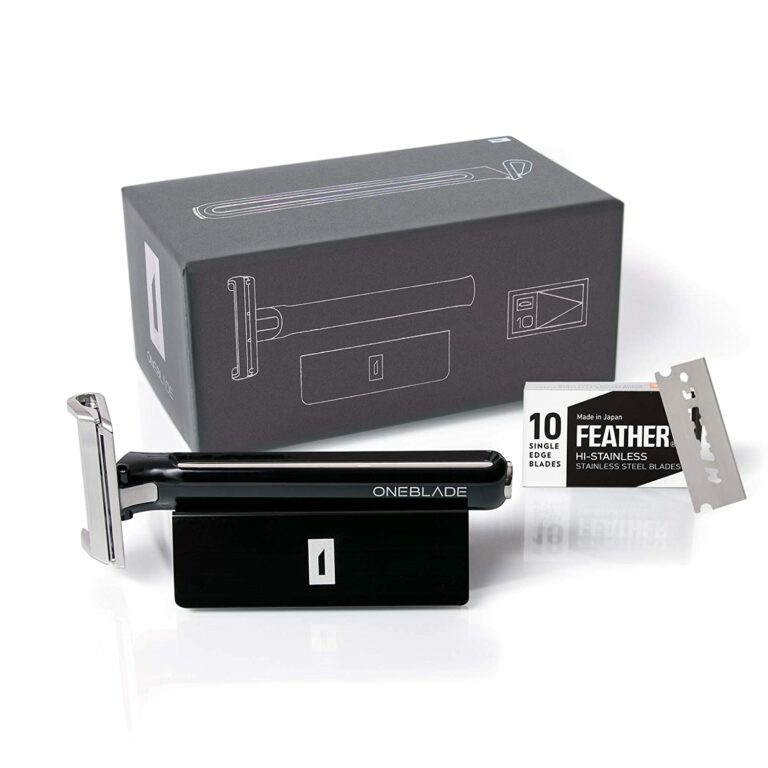 5. Tweezerman Slant Tweezer
Take your tweezer game to the next level. Not all tweezers are equal as you probably already know.
Tweezers are a must in the grooming world. A good tweezer will pluck every hair no matter how fine it is. The Tweezerman Slant Tweezer is just that tweezer. This is a good respect tweezer with many positive reviews. The tweezers have a slight slant to provide precision plucking but also provide a more aggressive approach by laying the tip flat against the skin.
Check out my review here, Tweezerman Slant Tweezer Review. A very high rating on Amazon and is an Amazon's Choice product that's how good it is.


6. Dr. Squatch Soap
Best man soap ever!!! Hands down.
Dr. Squatch is a soap company dedicated to providing organic and natural handmade soap that smells fantastic. With a wide variety of scents to choose from it is sure to be a hit. Most of the soaps have some type of exfoliant which makes short work of grease and grime but is gentle enough to use on the whole body.+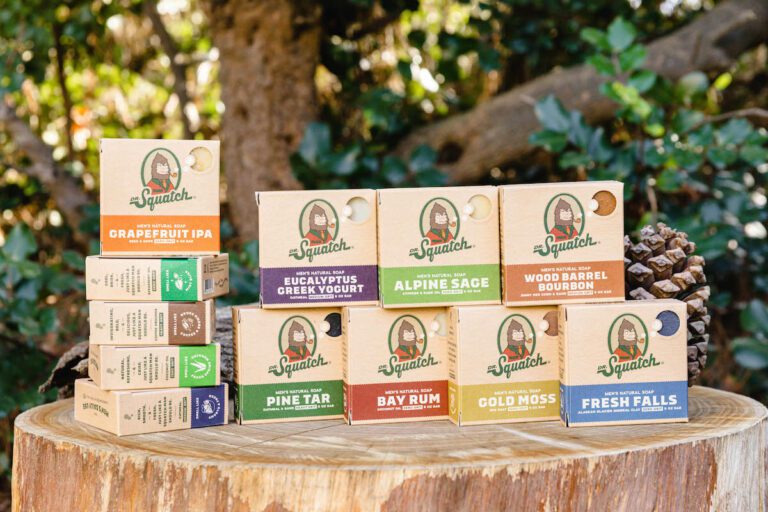 They have a total of 11 different scents to choose from. My favorite soap they have hands down is the Pine Tar Soap. This is their signature scent and is quite popular as it has a woodsy and very fresh clean scent that is quite unique and amazing. Don't be put off by the name this is a crowd-pleaser.
You can buy individually or a variety of bundles as well as a subscription to have them delivered on a regular basis. They also have an amazing Star Wars Collection 4-pack Soap bundle.
For a more thorough look at this great soap company head on over to my page, Dr. Quatch Pine Tar Soap Review.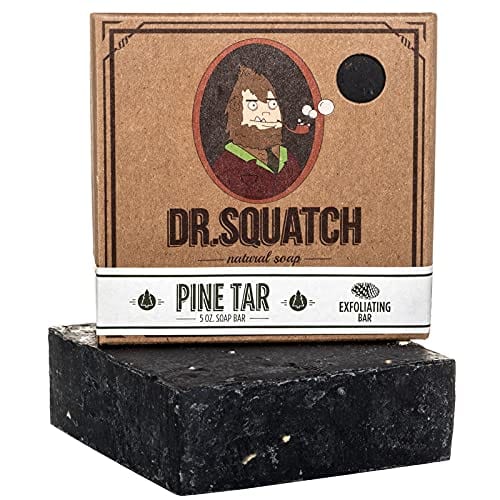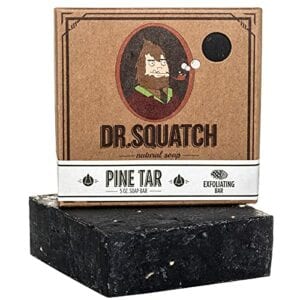 7. Beard King Beard Bib
Tired of hair all over the place when cleaning up your beard? Well, I've got a solution for you.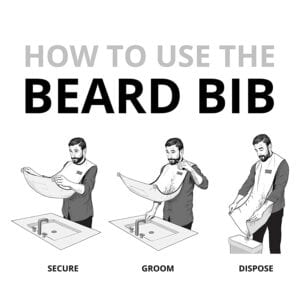 This makes cleaning up the sink and countertop after shaving or trimming your beard a snap. This is a bib that you strap around your neck and connects to a smooth surface (for example like a mirror) via two suction cups. The Beard Bid drapes down and collects the hair you trim from your face. All the hair gets trapped in the bib and then you dispose of it in the trash bin.
This has a 4.5 Amazon rating and is also an Amazon Choice product as well. So you can buy with high confidence.
A real game-changer for not having to clean every last little hair that falls on the sink or countertop. So easy to use and worth it. To read more about this innovative product head on over to my post here, Beard King Beard Bib Review.
8. LVL Neck Shaver Starter Kit
I cut my own hair and this means I have to shave and trim the back of the neck too. This product has simplified that process and made cleaning up my neck foolproof and easy.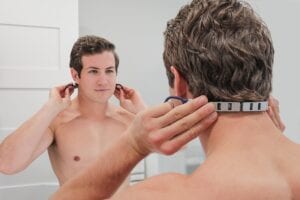 The product is the LVL Neck Shaver Starter Kit and is my go-to for shaving the back of my neck. After using this for months I can't live without it anymore and has really changed my hygiene rituals for the better. I admit I was purely skeptical when I first bought this but was quickly won over by the ease of use and its performance.
The LVL Neck Shaver has three razor cartridges lined up side by side and two-finger handles. You simply start where you want and pull down to get an even and straight neckline. The blades are sharp and hold a good edge for a long time.
Comes very neatly packaged too. There are three options when purchasing 12, 24, or 48 razors. To read more about this check out my review here, LVL Neck Shaver Starter Set Review.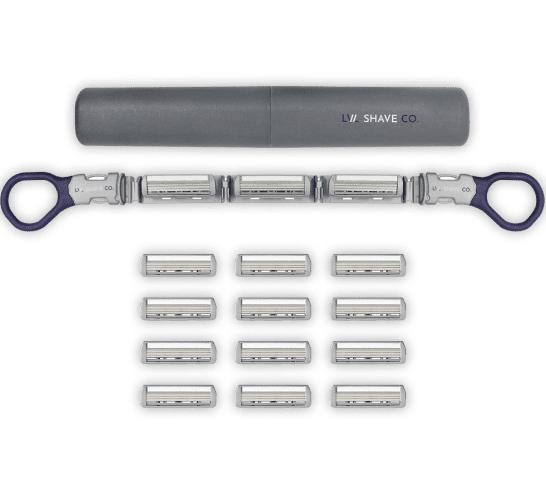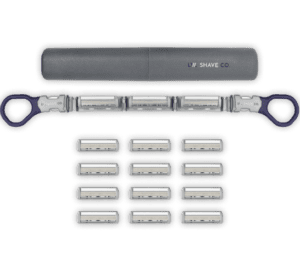 This amazing little tool helps clean up the countertop and sink after any hair-trimming episode. It works great picking up little itsy bitty hairs as well as long hairs. Makes cleaning a snap and would be a great stocking stuffer for any man that trims their beard or cuts his own hair.
This works very well! I have tested this extensively and it really impressed me to pick up any hair.
Read more about it here, Mat's Beard Bar Review – Does It Clean Up Beard Trimmings?