A Natural Deodorant Worth Checking Out
I love finding new and exciting deodorants maybe because I was so unhappy for so long with subpar deodorants for so many years. Either not being happy with the performance, ingredients, or scent. I will be presenting a full picture in order to help you decide if Bend Soap Deodorant is right for you.
Let's get to the pit sticking!
Full Disclosure
I have recently joined the Bend Soap Co affiliate program and will make a small commission on clicked purchase links on this page and site. This will not affect my review either way, as I present a balanced approach to reviewing products highlighting both positives and negatives. I purchased with my own money the three deodorants in this review.
Some Quick Information About Bend Soap Co
What is the Bend Soap Co?
Bend Soap Co was started by a wife and husband team that had a young child suffering from eczema. Failing to find any medications to help their child they started looking into the ingredients of various grooming products (soaps, shampoo, etc). What they found basically were a lot of toxins.
So in an effort to eliminate these toxins and chemicals, they started making soap from their family's goat's milk farm. After finding out goat's milk had enzymes that help skin conditions they made soap and were overjoyed to find their child's eczema cleared up. So they started sharing it with family, friends, and the community. This is where it grew from, to where it is today, a company that sells various grooming products.
What Is Bend Soap Deodorants & Why You Should Care
Bend Soap deodorants are 100% all-natural. There is no aluminum, alcohol, or other harsh chemicals that could potentially cause skin or health problems. This deodorant is great for people with sensitive skin or skin problems. You will not find any hard chemicals or unpronounceable names in the list of ingredients on any of their deodorants.
What Product Does Bend Soap All Sell?
Bend Soap has a ton of all-natural products they sell. I will list them if you are interested in checking them out below. Feel free to check out their website here, Bend Soap.
A List Of Available Deodorants From Bend Soap
Bend Soap has currently a total of eight different deodorants in which to purchase.
Honey Grapefruit Natual Deodorant
Lavender Natural Deodorant
Unscented Natural Deodorant
Apricot Jasmine Natural Deodorant (Baking Soda Free)
Honey Grapefruit Natural Deodorant (Baking Soda Free)
The Woodsman Natural Deodorant
All Shield Natural Deodorant
All Shield Natural Deodorant (Baking Soda Free)
Ingredients Used
One of the best list of ingredients I have seen in a natural deodorant! See for yourself.
Each deodorant basically has the same ingredients, aside from the baking soda-free versions and the various scents added to the specific deodorant. I will post two separate deodorants so you can get a general idea of what is used in the ingredients. Be sure to check for yourself when ordering.
Ingredients of Bend Soap All Shield Natural Deodorant
Baking Soda, Arrowroot Powder, Coconut Oil, Red Palm Oil, Beeswax, Cocoa Butter, Shea Butter, Chamomile & Calendula Extracts, Essential Oils
Ingredients of Bend Soap Apricot Jasmine Natural Deodorant
Coconut Oil, Red Palm Oil, Arrowroot Powder, Beeswax, Cocoa Butter, Shea Butter, Chamomile Extract, Calendula Extract, Apricot & Jasmine Natural, And Organic Scent.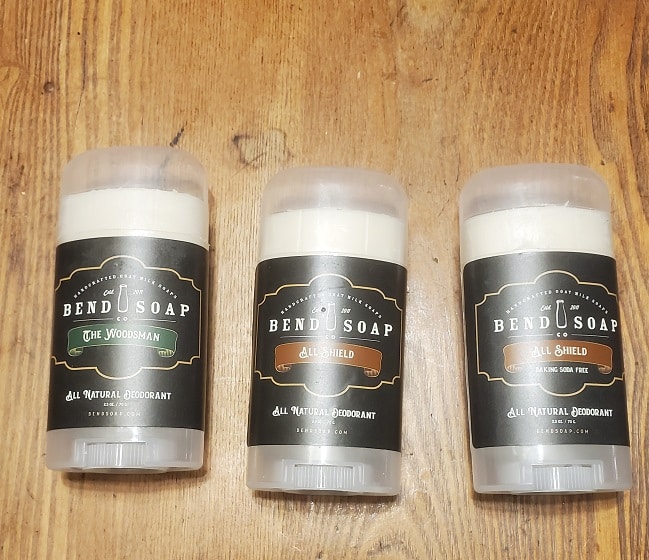 My Opinion & Experience Using Bend Soap Deodorant
I went out and purchased three Bend Soaps deodorants to review for this post. I purchased the Woodsman, All Shield, and the All Shield Baking Soda Free deodorants. These scents I thought were more in line with the scents I would prefer to wear but would love to try the other deodorants as well. But with blind buys, you never know do you?
Soft Deodorant
This is a soft deodorant as it applies really easily and maybe too easy. So care must be taken to avoid putting too much on. A couple of light swipes should do the job. Soft deodorants can be problematic but I didn't find that the case here.
I wear mostly black t-shirts at my job and I had no bleed-through or any caked-on deodorant on the inside of my shirt.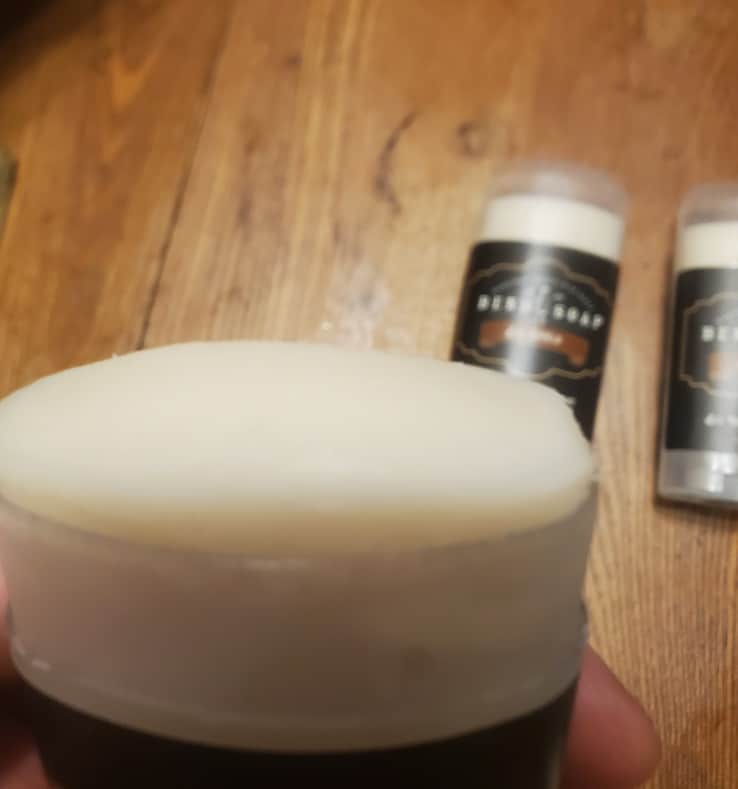 Protection
After my first day of wearing this and until the next day, I still didn't stink and the scent was still there, milder mind you, but still there doing its job of protecting me. This too after a 10-hour shift of doing manual labor and sweating. So, 24 hours after applying this is still was there although fainter, it was still there. Great protection for sure!
Scent
The scent is very natural and pleasing to me. I can smell it in and around me after I apply it for about a good 4 hours. Although it doesn't project very far into a room. It's a clean scent and not overpowering. I liked all of the scents which I had purchased.
Overall
So…Bend Soap…you really impressed me because of your level of protection but also because of the 100% all-natural ingredients used. Then on top of that, it has a great price too! Try under $7.00. Try finding that price in a local grocery store for an all-natural deodorant. I also liked their scents as they were natural smelling and this is a must for me. I can't stand synthetic scents.
I highly recommend you try out Bend Soap Deodorants for many reasons which I list above. I have tried many deodorants that fall flat in most areas but Bend Soap does not. Especially if you want an all-natural deodorant. This will be hard to beat!!!
Promo Code
Use the promo code Bend15 to get 15% off at www.bendsoap.com
Pros & Cons
Pros
Full 24-hour protection. I still had the scent of the deodorant on me after 24 hours and I didn't stink. Winner!!!
A natural deodorant that works this long and is fantastic!
Full paper packaging.
Great simple ingredients!!! No long chemical names here and that is a good thing, everything is easy to understand.
Great product to try if you have a skin condition.
Easy to swipe on your pits.
Great scents too from the three I bought. They are natural smelling which is a must in my book.
They have unscented deodorant as well for people with really sensitive skin. This is nice to see!
Great prices!!! Very reasonable price deodorants. Often times you will see natural deodorants or high-end deodorants twice the price of Bend Soap Deodorants.
They have a total of three baking soda-free deodorants in their lineup of deodorants. Some people have a problem with baking soda on their skin, so this is nice to see.
Free shipping on all US orders over $50.00 and free returns.
Goes on transparent and clear.
No soy or corn is used in making any of their deodorants.
No GMO oils, aluminum, sulfates, or paraben.
They also have a rewards program called Sudsy Points.
Cons
This is a soft deodorant, which some people don't like or prefer but it is easy to spread. So go easy applying this, and you can apply too much btw. This can be both a negative and a positive depending on the person. You can go through a stick of deodorant that is soft really quick if you put too much on it.
Some people have some problems with switching to an all-natural deodorant. I have never experienced this but apparently, it happens. So I thought I would mention it here, but just sticking with it for a while the problem does go away.
Would like to see more scents available in their lineup.
Questions & Tips
Where Can You Buy This?
The most convenient way to purchase this is through the Bend Soap Co website. Although it can also be purchased on Amazon as well, with limited products and I don't believe they have the deodorant available currently.
How Long Does The Scent & Protection Last?
I have found through my own personal experience to be 24 hours+.
Does It Stain Your Shirts?
No, I have found that it does not stain the shirt. Although it is a soft deodorant you can apply too much which could make it harder to get clean if you put too much on it. I always wear black t-shirts and I never have any bleed-through or staining.
Comparisons To Other Similar Deodorants
One of the best all-natural deodorants out there and more than just any regular deodorant too. It is definitely towards the top of the list if not the top. For an all-natural product, it's hard to beat.
Other Brands I Really Like
Native Deodorant – Great line of deodorants with many scents to choose from. Not as many natural ingredients as Bend Soap Company but close. Read my full review here, Native Deodorant Review – Does It Work?
Dr. Squatch Deodorants – This is geared more towards the men and the scents reflect that. Great deodorants and great scents as well. I really like Dr. Squatch's deodorants. Their deodorants and soaps are very popular. For more information head on over to my page, Dr. Squatch Deodorant Review – Smell Like A Man.
The Final Shave
Whether your looking to weed out unnatural ingredients or just simply looking for a better long-lasting deodorant Bend Soap Deodorants is one of the best deodorants I have used or tried. I can't more highly recommend giving it a try and seeing for yourself.
A great product and can't wait to try and review their soaps soon.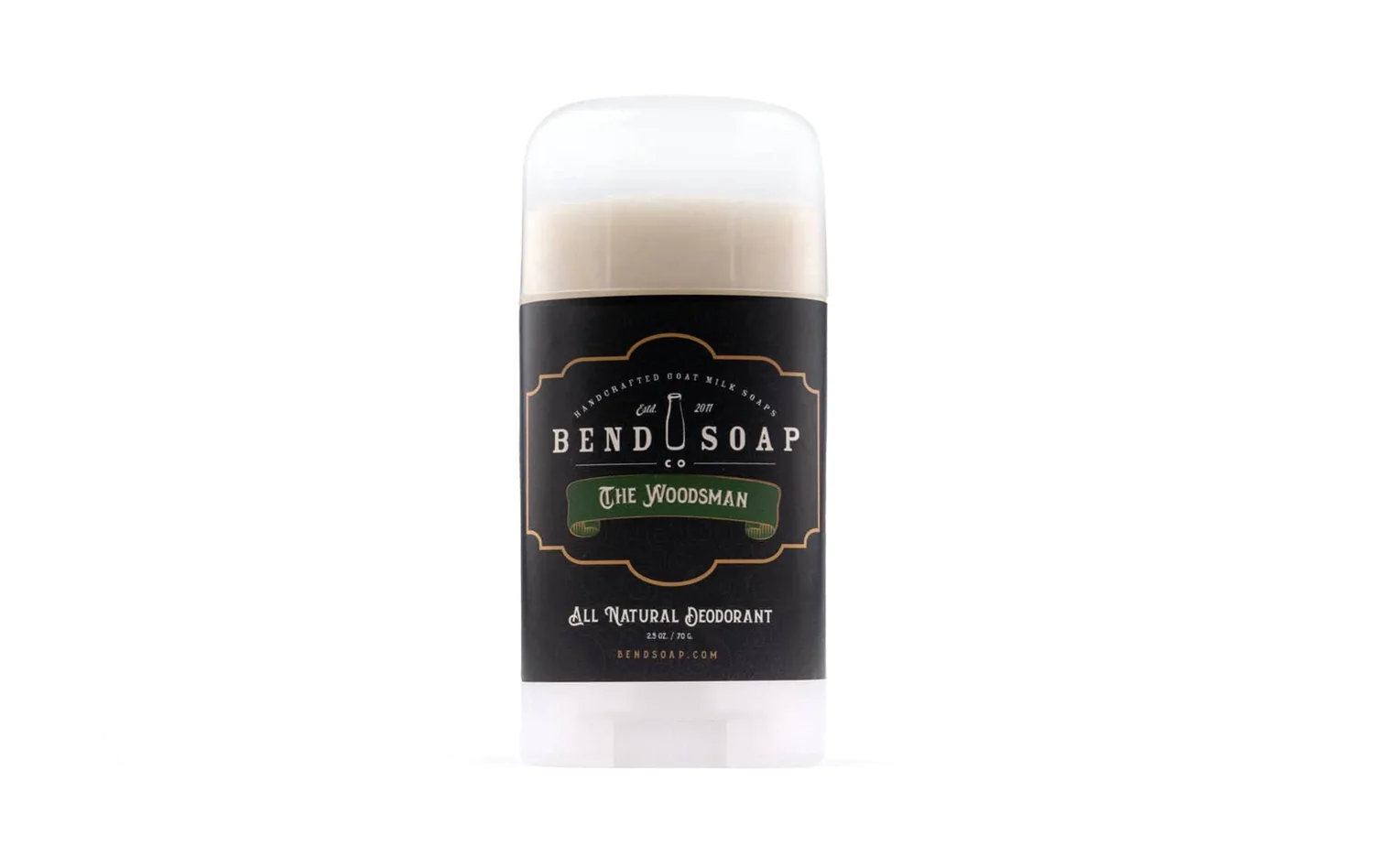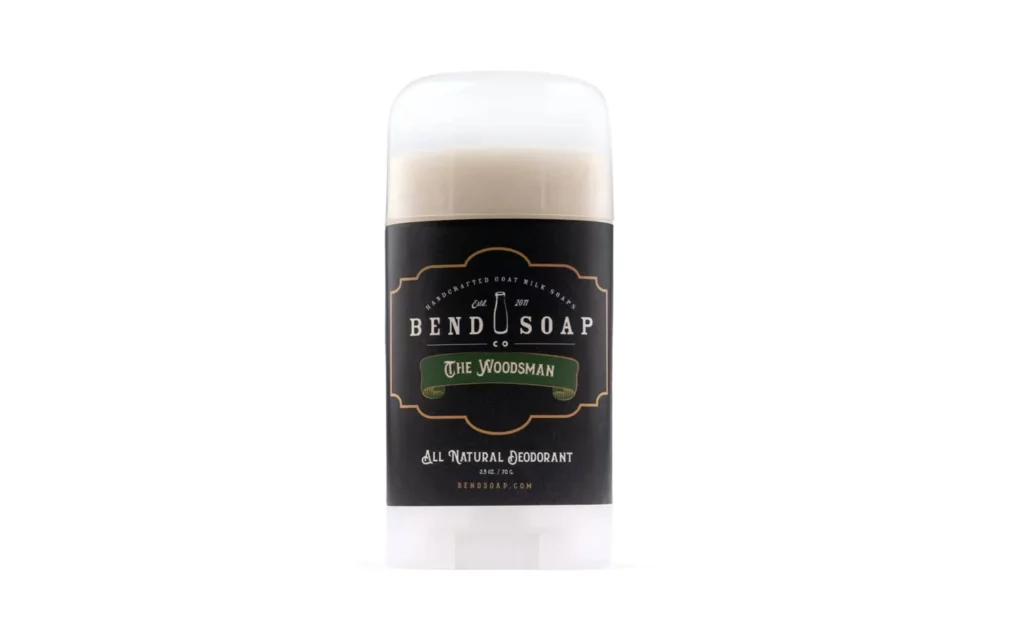 What deodorant do you use? Would love to hear it and why. Also if you do have a question or comment please leave it below and I will respond.