Rest Assured…Having A Hairy Back Is Fixable
So, I will list my Top 5 Best Back Shavers in 2023 based on my expertise in using and reviewing these back hair eliminators. If this is your first back shaver, rest assured you are in good hands as I am the leading authority on back-shaving products.
Why is that?
I have bought or obtained almost every back shaver for sale online to review and post on this website. Check out my site. I'm not kidding. I have spent years using and reviewing back shavers.
Back shavers have come a long way, and believe me when I say there is one above all the others (see below).
Rest assured, I will introduce you to the best back hair shavers on the market that are a pleasure to use and completely safe to use. I will list the top 5 back shavers of 2023 but also break down the best manual back shavers, the best Electric back shavers, and the best razor extension handles.
Full Disclosure
I am an Amazon Associate and an affiliate of Sigma. I will post links below that I will commission from qualifying purchases. I purchased all of the back shavers in this list with my own money.
Table of Contents
Need A Quick Answer For The Best Back Shavers?
This article is quite long, and if you want to know the best back shaver, get a Bakblade 2.0 Elite Plus Back Shaver from the manual back shaver. Trust me, this is the best there is!
Be Careful…There Are A Lot Of Phony Freaking Reviews Out There
There is a lot of bull$*@t out there.
Most of the reviews for back shavers or "best back shavers list" are made and written by someone who (1) has never even used a back shaver, (2) just reviews and formulates an opinion based on what they see online, (3) don't own the product.
How do I know this?
I check out my competition occasionally and see what they put on their list, which is laughable. They just contrived a list based on who knows what, but I can assure you it wasn't from using the product. I've seen the worst back shavers in their top list, and they highly recommend them. It's a dead giveaway for me, but for novice people, eat it right up! Thereby getting an inferior product and a bad experience. I don't know about you, but this pisses me off.
I have reviewed 99% of the back shavers on the market, and I have them all. This makes my best back shavers list unique and trustworthy.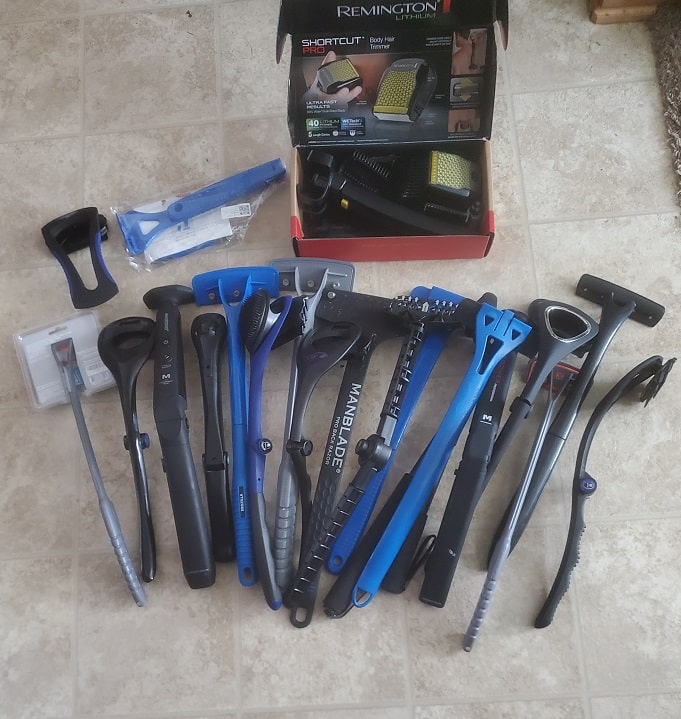 Here at BackShaverForMen.com, I post unique pictures showing you I own the product and write a detailed review after using the product. Plus, you get my years of experience reviewing back shavers. Also, I pride myself on honesty; if the product sucks, I let you know about it.
How do I test each back shaver?
I purchased or received the back shaver.
I read the manual. Especially if it is a newer back shaver or trimmer. Much helpful information is there as general practice on what the manufacturer recommends, even though I am familiar with using back shavers.
I use the back shaver. I usually have to let my back hair grow out before I review a back shaver to see if it will work when I am the hairiest.
I take notes while shaving. I usually write short notes on a notepad and make frequent stops to do this. Sometimes, I take mental notes, like how comfortable or uncomfortable a handle is.
I write a review shortly thereafter.
QUICK GUIDE TO TOP BACK SHAVERS CATEGORIES
BEST OVERALL – BAKBLADE 2.0 ELITE PLUS at Amazon
CLOSEST SHAVE – BRO SHAVER 2.2 at Amazon
Most straightforward To Use – Bakblade 1.0 at Amazon
BEST CHEAPEST IN THE LONG RUN – BRO SHAVER 2.2 at Amazon
BEST FOR THE EXTREMELY HAIRY BACK – BRO SHAVER 2.2 at Amazon
5 Best Manual Back Shavers
Any models below get my approval and will remove back hair like nobody's business. So rest assured, these kick butt.
No duds in this list.
Key Features
My highest-ranked back shaver to date!!!!! Because of how well it works.
Gentler on the skin but still an ass kicker!!!
Close shave.
Quality, quality, quality!!! From stern to bow…all quality.
This has never nicked or cut me. Super safe.
Best back shaving brand in the world.
Integrity company that stands behind its product.
Get this, and rest assured you'll have the best-designed back shaver on the market.
DRYglide equals zero pain and cuts.
Long foldable curved handle stores or travels compacted.
Stacked three cartridge indexes with ease when shaving. No additional thought is required.
Best handle!!! It is very comfortable and is the best handle I have ever used for a back shaver.
It's the easiest back shaver to use and own. Most user-friendly.
It can be used for shaving other parts of the body as well.
60-day money-back guarantee.
It's the easiest method of replacing blades by far!!!
The shaving head comes off to shave other areas of your body, like your chest, arms, and abs.
Shaving cartridges don't clog with hair. The shaved back hair falls to the floor.
Negatives
Proprietary shaving cartridges are more expensive than other back shaving systems that use cheaper standard double-sided safety razors.
You must use Bakblade's cartridges when razors become dull.
I'm not a huge fan of the exfoliant brush.
Specs
Type: Manual
Type of Razor Blades Used – Bakblade 2.0 Replacement Blades (shaving cartridges)
Length – 17 3/4″
Width – 3″
Number Of Blades – 3 Shaving Cartridges (6 razors)
Handle Comfort – Amazing (Best)
How Long Do Blades Last? – 5-7 shaves roughly.
Read my glowing full review here, Bakblade 2.0 Elite Plus Back Shaver Review. This is the best back shaver out there… end of the story.
I always recommend this one over any other back shaver I have used and reviewed. For ease of use, quality construction, performance, and best design.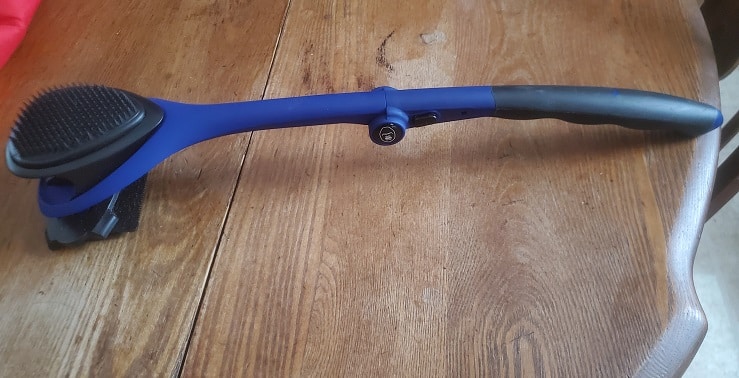 This is the newest model from BakBlade. The best of the best just step into the room, and you better take notice, people. This performer makes shaving your back quicker and effortless than any other back shaver. It is well-designed and keeps improving with each update, as there have been three Bakblade releases for back shavers.
Every version of the back shaver from Bakblade has extremely impressed me and has always been at the top of my list. Bakblade is the best out there, hands down, and the 2.0 Elite Plus is the King!
It has a long handle, the best, most comfortable handle on a back shaver I've seen. The handle is curved to allow you to reach every spot on your back with ease. There are slight finger indentations that allow you to secure a firm grip. No other shaver has a better handle. It is also pretty well-balanced.
The three-stack shaving cartridges shave extremely well; often, you only have to go over an area once. This is great for people with sensitive skin. The blades are sharp, which is recommended for guys with hairy backs, too. It shaves effortlessly. You don't have to think or adjust your arm position when shaving or worry about the angle of the razor blades – this is called indexing.
Shaving with this back shaver only takes 8 minutes or less; it is that effective. Blade replacement is so easy; you slide out the old one and slide it in til it clicks, and you are done. No screwdrivers or thumbscrews here. It is the most user-friendly, best-designed, and safe back shaver.
1 Negative About This Back Shaver
The only negative of this back shaver compared to the number 2 ranked (see below) is the Bakblade replacement shaving cartridges are more expensive when compared to the Bro Shaver 2.0 Saucy, which uses super cheap safety razors.
For these reasons, the Bakblade 2.0 Elite Plus makes the top of my list.
Key Features
Cheapest back shaver to own and use in the long and short term. Due to this, Bro Shaver uses very affordable double-sided safety razors (no cartridges).
Options, Options, Options. This puts you in the driver's seat for choosing the razor blades you want to shave your back. You can select the type and brand of double-sided safety razor you use.
Adjustable shaving head for two settings, mild and Saucy (close) modes. Love this option.
Replacing razors is fast and easy with nice stainless steel thumbscrews. No tools are needed.
The handle has a nice curve and easily reaches all areas of the back.
The handle is also long and able to reach all areas of the back.
It's a great back shaver for the hairiest of men. This is what I would recommend for the full sasquatches out there.
30-day warranty.
Very lightweight.
A long curved handle reaches every spot.
Negatives
Not the most comfortable handle.
The handle doesn't fold for storage or travel.
Feels slightly flimsy in hand.
Specs
Type: Manual
Type Of Razor Used – Double-Sided Safety Razor
Length – 17″
Width – 3″
Number Of Blades – 5 razors
Handle Comfort – Average
How Long Do Blades Last? – 10-14 shaves roughly, using double-sided razor blades that you can flip when they get dull.
This is ranked number two on my list because it has many great features, and most of all, it performs phenomenally. This is for men with ultra-hairy backs who don't want to spend a lot of money on cartridge replacements in the future. This is the cheapest way to shave your back because it uses double-sided safety razors instead of cartridges, making it very cheap to buy replacement blades. This leaves you the option of what brand, what kind of cut (mild, sharp, or super sharp), and the number of blades to purchase.
My full review is here: Bro Shaver 2.2 Saucy Back Hair Shaver Review.
I recommend using the Feather Double Edge Safety Razor Blades (Japan) or the Astra Platinum Safety Blades. The Feather razors are more expensive but widely considered the best. If you want your razors to last long, go with Astra.
This tears through my back hair. This is better than the larger and older Bro Shaver 1.0 for several reasons. The handle fits better in your hand and is lightweight and maneuverable. Plus, it is updated to install only two razors instead of the outdated three razor blades. You might at first think this is worse, but two blades work better and remain in constant contact with the skin than the three razor blade width.
It is also great for beginners as it has adjustable shaving options, mild and saucy (more aggressive). The cutting angle on the mild setting is less likely to nick or cut you. I go with the Saucy setting, but if you are new to back shaving, it is best to start on the Mild setting.
This great performer with just a few minor negatives deserves its No. 2 Position.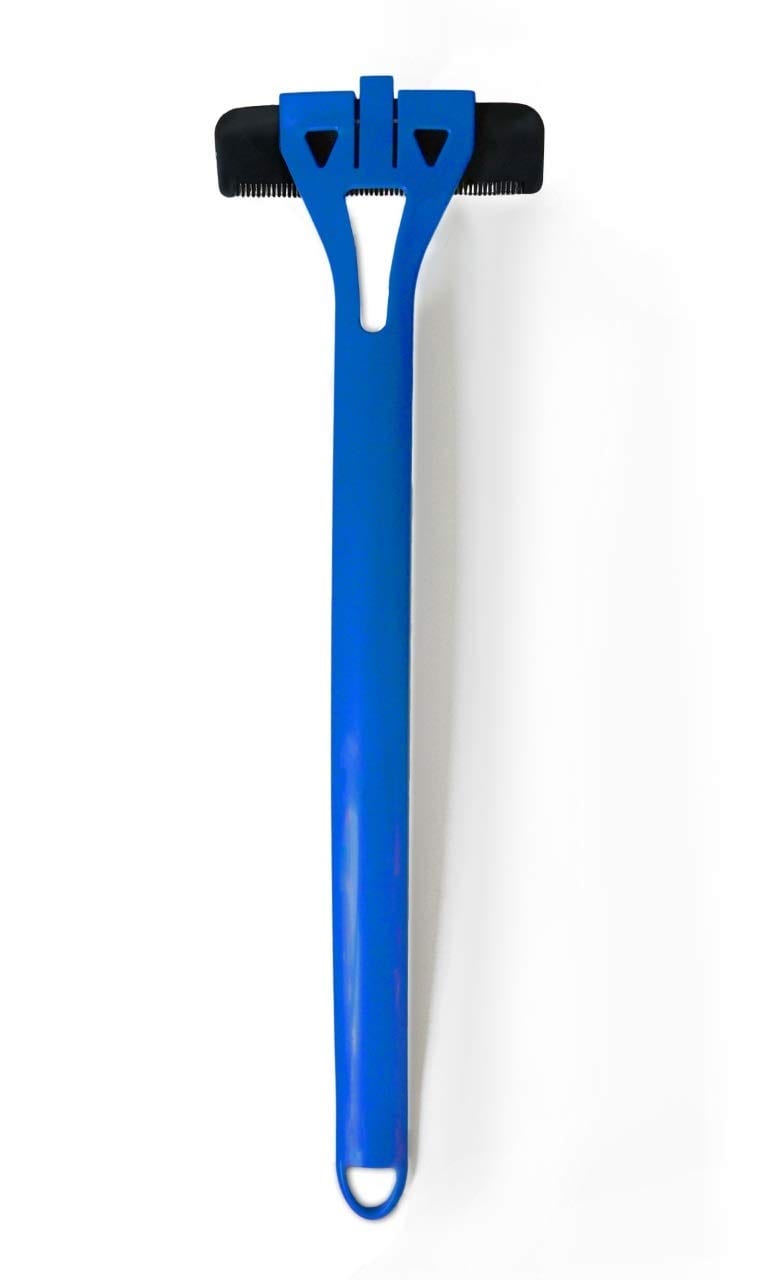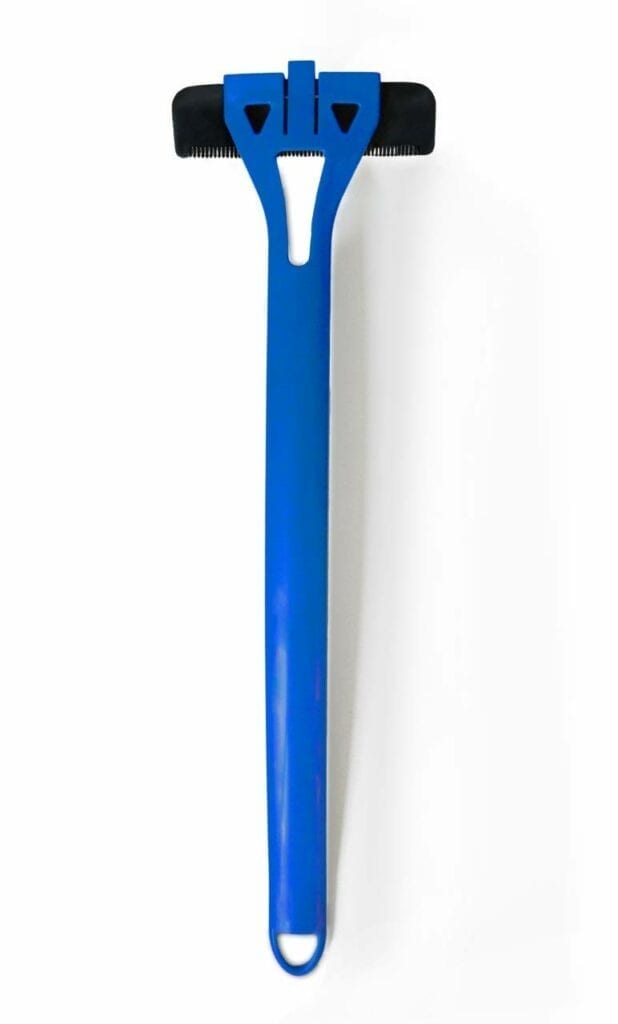 Key Features
Bakblade is the simplest but most effective design. If you love simple, this is the back shaver to get!
Elegant design.
It's a very solid workhorse of a back shaver.
The long curved handle allows you to reach every area of the back.
An opening on the end of the handle to easily hang and store out of the way.
Indexes amazingly.
The lightest back shaver I have ever seen. It is very lightweight and great for people with mobility issues.
Very maneuverable and balanced.
Only one shaving cartridge to replace.
Feels great in the hand.
Kicks ass on back hair. Shaves great.
Shaving cartridges are a snap to put on and off. No screws to secure or unsecured for another reason; people with hand problems can change cartridges with ease.
60-day warranty.
It is cheaper to replace blades than the newer model from Bakblade. As you only have one shaving cartridge installed over having three installed.
Negatives
Uses the outdated three-razor blade width as three safety razors are side by side in the shaving cartridge. This doesn't make for any more or less of a shaving experience.
You can still buy the proprietary shaving cartridge for this model, but someday you might not, as this is their oldest model.
It's not great for storing or traveling as the handle isn't foldable.
Shaving around the bottom of your neck is slightly tricky.
Specs
Type: Manual
Type Of Razors Used – Bakblade 1.0 Replacement Blades (shaving cartridge)
Length – 17 3/4″
Width – 5″
Number Of Blades – 1 Shaving Cartridge
Handle Comfort – Good
How Long Do Blades Last? – 5-7 shaves roughly.
Read my full review of Bakblade 1.0 here: What is Bakblade?
When you pick this one up and use it, it just feels right. Everything is effortless. The weight, how it is balanced, and the indexing when shaving. What an incredible first back shaver for Bakblade! I still grab this one when I need to shave my back and believe me, I have a lot of back shavers to choose from.
They get it right in as it is so lightweight that it almost feels like you're not holding anything. It's probably the lightest back shaver I've ever held. Many people (including me) love this design!
This only has a single cartridge for shaving, but don't let that fool you; it tears through the hair like a raped ape. Many people stock up on the shaving cartridges out of fear of Bakblade discontinuing this older model in the future. They love it that much.
It also has a hole on the end of the handle for tying a lanyard or just hanging in the shower.
You can't go wrong with this one, and it ranks 3rd on my best back shavers list.
Key Features
A two-piece handle is excellent for breaking down for storage or travel.
This shaves hair like a beast.
It has a very comfortable handle that is solid and will not break.
Low-cost replacement blades. It uses very affordable safety razor blades.
Long 18-inch handle. It's one of the longest handles for a back shaver.
Sharp blades are installed and ready to go right out of the box.
Comes with a canvas storage bag.
The handle is curved to allow shaving of every area of the back.
Lifetime Warranty and 60-Day money back guarantee.
It is easy to choke up on the handle, as it has a smooth finish that fits in the hand.
The bottom half of the handle can be removed, and the top half can be used as a body shaver, too.
Cheap to replace razor blades.
Negatives
Outdated three razor blade width. You only need two razor widths, as three razors don't allow all three blades to remain in contact with the skin.
Changing the razor blades is a pain as you need a small screwdriver.
Only comes with the installed razor blades, no extras. So make sure you order some safety razors, too, if you are going to purchase this.
Specs
Type: Manual
Type Of Razor Blade Used – Double-Sided Safety Razors
Length – 18″
Width – 5″
Number Of Blades – 3 are installed.
Handle Comfort – Good
How Long Do Blades Last? – 10-14 shaves roughly.
To learn more, head over to my review here: Sigma Back Shaver – Does It Work?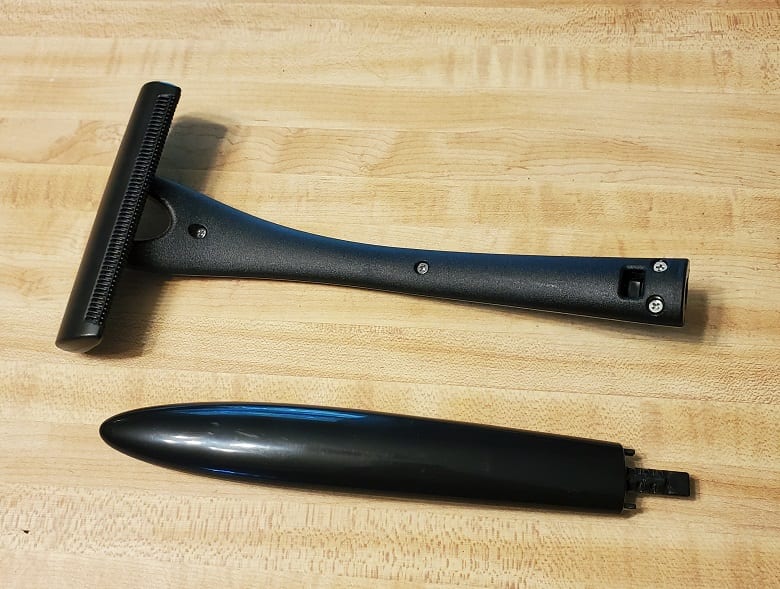 This is a worthy back shaver, and it will shave a sasquatch. The handle is a solid two-piece handle that fits nicely in the hand. You can also grab the handle anywhere on its length and use it. This has the three razor blades stacked side-by-side. It also comes with a storage bag, which is excellent for keeping everything together.
This uses three safety razors, and the shaving head measures 4 1/2″ inches wide. The full-length handle is a whopping 18″ long and more than enough to handle the biggest of backs. It comes with its storage back, which is also handy.
This indexes nicely, as you don't struggle to find the correct shaving angle; it is naturally in the proper position. For these reasons, this ranks 4th on my best back shavers list.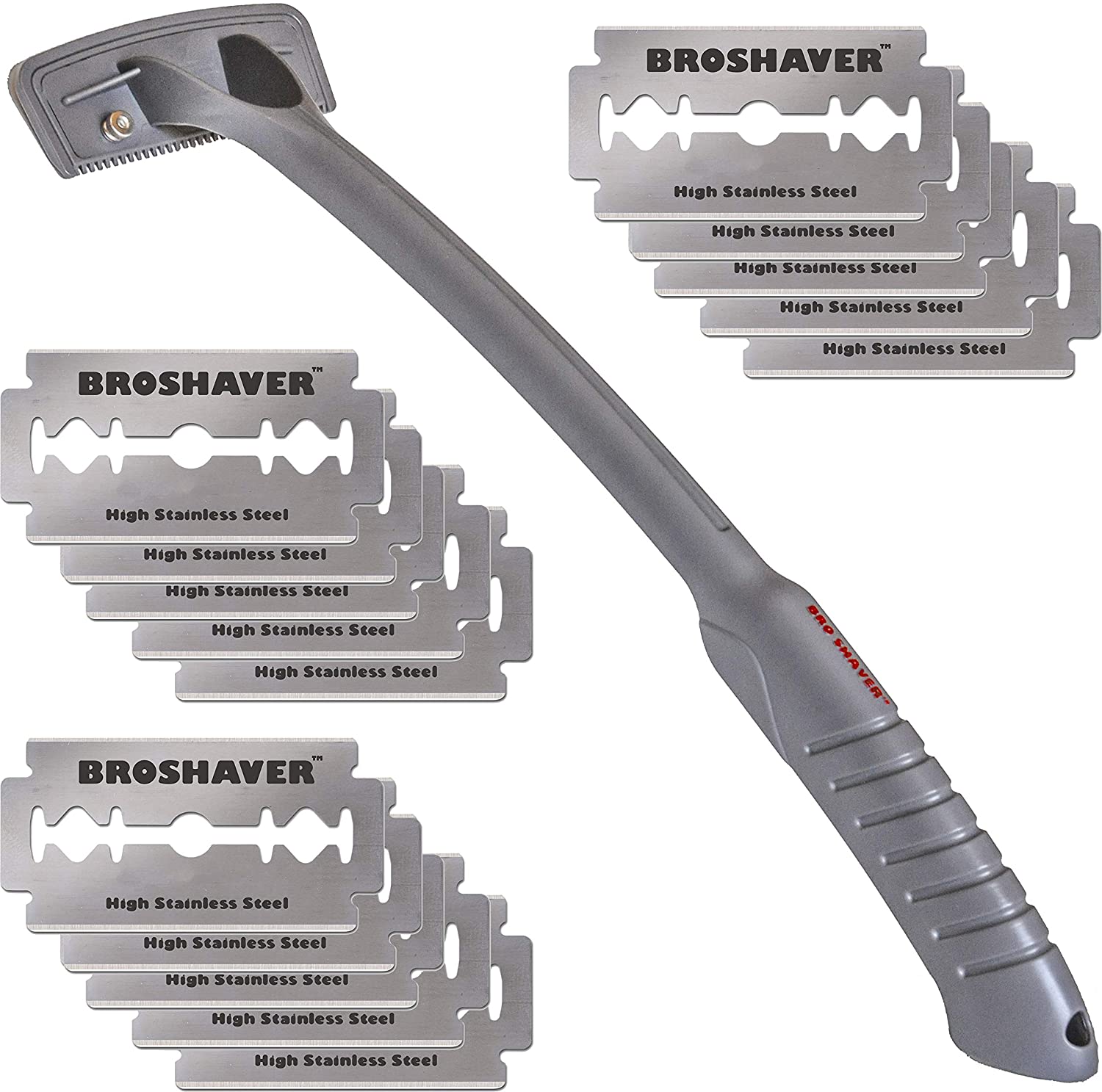 Key Features
Another simple and highly effective design.
It is an extremely close shave, as you can see from the sharpness of the razors you buy.
Great for very hairy backs.
It's a cheap, affordable method for shaving your back.
Low-cost replacement blades. Uses replaceable double-sided safety razors instead of pricey cartridges.
It has a long, curved handle reaching the whole back.
Easy to change out blades.
It's the longest on this list, great for really tall people.
30-day warranty.
Negatives
Cheaper handle construction. It is strong, just not the most comfortable.
Older, outdated 3-razor widths are used instead of the 2-razor widths. Only two razors stay in constant contact with the skin. 3 is overkill.
The handle is not foldable and is long, making storing or traveling with it a pain.
Specs
Type: Manual
Type Of Blade Used – Any Double Sided Safety Razor
Length – 20″
Width – 5″
Number Of Blades – Takes 3 Safety Razors
Handle Comfort – Below Average
How Long Do Blades Last? – 10-14 shaves roughly.
Read my full review on the original Bro Shaver here, Bro Shaver Review.
Another great old stalwart, just like Bakblade 1.0. This sucker kicks ass on back hair and takes names while doing it. It is highly sharp and as close to a shave as possible. It's a super great option for the extremely hairy as well as the thrifty man looking to save money in the long run. This uses cheap, replaceable, double-sided safety razors. You can easily buy a hundred double-sided safety razors for around $12.00. Check out my guide, Best Safety Razors For Shaving Your Back.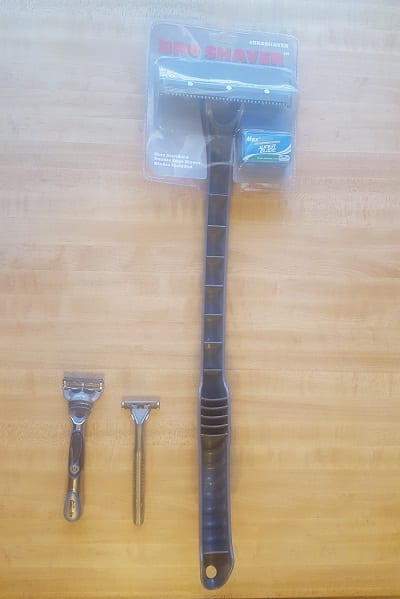 This still holds up compared to the newer models, which is a testament to its design. Very practical and very affordable. Worth getting. I don't like the design of the handle as it feels cheaply made, but the handle is strong; it just doesn't fit that great in the hand.
It is also one of the longest handles on this list. You can also attach a lanyard to the end of it to hang it or avoid dropping it.
This comes with 15 razor blades, which are super easy to change as they have thumbscrews.
Any comments or questions are always welcome.