Sigma Grooming
Sigma Grooming is a small company dedicated to you guessed it, grooming. The Sigma Back Shaver is the product I will be reviewing for this page. In this review Sigma Back Shaver – Does It Work, I will write about its features and determine if it worth buying or not, after putting it through its paces.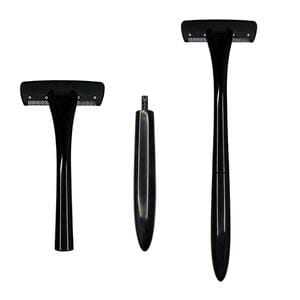 What Is Included With The Sigma?
1 – Sigma Back Shaver (3 safety razors already installed)
1 – Storage Bag
1 – Set of Instructions
Sigma Specs
The handle of Sigma's Back Shaver is two pieces and when put together is a total of 18 inches long. The handle is very comfortable in the hand. The connection between the two handles is held together by compression and I have found that this compression holds pretty darn good. It also breaks down by simply pulling on both ends.
The handle is not straight, as it has a slight curve to it. This is a good thing as you need a slight curve to easily get to all areas of the back comfortably.
The shaving head is 4 7/8″ inches wide and has three double-sided safety razors stacked side by side. The razors are accessible by removing four Phillips screws on the back of the shaving head. The shaving head has a row of plastic teeth that adequately guide the hairs before being cut.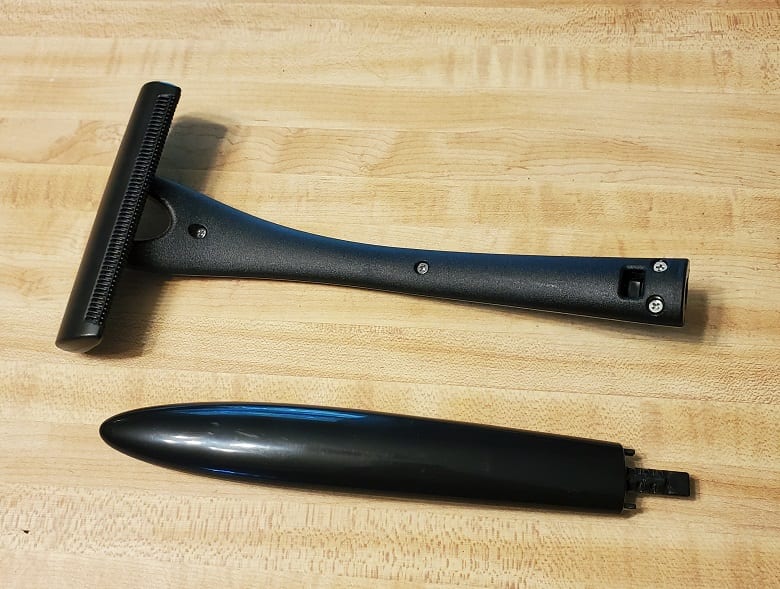 Does It Work? Is It Worth Getting?
To get right to it, this lands towards the top half of the best back shavers I have used. Well, it is not the best back shaver I have used, it is pretty darn good! It shaves hair very well and will leave your back silky smooth in no time.
The shaving angle of the shaving head is good. Not as aggressive as others I have used but still shaves great. The handle is another great feature of this back shaver, as it is long and very comfortable to hold. The handle is also curved and easily gets all areas of your back.
And all of this for being sold at a reasonably price!
Pros & Cons
Pros
Will shave back hair with no problem. Very sharp blades.
All the correct angles designed into this back shaver to make shaving easy.
This is ready to go right out of the box, NICE. As the safety razors are already installed.
Detailed instructions included, I always love seeing this in a back shaver to help the first-timers.
The handle is very comfortable and ergonomically designed to fit the hand. Simple and unique as this is the first time I have seen this type of handle.
The handle is long enough (18 inches) to handle any sized back.
Handle breaks down into two pieces for easy storage.
Decent price for a good working back shaver.
The storage bag keeps everything nice and tidy and out of the way.
No expensive replacement cartridges here as you can easily purchase double-sided safety razors for far less than other company's expensive replacement cartridges.
Allows you to choose the level of sharpness for your replacement safety razors and brand. Although Sigma does sell its own brand of safety razors found here, Sigma 50 Double-Edge Razor Blades. Plus they sell for a decent price!
Wasn't cut or nicked at all after I was done.
Cons
No extra safety razors are sent along with the back shaver, just the ones installed in the back shaver. Recommend buying some to have some on hand when the blades get dull. Sigma has safety razors for sale, check them out here, Sigma 50 Double-Edge Razor Blades.
When blade changing your going to need a small Phillips screwdriver, would have preferred thumbscrews but not that big of an issue.
Tips On Using The Sigma Back Shaver
I found taking short direct strokes to be the most effective method of using this particular back shaver. You can hear it shave hair, so just try to use the best method that you continue to hear it working.
Try using it dry and try using it in the shower to see what method you like the most. For everybody it is different, I prefer to shave my back dry. You don't know until you try both methods.
Choke up on the handle on certain parts of the back to get a more control over the effectiveness of the Sigma.
Check out my page on the Best Safety Razors For Shaving Your Back.
The Final Shave
I am left very impressed with the Sigma Back Shaver. First off it is sold at a good price and second, it performs towards the top of the heap in back shavers I have reviewed. Thus, this would make a good choice for a back shaver for just about anybody. Although this isn't a perfect back shaver, it is solid and would be cost-effective to replace razors in the long run. A great back shaver for the frugal-minded.
It works and is worth getting!
Would love to answer any questions regarding this Sigma Back Shaver or any other general questions or comments.