Let's get the full name out of the way here before starting this review. Okay…deep breath…go.
Ecosin Removable Manual Back Hair Shaver Remover Body Trimmer Razor Self Groomer Shaving Body Hair Trimmer Men&Women Body Clipper Trimmer Shaver.
See what I mean…but I don't really care about the name as much as I care if this works or not.
Let's see how it performs.
Features Of The Ecosin Removeable Manual Back Hair Shaver
Besides the name and keyword stuffing, the other key point feature here is the price point that really stands out. At the time of writing this, it is under $7.00 (subject to change), and as far as I can tell the cheapest back shaver is offered on Amazon. So, it got my interest and I ordered one for reviewing.
The Shaving Head is 5 inches wide.
From tip to end the handle is 17 3/4 inches long.
The handle is foldable.
How well does the cheapest back shaver on Amazon perform? Read on…
How Well Does This Work?
It performs pretty well…but lacks the refinement of other better-built back shavers that are on the market. Just slight differences that would make it a better back shaver than this is.
It shaves your back hair with every pass and makes quick work of it. The razor system is nothing new here, as it uses three safety razors that are laid out side by side and then covered with plastic to lock them in place. This performs as well as similar products. But one note here, I notice quite a bit of hair accumulating under the plastic teeth and the razor after using this. Compared to other similar shaving heads that are designed the same this clogs with hair more.
The handle is very comfortable in the hand wherever you grab it on the handle. I like the foldable handle for storage and travel. It is also very lightweight.
Changing Shaving Head Hard
Changing the shaving head is a nightmare, not that I could find a shaver head for this. Finding the right screwdriver as well as applying force with a letter opener without breaking it took a while. This portion is NOT user-friendlily at all.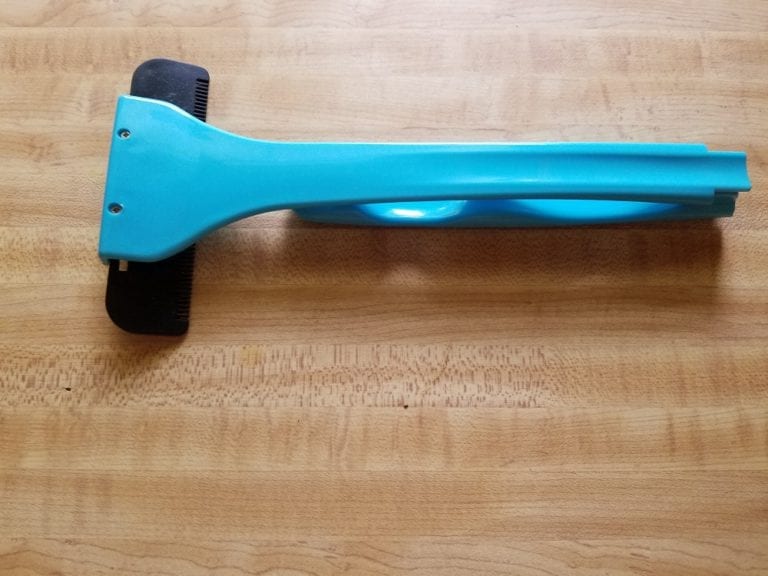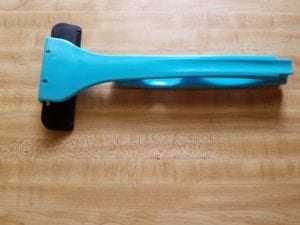 What Is All Included?
1 Ecosin light blue foldable handle.
1 Attached shaver head.
Pros & Cons
Pros
It works! Adequately shaving back hair without much effort.
Great price point…I mean for less than $7.00 not bad at all.
The foldable handle is great for storing or traveling.
The handle is lightweight and can be gripped just about anywhere to choke up on it. Very smooth handle that fits comfortably in your hand.
A long handle that won't leave you wishing it was any longer.
The standard width for a shaving head in the back shaving world.
Cons
***Major update, as the handle for the Ecosin has broken. There is a weak point just above the hinge in the middle of the handle where the plastic is the thinnest. A slight amount of pressure applied from the top of a fully extended handle will break with a slight amount of force.
There is too much give in the handle (flex), this isn't ideal, as you need to constantly apply handle pressure to shave. This applies to certain angles when using this back shaver. I stiff brush should be used to remove the hair.
The shaver head supplied with this seems to accumulate hair when shaving. Otherwise known as clogging. I needed to constantly clean the head, as with a better quality back shaver, the hair will just fall away. The hair seems to stay attached to the front of the shaver as well as go underneath the plastic teeth and stay there.
No packaging information or instructions.
The biggest flaw and death blow in my eyes to this product is no mention of what replacement head to use. So, once the blade has become dull you will not have the option to replace the head. As I bought this on Amazon and can't find the replacement heads for this product anywhere. I tried all the heads I have (BaKblade, Oxa, etc.) and nothing fits. A big flaw in this product!!!!!
Has two Phillips screws holding the shaver head attached to the handle. This would make it very secure but not ideal for quickly changing the razor.
A very hard time trying to remove the shaver head, finding the right screwdriver as well as sliding the head out, as it seems to be lodged in there pretty well. I had to use a letter opener to push it and lift up after removing the screws. Way too hard!
No short stiff brush is included to remove hair built up under the plastic teeth and plastic comb.
Super long name on Amazon. I mean really…trying to use all the keywords in your name is so 15 years ago.
No company information to contact for support.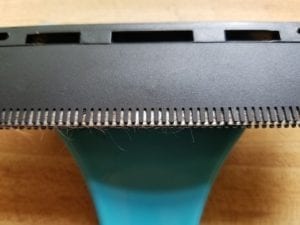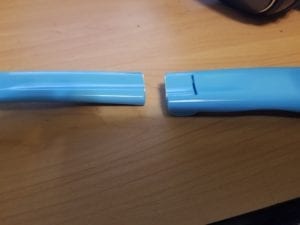 Tips Using The Ecosin
Avoid this product! The best tip I have, as you would only get several shaves from this.
Despite being the cheapest back shaver on Amazon, I would recommend you don't buy this back shaver as I could not find a replacement shaver head for this. This is a huge flaw despite the obvious cheap price, as you will get several back shaving sessions with the supplied head but after that good luck. It will likely be tossed in the landfill. The closest replacement head I could find was the baKblade head but the proprietary head has different angles on it and wouldn't slide in the handle. Maybe some Dremel work could be done to make it work but in the long run, it's not worth the effort.
Move Along…
For a little bit of money, you can get a better shaving back shaver with replaceable heads that save you a headache.
Even if I could find replacement heads for this back shaver it has a poorly designed shaver head attachment which takes time and effort to replace. The worst one I have reviewed by far!
The Final Shave
Stay away from…cheap breakable plastic handles that break!!!
A moderately decent worker but severely limited due to the unavailability of replacing the shaver head. Avoidance would be the best choice in this super affordable back shaver.
Enough said about this back shaver. Check out my top back shavers here,
B