Today I will be reviewing another back shaver, The Back Bro Back Shaver. This back shaver is VERY similar to my last review of the Ecosin Back Shaver with only a few things being different, more on that later.
Bro let's get into this review…
What Is The Back Bro?
The Back Bro is a do-it-yourself back shaver that allows a man to be self-sufficient in maintaining his back hair. It provides The convenience of not relying on the help of another individual to rid one's self of unsightly back hair.
What Is  All Included With Purchase?
1 – The Back Bro blue foldable handle
2 – Shaver heads (1 attached to the handle, 1 shipped loose replacement)
1 – Lil Bro Cleaning Brush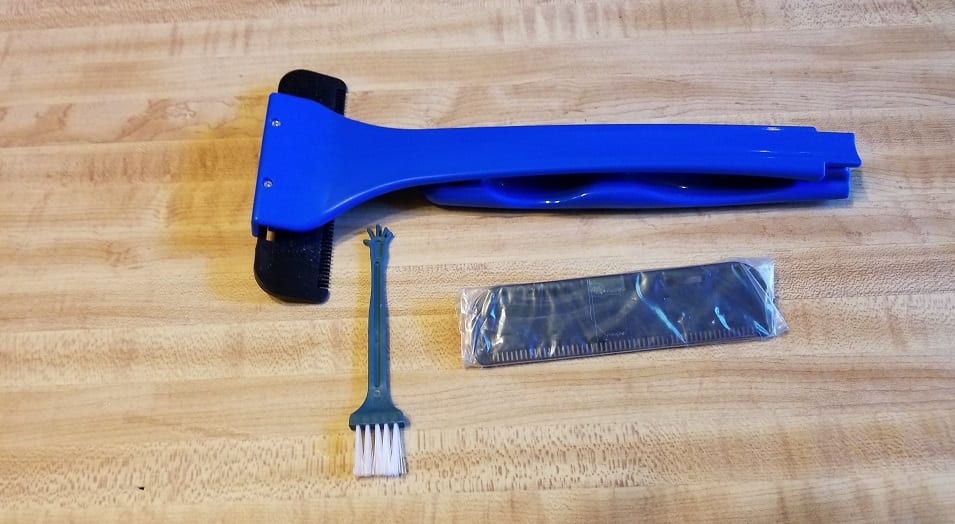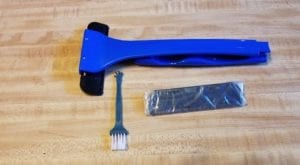 Features Of The Back Bro
The shaving head is 5 inches wide. It uses three safety razors placed side by side within the shaving head. This is standard with most back shavers.
When fully extended the handle is 17 3/4 inches long.
The handle is foldable for storage and travel. it measures 10 1/2 inches when folded down.
Comes with a little brush that is used to clean the razor, as hair will accumulate between the plastic teeth and the razor.
Is It Worth Buying?
The Back Bro is a solid performer. It quickly and easily shaved my back leaving no complaints in this department. I was done shaving in no time. But…
I don't know about you but I want the best for myself. While this back shaver is generally a good back shaver, some of the features are a little more involved and questionable.
Like for example, replacing the shaver head with a screwdriver. I have reviewed other back shavers that use easier and quicker methods that work great that don't require a screwdriver.
The handle is a very questionable weak point too. That is mostly why I recommend staying away from it. As I have reviewed a very similar back shaver with the same handle design and construction just with a different color, that recently broke at the hinge from just a little downward pressure. I can't bring myself to try it on this handle as I don't want to wreck it but I suspect it would break too.
Given these problems despite how well it performs, I would pass on purchasing this back shaver.
I would opt to purchase either of my highest-ranked back shavers. Listed below.
Pros & Cons
Pros
Decent price on replacement blades (see below).
Comes with a Lil Bro Cleaning Brush. I love it when a back shaver comes with a little brush as you can keep your back shaver clean and working optimally.
Does a pretty decent job of shaving one's own back with ease.
Has a foldable handle which is great for traveling with or just storing it out of the way.
The shaving replacement head uses three safety razors side by side (pretty much the standard nowadays) to give adequate shaving width when shaving the area of a back and makes short work of it too.
A good length for the handle, as I easily reached and dispatched all of the hair on my back.
Didn't get any nicks or cuts using this for the first time. Very back-friendly.
Standard width on the shaving head, is a good thing, as this provides a wide enough swath of hair shaving to do a great job in no time at all.
Cons
Finding replacement blades is kind of difficult but not impossible. Reason: The website has a different name than the actual back shaver, MyBackBro.com compared to the name of the product The Back Bro.
Some clogging when using this back defoliator. Nothing impedes the experience but is worthy of note. But thankfully a little brush is supplied to clean it out.
Some clogging experience with using this shaver. As I had to sporadically remove hair from the blades.
Changing the replacement head is a little more involved compared to other products on the market. As you need a small Phillips screwdriver to remove the replacement shaving head. Needs more refinement in this area.
A very possible weak point in the foldable handle is if downward pressure is applied from the top of the handle when fully opened either by accident or on purpose the plastic breaks. This didn't happen to The Back Bro but it did happen to my Ecosin Back shaver (it's the same shape and design just with a different color). It broke right above the hinge, this is where the plastic is the thinnest and will be susceptible to breaking.
No instructions. I always like to see instructions come with a back shaver.
Some Tips On Using It
Where To Purchase additional replacement blades?
Having the option to purchase replacement blades for The Back Bro Back Shaver is a must. Believe it or not some back shavers that I have reviewed don't have replacement blades to be found anywhere. Leaving the consumer high and dry, as well as hairy. Not the case here.
I have two options:
Both places sell a pack of three replacement blades for around 10 bucks.
Clean Bro Clean
Use the cleaning brush which is included, after each use. As hair will get lodged underneath the plastic teeth. It is not that big of a deal but to get the best performance I would recommend it.
Changing The Replacement Blades on the Back Bro
Get a small Phillips screwdriver. Take the two screws which are located on the back of the handle. The shaving head easily removes once the screws are removed. Then simply just swap out the shaving head and line up the screw holes. A flashlight really helps you align up the holes. Screw in the two screws and you're done.
The Final Shave
A decent performer but needs refinement, especially a different handle design, as having this foldable handle really makes for a weak point that is very suspectable to breaking. I can't recommend buying a product that could potentially break leaving you with a lot shorter handle.
If not for the handle design flaw, it would be a good middle-of-the-row-back shaver, that I wouldn't hesitate to recommend. But this is not the case.
Another reason, as mentioned above changing the razor attachment head is how do I say this…old school. After reviewing lots of back shavers, I cringe at finding a small enough screwdriver to replace the shaving head. I want an easier method than this. Period.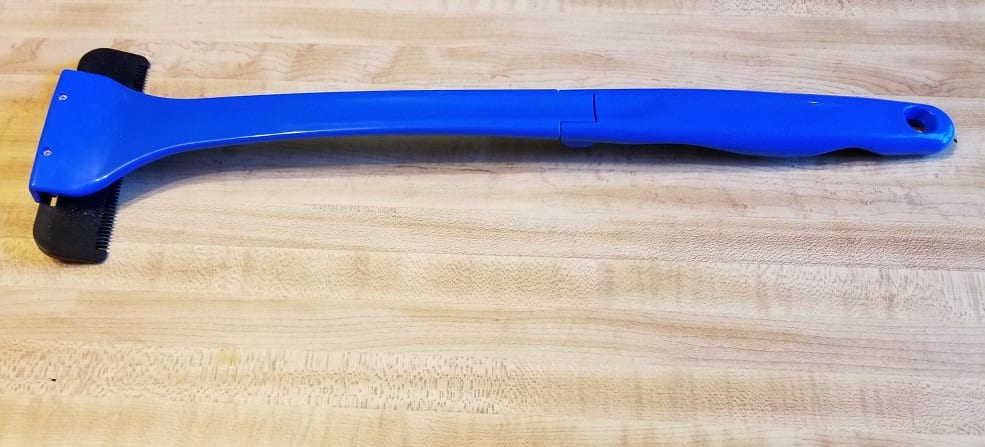 [wp-review id="1873″]