Currently, at the time of me writing this post, there are three available BAKblade back shaver models from which to choose from. To better help the consumer I will break down the different models of back shavers to help determine the best BAKblade back shaver for you personally.
I would like to quickly mention any of these would be a great choice.
So What Are The Models?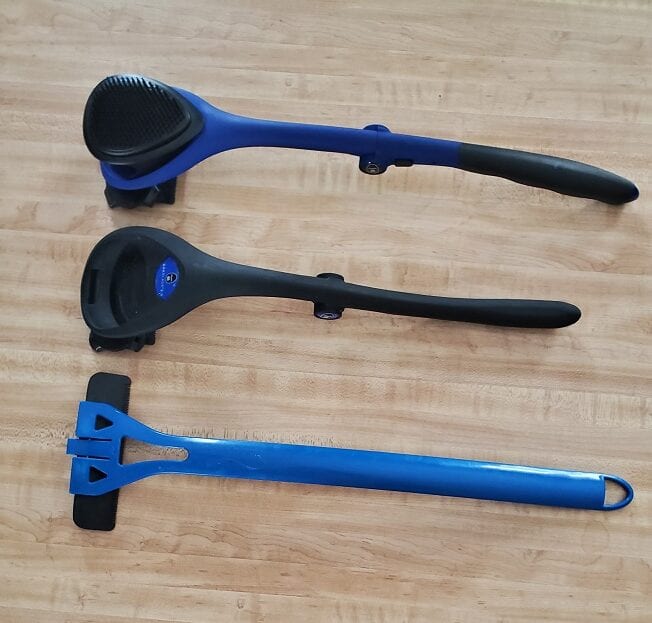 Attention Attention Attention
BAKblade back shaver are consistently been the best back shavers for year after year.
If BAKblade has been anything, it has been consistent in providing the best back shaver with each model, from the original 1.0 Bigmouth to the current reigning champion 2.0 Elite Plus.
All of BAKblade's shavers are at the top of the mountain in terms of performance and design. Their patented Dryglidesafety blade technology offers a tremendously close shave both wet and dry. FYI, I prefer dry shaving my back, it just works better for me.
BAKblade 1.0 Bigmouth Features
This is the back shaver that started it all. This is the simplest version of the back shaver but highly effective and well thought out. This is extremely lightweight and sturdy. This is a bare-bones back shaver that just works well.
The handle is comfortable and can be choked up anywhere along the length of the handle. In some respects, I like the original better than other models, just the way it feels in the hand and how light it is. The length is just perfect and has a nice curve to it as well.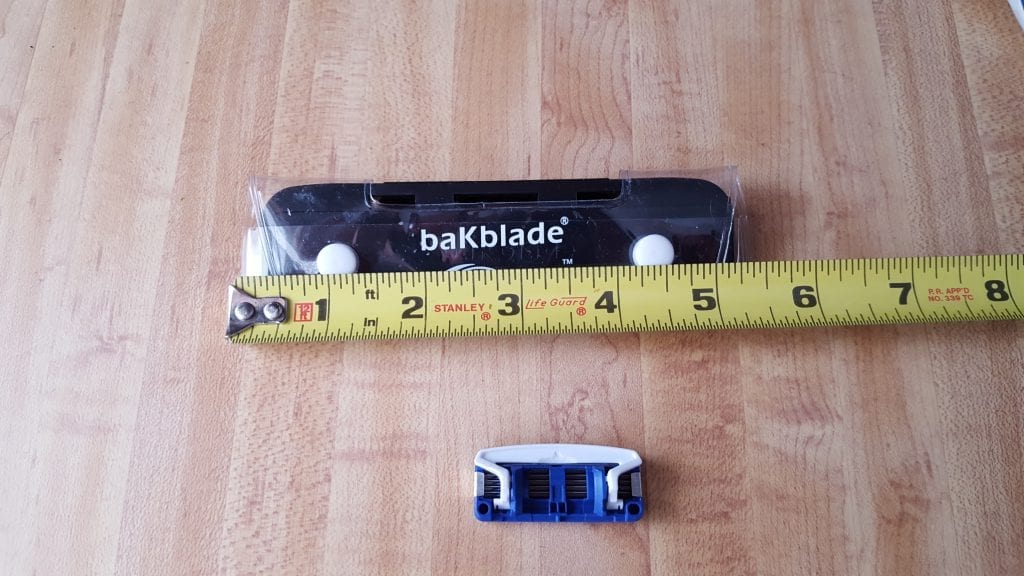 I have just about every back shaver there is, so when I shave my back when I am not doing a review I sometimes grab this one and I am never disappointed with it. It performs how you want a back shaver to perform, knocking down gobs of hair with each stroke.
Such a great back shaver that it puts many other different back shavers to shame. You can read my full review here, What Is BAKblade?
BAKblade 2.0 Plus Features
From 1.0 to 2.0 quite a bit changed along the way. The handle became collapsible this allowed for easy storage and for compacted travel. They shortened the handle on the 2.0 Plus and I think it made shaving slightly harder to reach all areas of your back.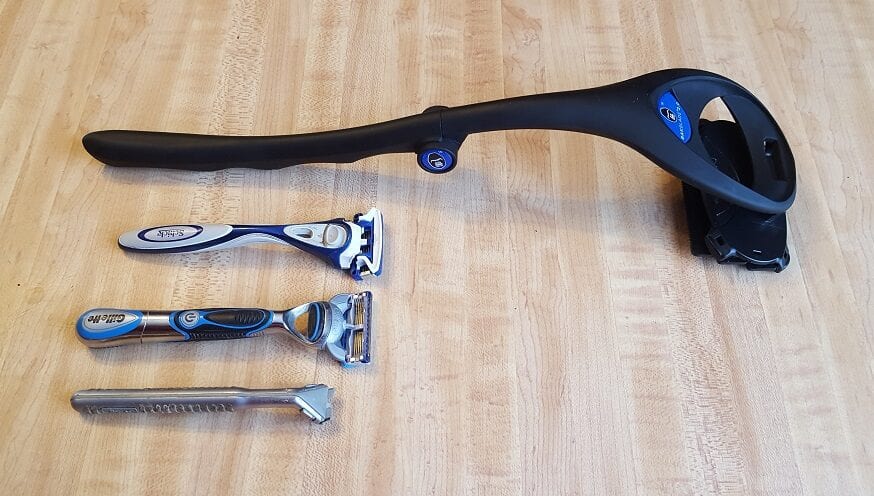 The shaving head also got redesigned it went from 3 razor blades across (1.0) to going to just two razor blades across but stacking a second cartridge on top of the other one.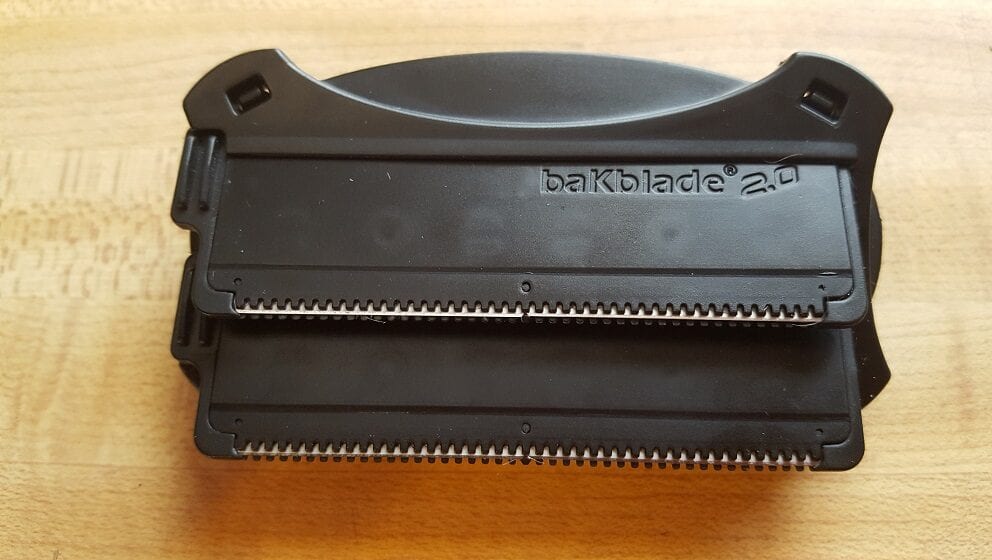 The had a few slight kinks on the redesign and upgrade from 1.0 to the 2.0 but were minor and worked out in the next evolutionary jump to the 2.0 Elite Plus.
Please read my full review here BAKblade 2 Review – Best Back Hair Removal For Men?
BAKblade 2.0 Elite Plus Features
This is currently the best back hair remover on the market after having reviewed most of the existing back shavers out there.
The major upgrade for the 2.0 Plus to the 2.0 Elite Plus is the addition of a third cartridge. Cause the 2.0 Plus has two cartridges stacked on top of each other the 2.0 Elite Plus has a total of 3 cartridges. (see below)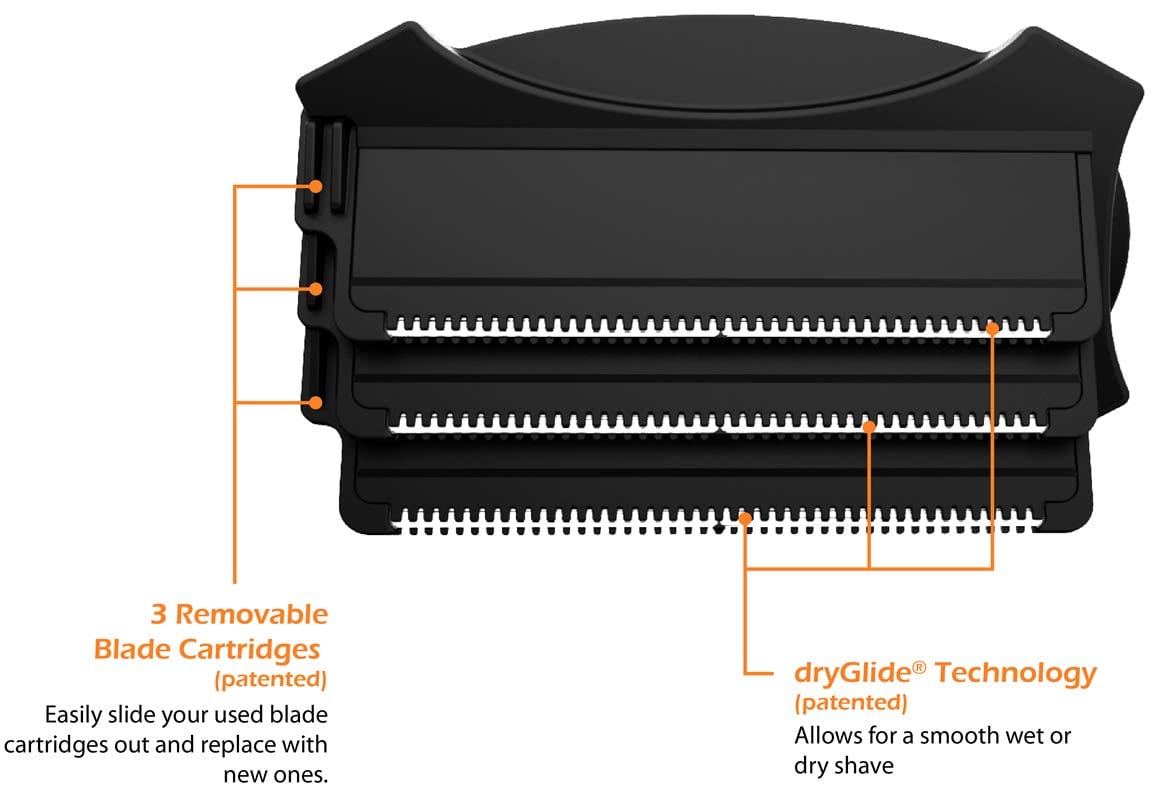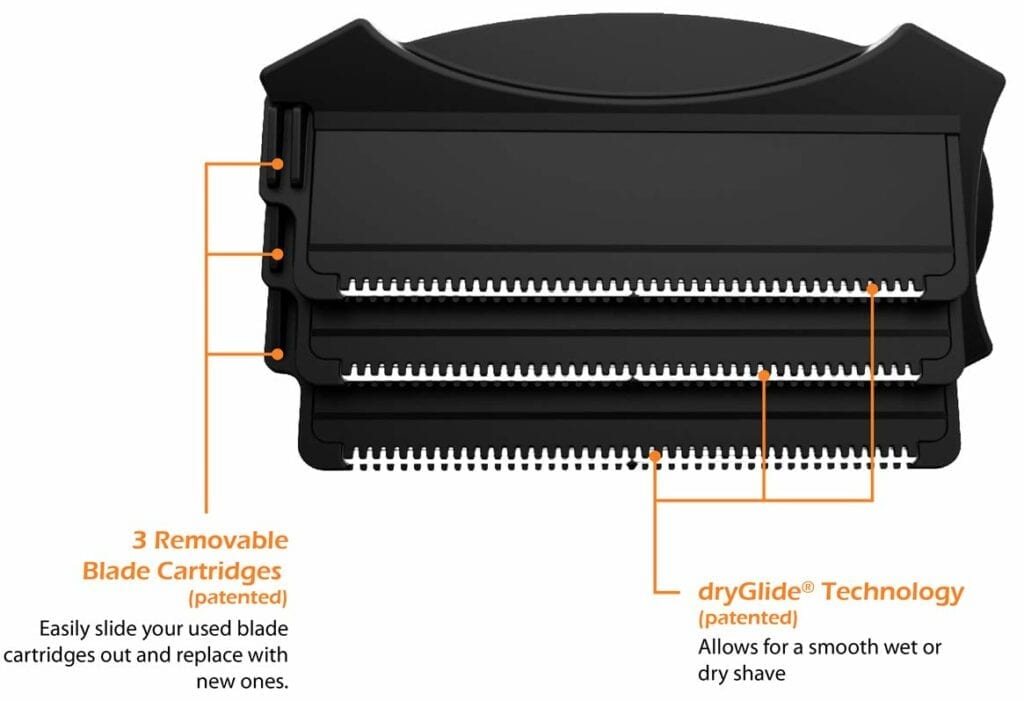 With this addition of a third cartridge, I believe a slight angle adjustment took place for a even better shave compared to the previous model.
The handle also has been upgraded in a couple of ways. The length got longer and now matches the length of the original 1.0. This is a real plus in my book. The other improvement to the handle was getting rid of the s-shaped handle and going more to the original 1.0 with a slight curve to it. This is so important to a quality back hair shaver, you do not want a straight handle.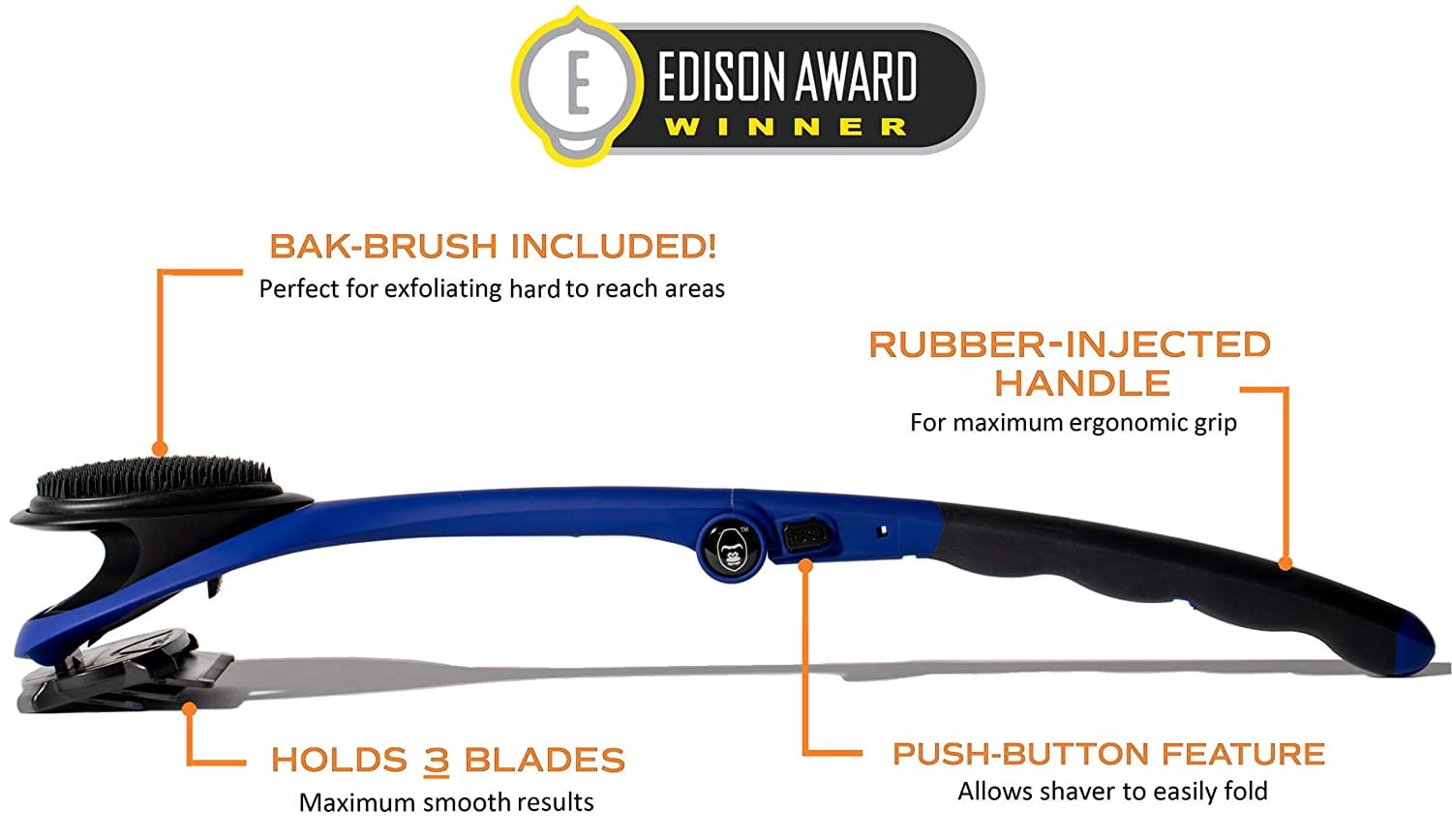 The improvements to all of the components lend to the back shaver indexing amazingly when using it. This meaning you don't have to think about what angle to hold you wrist, hand, or arm it just works.
For a full breakdown on why this thing just simply rocks, read my review BAKblade 2.0 Elite Plus Back Shaver Review.
Which One Is The Best Model
The best one is the newest model, BAKblade 2.0 Elite Plus hand down. Like I have said they keep improving it with each model.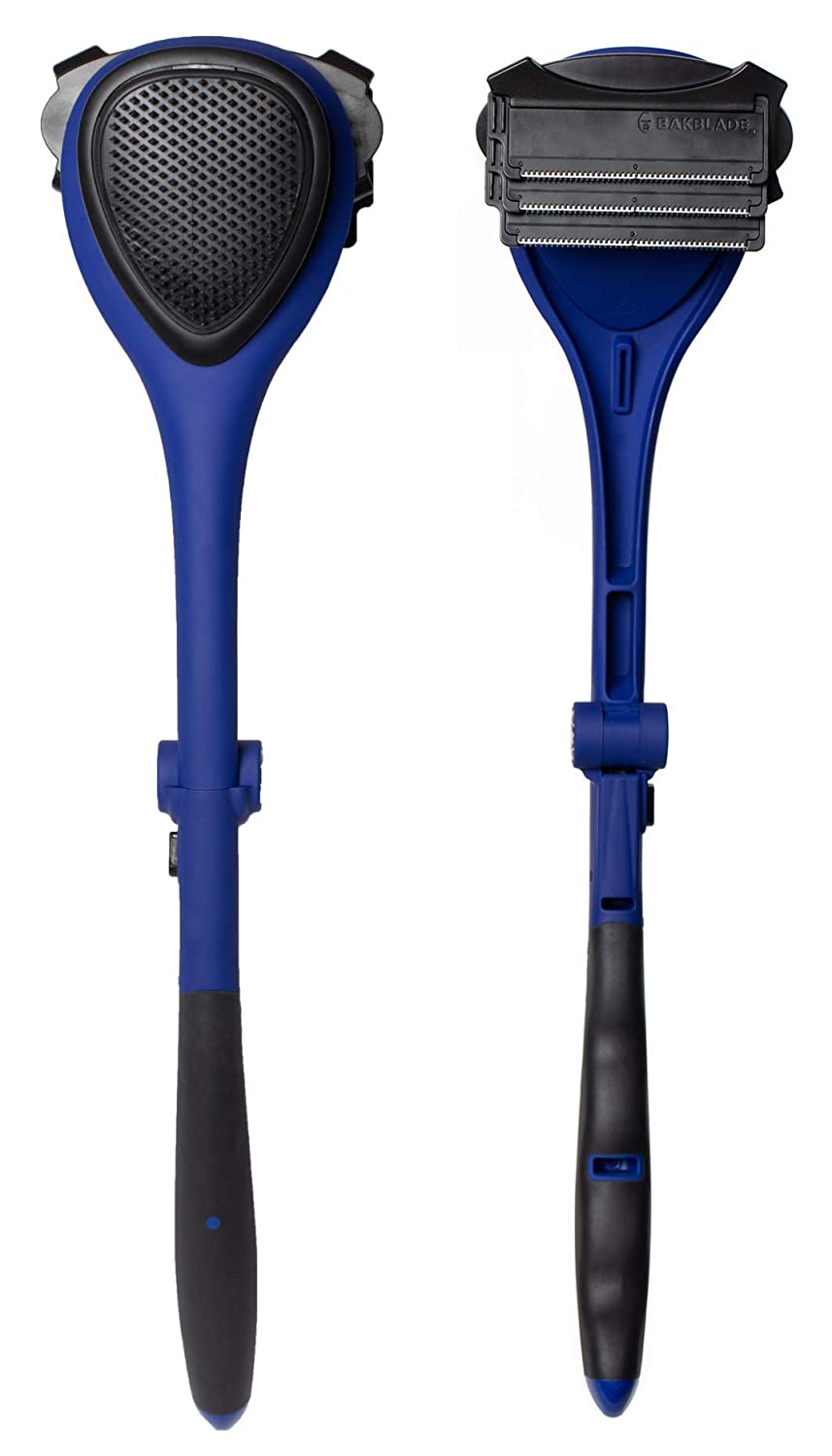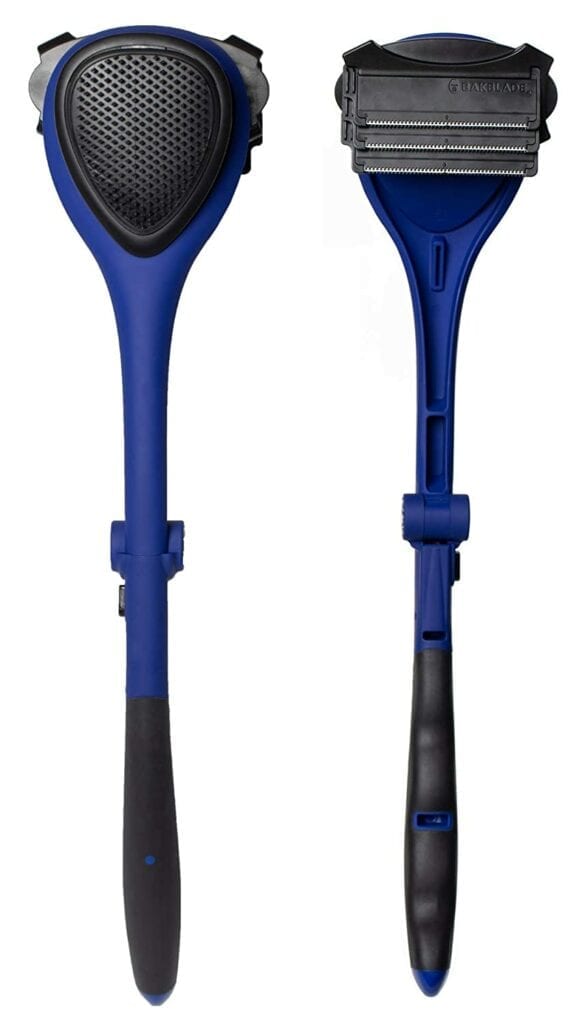 The Major Disadvantage Of BAKblade Back Shavers
Though being the best back hair shaver in my honest opinion on the market they do have a sllight drawback.
What is that drawback?
It is simply having to buy more expensive replaceable cartridges over just buying double side safety razors. If you don't know what a cartridge is concerning back shavers, it is simply just more than one safety razor placed in plastic and most of the time having little teeth. They usually are just thrown away when dull. If you have a back shaver where instead of using cartridges you simply just change out the double-sided safety razors.
Cartridges = more expensive
Double Sided Safety Razors = cheap replaceable razors
So, if you are a man that is more frugal and wants to select which type of safety razor you want to shave with I would go with a back shaver that uses replaceable safety razors, like the Bro Shaver 2.2 Saucy.
If you don't mind paying a little bit more and not having to worry about what type of safety razor to purchase and don't want to bother with it go with any of the BAKblade shavers.
Conclusion
Anything BAKblade makes and puts their name on is amazing.
You know you will be getting the best quality parts in this field.
The company keeps trying to honestly improve and the proof is in their products. You can see this.
I highly recommend any BAKblade Product.