The First Four Blade Back Shaver I've Reviewed – How Will It Perform?
In this Geeceler back shaver review I will put my years of experience and knowledge of back shaver to help you determine if this particular back shaver is worthy of purchasing. After all, we work hard for our money and this is my passion.
I found this back shaver while scouring Amazon for new back shavers and this one looks interesting. As it has four blades. Now I've seen one-blade, two-blade, and three-blade back shavers, but I never have seen four. So, I popped on this to find out if it is any good at back hair shaving.
Let's get into it, shall we?
Full Disclosure
I am not affiliated with Geeceler. I bought this back shaver with my own money. I am affiliated with Amazon and will earn a commission if you purchase this item through the links provided on this page.
What Is The Geeceler Back Shaver?
This has a highly adjustable in-length handle and is a manual back shaver with a total of four shaving cartridges that slide into the shaving head. The handle construction is made from very light gauge stainless steel and is very lightweight.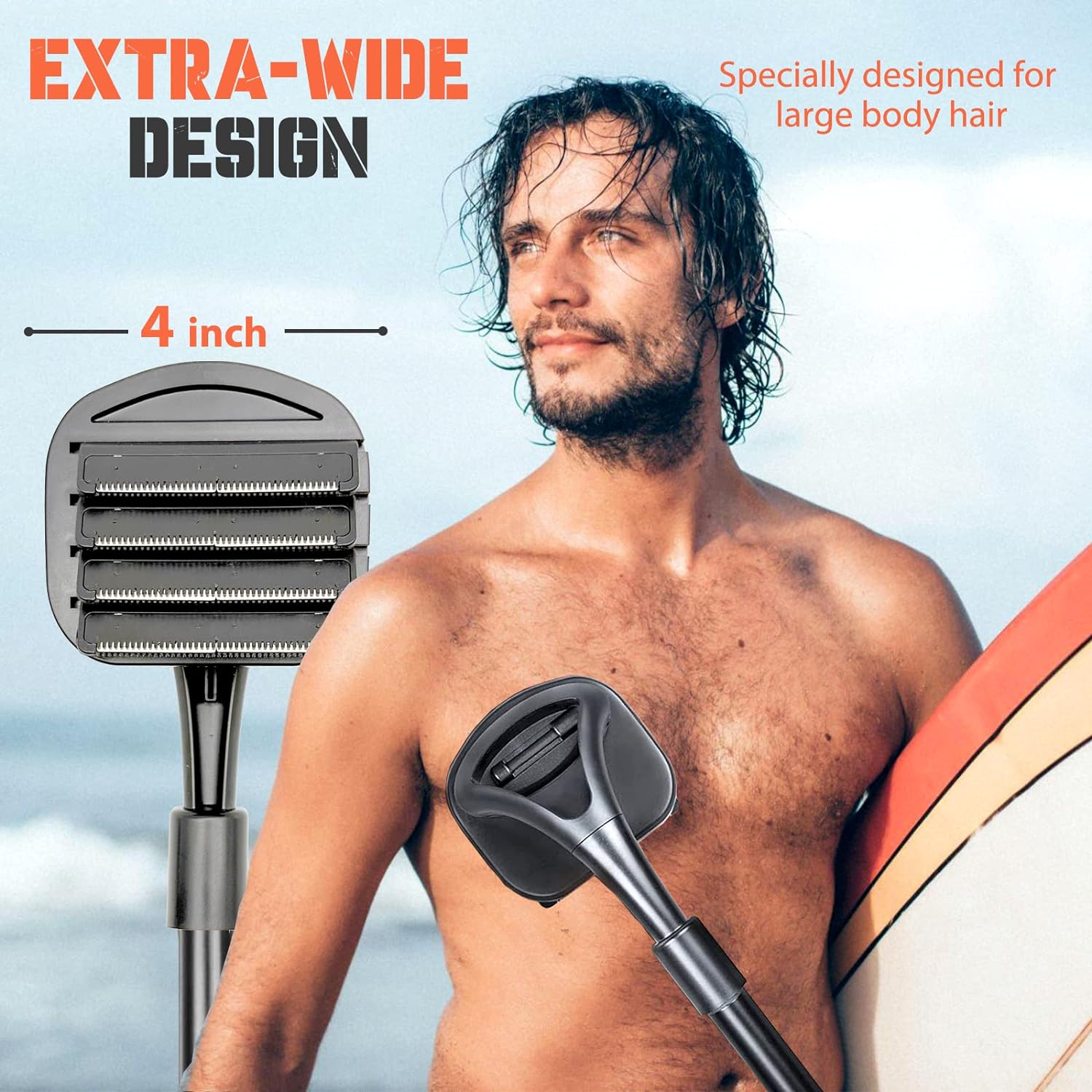 What Is Included With Purchase?
1 – Geeceler Back Shaving Head
1 – 2-Piece Handle
8 – Replaceable Shaving Cartridges
1 – Small Cleaning Brush
Specs Of The Geeceler
When fully assembled this comes to almost 20″ inches in length. The handle is almost 20″ inches in full length when fully assembled. The handle is a hollow stainless steel tube that comes in two pieces along with the shaving head. They attach to one another by simply screwing these together.
The shaving cartridges measure 3 3/8″ inches across giving you the most optimal width. These slide into the shaving head. There are four slots available that can be filled with shaving cartridges.

How Well Does It Work? My Recommendation
Overall this is a decent enough back shaver. Am I over the moon with its performance? No, not really. It will shave back hair decently but there is a few minor details that didn't get worked out in the design phase before production. Let me explain.
What's Right?
Well, let's start off with what is right with this then head on over to my critiques.
The handle is lightweight and made from stainless steel. This should have a long lifespan barring any accident or major damage. The blades supplied in the shaving cartridges are sharp and do an excellent job of shaving unsightly back hair.
The handle is two pieces that fit snugly together and stay that way to you unscrew them.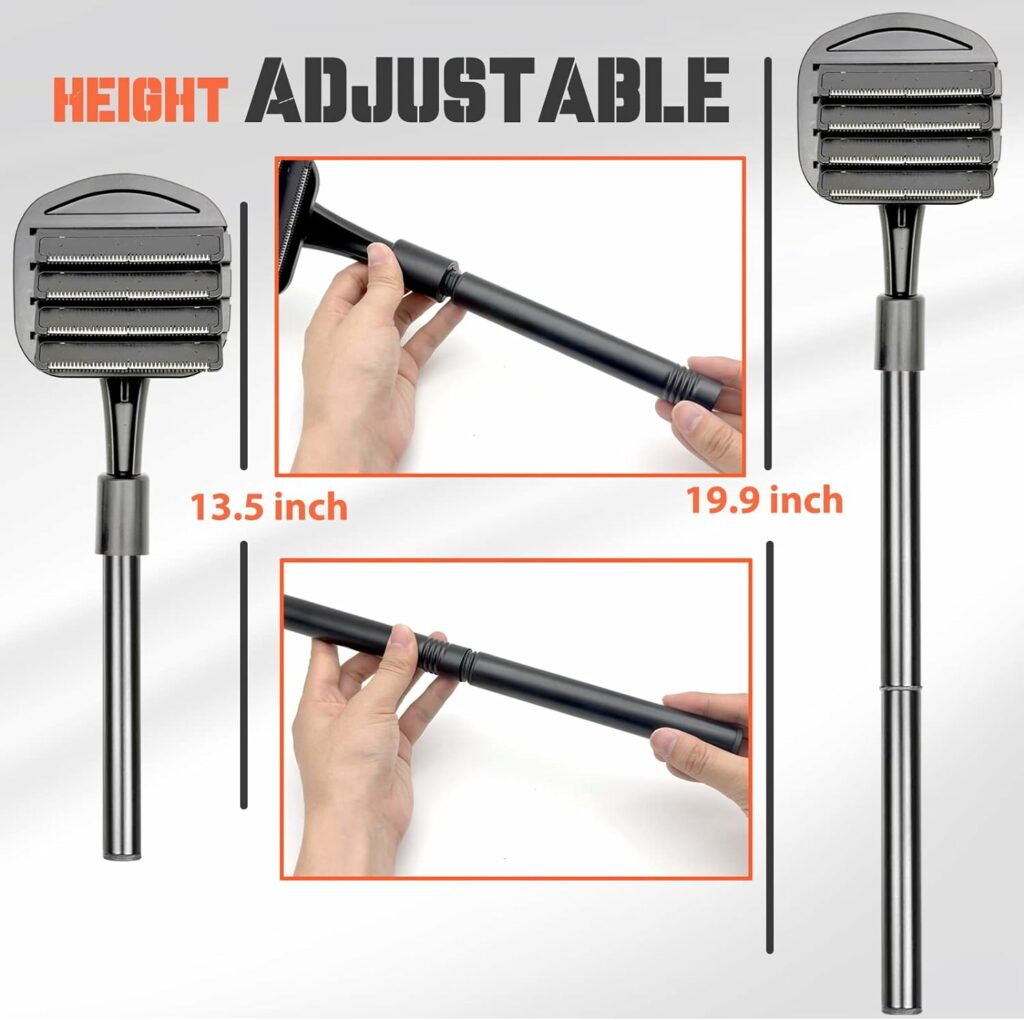 What's Wrong?
So, what is wrong? The big thing for me is the handle is straight and doesn't offer the ease of use as a curved handle does. A curved handle back shaver is the most optimal for shaving your back with ease.
Well, this might be nitpicking to some it isn't so much to me. I have used a lot of back shavers and know the difference. This also helps with indexing. Indexing is just naturally picking up a back shaver and it works with little to no thought about using it. When you struggle to get results you have to consciously think of where to position your arm and hand to get the blade to make contact with the skin while shaving.
With the Geeceler it isn't bad in regards to indexing but I did find myself having to think a few times. It is not even close to the worst back shaver I've used or reviewed. It is minor but I also need to point that fact out too.
Also, I couldn't find anywhere online to buy replacement blades for this. Maybe they are out there online but I couldn't find it and it should be that hard to find them. This leaves me with a real negative hesitation about recommending this to anyone. Cause once the blades go dull it is just landfill material. Worthless.
I don't believe Geeceler's back shaver needs four shaving cartridges either. This is overkill as I found that all four blades were rarely in constant contact with my skin. Unnecessary.
Recommendation
For the simple fact I couldn't find replacement blades, I wouldn't recommend it. But overall it wasn't a bad back shaver by no means. I just prefer the best and this isn't it. I will post links anyway in case you are still interested. I will also post below the best shaver I highly recommend.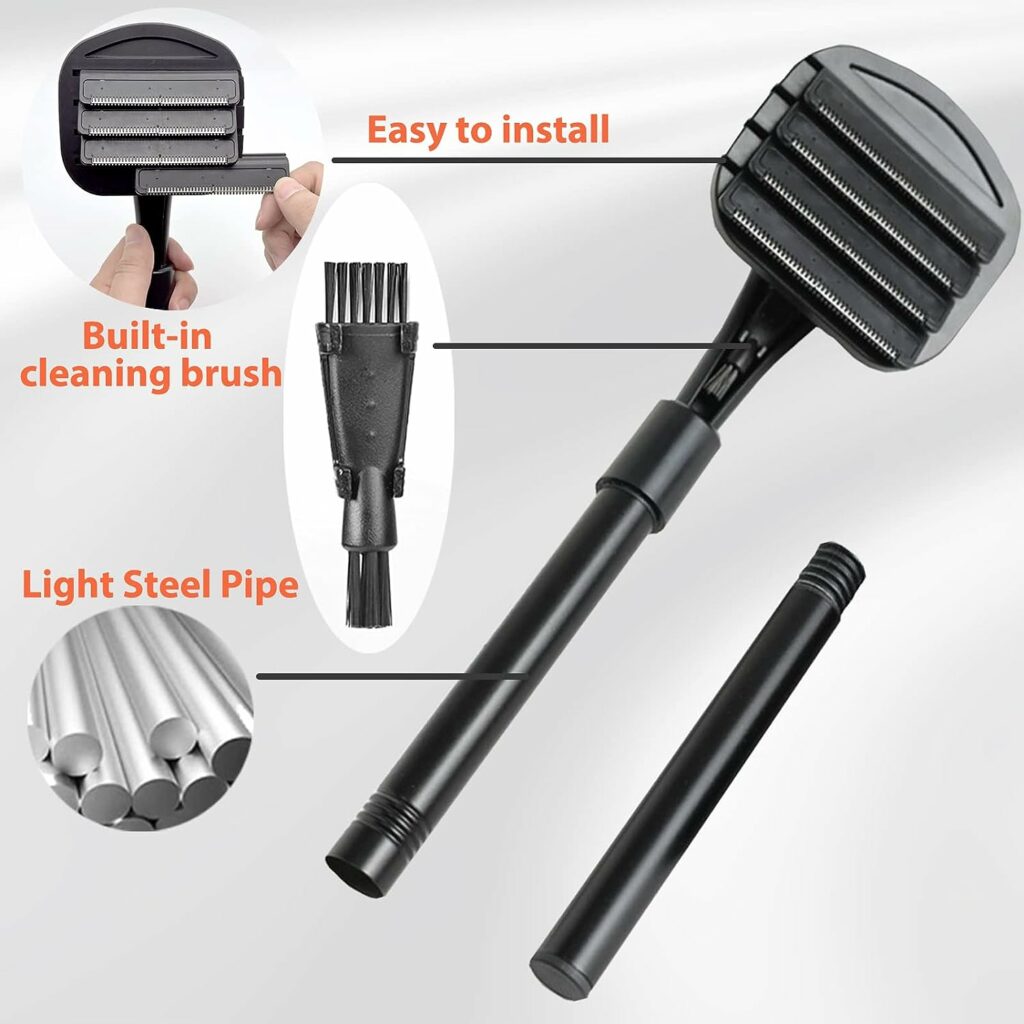 Pros & Cons
Pros
This will shave back hair as the blades are positioned correctly and they are sharp and will shave back hair.
Comes with a small brush that is tucked towards the top of the shaving head to help clean out the razors when you are done using it.
Lightweight handle.
The handle can be broken down into varying lengths to help shave other parts of the body like the chest, arms, legs, etc.
The handle is pretty decent and feels good in the hand.
This is a manual back shaver, meaning it just uses razor blades. This is my preferred method of dealing with back hair as it is the fastest and simplest method in my opinion.
Stainless steel tube handles. This should last a lifetime and will not break or rust over time.
60-day money-back guarantee.
Shaving cartridges lock firmly into place when inserted.
Easy to break down the handle to either store or travel.
Never cut or nicked me. Well designed in that regard.
Cons
Had to go over some areas of my back multiple times either due to the product not indexing correctly or it just failing to shave all of the hair.
Not the best indexing (as mentioned above). This means you struggle more with hand and arm positioning when trying to shave to get the optimal shaving angle. It is not the worst I've seen but I marginally struggled and this needs to be mentioned. This should just be more natural and seamless, with no thought required.
Having more shaving cartridges doesn't really translate to a better or quicker shave. I noticed in the mirror that all blades were not in contact with the skin at all times.
This is a straight handle which is not a good thing. The best handles for shaving your back are slightly curved.
Cannot find where you buy the replaceable shaving cartridges. A big problem and shouldn't be hard to find. Cause I would
How Does This Compare To Other Back Shavers I've Reviewed?
This falls in the middle as far as performance when I stop and compare all of the other back shavers I have used. I do applaud Geeceler for trying to improve upon the back shaver by optiming to installation of a fourth shaving cartridge into the shaving head.
What Back Shaver Do I Recommend Instead?
The best back shaver I have used is the Bakblade 2.0 Elite Plus. I have formed this opinion by reviewing 95% of the back shavers on the market. This is from actually owning the product and using it along with my years of experience using a back shaver, back trimmers, and razor extensions.
You can read why I love this product so much here, Bakblade 2.0 Elite Plus Back Shaver Review.
The Final Shave
The Geeceler Back Shaver is a decent back shaver with a few flaws. I just wish they would make their replacement blades easier to find as I couldn't find them online.
It is for this reason I do not recommend this product.