Today, I will be reviewing Razorba Sum3 Power back shaver, this is their current top of the line model of back shaver that Razorba sells. They offer four models to choose from and the Razorba Sum3 is the flagship of Razorba. We will get into what is Razorba Sum3x Power, in this review. I am expecting a lot out of this method of back hair removal. Let's see if the Razorba Sum3 Power delivers.
You can read my other Razorba reviews Razorba GOAT Wide Disposable Double Razor Review, Razorba Silencer Review, and Razorba Back Hair Shaver Reviews. If your looking for the top three back shavers to choose from head on over to my page found here, Best Way To Remove Back Hair Yourself.
This looks like a tomahawk and feels like one in the hand. Let's see if this will cut through the back hair, like a sharp tomahawk.

What Is The Razorba Sum3 Power?
The Razorba Sum3x Power back shaver takes a dual stance at attacking back hair. With a rechargeable electric trimmer and a spot to insert a regular beard razor or disposable razor into the top of the Sum3x, thereby extending your reach in order to shave your back. This two-prong attack can be very effective at eliminating back hair, as I have reviewed a system that works really well, found here, ManGroomer Lithium Max Back Shaver Review. But read on to see if the Sum3 works this well.
This shaving system can be used for both wet and dry shaving and I like the versatility of this.
Features Of The Razorba Sum3 Power
The handle just like the Razorba Classic is 17″ inches long. It has a 3″ rechargeable electric trimmer head that is designed to cut the long hair.
There is a hole that has a spot that you insert a standard razor into at the top front of this shaver, this is held into place by a compression once the razor is inserted into it by a rubber. This feature is for getting a closer shave by using a standard razor blade or disposable razor. They call this the Hamr Grip II technology.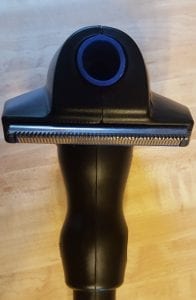 It also has a hole on the end that has a lanyard attached for better control or just for storing it by hanging it somewhere.
How Well Does It Work?
I am not impressed, that's me being blunt. This thing under delivers and over promises. First off I don't like the Hamr Grip II technology, it is not perfect. It doesn't hold the razor that securely and after just a minute, the razor spun around me. Leaving me slightly aggravated and disappointed right out of the gate when shaving.
Maybe, the electric shaver will redeem them and save them in this review. Ahh, not so much. The electric shaver also doesn't perform well. I had to make multiple passes to effectively remove long back hair. This left me more disappointed and unacceptable in my eyes. When I first turned on the electric trimmer, I was also immediately surprised at the noise it made. It doesn't sound good to my ears, for an electric trimmer.
Sound comparison the Razorba Sum3 Power VS ManGroomer Lithium Max. ManGroomer operates at a higher rate and cuts hair on the first pass, where the Razorba Sum3 needs multiple passes to completely remove the hair. I think you can tell how well one is built over the other in this short video. The sound emanating from the Razorba sounds sloppy and unrefined to me.

The weight is on the heavy side compared to other back shavers. It is also bulky and not the most maneuverable.
This method of back shaving has a two-prong attack to it. To knock down the long hair with the electric trimmer then to insert a razor for a close shave to finish off the back. This also increases the amount of time required for a close shave and can be seen as a detriment because of the extra amount of time needed. "Time is money", as they say.  When shaving the upper back with a razor inserted it is hard to get a good angle on the razor. It is not comfortable and you must constantly adjust.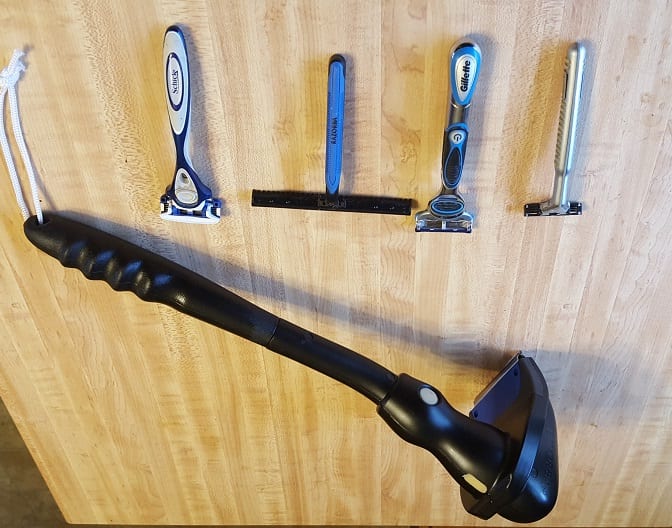 Pros & Cons
Pros
Can be used for both dry and wet shaving.
I like the concept of the versatility of having two shavers in one.
Can be used in the shower or bath, once disconnected from the charger.
The ability to use the same razor you shave your face with if you don't want to complicate your shaving routine.
The comfortable grip fits nicely in my hand.
Comes with a lanyard to provide a sure grip and to possible hang it when storing.
Nice long handle for reaching the back.
Provides the most compatibility, along with the Razorba War Hammer at handling more different types of razors than the lesser Razorba models.
Thorough instructions, worth the read.
Cons
No response when I tried to contact anyone at Razorba for products to review and information. Just ignored me, with no response. I hope your support is better than this when customers have problems with their product.
Expensive! For the amount, they charge I would want a perfect experience shaving my back. The Sum3 doesn't come even close to providing this. The highest price back shaver I know of that doesn't deliver a good quality shave. Unacceptable.
The increased amount of time to get a close shave as this system uses two methods to rid your back of hair.
You must determine if your current razor is compatible with the Sum3x. As this doesn't work with every brand of razor out there.
The electric trimmer doesn't work well, I have to make multiple passes on a patch of hair to fully eliminate it. This is unacceptable.
Big cumbersome head, this sometimes impede getting the correct shaving angle when you deviate from the normal shaving movements.
Doesn't come with a razor.
The power button is located at the top of the handle and doesn't provide easy off and on switching, as you must use your other hand or place this tomahawk down on something to turn on or off.
When a razor is inserted the razor will sometimes spin, thereby losing your correct angle. It is not locked down completely, this is very bothersome to me.
When a razor is inserted into any of the Razorba style back shavers, the correct angle of the razor when shaving your upper back is very awkward due to the increasing separation of the inserted razor length changes the angle needed for properly shaving the upper back.
The overall design is antiquated. This is how I feel after using other systems that are by far and away a better overall shaving design and performance.
The electric trimmer is a poor design as well. I have used shears all my life and this just leaves me with the feeling of a bad design and cheap. It might be built to last (I don't know) but the trimmer doesn't strike me with high refinement.
Noise. Its noise is at least personally to me hard to listen to. It drones at a slow rhythm, most electric trimmers operate at a higher rhythm and this makes me think it isn't fully charged and needs a charging but it is at full charge.
Heavy and not the most wielding of back shavers.
As per the instructions, this is only for use on the back and shoulders and nowhere else. Kind of limiting, as other back shaver systems allow you to shave other areas as well.
Compatible Razors For The Razorba Sum3
Gillette Fusion/ProGlide
Gillette Fusion/ ProGlide Power
Gillette Fusion Power Phantom
Gillette Mach3
Gillette Mach3 Turbo
Gillette Sensor Excel
Gillette Custom Plus Pivot
Gillette Good News
Bic Comfort 3 (disposable)
Bic Sensitive (disposable)
Bic Comfort Twin (disposable)
Most Disposables Razors
Dollar Shave Club Razors
Most safety razors
Schick Hydro 3
Schick ST2 (Slim Twin)
Schick Hydro 5 Power Select
Schick Hydro 5 (disposable)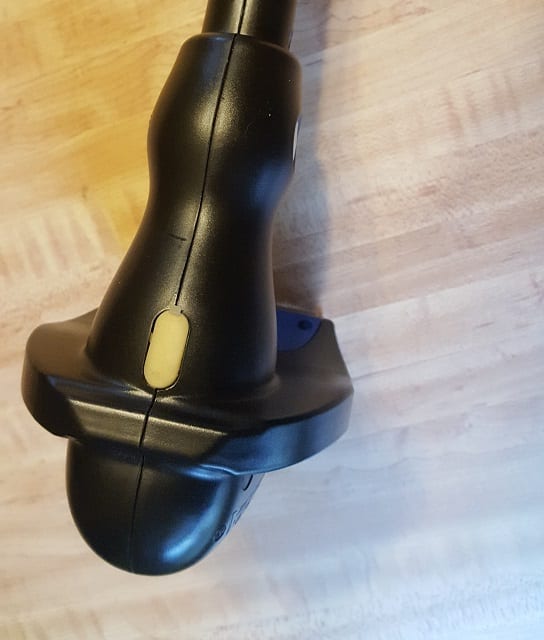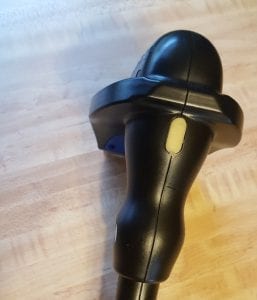 The Final Cut
This electric device is what I fear the most when buying something electric, poor design and poor performance. This almost falls in the category of gimmicky, if not for the ability to hold a razor blade it surely would be. As the electric trimmer is, how should I say this, cheap junk in my honest opinion. Made cheaply, and performs as cheaply as it is made. Time has passed this design by as it might have sold in the 90's or the 2000's but not in the 10's. This doesn't fly when products deliver excellence nowadays and word of mouth through the internet and social media are present. If you are looking for a quality electric trimmer I would suggest you read my review of the ManGroomer Lithium Max Back Shaver. It outperforms this by leaps and bounds and it gives a nice smooth shave too without needing a razor.
For the amount of money they want for this, I can not recommend this to anybody, when you can buy a real back shaver for far less than what Razorba Sum3x Power cost.
I equate the Razorba Sum3x Power to an overpriced blunt tomahawk trying to chop wood. It just doesn't work well. The design even falters at holding a razor adequately as it spins when shaving sometimes. For the amount of money, they want I want the price to match the performance.
[wp-review id="881″]
---
Any questions or comments welcomed as always.