Are Hollow Socks Worth It? Find Out
In this Hollow Socks Review, I hope to inform and describe these unique socks so you the reader can make the most informed decision on whether or not to purchase these socks. I initially found these socks while careening through Instagram. As I love a good sock it caught my eye.
The unique material used to construct these socks sounded very interesting as well as their claims, "The softest, driest, most comfortable socks you've ever worn." Okay…I'm interested…
Full Disclosure
Before we get into the review, I would like to describe my relationship with Hollow Socks fully. So you can have a precise and clear picture. I am an affiliate of Hollow Socks. I just recently joined their program. I did not receive any free products from them. I purchased all the socks (pictured below) with my own money. I will receive a small commission from purchasing any item from my links on this page. I only review products I have used or own and tested (real-world experience).
What Are Hollow Socks? What Makes Them Special? Thermoregulating+Moisture-Wicking+Comfort
Well, Hollow Socks is made from Alpaca fiber which is similar to wool but different. It is both softer and stronger than other materials often used in socks. Alpaca fibers are hollow, unlike wool which is not. This apparently allows better insulation with less weight.
While being better at insulation it is also extremely breathable too. Meaning they perform both in hot and cold weather. It also wicks away moisture as alpaca fibers are very water-resistant and dry fast. This also helps prevent bacteria from building up and causing stinky feet.
What Materials Are Used?
Each sock is presently different but the main components are Peruvian baby alpaca fiber, nylon, and spandex.
What Socks Are Available At Hollow Socks?
There are currently a total of five different styles of socks to choose from at Hollow Socks. These also come in two different colors black and grey for each style of sock. I will list them from shortest to longest socks, this is also reflective of the price as well.
No-Show Socks
Ankle Socks
Crew Socks
Boot Socks – This has the highest percentage of Peruvian baby alpaca fiber at 70%. The most comfortable and thickest.
Ski Socks – Basically a knee sock and the longest.
Sizes for Men
Medium – 8-10
Large – 10.5-13
Xtra Large – 13.5-15
Sizes for Women
Medium – 7-10
Large – 10.5-12
My Experience With Hollow Socks & Recommendation
I purchased the Crew Socks, Boot Socks, No-Show Socks, and Ankle Socks to review here.
A good pair of socks can make a world of difference in any activity you do. Whether it's just going to work or your favorite hobby. Hollow Socks has designed fantastic socks that leave little else to be desired.
I stand for 10 hours on concrete and pay good money for quality boots and socks. Because your feet are so important to how you feel and how well your day is going. If your feet hurt, you are going to have a really long day. Even on hot days, I was wearing the thickest socks they have (Boot Socks) and my feet didn't even really feel that hot.
I noticed a more general sense of pleasantry when wearing these socks. They are soft and more comfortable in general than traditional socks (cotton). Especially with the Boot Sock, it felt more cushiony too.
I know I will be purchasing more of these socks as I love the No-Show Socks for summertime and the Boot Socks for the wintertime. There is little to dislike about these products as they are quality and live up to Hollow Sock's claims.
What a great pair of socks!!!

Pros & Cons
Pros
Great colors (black & grey). I enjoy being able to purchase a sock that isn't just black or white, as they offer grey-colored socks. It is nice to see and expand into a different color scheme besides the usual colors.
Zero scratchy-ness. Just softness and pure comfort. A real pleasure to wear.
Very comfortable. One of the best socks I've ever worn. Hollow socks perform everywhere it claims.
A wide variety of socks to choose from (5 different styles) to specifically target your optimal task. From work to play and everything in between.
Made in the USA. Wisconsin-based company!!! I live in Wisconsin and love to see a great business in the state in which I live.
My feet remained cool and didn't sweat excessively in the heat. This really surprised me.
The socks fit excellently. They never slipped down (floppy) and never were overly tight (you know when you take your socks off at the end of the day and there is a ring of highly compressed skin around your ankle or leg).
Multiple ways of saving money at Hollow Socks. Buying in bundles or buying more than one pair will save you money. This is always nice to see.
30-Day money-back guarantee.
I tested these socks in the hottest part of the summer where I lived. It was in the mid to high 90s with high humidity and my feet were far more comfortable and less sweaty than my normal used socks. A vast improvement.
I haven't tried these socks in the cold yet, that season is shortly coming up. But I believe these would perform just as well in the cold as the heat. I will update you when I do.
I experienced no stink after wearing Hollow Socks for 10 hours at my full-time job at the stainless steel factory where I work.
The sizes were spot-on. As I wear a size 12 shoe the large socks fit my feet perfectly.
I didn't experience any pilling or excessive lint while wearing these socks.
Makes a great gift idea to give someone. Especially if they love to work or play outdoors.
I appreciate the name (HOLLOW) is printed on the top of each sock so as to easily identify it in my sock drawer or when doing laundry. Since these are premium socks I want to easily find them in my drawer.
Hollow Socks Boot Sock is great for people looking for a little extra padding on their socks and are really comfortable. This was my favorite for wearing to work but they all were great.
Lanolin-free. Hypoallergenic, and itch-free.
Free shipping when you buy 2 or more pairs.
Alpaca wool is about three times as warm as sheep's wool. Can't wait to try these in the wintertime.
Great for outdoor activities like skiing, hiking, biking, hunting, and etc.
Cons
Pretty expensive for just a pair of socks. Upwards of $50.00 dollars for a pair of Ski Socks which are the most expensive they sell. The cheapest sock is $20.00 for their No-Show Socks, which use less material than their Ski Socks do. So that makes sense.
Slightly a hassle for laundry as you have to wash it in cold water and hang it to dry. Even though they state (machine washing and drying tests have shown no damage). I'll just play it safe.
How Does This Compare To Other Socks I Have Worn?
I often wear black Dickies socks for work and occasionally wear some type of wool socks in the wintertime when I walk my dog. These have way more cushion and are a lot softer and generally more pleasant. Plus they keep my feet dry and smelling better.
I have worn these for two days in a row. Pretty gross…right? But the socks didn't have any smell to them. So, it lives up to that claim too.
Final Thoughts On This Hollow Socks Review
Rarely do I look forward to putting on socks but…after just one day of wearing Hollow Socks the next day I was actually excited about putting on these socks and wearing them. I guess I need to get a life but it somehow lightens my load and makes your feet happy. Thus making you have a slightly overall better day.
I have found that Hollow Socks actually lives up to its claims and their performance alpaca socks are the bomb!!! I really didn't experience any real negatives of any of their socks besides the higher price tag.
While it might hollow out your wallet a little it will not leave you with a hollow feeling inside after wearing these socks. I highly recommend Hollow Socks. One of the best socks I've ever worn.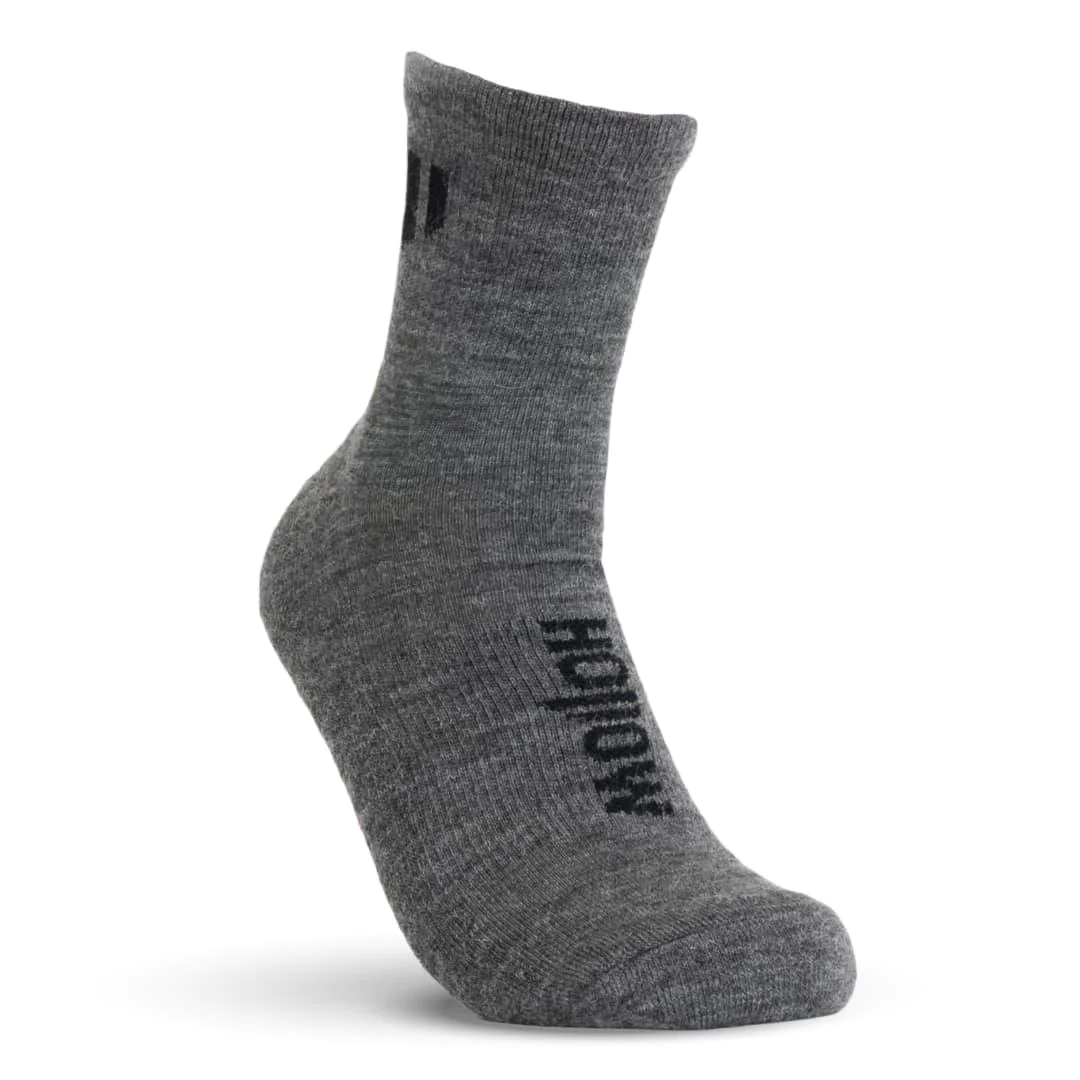 If you have any comments or questions I would love to hear them below. Thanks!