Is This Deodorant Worth Getting? Find Out!
In this Oars + Alps Deodorant review, I will be highlighting any positive and/or negative features of this product. In order to help you decide for yourself if the product is worth checking out and spending your hard-earned money on. I always love trying new deodorants and I am super happy to bring another deodorant review to the public.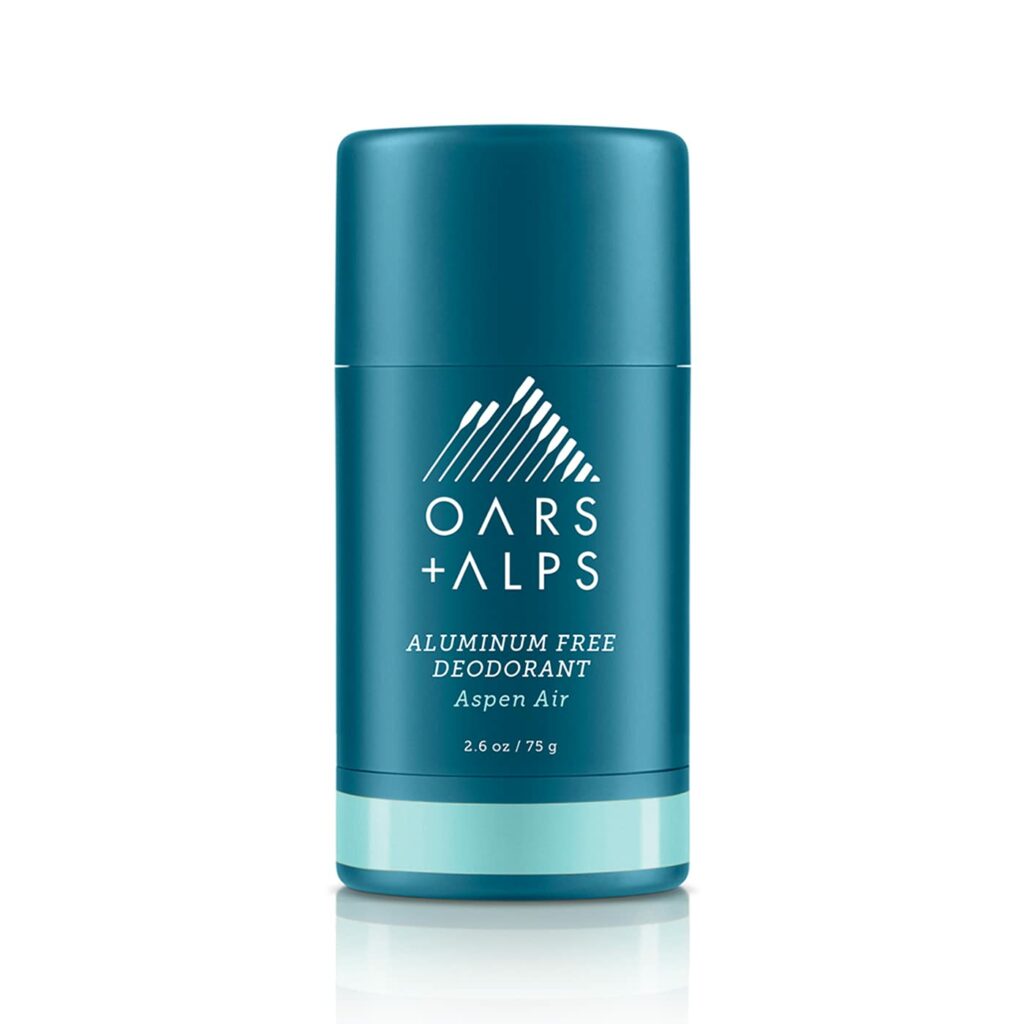 I only review products I actually have owned or used. I have the pictures (below) to prove it. I don't write about products from information found online, only from owning the product and using it. Just honesty.
Affiliate Disclosure
I am an affiliate of Oars + Alps and I will make a small commission on purchases through links on my website. This will not affect my review or sway my opinion about their product(s). I purchased all of the deodorant pictured in this review with my own money. This is how I continue to bring new and interesting products that I review.
What Is Oars + Alps Deodorant?
Oar + Alps deodorant comes in 2.6-ounce sizes and is what I call a hard-density deodorant. There are eight different scents to choose from in their line. This deodorant goes on clear and will not stain clothing.
Scents That Are Available At Oars + Alps
Currently, there are eight different scents to choose from.
Fresh Ocean Splash – Cedarwood, Lime, and Fresh Greens.
California Coast – Patchouli, Ylang Ylang, and Sandy Amber.
Eucalyptus Spearmint – Eucalyptus, and Sweet Spearmint.
Aspen Air – Cedarwood, Pine, and Oakmoss.
Bergamot Grove – Oak, Bergamot, and Black Pepper & Spice.
Mandarin Woods – Mandarin Zest, Cedar, and Red Currant.
Deep Sea Glacier – Citrus & Amber.
Unscented with Prebiotics – No fragrance.
Ingredients
Each different scented deodorant has its own unique list of ingredients but I will post one deodorant below, so you get an idea of the ingredients. If you check out the Oars + Alps website they allow you to hover on any of the ingredients and they briefly describe them.
Fresh Ocean Splash
Propanediol, Water, Aloe Barbadensis Leaf Juice, Sodium Stearate, Zea Mays (Corn) Starch, Glycerin, Fragrance, Phenoxyethanol, Ethylhexylglycerin, Cladonia Stellaris Extract (Alpine Caribou Moss), Lilial, Benzyl Salicylate, Hexyl Cinnamic Aldehyde, Linalool.
My Experience Using The Product & Do I Recommend
I started using this in the hottest part of this summer. Mid 90s with high humidity and it held up and staved off underarm stink for me. So, it did its job through my routine ten-hour shift work at my full-time job of manual labor in a factory.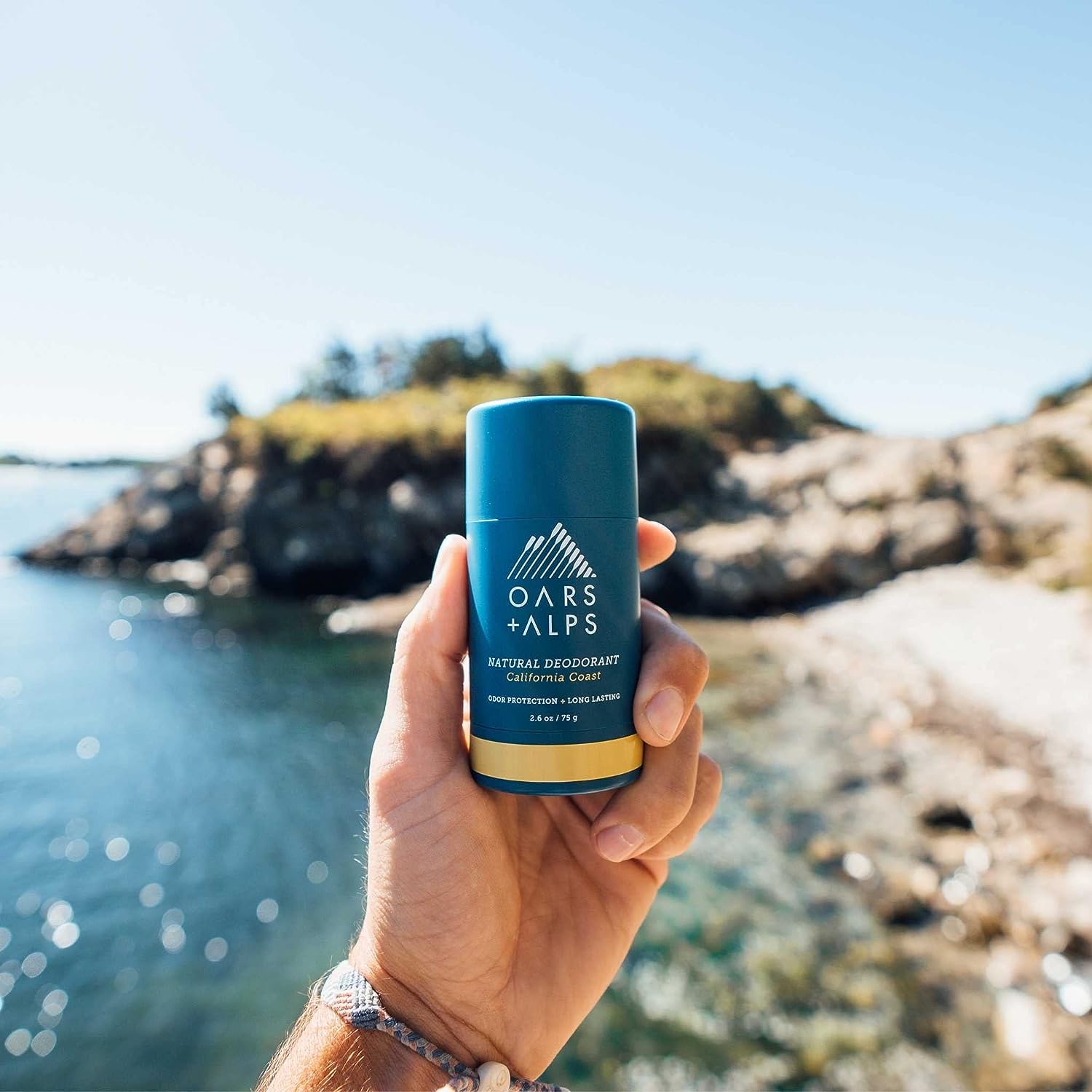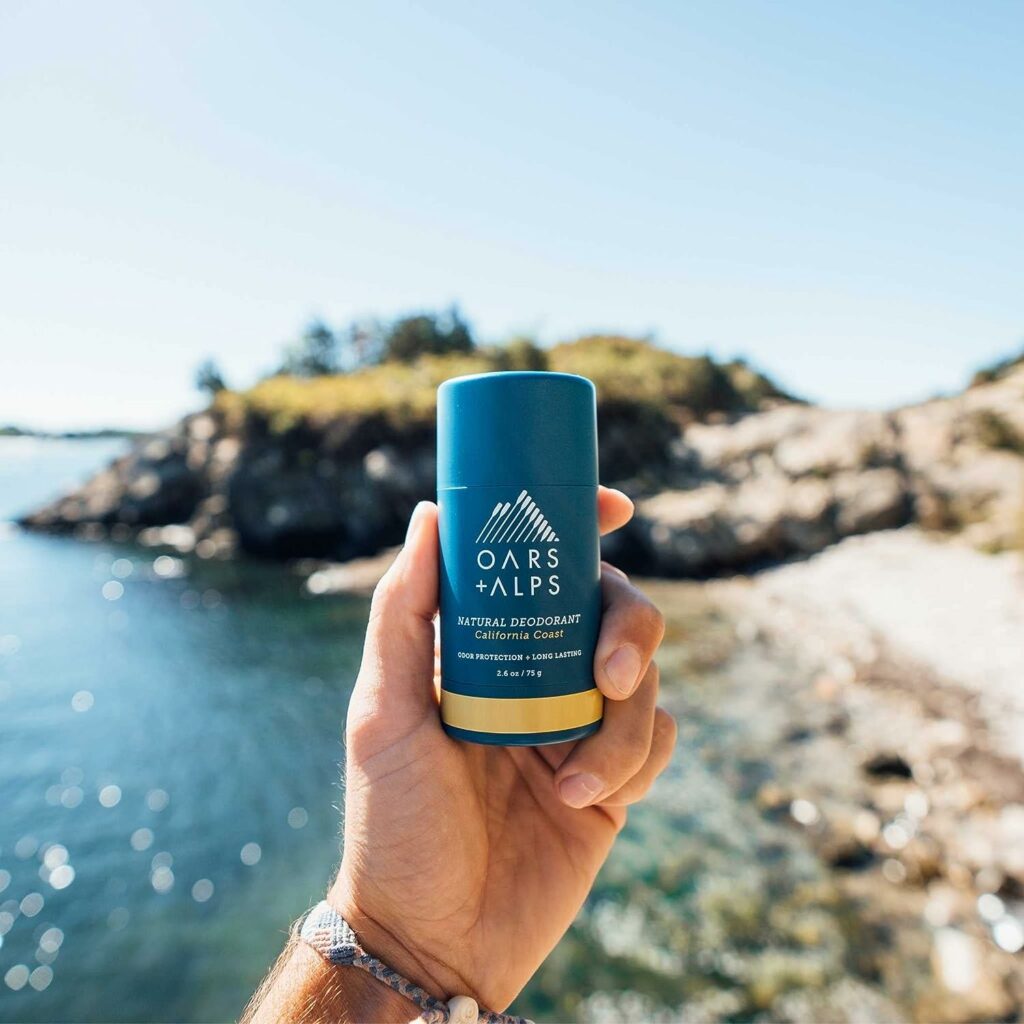 This is the lightest deodorant I have ever applied to my armpits. It just goes on super easy and clear. I can't stress this enough. Probably the smoothest application I ever have experienced. Seriously, it is so easy!!! There is zero stickiness or staining of clothes. I wear black t-shirts at work and I never have any white stains in my armpits after using O+A.
I like all of the scents and nothing makes me hate any of them. The scents also are skin scents, meaning they don't project into your environment like colognes do. I can't stand deodorants that act like cologne. Thankfully, none of that is here. Scents for me are pretty light (which I prefer) and stick around for roughly about 6 to 8 hours.
The scents I would say are unisex and I would proudly wear any of these anywhere. They all smell pretty natural overall. Another pet peeve of mine is unnatural fragrances in deodorants but O+A passes the mustard on this too.
My favorite scents from their line are Deep Sea Glacier and California Coast, and my top favorite is Fresh Ocean Splash.
Overall
I love Oars + Alps deodorant!!! It's a great deodorant. Here is why…
With a great set of ingredients, performance, and quality scents this is a great deodorant. I have used deodorant that lasts longer but that comes with worse ingredients and stronger scents.
Their prices are very reasonable when you also factor in that a stick of this deodorant should last a very long. As, it is a hard-density deodorant, which lasts a lot longer than soft or medium-density deodorants. An important factor to consider and something I've noticed from reviewing a lot of deodorants.
One of the best products I have ever used to apply it and actually feel like you're not using any deodorant. It is smooth, slick, and light.
Highly recommend Oars & Alps Deodorant!!! Give them a try if you are looking for a new deodorant.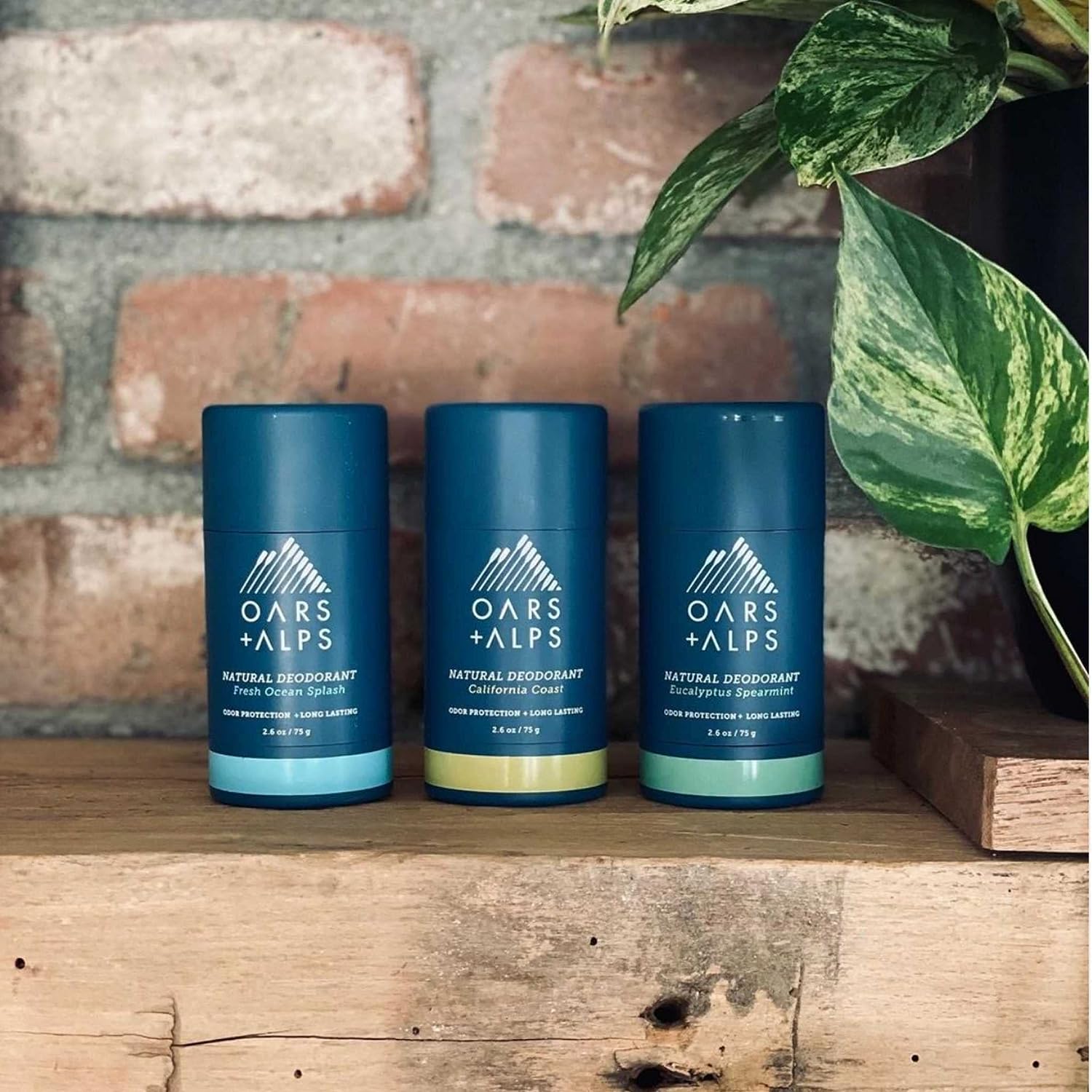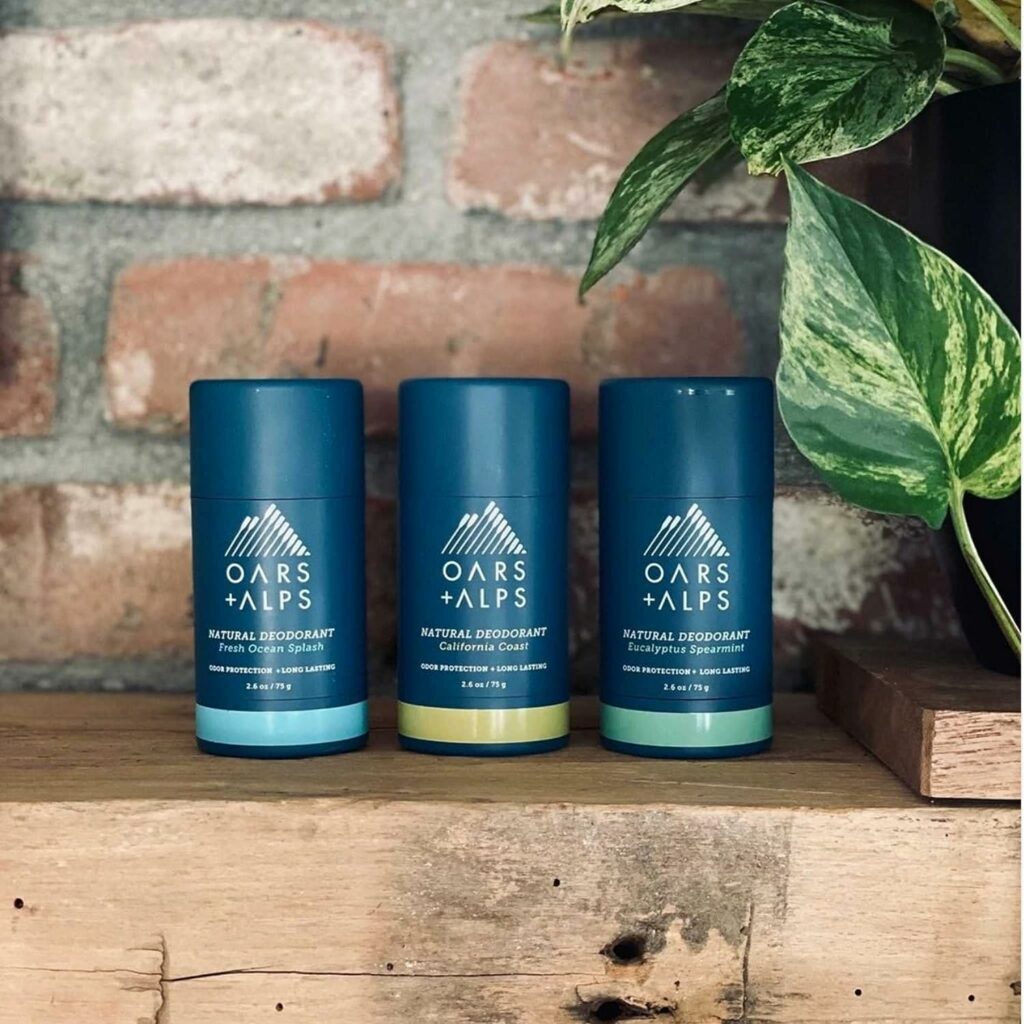 Pros & Cons
Pros
Long lifespan!!! You will not have to go and buy a new deodorant anytime soon as this is a hard-density deodorant and should last a long time compared to medium or soft-density deodorants.
Decent scents. I generally liked all of the scents. None of the scents smelled terrible and I would be happy to wear any of them. Also very natural smelling deodorants.
Skin scent!!! I require any deodorant I buy to be a skin scent and not project away from my body. The scent stays close to the skin. I hate when deodorant is like a cologne.
Unisex scents. Any man or woman can wear any of these scents.
Quality deodorant dispensers. They work very well and feel great in your hand. Feels better than most of the other brands.
Decent price for a quality deodorant.
Great selection of scents.
Oars + Alps has three allergen-free fragrances for those with sensitive skin. Mandarin Woods, Deep Sea Glacier, and Unscented with Prebiotics.
30 day guarantee.
I experienced zero skin irritation while using this product over a two-week period.
Super easy to apply to the skin. Really has a slickness to it and makes it effortless to apply. One of the best deodorants I have tried for ease of application!!!
No staining of clothes and goes on clear.
Here where I live I tested this during the hottest days of the year and Oars + Alps really held up on this brutal heat we had (in the mid-90s with high humidity).
Cruelty-free. Never tested on animals.
All deodorants are vegan.
Oars + Alps offers a subscription service which is a great way to always have the product on hand.
Great list of ingredients!!!
No aluminum.
No baking soda.
No alcohol.
No parabens.
No sulfates.
No phthalates.
No talc.
On the Oars + Alps website on the individual list of ingredients you can hover over each of the ingredients and it will give you more details about it. I love this feature and wish more websites would do this. Great for understanding the ingredients and not just showing a bunch of scientific names (which nobody knows anyway).
They do have a rewards program and you do receive 2X the points if you subscribe.
Cons
The scent does go away after a while, but it still protects against the stink. The scents disappear around the 6 to 8-hour mark for me. Your mileage may vary.
It would be nice to have a slight reduction in price if you subscribe to have their deodorant sent to you regularly. Most websites do this.
How Does This Compare To Other Deodorants
This ranks up there towards the top of the line when I mentally compare it to the many other deodorants I have used and reviewed. Quality ingredients, very decent protection, and good scents. But where this reigns supreme over other deodorants is its longevity in that it will last a long time and you will not have to constantly be buying a new deodorant stick.
Other Deodorants Worth Looking At
Native Deodorant – They have one of the biggest lineups of scents available. Surely something will catch your eye but I highly recommend their Coconut Vanilla Deodorant. IMHO their best scent!!!. Oh, and they have great protection and a super great list of ingredients too.
You can read more about it here, Native Deodorant Review – Does It Work?
Pete & Pedro Deodorant – This is quite different compared to Native Deodorant above as they only have one scent but…that scent is truly amazing. It is a fresh scent comprised of eucalyptus and spearmint. One of the best I have smelt.
You can read more about it here, Pete & Pedro Deodorant Review – Worth Getting? Find Out!
The Final Shave – Oars + Alps Deodorant Review Wrap Up
A hard-density stick of deodorant from Oars + Alps should last a lot longer than softer deodorants from other brands. It is just the way things work, as softer deodorants apply more product to your skin and often times too much product is applied. Thankfully not the case here with Oars + Alps deodorant.
So, in this Oars + Alps Deodorant review, I hope I laid out both the positives and negatives in order to help you determine if this is potentially for you. I know this is a great deodorant and hopefully, you will find it is too. The only thing is scents are a highly personal preference but I have recommended my favorites, which should help.
Highly recommend giving them a try!!!