A Compact Rechargeable Shaver/Trimmer
In this Manscaped The Handyman Review I will be going over the features and performance to help you decide if this is worthy of purchasing. This could possibly be a great product either to just have in your house or even possibly pack on trips to help maintain a well-groomed face.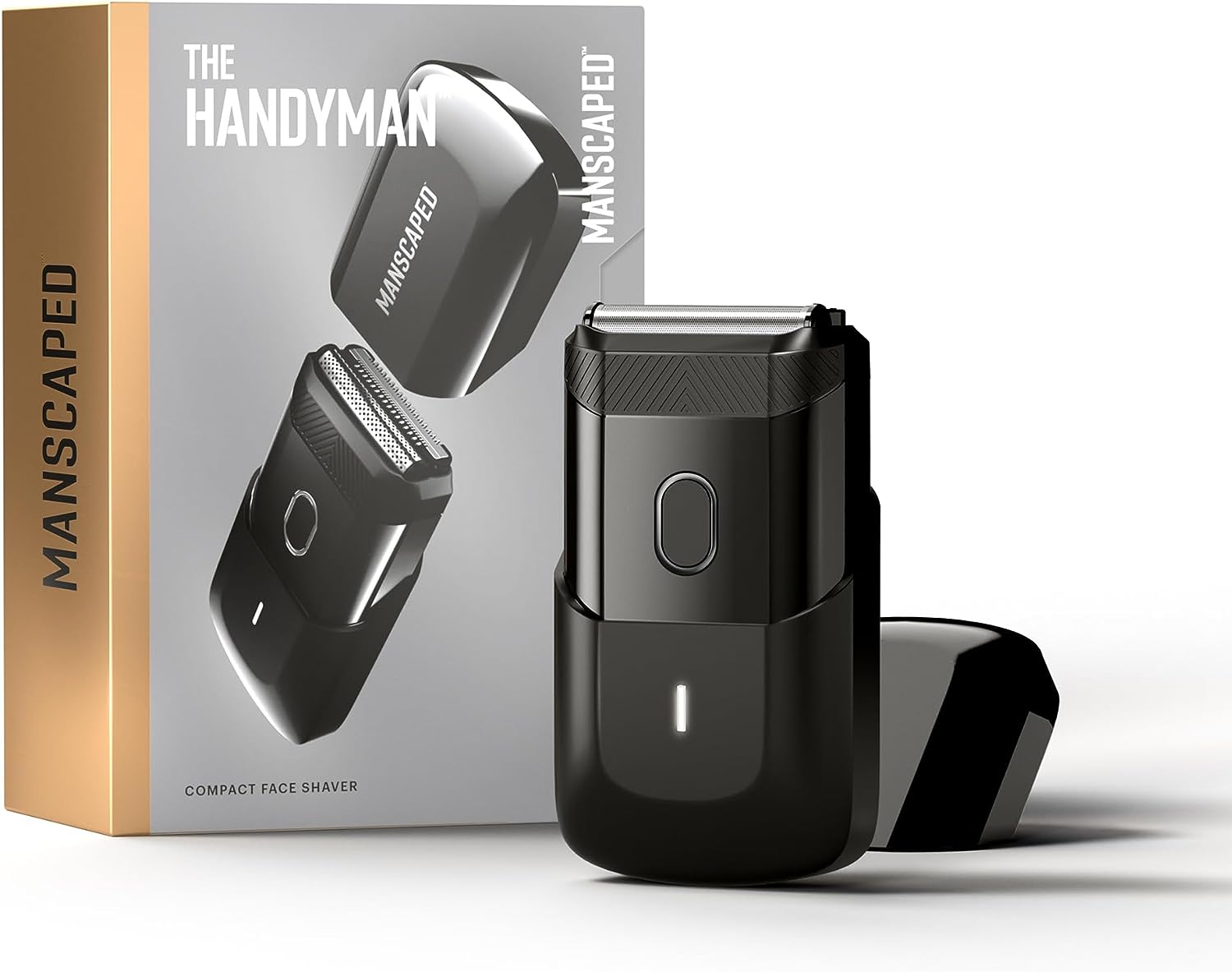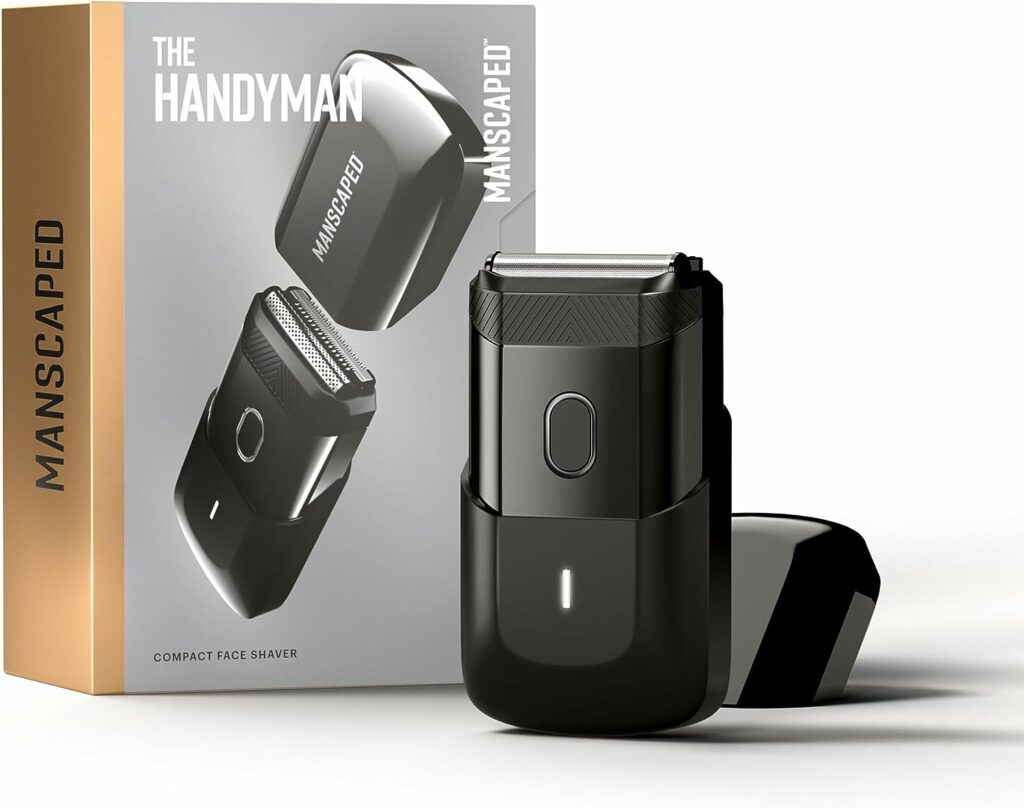 Well, let's see…
Full Disclosure
I am not affiliated with Manscaped, but this page is sponsored by Manscaped. I purchased The Handyman with my own money to properly review this product. I will post Amazon Affiliate links below and will make a commission on purchased items. I only review products I have used personally.
What Is Manscaped The Handyman?
This is basically, a rechargeable compact travel-friendly grooming face shaver that has both a foil shaver and a trimmer built into the shaving head. So, it trims and shaves with each stroke.
What Is Included With Purchase?
1 – Manscaped The Handyman compact face shaver
1 – Magnetic blade cover
1 – Dual-action blade head (pre-attached)
1 – USB-C charging cable
Specs Of Manscaped The Handyman
The Handyman measures 4 1/2″ inches long and 2 3/8″ inches wide. The foil and trimming blades measure 1 11/16″ wide. The long hair leveler (trimming blade) is made out of stainless steel while the foil blade is primarily made from nickel.
The battery is a Li-ion battery which offers a run time of 60 minutes on a full charge. The battery is charged via a USB-C charging port and takes approximately 90 minutes to charge. There is a charging indicator light on the front of the device.
Where Can You Use The Manscaped The Handyman?
The Handyman is primarily designed and built for dealing with facial hair.
Does It Work? Do I Recommend It? My Experience
Yes, it works.
Would I recommend it? Sure if you like using foil-type shavers but for me I don't like using them as they irritate my skin, especially on my neck. I can use other methods of removing hair from my face without irritation.
My Experience – The Good
I had two days of facial hair growth and The Handyman easily took care of it.
The Handyman works quickly and does a good job of removing facial hair generally in one single pass. Giving you a nice clean shave. It took a couple of minutes to remove all the hair (except my goatee).
Despite its blocky design it feels really good in the hand and is compact. The smooth corners and width just fit nicely in my hand.
This kept my sink rather clean and was quite surprised at the lack of mess I had to clean up afterwards. Plus it was rather simple to clean the Manscaped The Handyman too.
My Experience – The Bad
If you have facial hair like a moustache or a goatee it is kind of hard to get any real detailing done with this device. It is not impossible to do this but it just requires more effort and time and it is not designed for detailing.
Getting under your nose or around your mouth can also possibly be problematic. I also had to experiment with how much pressure I applied for a few moments to figure out what was optimal. I don't have a lot of experience with foil shavers though.
Also while giving you a clean shave it doesn't give you a close shave like a razor will. This is to be expected but worthy of note.
Overall
This is a decent foil-type shaver and would make an excellent travel shaver being it is small, compact, and functional. If you typically sport facial hair (like I do) I would then I would look elsewhere but if you prefer a clean-shaven look then this will do nicely.
This is on the expensive side and to me is a major drawback but the product works and works nicely making short work of facial hair.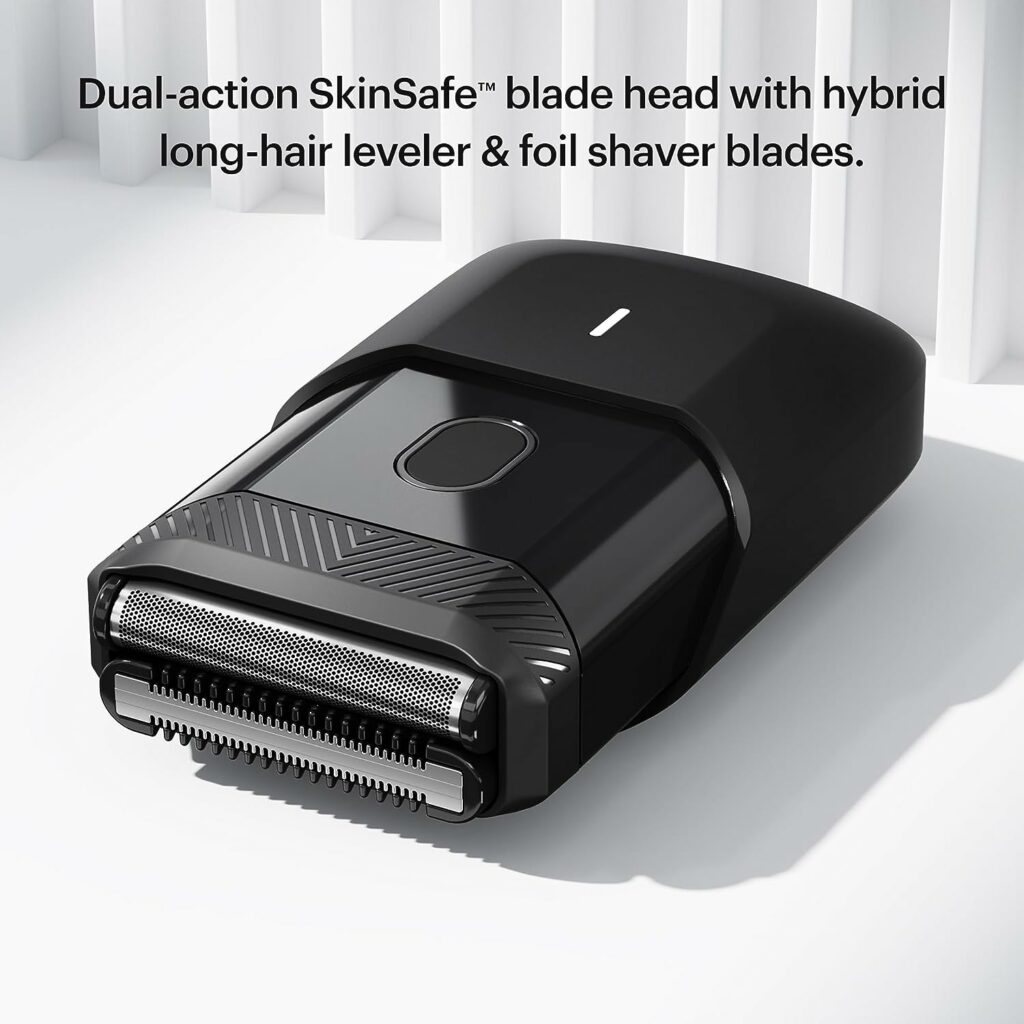 Pros & Cons
Pros
Small compact design. Easy to travel with and put in a toiletry bag (Dopp kit) or even put in your pocket.
Trims and shave all in one pass.
Gives a decent and close shave.
It comes with a protective cap to help avoid damaging the trimming and shaving head when storing or traveling.
The cap is also magnetic which helps to snap it in place and stay secure.
Comes fully charged.
USB-C charging cable and port.
Waterproof. Can be used in the shower. It has an IPX7 rating and can be immersed up to one meter in water for 30 minutes.
The power button is placed in the optimal spot to avoid accidentally turning on or off during use.
It fits very comfortably in the hand when used despite its bulky shape.
Li-ion battery gives you 60 minutes of run time.
Fast charging ability. A quick 5-minute charge will get you up and running if your battery is completely dead.
Never nicked or cut me.
The shaving/trimming head is easy to take off and clean and run it under water to clean it.
Great instruction booklet. Clear descriptions and fully detailed.
LED battery indicator light lets you know how much power you have.
Not a lot of cleanup after using it. The Handyman does a good job of controlling and containing the stubble as a lot of the mess to clean up is left inside of the machine.
The blade should last a while as Manscape recommends replacing it every 12-18 months.
Cons
Expensive. When compared to other compacted trimmers/shavers. You are going to be paying up for the name (Manscaped).
Sometimes the width of the trimmer blade makes it hard to trim smaller areas on your face that require more precision and detail. Things like mustaches and goatees are harder to detail with this device.
My skin was slightly irritated after using it, especially on my neck. I generally dislike using foil shavers for this in general.
Takes a few seconds to figure out the correct pressure to apply when using this to work optimally.
Currently, they do not have replacement blades available for purchase. Expect to see this around early 2024.
Trying to just use the trimmer on The Handyman I really struggled to get this to trim hair decently. It was when I used it properly (along with the foil shaver) that it really worked.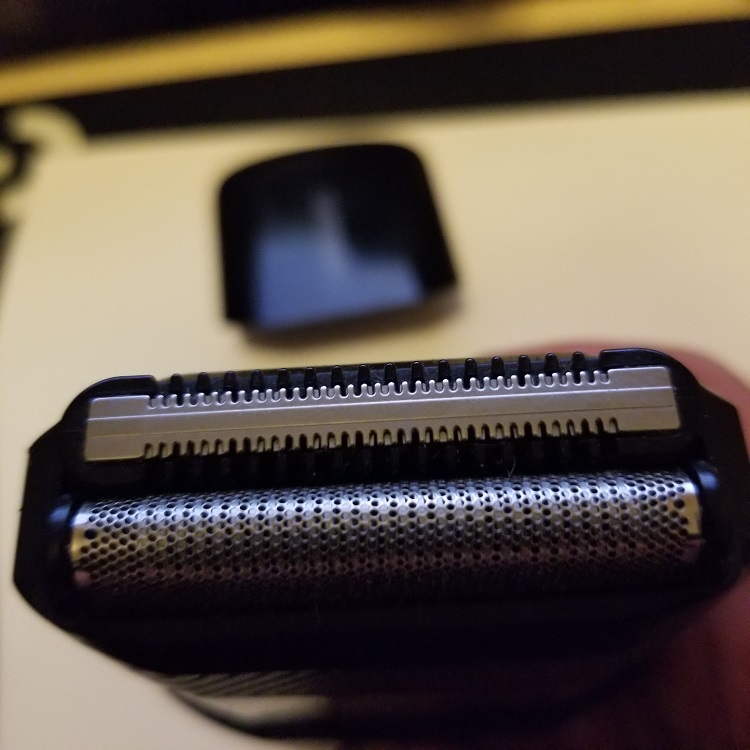 How Does This Compare To Other Similar Products? What Do I Recommend Instead?
While The Handyman does perform decently I still prefer and recommend the Philips Norelco OneBlade Face & Body Trimmer. This is a micro trimmer that performs so well that it is like shaving. This is far cheaper, works faster, performs better, and allows you to easily perform more detailed work like mustaches, goatees, and beards. Plus it comes with two trimming blades (1 for the face and 1 for the body) and five guide combs.
When compared to the Manscaped The Handyman you will have a lot more options With the Philips Norelco OneBlade you are supplied with two blades, one for the face and one for the body. This is even able to trim the groin area with the right guide comb attached. Thus getting a lot more options for your money.
You can read more about why this product rocks here, Philips Norelco OneBlade Face & Body Review.
Manscaped Replacement Blade
At the time of writing this replacement blades are not available to purchase. But Manscaped states they will be available to purchase in early 2024.
How To Clean The Manscaped The Handyman
Turn on the travel shaver and run the blade under the faucet. Don't worry, it's waterproof! The Handyman™ is IPX7-rated to protect against immersion in up to one meter of fresh water for up to 30 minutes.
Turn The Handyman™ off and remove the blade by pulling the blade upward and away from the shaver.
Gently shake any leftover hair from inside the blade.
Run the dual-action blade under running water to rinse any of the leftover hair.
Lay all the pieces out to air dry completely.
Once all pieces have completely dried, finish up by reassembling The Handyman.
Place the blade on the device by clicking it into place.
Place the magnetic protective cover over the Handyman to keep it clean.
Charge trimmer as needed between trim sessions.
The Final Shave
Manscaped The Handyman is a decent foil-type shaver and it works quickly and well. The compact design makes it easy to take it along no matter where you go. There are negatives as I have mentioned above but the biggest for me is the price. Which seems a little steep for me.
You will get a decent shave with the Manscaped The Handyman.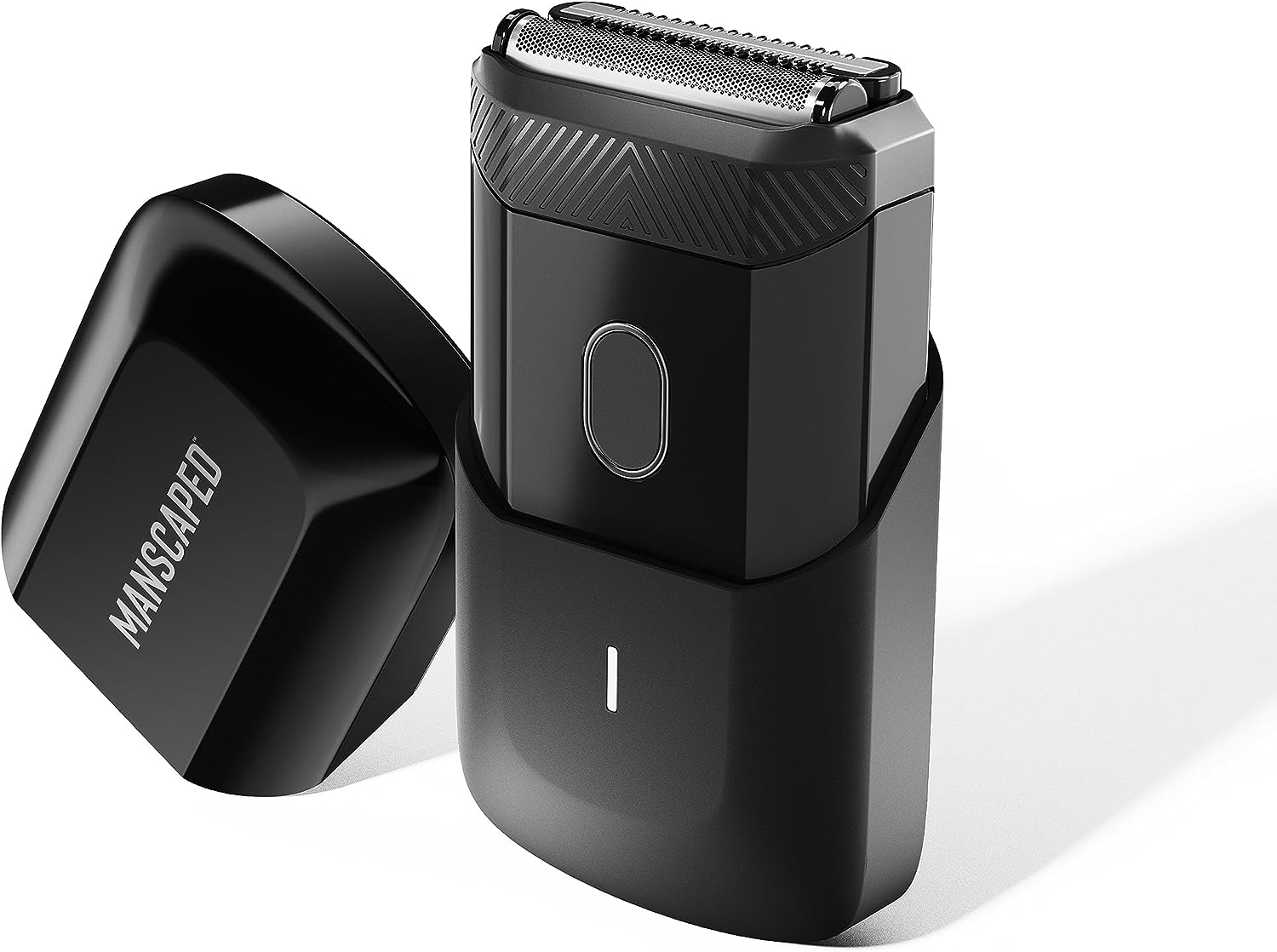 Any questions or comments are always welcomed here. Please post below.