A Very Unique Grooming Tool
This hugely popular electric trimmer/shaver is a very unique and revolutionary grooming tool. This primally is used for shaving or trimming your beard as well as trimming body hair. In this Philips Norelco OneBlade Face + Body Review, I hope to put it through the paces to see if it performs well and is worthy of purchasing.
What Is The Philips Norelco OneBlade?
A Trimmer That Trims So Close It Can Also Be Considered A Shaver and muddles the line between the two. This is how I categorize this in my head after using it. The Philips Norelco OneBlade Face+Body  Trimmer is a rechargeable trimmer/shaver grooming tool for trimming or shaving your face and grooming other areas of the body with hair. It allows you to groom and maintain hair at various lengths, as it has a total of 6 different guide combs that attach to the shaving head.
One of the reasons what makes this a very unique tool to me is the extremely thin blade, as this allows you without a guide comb to get very close to the skin that it is almost like shaving. The blade cuts at 200 times per second giving you ample power.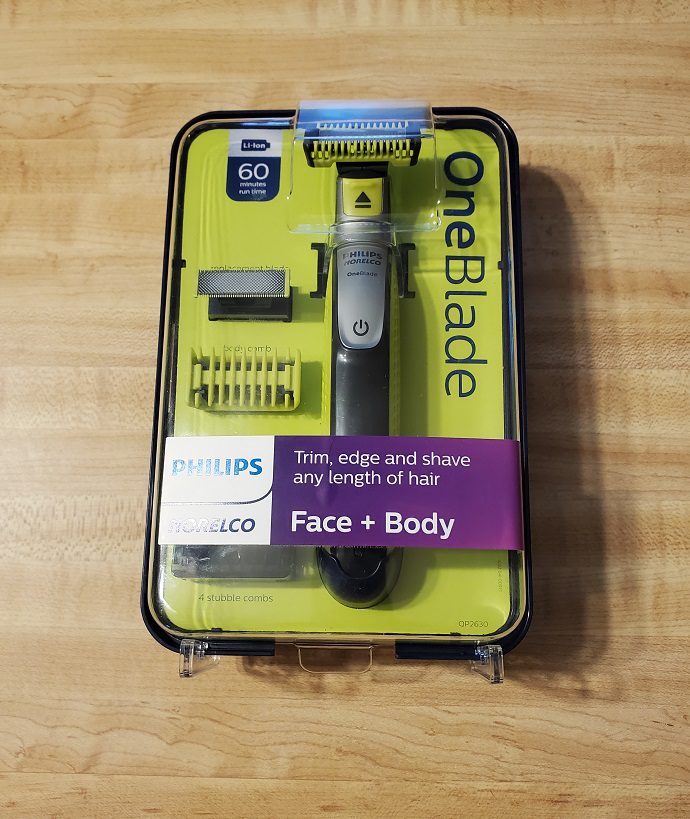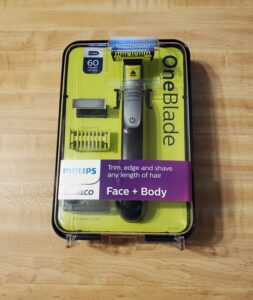 What Is Included With Purchase?
1 – OneBlade (lithium-Ion battery)
1 – Charging Cable
2 – Blades (1 for the face and 1 for body trimming)
4 – Stubble Combs (1mm, 2mm, 3mm, and 5mm) (all of these are black and numbered)
1 – Skin Guard (smallest green & black comb)
1 – Body Comb (large green comb)
1 – Protective Cap (light grey)
1 – Set of Instructions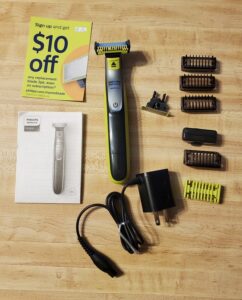 Specs Of The Philips OneBlade
The handle with the blade attached is 6 1/8″ inches long and 1 inch wide.
The blade measures 1 1/4″ inches wide. The blade material is made from stainless steel.
The battery is a Lithium-Ion battery that takes 4 hours to charge and can be used for 60 minutes continuously.
Where Can You Shave Or Trim With It?
It can be used for your beard and neck as well as body hair. There are different guide combs provided for the different areas of the body.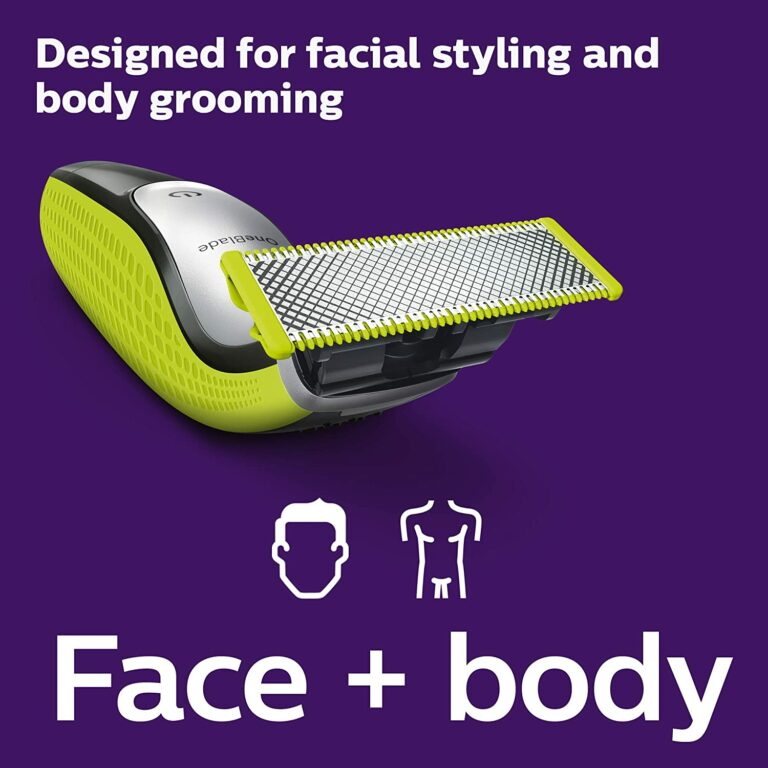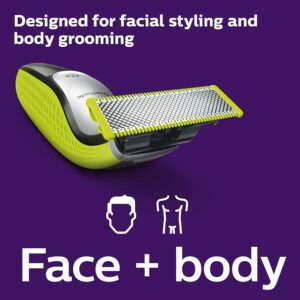 Can You Use This On Your Groin?
Yes, you can use this on your groin but in the instructions, it is advised to use the Skin Guard attachment when trimming hair there. The Skin Guard is the smallest trimmer guide with green and black on it. That being said I used it without the skin guard attachment on my boys, and it worked but I had a few nicks and redness. I won't be using it without the guard again down there. Your results may vary so it is always recommended to do what the manufacture suggests but I live on the edge and had to try it at least once. Just use the guide and be safe.
You have two blades with the Face + Body Trimmer use them for areas. Have one dedicated for your face and another for the rest of your body. Hygiene people, hygiene.
Does it Work? Worth It?
After reading the instructions I went to town. This is important as the instructions state to place the shaving head flat against your face. There is a technique to use.
This works fantastically!!! I left my beard to grow for about two weeks and then attacked it with the OneBlade. I shaved my beard in no time flat. I didn't time it but it felt a whole lot faster than shaving does. It took down my beard to just above skin level and was super impressed by this. Much closer than any trimmer has ever done for me. It never once bogged down it just kept humming along like my beard wasn't even there.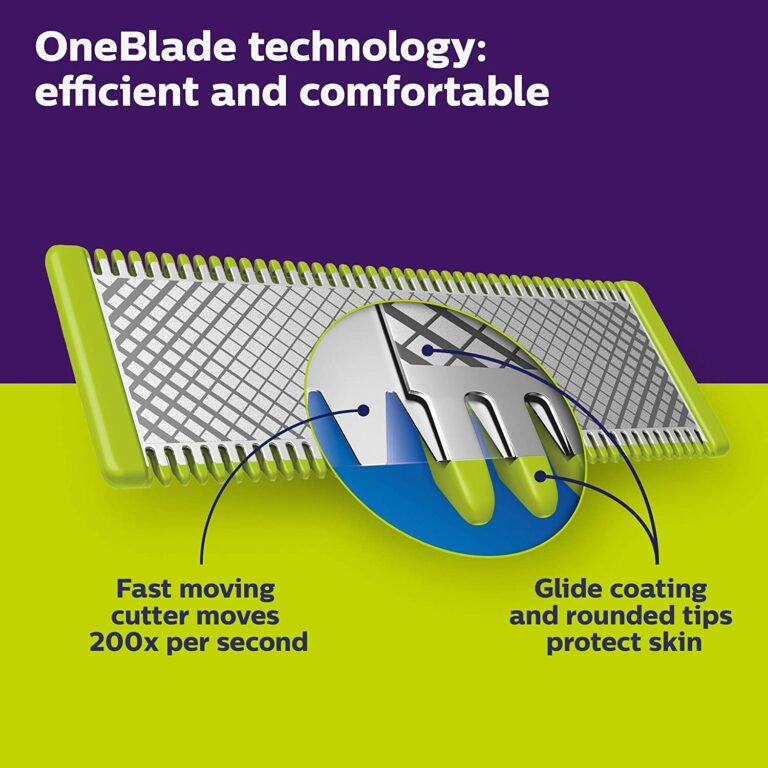 The closeness of the shave I got from the OneBlade I would say is about the feel of stubble a day or two after using a razor blade to shave. Pretty darn close if you ask me. This is a great option especially if you are prone to skin irritations like razor bumps, rashes, or redness. I am prone to razor bumps and redness and have never experienced any of these problems after using this device.
This fits very nicely in the hand and is comfortable. It is very wieldy and can used also for precisely for areas like sideburns and under the nose and around the mouth. It has a rubberized scalped texture on both sides to provide a very secure grip.
The straightness of the blade really lends itself to trimming sideburns with ease. You can get really straight lines with this.
I have a lot of grooming tools at my disposal since I review grooming tools so I hypothetically ask myself, would I reach for this to trim my beard in the future? Oh hell yeah! Most definitely! Would I use this to groom hair in other places on my body? Yep!
Pros & Cons
Pros
Does a great job of getting really close to the skin and leaving a very thin stubble.
This is fast! In fast I mean I can shave/trim my beard in no time, a lot faster than shaving.
Doesn't bog down at all, even when I used it on my two-week-old beard.
Cleans out easy with just rinsing with water.
Leaves zero skin irritation after using on face and neck.
Very comfortable handle. Fits great in the hand.
Can be used both dry (no water or no shaving cream) or wet.
Fast 4 hour charge, I've seen some products take up to 24 hours to completely charge.
Less chance of having skin irritation as this doesn't shave a close as a traditional blade does.
Shaves and trims hair on both going forward and back with its Dual-sided blade.
Uses Lithium-Ion batteries and gives 60 minutes of run time with a full 4 hour charge time.
Long blade life. Should last up to 4 months with shaving 2 full shaves every week.
Removing the shaving head is simple for cleaning or replacing, just push a button and it ejects.
Good collection of stubble combs for a total of 4 guide combs to get that perfect length.
Guide combs are numbered and easily read, love this as I have seen guide combs unlabeled on other products and you are left guessing.
Love the fact that they give you two blades one for the face region and one for the body region. A good hygiene practice.
Comes with an easy-to-read instructions pamphlet.
Indicator lights tell you the state of the battery. A nice feature.
The OneBlade can be used to edge sideburns, under the nose, and around the mouth to get precise detailing.
This is an Amazon Choice product with over 54,000 reviews with a 4.6 rating and after using it I can see why.
Comes with a protective cap when storing or traveling.
The shaving head pivots and is appreciated.
Cons
You need to charge this for 4 hours before you can use it, as it comes completely dead with no power. Not that big of a deal I guess but worthy of note.
Replacement blades are kind of on the expensive side (roughly about $12 per blade). But they do last for four months.
Would like to see a small bag come with this, as this has quite a few small parts that can be easily lost.
Plastic and fragile design. I would hate to see what dropping this would do to the shaving head. I don't think it would survive a drop.
Guide combs collect a lot of hair when using and need to be removed when using.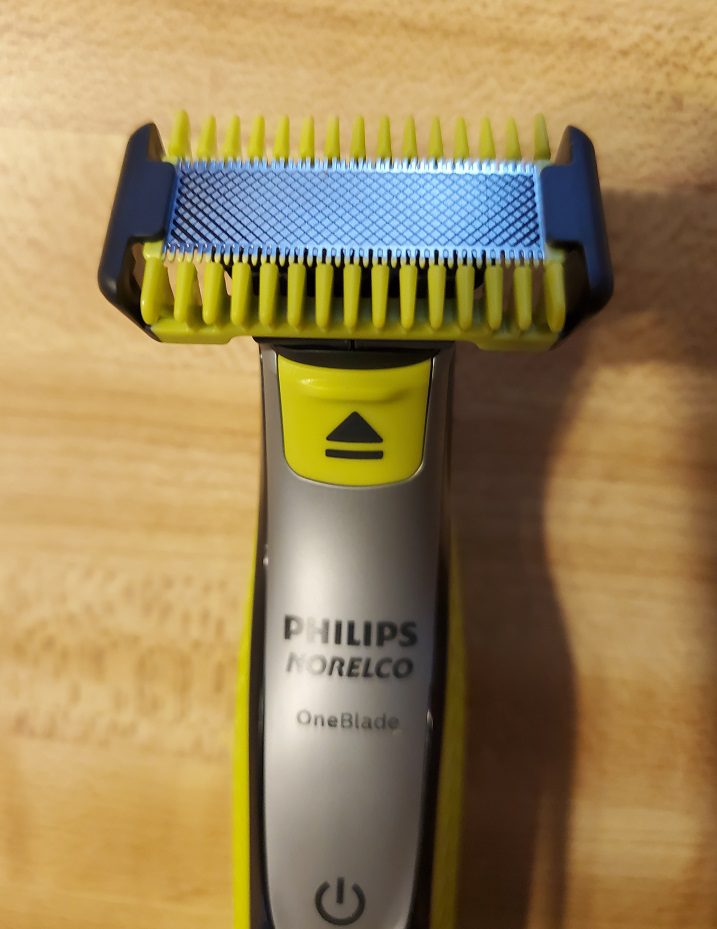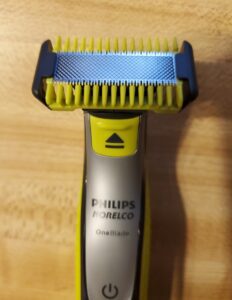 Tips & Questions
Different Models Of The OneBlade Compared
There are currently a total of four Philips Norelco OneBlade Electric trimmers on the market.
I have recently reviewed the OneBlade Face Pro and you can find it here, Philips Norelco OneBlade Pro Review.
Does The OneBlade Cut You?
No. It didn't cut me anywhere I used it and I even used it on my groin area without the skin guard guide. This was the true test, right men?. Philips Norelco recommends you use the skin guard for this area but I didn't heed the warning and proceeded anyway.
Can You Buy a Stand For This?
Yes. It is not made by Philips Norelco though and doesn't allow changing just a stand. Which makes for a cleaner neater bathroom sink. This is weighted and should hold the Oneblade up nicely. Check it out here, Razor Holder for Philips OneBlade.
Keep All The Different Parts Together
I would put all these different attachments into a small bag or even a zip lock bag. I wish this came with some type of bag but it doesn't. Nothing worse than looking for something and not finding it when you need it. These parts are small and can be easily misplaced.
My Biggest Tip
I know we all hate reading instructions but you should really read the instructions when you first receive this product and before you use it as it can save you from damaging your newly purchased Philips OneBlade. Pay close attention to how to use the different attachments on which body parts as well as cleaning. Do not tap this against the sink to clean the blade, you could end up damaging the shaving head. Pay close attention to how to place against the skin as well.
The Final Shave
This is a good little trimmer/shaver. It works great if you follow the instructions and it will deliver a nice clean shave/trim.