How Good Is This Grooming Tool?
I just simply love the OneBlade as I reviewed and used the OneBlade Face & Body Trimmer about 5 months ago. After using this unique grooming tool I quickly integrated it into my weekly grooming rituals and it has stayed put since.
It is that damn good!!! Yeah, I love the OneBlade and I am not afraid of admitting it.
I have used and reviewed similar products but none have come close to how well the OneBlade works in performance and ease of use. It is only natural for me to get my grubby big hands on a different model offered by OneBlade. The Philips Norelco OneBlade Pro is also called the Face Pro or QP6530/70.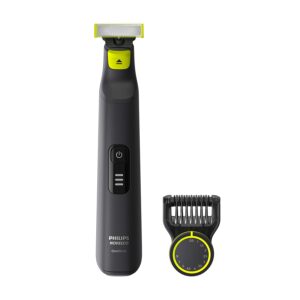 Whatever the name is I am very eager to use this and write this review and to see how it performs. As this has revolutionized my grooming habits, will it revolutionize yours?
Let's find out…
What Is The Philips Norelco OneBlade Hybrid Face Pro?
The Philips OneBlade is a very unique grooming tool. It is a rechargeable trimmer/shaver that uses very small micro teeth that cut hair 200 times per second. The blade is very thin and sits flat against the skin to provide a very close trim that is almost like shaving. Yeah, it's that close. This is not all it has to offer either, as the OneBlade Pro has its very own unique Precision Trimming Comb that has a dial that adjusts to trim at different heights of hair.
This is mostly designed for use on your face and/or neck basically, just think beard. To either give you a super-fast close shave or for trimming your beard hair to the adequate length you desire with the Precision Trimming Comb attached.
What Is Everything Included With Purchase?
1 – Philips Norelco OneBlade Pro
1 – Precision Trimming Comb
1 – Protective Cap
1 – Power Plug & Cord
1 – Set of Instructions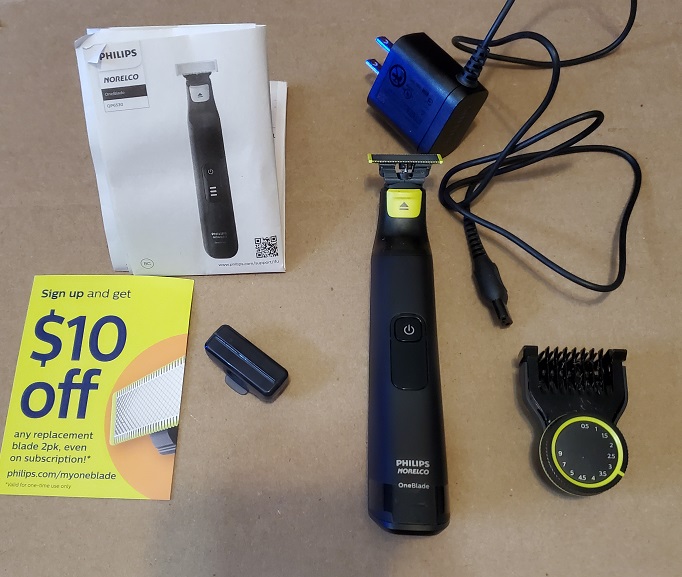 Specs On The OneBlade Pro
The handle along with the blade attached measures 6 9/16″ inches long and the blade measures 1 1/4″ inches wide and it looks to be made out of stainless steel. The handle is mostly hard plastic with some rubberized stippling on the back sides of the handle to improve the grip.
The rechargeable battery is a Li-Ion battery that when fully charged has a 90-minute runtime and which only takes roughly an hour to fully charge. There are three lighted charging indicators located on the front of the trimmer to tell you how much charge is left in the battery.
The Precision Trimming Comb is adjustable and has 12 settings ranging from 0.5mm (1/64 in) to 9mm (23/64 in).
Here are all the settings available on the adjustable dial.
.05mm
1mm
1.5mm
2mm
2.5mm
3mm
3.5mm
4mm
4.5mm
5mm
7mm
9mm
Where On Your Body Can You Use This?
This is marketed and sold mainly as a Face trimmer, as per the name it was given. As the Precision Trimming Comb is designed to trim and cut facial hair or additionally with no attachments and just used barebone as a shaver/trimmer.
That being said I don't see why it wouldn't work on other areas of the body as well. I am sure it will trim arm hair, leg hair, and chest hair just fine with or without the guide comb.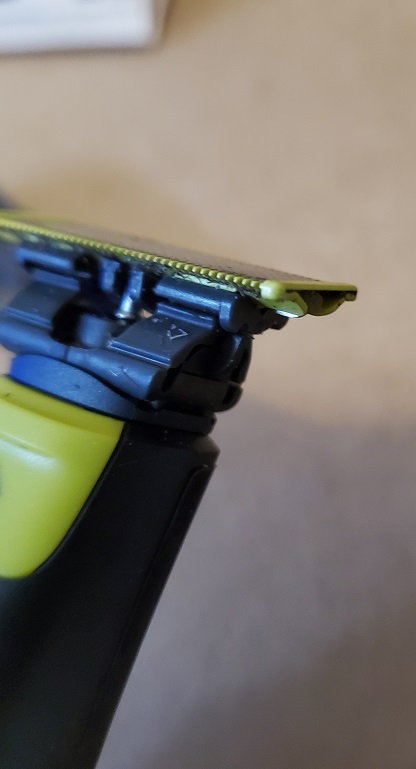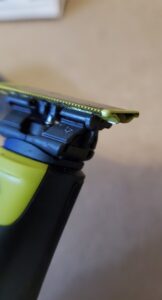 My Opinion On How Well It Works – Is It Worth Buying?
I already was super impressed OneBlade Face & Body Trimmer, this is the same designed trimming blade used in that device and this OneBlade Face Trimmer is no different. It works just as well as the other OneBlade I reviewed before. It never bogs down and it saves me time. If I don't have time to shave with a razor I reach for this and in no time I am prim and proper with virtually no prep. It trims so close to the skin that it is almost like shaving.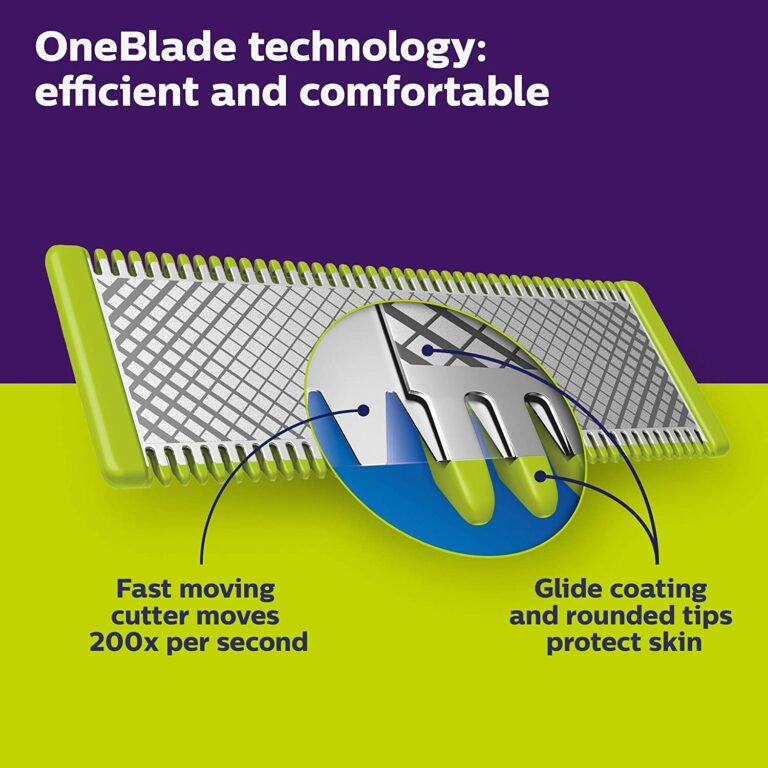 To be honest, I was extremely doubtful about how well the Precision Trimming Comb with its dial setting was going to perform. As I have seen other similar devices in the past that left me disappointed and upset. Not the case here, this guide comb works fantastically with OneBlade. It accurately sets the cutting height and doesn't interfere with the trimming performance of the OneBlade. The dial turns easily and has 12 different settings ranging from .5mm to 9mm thus giving you tons of options to get the desired length you need.
The battery is great too. With a fast 1-hour charge you are able to run for 90 minutes. The handle is comfortable and fits very well in the hand.
This will change your grooming habits for the better. It is so worth buying if you want some sort of beard trimmer as this is built for the face.
How Does This Compare VS The OneBlade Face & Body Trimmer? And Other Similiar Devices?
Just to get it out of the way…they both work fantastically!
To state the obvious the OneBlade Face & Body Trimmer is for trimming body hair and facial hair. They supply two separate blades for hygiene purposes that are to be used on two separate areas of the body. The OneBlade Face, is strictly designed for the face and neck areas, and you are supplied with only one blade. The blades are the same and perform exactly the same in both models.
But there are some differences. The battery in the OneBlade Face is a much better battery than the OneBlade Face & Body. The OneBlade Face battery takes only 1 hour to charge while the OneBlade Face & Body takes 4 hours to fully charge. Also, the run times are different too, as the OneBlade Face battery has a run time of 90 minutes as compared to the OneBlade Face & Body has only 60 minutes of run time on a full charge.
Another difference is the guide combs provided. The OneBlade Face Trimmer has only 1 adjustable dial comb while the OneBlade Face & Body Trimmer has 6 different combs for the various other areas of the body as well as the face. Both of these combs work great though.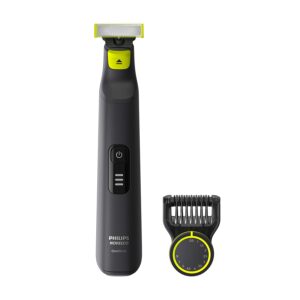 OneBlade Vs Other Similiar Devices
I have yet to find a similar grooming device that works as well as any of the various OneBlade designs trimmers. Believe me, I have reviewed a bunch of other micro teeth-designed trimmers out there none of them can hold a candle to the OneBlade design in design, performance, and closeness of trimming.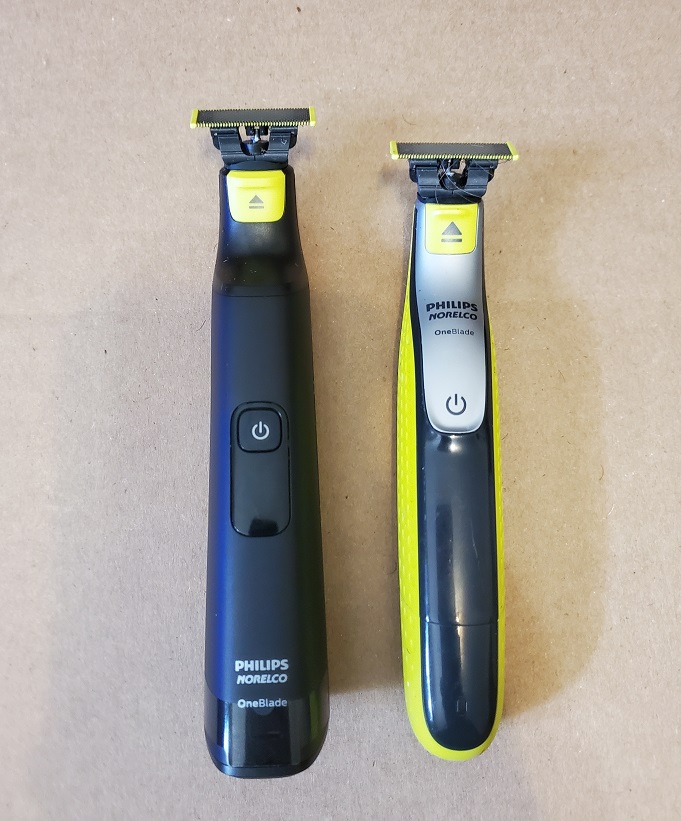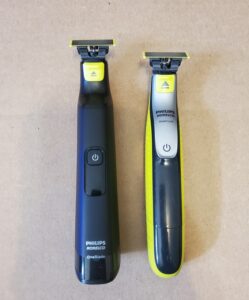 Pros & Cons
Pros
Provides a super close shave/trim that it is hard to determine if it is shaving or trimming. But keep in mind it does not provide as close of a shave as actually using a razor blade does. But super impressive for a trimmer.
The dual-sided blade has two cutting edges one on top of the blade and one on the bottom. Which gives you options when using it on precise trimming angles.
Powerful! Just cut hair like a hot knife through butter.
Great set of detailed instructions about everything you could possibly want to know about this tool. Love to see this on any quality-made tool.
Comes with a blade guard to help protect the sensitive microblade. This helps protect against accidental drops which could potentially make the blade unusable afterward.
I thought I would hate the Precision Trimming Comb but it actually does a really good job of precisely adjusting the cutting height of hair.
This is water-resistant. Which makes cleaning it under the sink a snap.
Never clogged with hair.
I love using this to clean up the hairline on my forehead, as I have short little hairs just on the outside of my defined hairline. This quickly buzzes them right off and is the best method I have found in dealing with this minor problem. This leaves my hairline very crisp and neat in appearance.
So much faster than shaving.
The handle has rubberized stippling on the back sides of the handle which provide a sure, comfortable, and steady grip.
Lightweight.
I experienced zero skin irritation after using this OneBlade. No redness, no razor bumps, and no ingrown hairs.
A Great quick-charging battery that lasts a long time when fully charged.
Cons
The battery was completely drained when I received my OneBlade Pro, this is not out of the ordinary but I wished it came fully charged. This might have to do with maintaining optimal battery life when in storage. Just worthy of noting.
The blade is very prone to be easily damaged. The microblade teeth are very small so be careful not to drop them, or tap them against the sink. If the blade is damaged you should immediately replace the blade.
When using the Precision Trimming Comb it does accumulate a lot of hair inside and around the Precision Trimming Comb. A minor inconvenience, just simply take off the comb and blow the hair into the waste bin. Not a huge deal, as it doesn't stop it from working, but worthy of note.
I wish this came with some sort of small storage bag to keep everything centralized and together. I guess I am going to use a plastic baggie…
Tips & Questions
Read The Instructions Provided…Yeah, Yeah, Yeah, I Know…
There is a right and a wrong way to trim hair with this device, so if you are new to OneBlade you need to read the instructions. You should spend the time and read over the instructions to understand how to properly use the OneBlade and learn about the general information provided.
How Long Does It Take To Charge From A Dead Battery?
It roughly takes approximately 1 hour to fully charge the OneBlade. This is pretty darn good if you ask me.
How Long Does The Battery Last? 
On average the battery should have a 90-minute run time from a fully charged battery.
Does It Come Fully Charged?
No, it does not come fully charged, which means you are going to have to plug it into the wall and charge it before using it. This should take approximately 1 hour.
How Do You Clean The OneBlade Pro?
Follow the instructions provided with OneBlade. I usually just blow off the hair or rinse it under the sink with the unit turned on for about twenty seconds or so. Then carefully shake off the excess water. Then place the blade guard on and store it. Simple.
What Setting To Use On The Guide Comb?
When using the Precision Trimming Comb for the first couple of times I would set the comb to its highest setting (9) first then work down from there to find the right height you want for the hair you are trimming. You can always just lower the number on the dial and take more off but you can never put the hair back on if you use a number too low.
Check Out Another OneBlade Trimmer
I have written a full and detailed review of the Philips Norelco OneBlade Face & Body Trimmer here, Philips Norelco OneBlade Face & Body Review. This is designed and marketed for both body hair and the face with two separate blades for hygiene purposes.
The Final Shave
If you are looking specifically for a face trimmer this is the way to go and I highly recommend you get this.
I just love the Philips Norelco OneBlade and it has never let me down yet. I love it so much it has changed my grooming habits for the better. It saves me time and allows me to get very precise with trimming hair on my face. The Precision Guide surprised me with how well it works at altering the height of my facial hair and adds value to this already great trimmer.
Get it and be happy with this great product!!!