We are going to be looking at the Wahl Professional Classic White Peanut Hair and Bear Clipper/Trimmer Model #8685 today. I purchased this off of Amazon as I have seen this around for many years and finally got around to buying it and using it. Its smallness in size and reputation really grabbed my attention and drew me in. As it looks uniquely different than the standard size clippers/trimmers available on the market.
Let's see how this thing performs…
What Is Wahl Professional Peanut Hair & Beard Clippers?
The smallest hair clipper I've ever seen. That is my first thought about this Wahl device. It is also a corded clipper/trimmer with a seven-foot cord attached. This device can be used for both clipping and trimming hair, basically for cutting hair and trimming facial hair.
The Wahl Peanut comes currently in two different colors, black and white. These two different models also differ in the shape of the handle as well. The white model has more of a rectangular shape to its handle while the black model is more ergonomically designed with a teardrop-shaped handle. I didn't realize until after I had purchased the White Peanut and wished I had ordered the black model instead as I appreciate a good handle for comfort. I think they are phasing out this rectangular designed handle for the teardrop shape.
This small and lightweight trimmer has a detachable blade along with that it comes with four guide combs to adjust the cutting height.
What Is All Include With Purchase?
1 – Wahl Professional Classic White Peanut Hair & Beard Clipper (Model 8685)
1 – Red Blade Guard
1 – Lubricating Oil
1 – Cleaning Brush
4 – Guide Combs (1/8″, 1/4″, 3/8″, 1/2″)
1 – Set of Instructions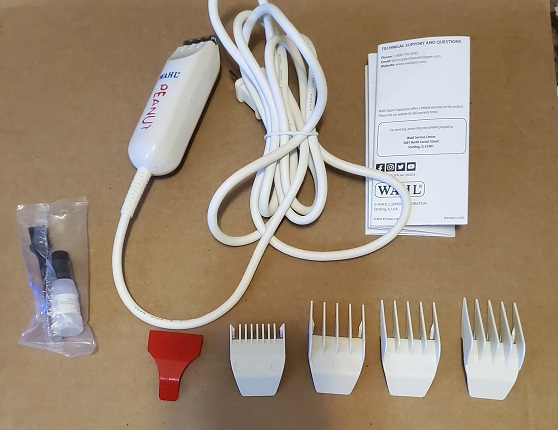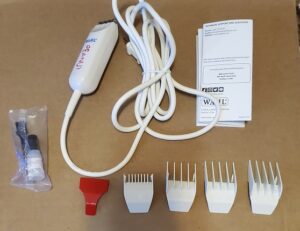 Specs of The Peanut
The trimmer measures 4 inches long and it weighs only 4 ounces. The blade measure 1 1/4 inches wide. The motor is a rotary motor.
This comes with 4 guide combs #1 (1/8″), #2 (1/4″), #3 (3/8″), and a #4 (1/2″).
Where You Can Use It On Your Body
This is primarily designed for cutting hair (clippers) and for trimming facial hair (trimmer).
How Well Does It Work? Do I Recommend It?
This is powerful despite its very small size. It will not bog down at all no matter how much hair you throw at it. The cord is long enough and I never found myself wanting a longer cord.
The blade is sharp and has no problem cutting any hair. It is very lightweight and highly maneuverable. Great for problem areas like around the ears, under the nose, and around the mouth. It works great in these areas. A solid little trimmer.
Where this loses me is with beard trimming is the lack of adjusting lever and with the guide combs. I like to leave stubble on my face of varying lengths and with the Peanut, you only have limited options either with the guide combs provided or just bare-bones with no guide comb. Maybe I am spoiled as I have used a better trimmer/clippers in the past that allows for many options in adjusting hair lengths. I want these features in every trimmer/clipper from now on and I miss it when a device doesn't have this feature.
I am also used to having a wider blade length especially for cutting hair. Another shortcoming of the Peanut is it has a narrower blade length. The blade is only 1 1/4″ inches wide while most clippers are 1 5/8″ inches wide. Thereby you are losing 3/8″ of an inch and this translates to a longer haircut as you are not able to cut the same amount of hair with a smaller blade. This does translate to a positive when using it on your face. As the smaller blade is easier to maneuver and you can trim more precisely as opposed to a wider blade.
I would also wish the guide combs came in smaller and other sizes too. You get four sizes and with nothing attached to the Peanut, you get five size options. Not enough options here, I even looked for aftermarket guide combs but I could not find any. Bummer!!! I love options when cutting hair on my head and my face, the more the better and I feel very limited on options with the Wahl Peanut.
I think this is a solid trimmer/clipper though it lacks options. If you are looking for a small lightweight barebones trimmer this might be the right option for you. Wahl has a stellar reputation in the grooming world and they have never really let me down. They make solid performing clippers/trimmers, you just have to weigh the positives and negatives to determine if it is right for you.
Wanna know what is my go-to trimmer/clippers? The trimmer I reach for whenever I want to trim my beard or cut my own hair? See below Other Clippers.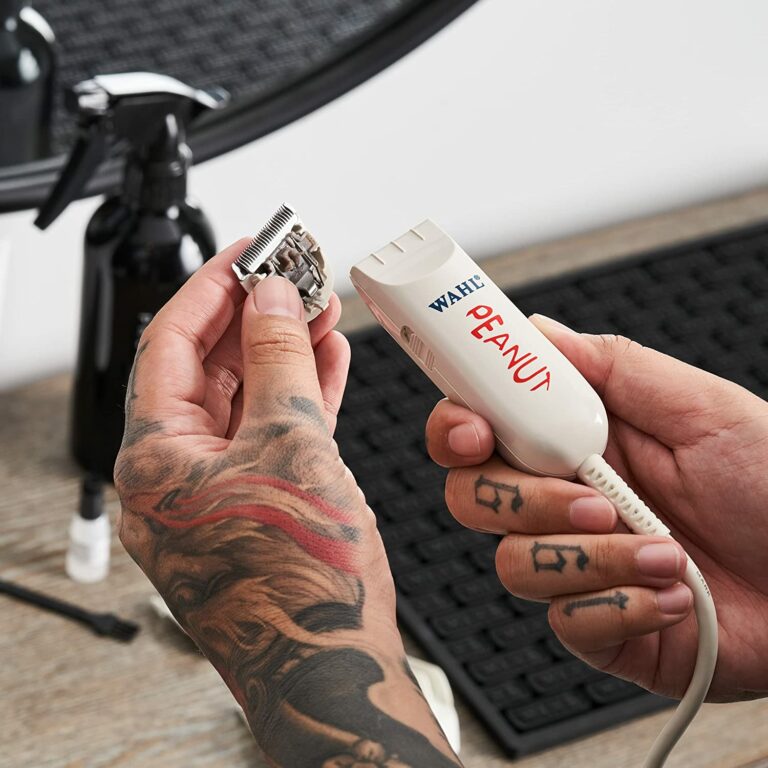 Pros & Cons
Pros
Powerful!!! For such a small and compact clipper it sure is powerful and hums right along with anything that is thrown at it.
Has a nice long cord, 7-foot long cord.
The cord is a professional-grade chemical-resistant power cord.
Easy to attach guide combs and they stay put once attached.
I love seeing any kind of blade guard provided with a trimmer, as this helps protect against accidental damaging your blade during storage or travel.
Very lightweight.
The blade is detachable and replaceable. This adds longevity to this clipper/trimmer as you can replace the blade when no longer sharp or it has been damaged.
The power switch is recessed into the handle which makes accidentally turning it off almost impossible and a great feature.
The small design makes trimming around your ears easier as well as around your face.
The smaller blade allows you to trim facial hair more precisely than the standard larger blade would allow you.
Made in the U.S.A.
A well-respected name in the grooming industry.
Cons
If you are used to using a cordless trimmer the cord can be cumbersome and get in the way. Worthy of noting.
Kind of noisy to operate, as it has a higher pitch noise with this small powerful motor than larger conventional clippers.
This comes with only 4 different guide combs which is fine but would like to see some other sizes as well or some kind of adjustability in adjusting the trim length.
Doesn't come with any type of case to store the small parts or clippers. There is a storage kit available see down below Wahl Peanut Accessories for a storage or travel case.
I don't like the use of the word "Professional" in its name, as I feel like it is not something accurately describing this device after using it I would not deem this "professional" but home use instead. Just marketing "HYPE".
Blade length is only 1 1/4″ inches wide which is quite small compared to other clippers. This smaller size is a real disadvantage when cutting hair when compared to wider clippers as it will take longer with a smaller blade.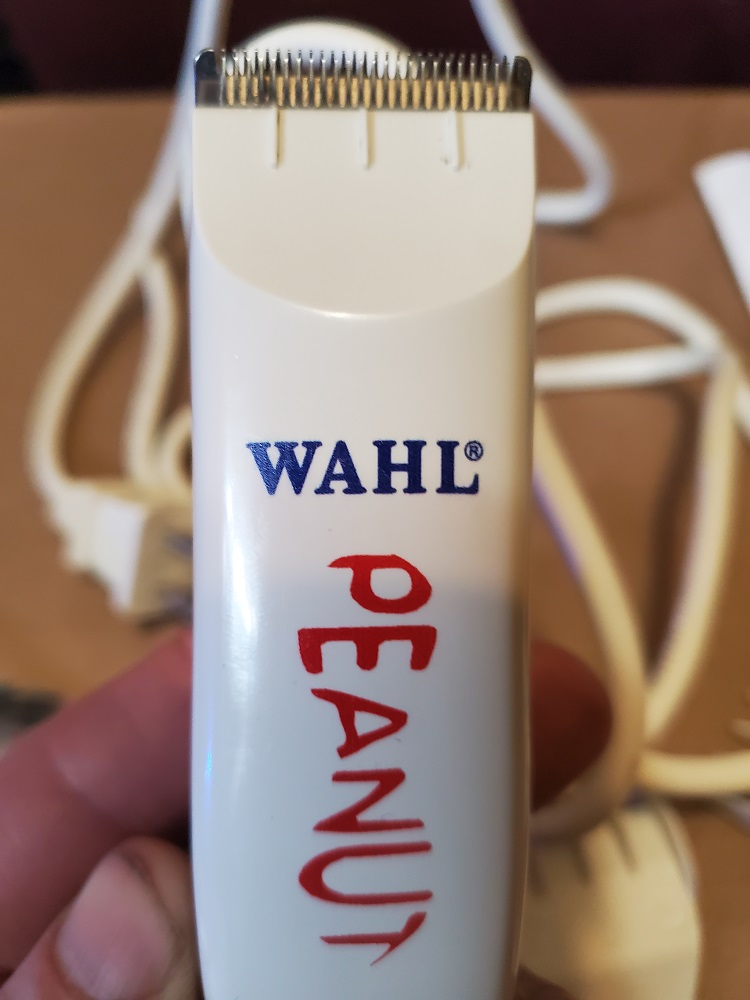 Tips On Using The Peanut
To make your trimmer last as long as possible you should be cleaning and oiling as per the instructions on a regular basis. This helps ensure the device is working optimally and helps to prolong its life of this device.
I would highly recommend you get some kind of case for these clippers. I wish it came with one but it doesn't. For the super cheap out there a gallon ziplock bag would work adequately enough. But I would also suggest just getting a dedicated storage case. I think the best case out there for the Wahl Peanut is the Aproca Hard Storage Travel Case. As this will definitely protect your clippers and guide combs as well as keep all the smaller parts together and avoid losing them.
Wahl Peanut Accessories
There are a few accessories for the peanut but not many. Be sure to check the model number and cross-check it with the below-listed accessories before purchasing just to be 100% sure it is right. I could not for the life of me find any different varying size combs other than the ones provided with these clippers.
Other Clippers/Trimmers I Have Reviewed
Brio Beardscape Quick Comparison
I have reviewed a lot of trimmers and clippers over the years and what I reach for the most is the Brio Beardscape. Hands down the best trimmer/clippers I have ever laid my hands on. So many options in hair cutting lengths, more than any other trimmer/clippers. Plus it is powerful and cordless and is a serious tool. Brio states this is the last trimmer you will ever need and I 100% agree. My favorite trimmer and I highly recommend it. The Brio Beardscape blows away the Wahl Peanut in every field.
If you want to know why this trimmer rocks head on over to my page, Brio Beardscape Beard Hair Trimmer Review.
The Final Shave
I wanted to love this device more than I do. Although it is a solid little device with tons of power I want more options as far as cutting the length of hair than what Wahl gives you in this Peanut. If you just want a solid small trimmer with limited options maybe this is right for you but for me, I want more. I believe this would last years as every Wahl trimmer I have owned has lasted for many many years and I believe the Peanut would last for many years too.