The Last Trimmer You'll Ever Need?
I am really excited about reviewing this Brio Beardscape Beard Hair Trimmer, seen many videos and recommendations on how well it works. So I finally got my hands on one, after purchasing it on Amazon. I will be taking it through the course of cutting my hair with it, trimming my beard, and using it as a groin trimmer. This is advertised as the last trimmer you'll ever need and I will test that out in this Brio Beardscape Beard Hair Trimmer Review.
In full disclosure, I have recently joined the Brio affiliate program and there will be links provided that I make a small commission on. I purchased this trimmer with my own money and my review is honest and will not affect how I review a product. This is a small website and I am really happy to be joining the Brio Affiliate program as they have amazing products and I use the Brio every week for my grooming.
Let's get cracking…
What Is The Brio Beardscape Beard Hair Trimmer?
As the name suggests it is mainly driven towards facial hair but also for other body parts, like the hair on your head, body hair, and the groin area. The company states this is the last trimmer you'll ever need. After using it I would agree.
This is a rechargeable trimmer but it can also be used plugged into the wall if the batteries are low. This is a highly adjustable trimmer ranging from 1mm through 18mm via guide combs provided and through the Micro Adjust Lever on the front of the device from (1mm, 1.3mm, 1.6mm, and 1.9mm). Allowing you to get the precise exact stubble length you desire. There is also an LCD display on the lower half of the trimmer that shows speed settings, load, available time left on the battery, oil prompts, and charging prompts.
There are a total of 5-speed settings to choose from by pressing the – and + buttons on the front of the trimmer.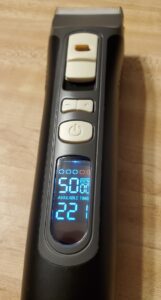 What Is Everything Included With Purchase?
1 – Brio Beardscape Beard And Hair Trimmer
1 – Charging Dock
1 – USB Cable (90 inches long)
1 – Wall Wart
1 – Bottle of Lubrication Oil
1 – Cleaning Brush
4 – Guide Combs (1-2mm, 3-6mm, 9-12mm, 15-18mm)
Specs On The Brio Beardscape
I measure the length of this trimmer to be 6 7/8″ inches long and the blade length to be 1 5/8″ inches wide.
The battery is an Extra-Large Li-ion battery with up to a 4-hour run time. The blade is made from ceramic and the rake is made from titanium. Ceramic blades hold an edge longer than stainless steel and also operate much cooler than steel.
This rechargeable trimmer has a very unique option that I haven't seen in other models, as it has a long cord that can be plugged into the wall and used if the batteries are low. They also supply a long cord, I measured 90 inches for the cord. Great feature and idea that most brands don't address!
4 Guide Combs
Four guide combs are provided and these are dual-sided. Each comb is labeled both on the inside and outside making for easy identification. I highly recommend checking out the video below dealing with attaching the combs. As I initially attached the combs wrong when I was first using it, especially the 1-2mm guide comb.
1-2mm guide comb
3-6mm guide comb
9-12mm guide comb
15-18 guide comb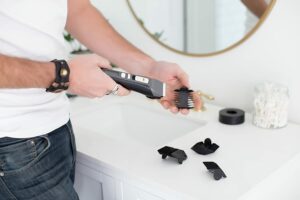 5 Speed Settings
5000 RPM – 240 min.
5500 RPM – 225 min.
6000 RPM – 210 min.
6500 RPM – 195 min.
7000 RPM – 180 min
How Well Does It Work? Should You Buy It?
Umm, yeah…you should buy it! It is a great multipurpose grooming tool that handles everything thrown at it!!!
This is a quality device that works great for cutting hair just about anywhere. I initially used it to cut the hair on top of my head first and it handled it great. I am used to using an old set of Wahl clippers for cutting my hair. I did notice the Wahl had more power but the Brio never slowed down or bogged down. I trim my sides to 1mm and the Beardscaped handled it just fine and did a good job. I really liked not having a cord to hinder my movement when using it.
Beard & Body
Fantastic beard trimmer!!!
This is a highly adjustable trimmer and this is where the Beardscape really shines. Allow you to get that perfect stubble height or just trim your 8-month-old beard. The guide combs as well as the Micro Adjust lever really give you a lot of options for how much hair you want to take off or leave on.
This is my new favorite beard and stubble trimmer!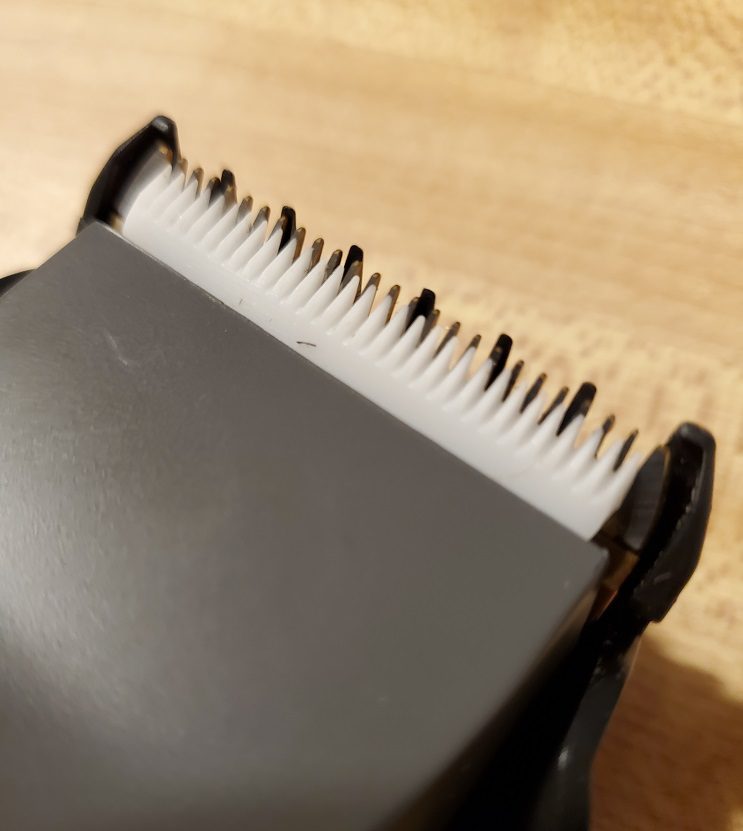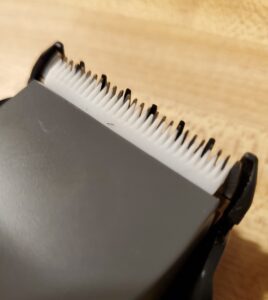 As A Groin Trimmer
It performed well that is if you first start out with the trimmer Micro Adjust at 1.9mm, I didn't and started out at 1mm which quickly nicked me in no time. After realizing my error I switch to the 1.9mm and had not one nick afterward. I would recommend either starting out at 1.9mm or using the 1mm guide comb attached and then maybe adjusting the Micro Adjust to maybe to a higher setting. But The 1.9mm works great and I experienced zero nicks after making the switch.
A quick note here: any trimmer can potentially nick you down below due to the weirdness of the skin. The Beardscape can handle the job without nicking quite nicely allowing you to fine-tune the amount of blade adjustment to get it just right.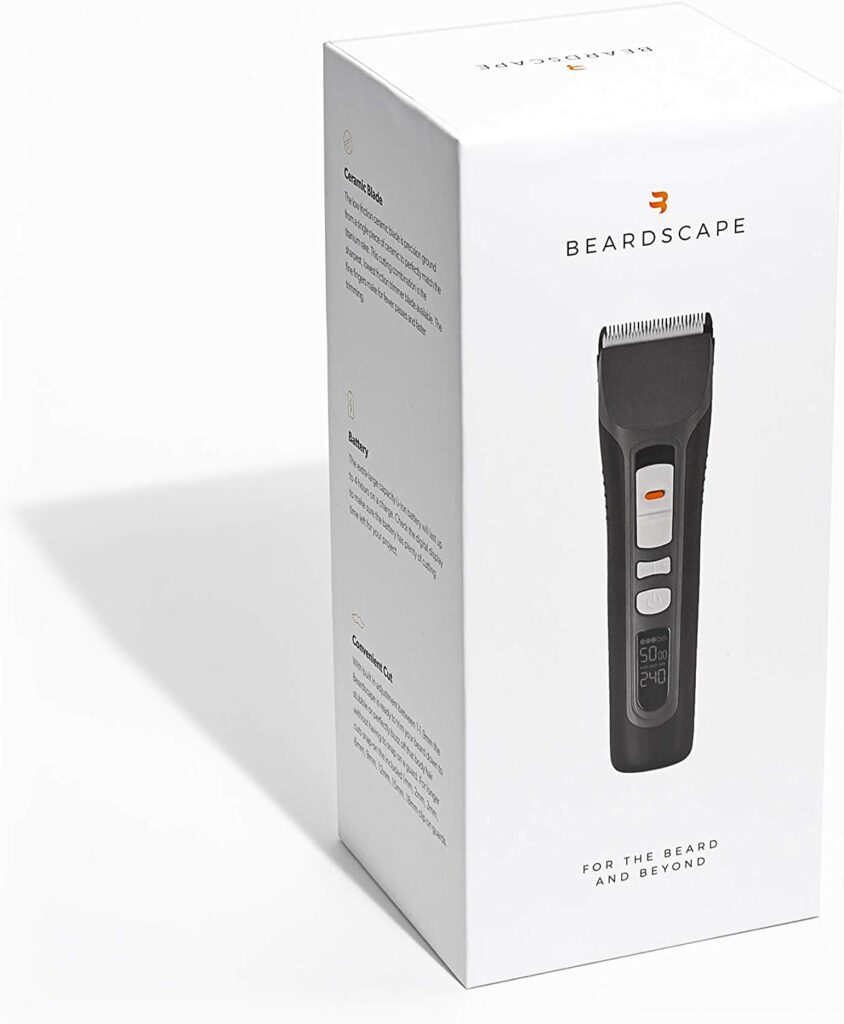 Pros & Cons
Pros
Blade gets closer to the skin than most other trimmers, at its closest position as the ceramic blade to the stainless steel teeth is less than 1/16″ of an inch.
A very close cut.
Blows away most if not all other rechargeable trimmers in all categories. Best I have used.
Fantastic battery life with a full charge.
It is highly versatile for varying stubble lengths and is a great selling point. Very pleased with this.
Blade length is easily adjustable for fine-tuning and getting that perfect stubble length. I love this feature.
Can easily adjust the cutting speed to slower or faster by pushing the plus or minus button.
LCD readout screen displays the time left on the battery at the current speed, speed, and load state of clippers.
Can be plugged into the wall via a cord or charged in a docking station via the wall outlet or charging device.
Guide combs are well-labeled on the outside and the inside of the guide combs.
Great tips and videos about using this trimmer on Brio's website.
Easy to remove and install the blade.
Pretty quiet trimmer, not the quietest I've heard but right up there.
The blade is made from ceramic which maintains its sharpness longer than steel as well as produces less heat.
Provided that you lower the blade height to its lowest setting (1.9) it didn't nick me when trimming hair below the belt.
If the battery is low it can be plugged directly into the wall a used while plugged in.
Let you know by the circles on the LCD display when it needs to be cleaned and oiled and also after every 60 minutes, a red oil light will light up reminding you to oil up.
Easily trimmed hair under my nose and around my mouth.
A long cord (90 inches) is a good backup option if you forgot to charge it.
Great customer support. I had an issue with my trimmer (after 1 1/2 years) and I was promptly taken care of and completely satisfied. Problem solved. (5/24/23).
2-year warranty. As mentioned above they handle any problem.
Cons
Would have liked to see the Beardscape Zero-Blade included with the purchase, as I am used to having a zero blade for cutting trimming my beard, and trimming up areas around my face and neckline. I bought the kit that didn't have the Zero-Blade included but it was purchased with different kits as well as separately.
It was lacking in speed as far as cutting my hair as compared to my old plug-in-the-wall Wahl clippers, I missed the speed even when I set it to the fastest speed, but the Brio didn't have any problem cutting hair. As I compared the two side by side and the robustness and speed were apparent but the Brio had no problem bussing right through the thickest of hair.
Putting the guards (guide combs) on correctly can be tricky, you should watch the video in the Tips section below. I initially put the #1 guide comb on the wrong leaving too much of the guide comb sticking too far out. The guide comb should be closer to the blade for the #1 guide comb.
Would be nice to have a case with this. Guess I will use the box it came in.
Tips & FAQ
Read the directions and watch their videos before using this product. As many problems and questions will all be answered in these videos. I for one skip this and soon regretted it.
Keep this trimmer dry as it is not designed to get wet, as it is not waterproof.
General Tips For Trimming Below The Belt
The best piece of advice is to go slow. This isn't a race, take your time and avoid rushing yourself especially if you are a first-timer.
To be completely safe and especially for beginners it is highly recommended to use the 1mm guide comb. Then maybe proceed after you get the feel for it by removing the guard and lowering the settings.
For groin hair trimming it is recommended to adjust the blade to its lowest setting (1.9), this will help protect the skin as it will leave more space between the skin and the blade. You experiment and slowly raise it to the next lowest setting and see if it doesn't nick you. It would be even better to suggest putting the 1mm guard on.
When using the Brio make sure to hold the rake against the skin when using it and not the other way. This will also protect you from cuts.
Attaching the Beardscape Guards (captioned) from Brio Product Group on Vimeo.
How Long Does It Take To Charge?
It takes up to 3 hours to fully charge from a fully depleted battery. Please note if the battery is dead or low you can just attach the provided power cord and use it plugged into the wall. Most of these types of rechargeable don't have this feature but Brio does. A great little feature that I love.
Want To Cut Your Own Hair?
Check out my page on Must-Have tools For Cutting Your Own Hair. There are a lot of tools for cutting your own hair that makes it much easier. Worth a look.
How Does This Compare To Other Rechargeable Trimmers?
This is the king of rechargeable trimmers and the rest of the lot is below the Brio. End of story. Nothing out there is as adjustable for cutting hair length. This is highly adjustable with its Micro Adjust Lever which will get you any length of hair. The best battery life too. I have only charged this once since owning it and it is still going strong as I use this every week.
Tips On Prolonging The Life Of Your Trimmer
Every battery-operated device will have an optimal way to charge and maintain it for the best longevity. I have highlighted a few below.
Don't charge the trimmer every day! When there are around 20 minutes of trim time remaining, give it a full charge.
The trimmer is not waterproof so keep it dry and don't run the blade under water. It is much better to cut hair when it is dry.
To keep your blade clean just sweep away hairs with your cleaning brush.
Oil with just one or two drops of oil every few months.
The Final Shave
Is this the last trimmer you will need? I would say it sure could be, as it performed all the tasks I threw at it with no problems. I would highly recommend this trimmer for someone looking for a trimmer to be a multipurpose trimmer, as it does it all.
I had no problems cutting my hair to the way I liked it on my head. The Brio also handled my beard amazingly and I think the Micro Adjust Lever really shines in providing you the perfect height for cutting any length of beard height. The Brio worked at trimming groin hair as well after I had it in the right setting. Nothing I have reviewed or used has so happily pleased me after using it, from the ease of use to the level of performance, and functionality of performance.
This thing just ROCKS!!! Get it! I highly recommend it.