Do You Cut Your Own Hair Or Want To?
Want to make the process of cutting your own hair much much easier and do a better job at it? I have been cutting my own hair since I was in high school and boy did I mess up quite a few cuts learning how to cut hair myself. This was before YouTube and modern hair cutting tools that make cutting your own hair much easier. So, in this post, I hope to share a list of must-have tools for cutting your own hair.
Reasons Why I Choose To Cut My Own Hair?
First
The first reason I cut my own hair is I had a bad experience with a barber when I was around 7 years old. I had a severe itch on my nose and when I went to scratch my nose he hit my hand away. I was not to move an inch when sitting in his chair. For a seven-year-old, this was pure torture. This left a bad impression on me about going to barbershops and I hated going to them. The guy was a jerk and I still remember what he looks like, porn star mustache, tight polyester pants with his bright butterfly collar shirt, this was the late 70's you know. Someday I should let this go and forgive him…I still go to the barbershop when I have a wedding or important event to attend but for average weekly trim ups, I do it myself.
Second
I love being self-sufficient is the second reason. I hate having to rely on someone else to do a job that I could possibly do. I would much rather do it myself than pay someone to do it for me.
Third
Once you initially have invested in quality tools for cutting your own hair you will be saving money from here on out. Hair clippers can last years and years, my clippers have lasted me over 14 years and still going strong. Most people have their hair cut once a week on average. Estimating a hair cut plus tip is around 20 dollars a week and 52 weeks in the year you have spent $1,040.00 on hair cuts for the year. See how much money you can save? Plus it starts to really add up year after year. This is such a good way to save money.
Do Your Research – Especially If You Are New To Cutting Your Own Hair
If you are new to cutting your own hair before putting clippers to your head you should do research. This little bit of knowledge will go a long way to getting your desired results.
On what type of haircut you want. Don't know what style? Just search for modern haircuts for men on Google or Youtube. Plenty of different styles to choose from.
Proper technique for cutting hair.
What tools you will need as certain haircuts require different types of tools. For example, if you have a buzz cut you might only need clippers and a 3-way mirror.
Watch Videos On Cutting Your Own Hair
There are countless videos on YouTube showing you how to properly cut your hair as well as the style you want. Plus there are videos of people getting their hair cut that you can watch them how they do it. There is so much knowledge out there that wasn't there when I was trying to learn. Plenty of videos to learn from.
Tools That Just Make It Easier
Sure you can cut your own hair with just the bare-bones scissors but having the right tools can ensure you do a real bang-up job as well as making it a whole lot easier.
CutCam – A Hair Clipper With A Camera To See Video On Your Phone
This might possibly be the biggest game-changer device for people who cut their own hair. Currently, at the time of writing this, it has met its goal on Indiegogo and is slated for shipping in April 2022 as this is a new product that is coming to the market place and I think we forever change the world of self-cutting hair. You can back this project and receive the CutCam doing so on Indigogo. There will be an app for using it when cutting your hair but also for teaching you how to cut hair as well from Master Barbers.
Being able to see in real-time what you are doing on the back of your head is the next best thing to going to a barber. You are able to see exactly what needs to be corrected and fix it right then and there.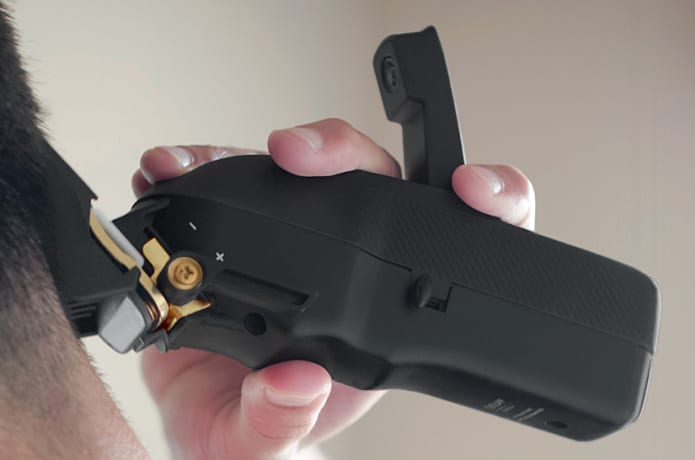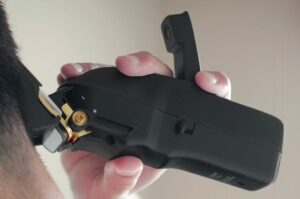 Another feature of the CutCam is that it is a rechargeable device so you don't have to deal with cords when cutting hair. I have supported this on Indiegogo and will offer a full in-depth review once it is shipped and really looking forward to using it. Stay tuned.
For further details and information head on over to my post, CutCam Hair Clippers With A Camera To Cut Your Own Hair.

Clippers
For the best rechargeable trimmer on the market, I highly recommend getting the Brio Beardscape. Don't be fooled by the name (Beardscape) yes, it does beards but it also cuts hair fantastically! Every since I got the Brio it is what I reach for it for trimming my beard and also cutting my hair. With the guide combs and its Micro Adjust Lever, it will cut any length of hair and is probably the last trimmer you will ever need.
Check out my full review of the Brio Beardscape here, Brio Beardscape Beard Hair Trimmer Review.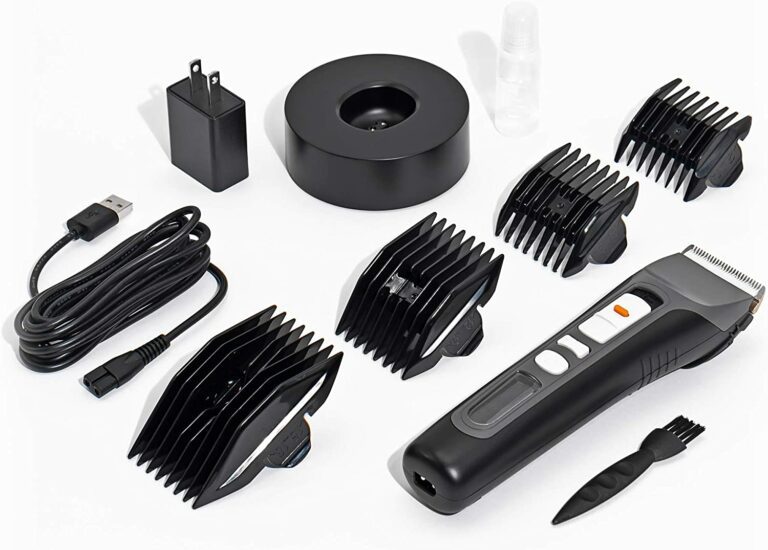 Corded Trimmer
A solid clipper is needed and they don't come more solid than the Wahl Professional 5-Star Cord/Cordless Magic Clip. I have owned a couple of Wahl clippers and they really do last and are a great set of tools. This has a rating on Amazon of 4.7 with 14,000 ratings, which is pretty darn good. This can be used with or without the cord attached as it has a Lithium battery with a 100 minute run time.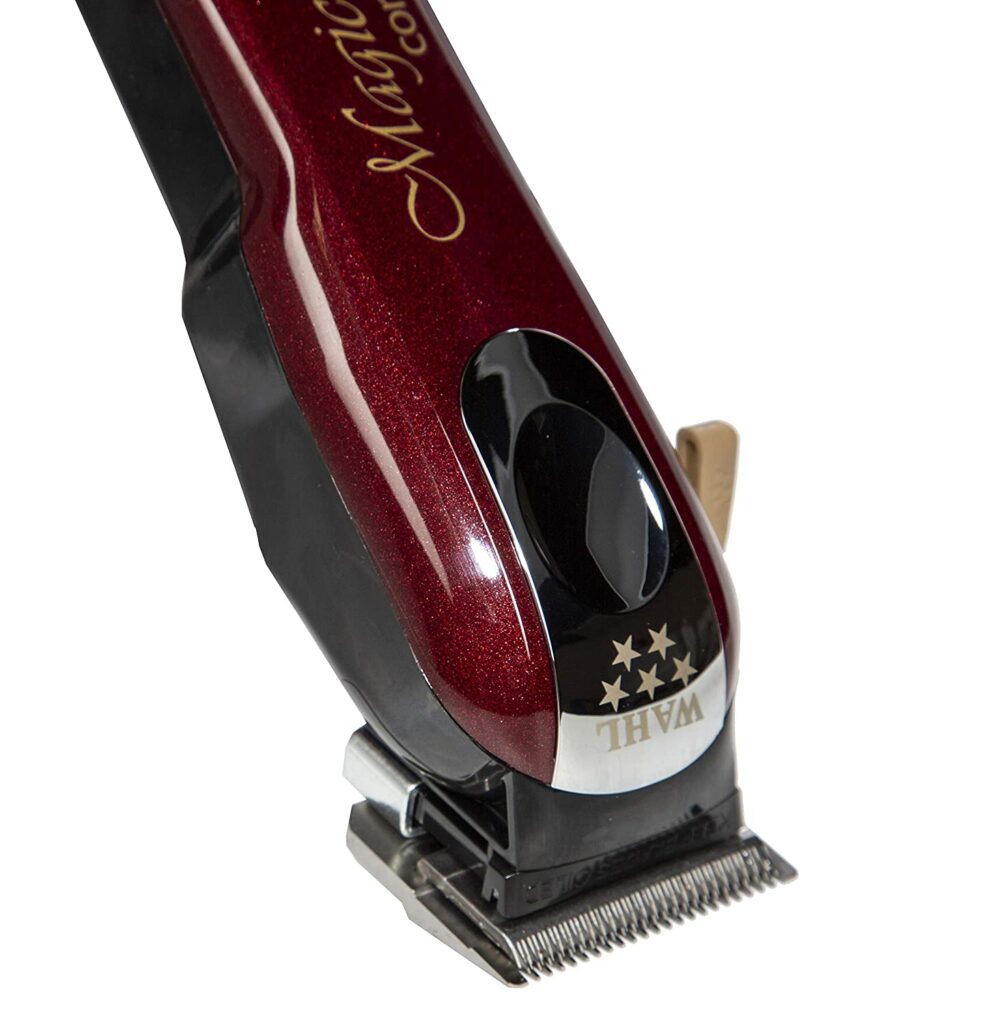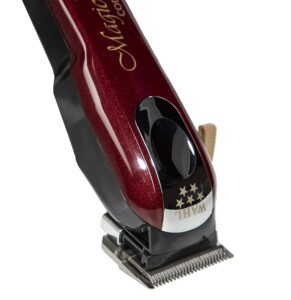 Features of the Wahl Professional 5-Star Cord/Cordless Magic Clip
Rechargeable or just plug it in.
Lithium battery.
100 minute run time.
Zero-overlap blades.
8 attachment guide combs (1/8″, 1/4″, 3/8″, 1/2″, 5/8″, 3/4″, 7/8″, & 1″)

A 3-way mirror is mandatory if you want to do a good job on your hair. This allows you to see the back of your head and make the adjustments needed to get a rock-solid hair cut by yourself. I own this and just love it for checking my work. This hangs from a door usually and is highly adjustable in height. It has two hooks that fit over the edge of a door. This is really well made and made out of actual glass. The glass gives great clarity.
This is a must-own if you plan on cutting your own hair! Check out my full review here, The Lipfi's Barbershop 360 Mirror 3 Way Mirror Selfcut Review.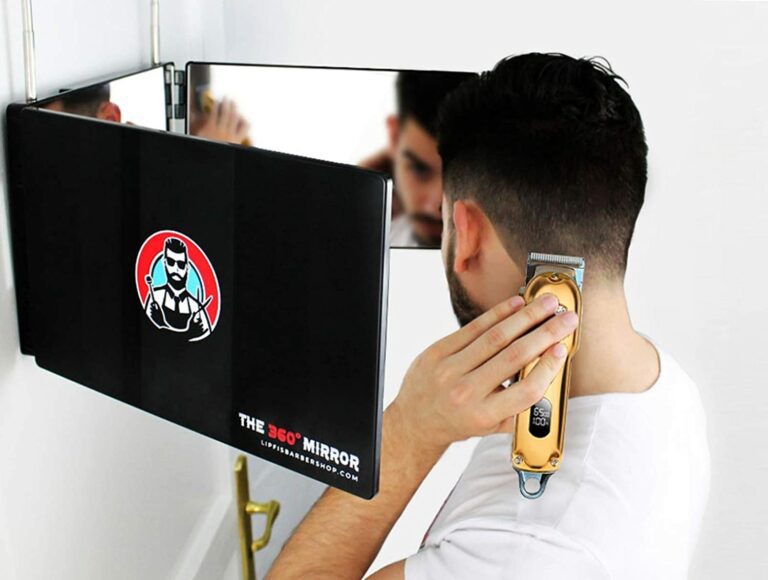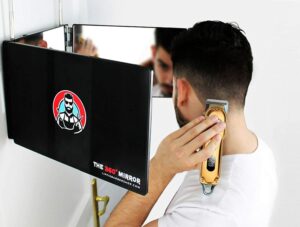 Scissors
Another must-have item for cutting your hair, but what scissors should I buy? Well, I recommend using these decently priced scissors highly rated scissors the Equinox Professional Razor Edge Series Scissors. These also have a rating of 4.7 and 34,000 ratings so you know they are not junk. These are made out of stainless steel and are very comfortable as they cradle the fingers during use. These are 6.5 inches long and have an ergonomic patented design.
You can read more about these scissors at my review here, Equinox Professional Razor Edge Hair Cutting Scissors 6.5″ Review.
Umbrella Hair Cutting Cape
Anybody that puts one of these on is going to look ridiculous. Am I right or what? But I thought I would include it because it sure does save on clean up afterward, as hair can fall all over the floor and sink making it really hard to clean up. I will put a link to Amazon below and you can try to pick one that makes you look good wearing it. Good luck.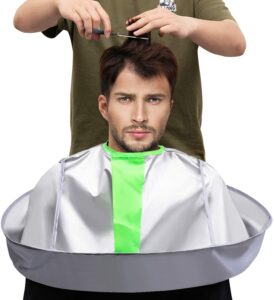 Water Spray Bottle
When cutting longer hair the hair should be lightly wetted. To accomplish this using a water spray bottle is a great tool for getting the right amount of wetness without overdoing it. This is a simple and cheap device that can make cutting your hair easier.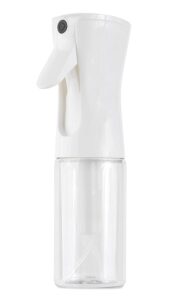 The Final Shave
The tools listed here should make cutting your own hair very doable. If you have any thoughts or product recommendations I would love to hear them in the comment section below.