I've been giving myself haircuts for decades now, only going to the barber when I have a special event to go to and need to look especially prim and proper. But now that might change…as the Lipfi's Barbershop 360 Mirror 3 way Mirro Selfcut Review is underway.
I've been wanting to review this for a while and I recently purchased this on Amazon in order to review this. Both for my personal benefit and my website content as I plan on using it for cutting my own hair and hopefully…doing a better job on the back of my head.
Why You Might Need The 360 Mirror?
Cutting Your Own Hair
The obvious is and most notable reason you might need this is for cutting your own hair. This allows you to see the back and sides of your head in order to give yourself a good quality haircut.
Starting off cutting your own hair can be very stressful, to say the least. This would greatly help the beginner, as well as the seasoned self-cutter, attain the best results.
Trimming and Shaving Neckline
This can also effectively be used on the neck area to clean up your out-of-control neck hair.
A great neck trimmer I have reviewed is the LVL Neck Shaver. You can read my full review of this product here, LVL Neck Shaver Starter Set Review.
Back Shaving
This could also help during the shaving process and verify you get all of the hair shaved off of your back. While it is not absolutely needed if you shave your back, as I haven't used one up in til now and I've been shaving mine for around six years. It might allow you to do a better job along with ensuring you get every hair and avoid problem areas like moles, scars, and skin tags.
What Is Included?
1 – Lipfi's Barbershop 360 Degree Mirror – 3 Way Mirror
How Big Is The Mirror & Dimensions?
The 360 Mirror when folded for storage is 12 inches wide and 7 3/4 inches long. When fully opened it is 36 5/8 inches wide but most likely you won't be using it this way.
There is a total of three separate mirrors that are highly adjustable to get the correct angle you need to see whatever area on your head. Each mirror measures 12 X 7 3/4 inches. These are connected by hinges.
The mirror has two metal telescoping hangers on the back of the center mirror to hang from a door. These can extend up to a maximum of 20 1/2 inches long when fully extended. This is more than enough as you will probably not need to extend it this far. I am six feet two inches tall and only need to extend it roughly to the second telescoping section which is about 9 1/2 inches from the top of the door.
Does It Work?
This is a must for do-it-yourself people that self-cut their own hair.
I really enjoyed using it and it made cutting the back of my head and neck so much easier and I was absolutely sure I did a great job. Well, because I could see it now! I often cut a fade into the back and sides of my head, with the 360 Mirror I could see spots that I needed to fade better and achieve better lines.
The mirror is real glass and shows great detail. When I first opened it looked like it was scratched all over the place but I soon realized it had a clear plastic film on it. Once removed, it was in perfect condition and really clear.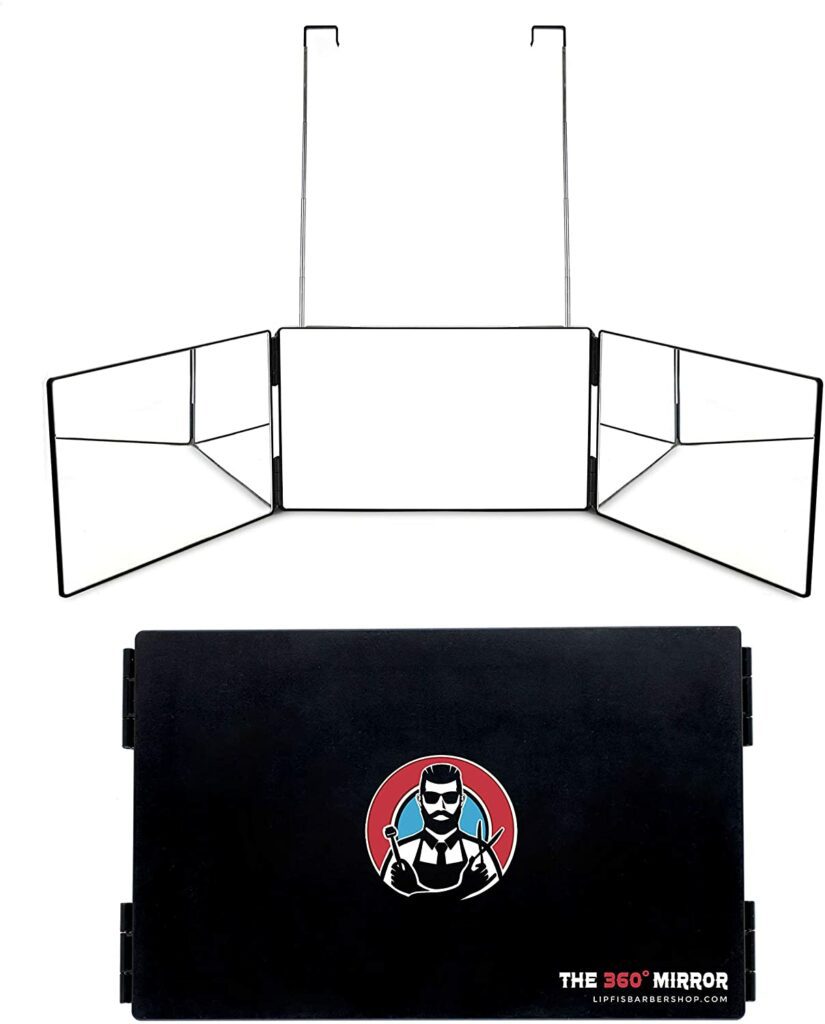 Pros & Cons
Pros
Made from real glass and not plastic.
High quality glass is used!!! Great clarity when looking into the mirror.
The mirror comes securley bubbled wrap to ensure no damage is to occur during shipping.
A plastic film is covering the interior of the mirrors to also protect from scratching. I orginally thought the mirror came fully scratched up but saw it had the film on each of the three mirrors.
The mirrors came in perfect condition! Remember to take the film off the mirrors.
Came very well protected with bubble wrap.
Love any product that helps self-suffiecient people be more self-suffiecient. DIY's!
I had no distortion in any of the mirrors.
Allows you to take it to any room with doors.
Cons
Mostly designed for people with short haircuts and not for people with longer hair.
Unable to mount to a wall. There is no holes in the back to hang this from.
Need to be carefull around the telescoping hangers as thes are made of I think aluminum. These could easily bend if bumped or forcefully used. Think of a boombox antenna but sightly bigger.
Kind of pricey.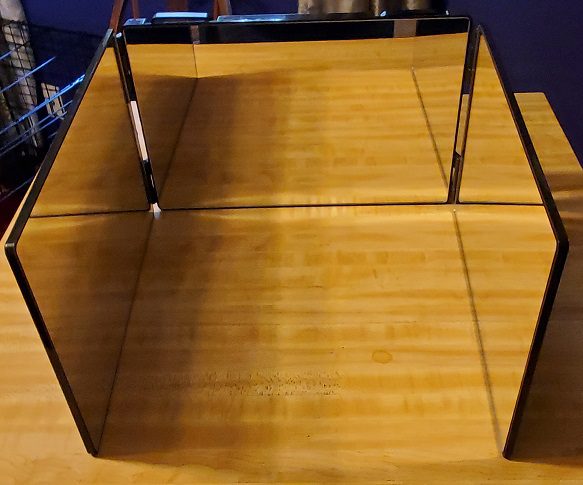 Ideas & Tips On Using It
Adjust the telescoping hangers to line up the center of the mirror with your nose, this should properly center the mirror to your head.
You might have to adjust the mirrors a little plus turning your head to see the back of your head but with a little effort, you will quickly get there.
Be careful closing it in the right sequence as you might bend the unit trying to shut it the wrong way. The left mirror should close first then the right side.
Take it slow if you are new to cutting your own hair. You can always take off more, but you can't put it back on.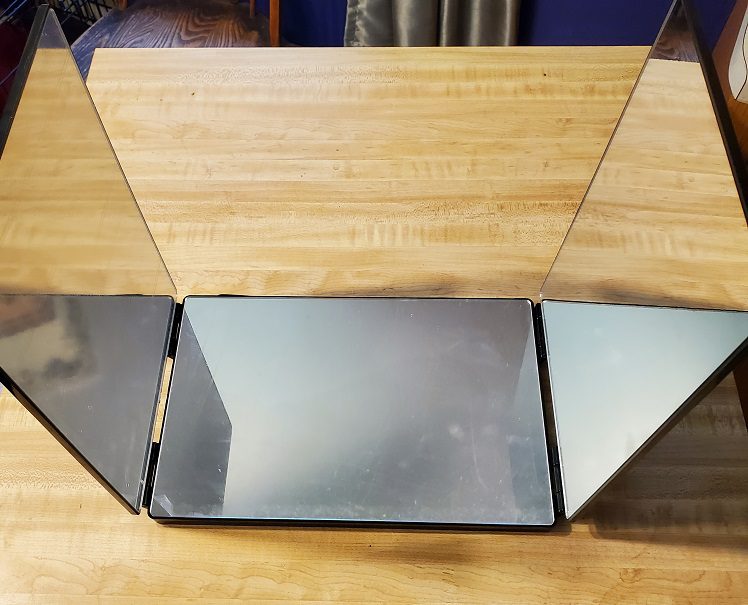 The Final Shave
If you cut your own hair this would greatly improve the results, as you are able to see the backsides of your head with ease. I received a perfect product and I had zero problems and I couldn't be happier.
I have botched plenty of hair cuts both knowingly and unknowingly, only to find out later when someone points out the imperfection in my barber skills. This is no longer going to be an issue and I will have full confidence after cutting my own hair now with the 360 Mirror.
If you have any questions or comments please leave them below. Thanks!