In this Ape Scrape Razor Extender Review, I hope to shed some light on whether or not this is worth buying and help to describe the features so you would see if this is a right fit for you.
I first starting finding out about razor extensions from initially reviewing back shaver. Razor extension handle can also shave back hair, but I don't really recommend it for that purpose, mostly due to the standard razor design and function.
I think there are many people who struggle with mobility issues and not many people know there are products like these available to purchase which could greatly help them in their hygiene routines.
Purple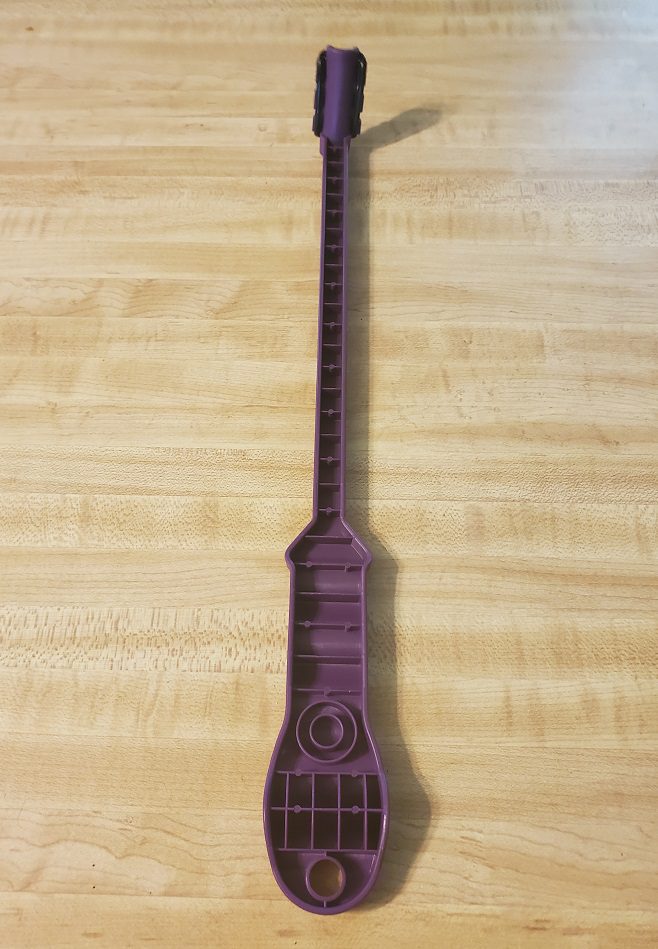 What Is Ape Scrape Razor Extender?
The Ape Scrape is a razor extender made from a single piece of plastic and uses a unique holding system to hold a razor securely in place. The top has a series of slots in which to loop a rubber O-ring over a razor in which it holds it in place thereby giving you a secure hold on the razor.
Uses Of The Ape Scrape
This razor extender would be first and foremost practical for people with mobility issues, either from injury, surgeries, or pregnancy. These could potentially be also used for shaving your back hair with this.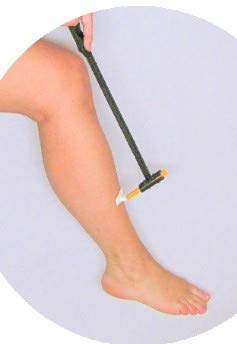 Disabled people
Pregnant women
Recovering from surgeries
Back pain
Small bathtub or shower
Arthritis
Older people
Physical injures
What Is All Included?
1 – Ape Scrape Razor Extender/Extension Handle
1 – O-ring
1 – Set of instructions.
Specs On The Ape Scrape
I measure 16 inches long from the bottom of the handle to the highest point at the top.
This is very lightweight coming in at 1.76 ounces.
How Well Does It Work?
I found the length to be of adequate length as I was able to reach my ankles with minimal bending. The handle is not the most comfortable in my hand but it is not the worst I have used either. Its lightweight makes it very easy to maneuver and hold.
The single piece of plastic is just sturdy enough while being very lightweight. A good design.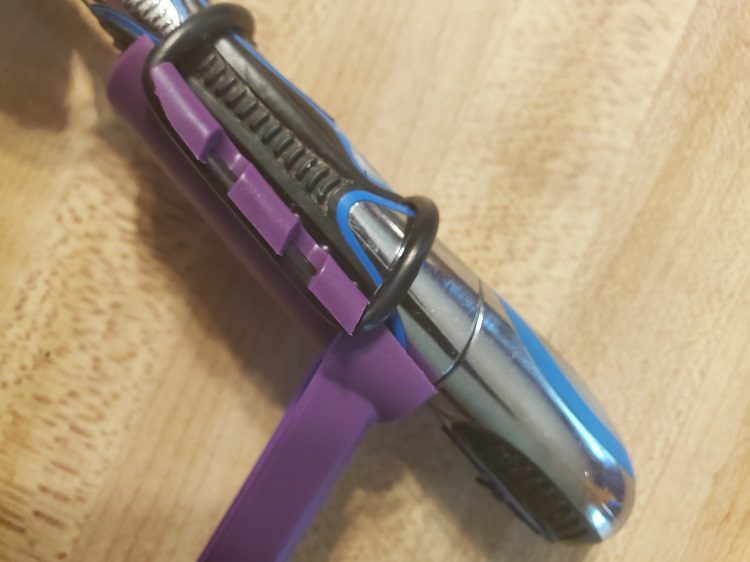 How well does it hold a razor?
Pretty darn well, as I had zero front-to-back motion with the two different diameter razors I tested. The O-ring securely does its job and locks the razor into place and I experience no movement front to back. Most razor extensions better perform in this task or it would be a pretty worthless tool.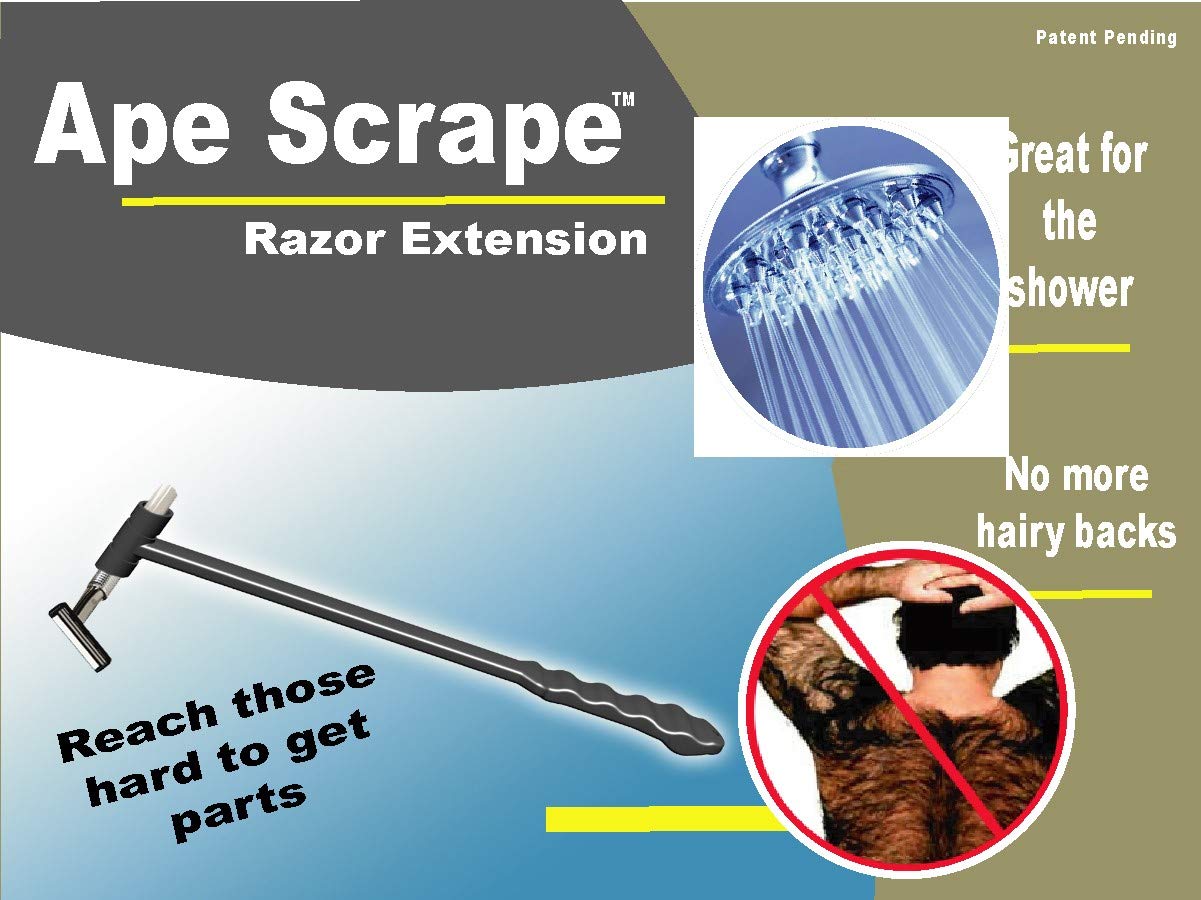 Pros & Cons
Pros
Many different size razors can be attached to the top of extender using their O-ring style locking mechinism. This should easy handle any standard beard razors and up. I attached a a wider than normal Gillette ProGlide and it worked nicely.
Highly adjustable to accomadate any size razors.
Hole in the end of the handle for attaching a lanyard or for hanging.
Made in the USA.
Very lightweight and easy to manuever.
Handle is sturdy enough but provides a forgiving bend when needed.
O-ring does a great job of keeping the razor in place.
Cons
Would like to see a lanyard come with this for people with mobility issues. But there is a hole to attach one if you need to. This would make sure if you dropped it you would have to bend over to pick it up.
Handle isn't the most comfortable but not that bad either.
Not recommended for back shaving. Use a dedicated back shaver and not a beard razor.
For people with arthritis or limited mobility in thier hands, it might be hard to get the O-ring into the correct slots.
Tips On Using It
If you are using this for mobility issues, I would highly recommend purchasing or making a simple lanyard from some thin rope and attaching it to the end of the handle. This will keep you from dropping it and having to bend over to pick it up.
Uses a simple 1 1/2 O-ring which can be purchased at any local hardware store if the O-ring should ever break or crack.
If you possibly want to use a bigger electric trimmer or shaver that doesn't fit currently you could possibly buy different size O-rings that are slightly bigger to make it work for you. As there are many looping options provided at the head to choose from.
If you are planning on using this to shave your back I do not recommend shaving your back with a standard disposable blade razor. I would advise against this. These types of razors are not designed to adequately shave your back. They will clog way too fast. Stick to a system that is specifically designed for back shaving. Check out my highest ranked back shaver here, Bakblade 2.0 Elite Plus Back Shaver Review.
Other Razor Extenders I Have Reviewed You Might Want To Check Out
I have written a post where I rank some of the razor extension handle I have reviewed here, Long Handled Razor Extension For Disabled Of People With Limited Mobility. Check it out!
The Final Shave
This is a solid razor extension handle and would work great for a person with mobility issues looking to shave areas that they struggle with. It is very lightweight and the locking mechanism used will hold the razor with very little movement if any at all.
The area of concern I have is with difficulty some people might experience with adjusting the O-ring into the correct slot. If you have a thin razor handle it shouldn't be that difficult but if you have a large razor handle it could pose a problem with people with mobility in their fingers.
Otherwise a solid razor extension handle!