Day & Night Toothpaste, Wait…What?
One grooming company I am always excited about reviewing is anything from Dr. Squatch and today I will be reviewing the Dr. Squatch Men's Natural Toothpaste Morning Formula and Night Formula. Yeah, you got that right, different formulas for different times of the day. Interesting and different at the same time. So I hope to shed some light on one of the newest products to help you determine if it is worthy of purchase in this Dr. Squatch Toothpaste Review.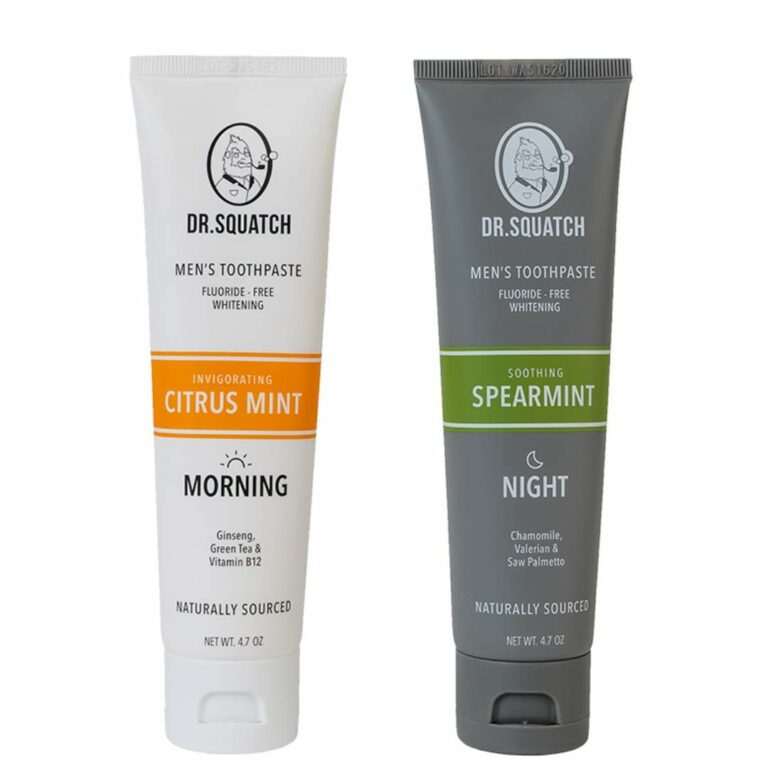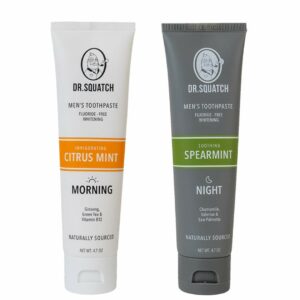 What Is Dr. Squatch Toothpaste?
First, we must find out about Dr. Squatch as a company before we get into the review to better help us understand an overall general view of the company and product line.
Dr. Squatch is a company that raises the bar on men's grooming products by using natural ingredients with no harmful chemicals and is specifically targeted at men. The way they make products for men is by the scents they use, scents a real man would feel comfortable smelling around anybody. Yeah, they smell great too!
They also avoid using any estrogenic in their formulations, stuff as soybean oil, phthalates, and parabens. These mentioned ingredients have or could have adverse effects on the male hormone system. I celebrate being a man and don't want any chemicals making me something different than I am. Give me my natural testosterone and stay estrogen-producing chemicals, thank you!
Plus they have some of the funniest commercials known to men and attack the marketing to men with comedy. It is really a fresh take!
Ingredients
Both of these tubes are 4.7 ounces per tube.
To really know a product you have to look at the ingredients to understand it. I know, I know…it is boring to me too but we all sometimes skip this process but we need to be better informed on what we use in and on our bodies.
Citrus Mint (Morning)
Glycerin
Water
Hydrated Silica
Calcium Carbonate
Xylitol
Hydroxyapatite
Sodium Cocoyl Glutamate
Cellulose Gum
Xanthan Gum
Stevia Rebaudiana Leaf Extract
Citrus Limon (Lemon) Peel Oil
Mentha Piperita (Peppermint) Oil
Menthol
Melaleuca Alternifolia (Tea Tree) Leaf Oil
Camella Sinensis (Green Tea) Leaf Extract
Panax Ginseng Root Extract
Mannitol
Cyanocobalamin
Spearmint (Night)
Glycerin
Water
Hydrated Silica
Calcium Carbonate
Xylitol
Hydroxyapatite
Illite
Sodium Cocoyl glutamate
Cellulose Gum
Xanthan Gum
Mentha Piperita (Peppermint) Oil
Stevia Rebaudiana Leaf Extract
Gaultheria Procumben (Wintergreen) Leaf Oil
Mentha Spicata (Spearmint) Leaf Oil
Cocos Nucifera (Coconut) Oil
Eucalyptus Globulus Leaf Oil
Tocopheryl Acetate
Ocimum Sanctum Leaf Extract
Chamomilla Recutita (Matricaria) Flower Extract
Serenoa Serrulata Fruit Extract
Valeriana Officinalis Root Extract
How It Performs? Worth It?
I have been using a variety of natural toothpaste for years, I mean I have tried a lot of different brands. Initially, years ago, I wanted to find a brand of toothpaste that didn't have any fluoride in them. I have tried Tom's of Maine, Jason, TheraBreath, etc, and even just using baking soda all in order to get away from the fluoride. So, I do have a lot of experience with alternative natural toothpaste and this is not my first rodeo.
There is a difference between natural toothpaste and the common toothpaste most are used to, like Colgate and Crest. Most natural toothpaste doesn't have the foaming action that is present in bigger well-known brands. I thought I would point this out because some might potentially be put off by this feature but I am not. I am quite used to this feature and I actually don't miss it at all.
So, there is no foaming action in this toothpaste but I don't care. I want a product without fluoride and something that works to clean my teeth and leave me with good breath. Dr. Squatch does perform all of these features. It does spread around your teeth and gums easily and didn't have any problems with that. My mouth, teeth, and gums do feel clean after using both of these toothpastes.
Flavor
I find both of the flavors offered very refreshing and enjoyable. Sometimes you get a mint toothpaste that is way too minty. Not here, it is balanced well in both of the formulas.
If I had to choose the best flavor I would pick the Night Formula, as I like this one the best.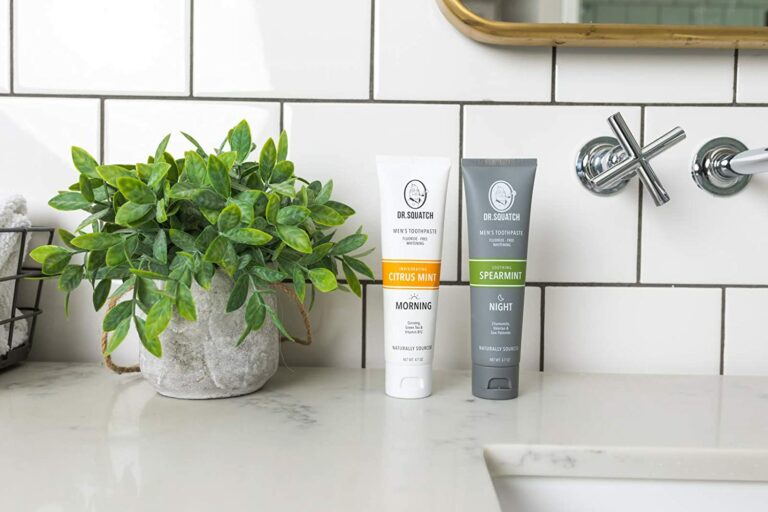 Pros & Cons Of Dr. Squatch Toothpaste
Pros
No FLUORIDE!!!! I have eliminated fluoride from my life both in drinking water as well as any other product for a decade or more. I will not buy anything with fluoride in it to clean my teeth. I have broken away from the indoctrinated use of fluoride and haven't seen any ill effects on my teeth since doing so.
Great tastes!
I love the option of having an envigorating tasting toothpaste to help wake me up and a soothing flavored toothpaste to calm me down right before bed.
I did notice after using this product for a couple of weeks that I definitely woke up with quite a bit less morning breath after using the night formula prior to going to bed.
Despite what it says on the Dr. Squatch tubes of toothpaste I didn't need a sizeable portion dispensed on my toothbrush. I like to use as little as possible but still enough to get the job done. As long as it covers my whole mouth I'm good. Plus the tube lasts longer thereby saving me money.
Promotes brushing your teeth more as you are more likely to remember since you have two separate tubes of toothpaste for different times of the day. At least for me, it helps me to be more diligent.
Made in the USA.
You can drink orange juice after brushing your teeth with this product with no altered taste of the o.j.
Comes out of the tube easily.
Free from Parabens, Sulfates, and Peroxide.
The night formula has natural clay which is for extra whitening.
Both tubes of toothpaste have Hydroxyapatite which is naturally restorative and effective in reducing tooth decay, cavities, and enamel erosion and is a better option than fluoride in my opinion.
It does not leave white residue around your mouth like some other natural kinds of toothpaste can.
Cons
It says Men's Toothpaste but anybody can use this product to brush their teeth with it. It's just that Dr. Squatch is focused and marketed to men, in general, to supply grooming products to men. It's not a real negative it's just what their whole product line is built around and I can understand.
Doesn't foam, I am used to this and this isn't a negative for me but maybe for others that are just making the switch to more natural toothpaste, it might be a negative.
Can be thought as of expensive for toothpaste by some people but it seems everything lately is expensive. Inflation!!! All-natural kinds of toothpaste, in general, are more expensive than ordinary kinds of toothpaste because they are made with cheaper chemicals.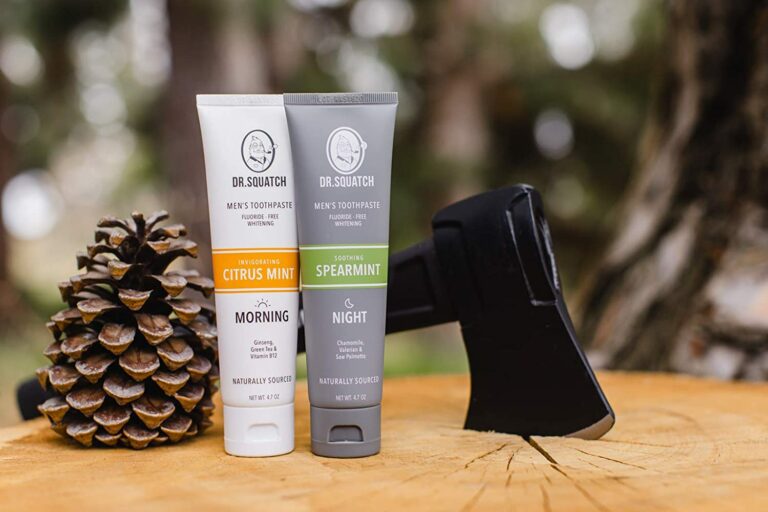 Other Dr. Squatch Products I Love
One of my all-time favorite products I have reviewed is the Dr. Squatch Pine Tar Soap. It is such an amazing soap that I use it all the time in the shower. It easily gets any grime or dirt off of me and plus it smells like a man should smell. Their scents are all amazing too. Check out my full in-depth review of Dr. Squatch's soap here, Dr. Squatch Pine Tar Soap Review.
You will know why I love this soap so much after you use it just once.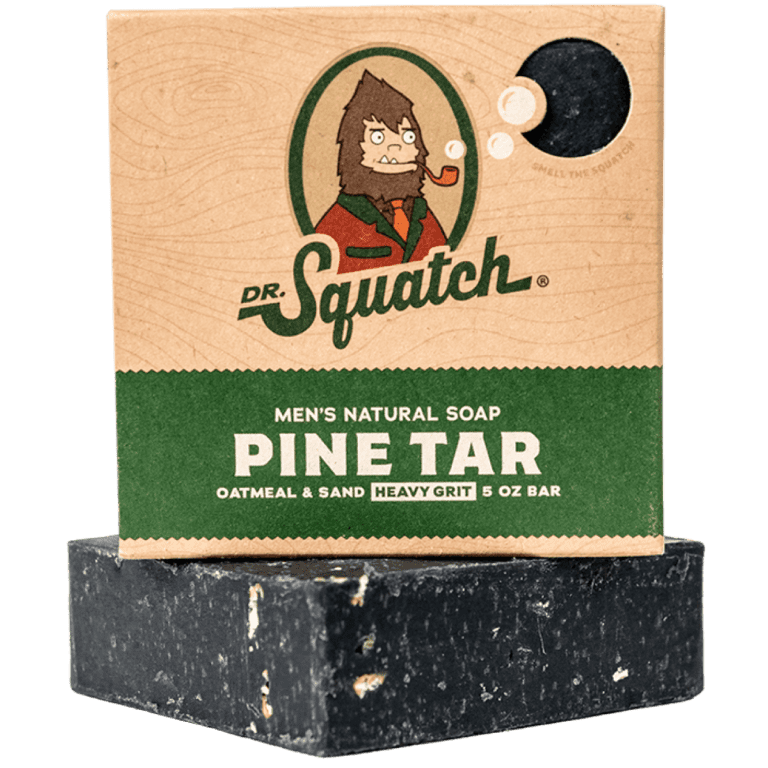 I also really like their men's deodorants. They keep you smelling fresh and like a man throughout the day and I also highly recommend you check my review here, Dr. Squatch Deodorant Review – Smell Like A Man.
Tips & Useful Information
I am a dog owner and I am quite aware of the dangers of Xylitol poisoning of dogs. Xylitol is very poisonous to dogs! Just be aware of any product containing Xylitol like toothpaste, mints, candy, or even some foods should be kept safely away from dogs. My Yorkshire Terrier dog (Georgie) never goes into my bathroom unless it is bathtime, plus he can't reach the top of the sink anyway, since he is so short. Just something to be aware of.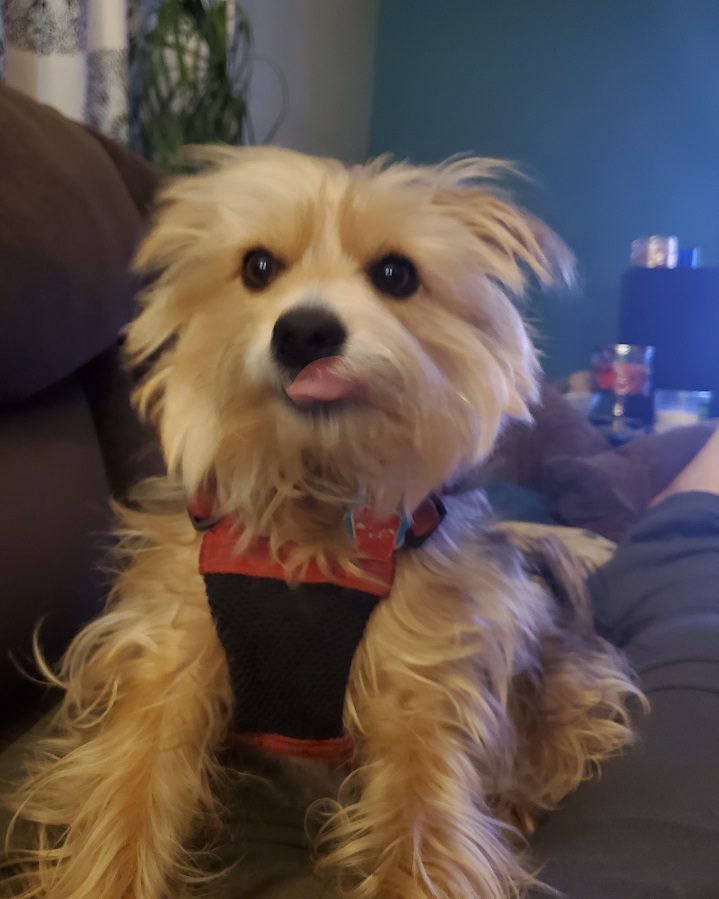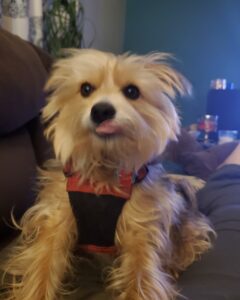 I recommend adding a small dab of toothpaste to your toothbrush when first using even though on the tube it says to add a sizeable amount. I found I get away with using a small dab just fine on my toothbrush. You can always add more if you didn't add enough the first time.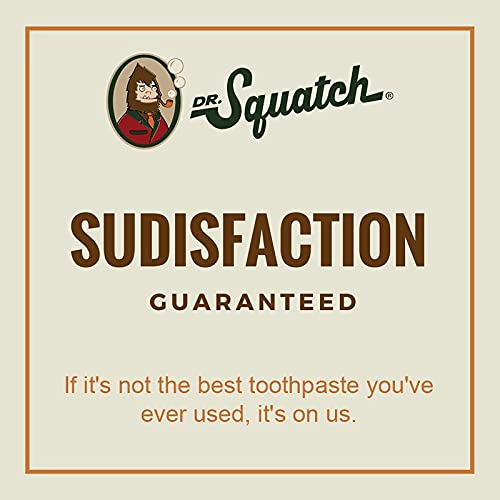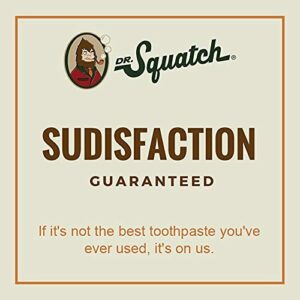 Promo Code:
New to Dr. Squatch? Save 20% off orders of $20 or More On Your First Purchase!
The Final Shave
If you are looking for a more natural toothpaste, a toothpaste without fluoride and one that tastes good and more importantly cleans your whole mouth I recommend using the Dr. Squatch Morning & Night Formula toothpaste. It always left me feeling like my teeth were clean and with good breath. Its ingredients help promote good oral hygiene and reduce the risk of tooth decay.