This is my second review of a product from Dr. Squatch, as they are a modern all-natural men's hygiene company that has quality products to purchase online. Maybe you have heard of them and maybe you haven't, but their products simply impress. At least I was impressed. So, today in this Dr. Squatch Deodorant Review – Smell Like A Man I will be reviewing some of their newer deodorant scents and see if they are just as good as their soaps are.
As I was first introduced to Dr. Squatch from their highly popular soap line. In case you don't know, their product line is geared toward men. With scents that don't smell like Axe Body Spray or other obnoxious deodorants. They have a more natural smell that is not abrasive but pleasing and you guessed it…smelling like a real man.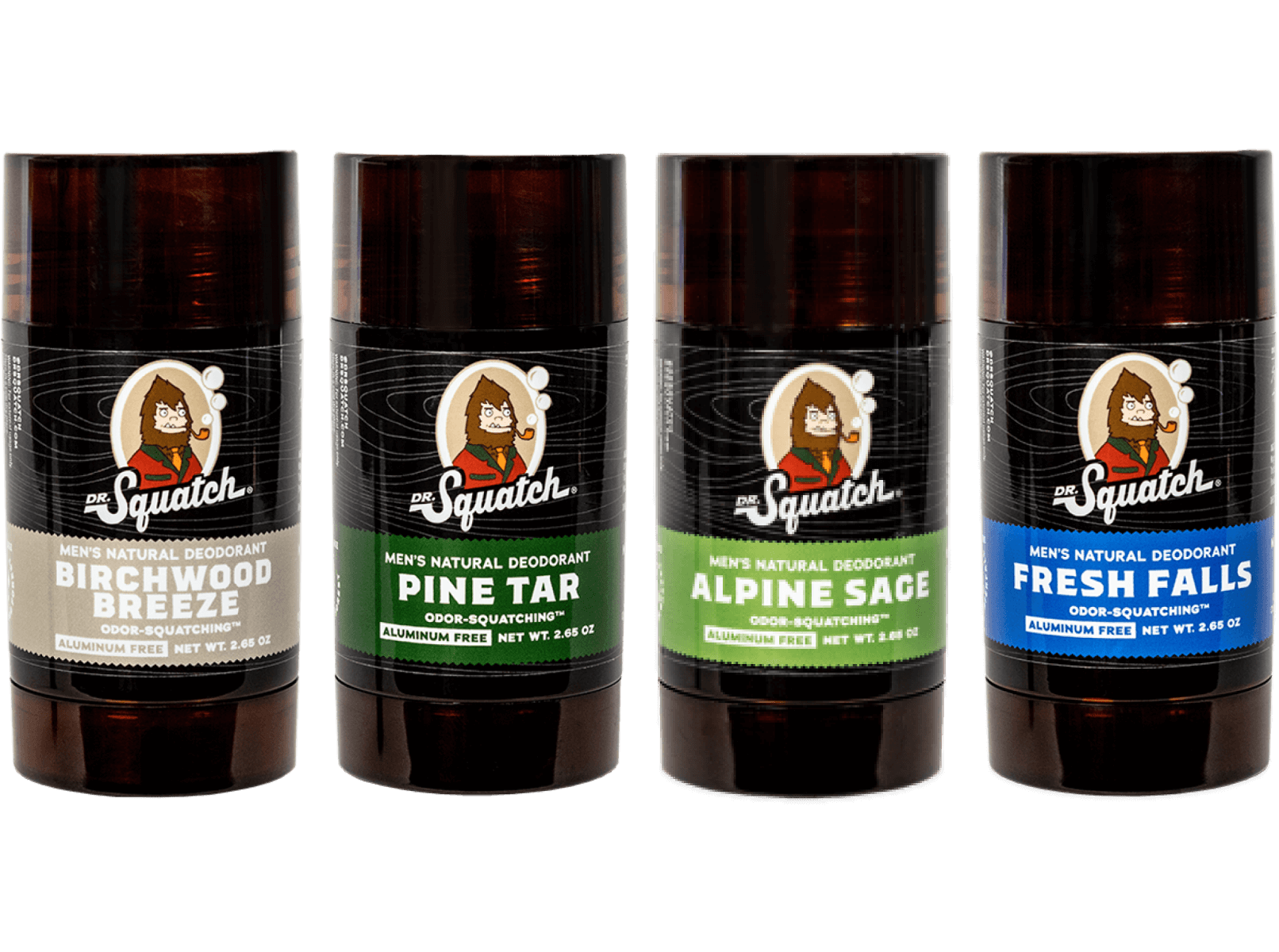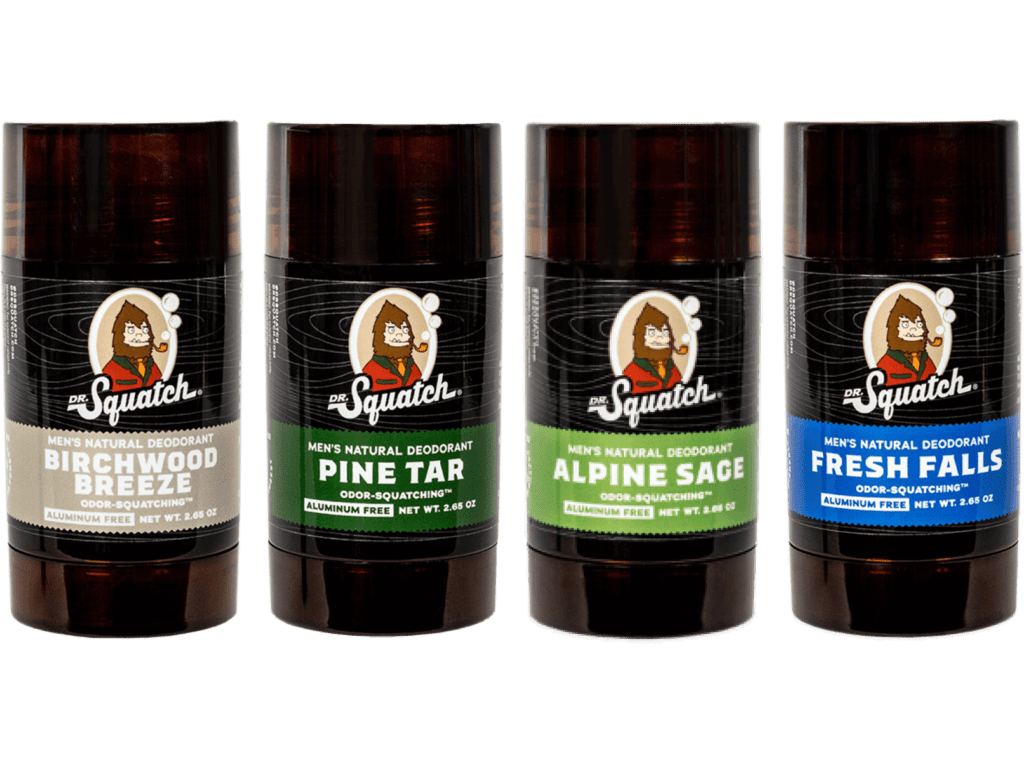 If you haven't tried their soaps, man…you got to try them, especially their Pine Tar Soap. Just an amazing man soap! Check out my review here, Dr. Squatch Pine Tar Soap Review. Highly recommended! I'm not kidding what a great soap! Definitely my favorite.
So, I was very excited to review another product from Dr. Squatch as well as use their deodorant day-to-day.
What Scents Do They Have?
Dr. Squatch currently has a total of seven scents to choose from in their new deodorant line.
Pine Tar
Cedar Citrus – Newest scent.
Wood Barrel Bourbon
Birchwood Breeze
Alpine Sage
Fresh Falls
Bay Rum
The Scents I Purchased
I purchased three of their deodorants to give them a spin and leaned in towards the scents I thought I would enjoy the most for me personally.
Pine Tar – Smells like an old growth forrest. My favorite and I highly recommend if you are looking for a natural smelling deodorant. I already knew I loved this scent from their Pine Tar Soap.
Alpine Sage – Smells costal medierterian and herbacoeus.
Birchwood Breeze – Smells very refreshing in a manly way.
I've been using their soap since 2017 and I know I love the Pine Tar scent, so I definitely had to try it and see if I liked wearing it as a deodorant and…I do like it and as a matter of fact, I love all three of them. I prefer to smell more natural over the obnoxious out there in your face fragrances. As I prefer my cologne, pomades, hair products, and any other scents I use on my body to have a more natural scent. This usually comes from using essential oils over fragrant chemicals.
List Of Ingredients
The deodorants ingredients are all roughly the same except for the fragrance. Below I will list the Pine Tar Deodorant ingredients. Check their website for each individual deodorant.
Pine Tar Deodorant Ingredients:
Caprylic/Capric Triglyceride, Manihot Esculenta (Arrowroot) Powder, Stearyl Alcohol, Magnesium Hydroxide, Beeswax, Butyrospermum Parkii (Shea) Butter, Cocos Nucifera (Coconut) Oil, Triethyl Citrate, Simmondsia Chinensis (Jojoba) Seed Oil, Natural Fragrance, Jojoba Esters, Charcoal Powder, Lactobacillus Ferment, Tocopherol, Helianthus Annuus (Sunflower) Seed Oil, Maltodextrin, Citrus Aurantium Dulcis (Orange) Peel Oil, Pinus Sylvestris Leaf Oil
Is It A Good Deodorant? Does It Work?
To answer that question honestly, I need to tell a little about myself…
Well, my real job outside of this website is working in a stainless steel factory. It's a hot place to work, needless to say. I also live in the Rust Belt where the heat along with the humidity levels can be rather hot and moist during the summer months. Thankfully, (or regrettably) it is coming into the hottest part of the year here and I've been wearing these Dr. Squatch's Deodorants for over a week now, and it makes a good proving ground for testing these out. This is the best time to see if these work for an 11 hour shift in this heat.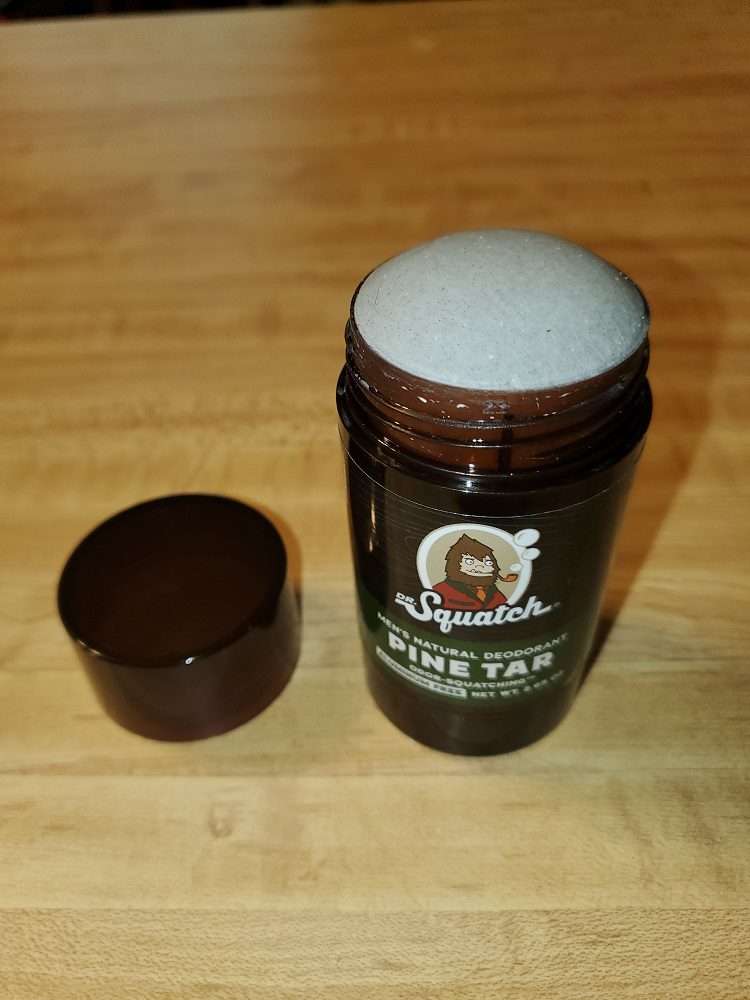 Well, how did they hold up???
Well to put it simply…GREAT! The scent is there throughout the day and I never smelled bad. The scent is stronger when first applied but that is the case with almost every natural deodorant. I catch whiffs of the particular scent throughout my shifts and it pleases me and I think oh yeah…I like this scent too.
A quick sniff in my armpits after my shift at work and I am all good as far as deodorant is concerned. Still smells fresh and can still smell the deodorant, though not as strong as when I first applied it. This is to be expected.
It holds up there with any deodorant out there in my opinion. The actual deodorant is soft and applies evenly in a slightly creamy texture. As described by Dr. Squacth it is a solid paste tube deodorant.
What I really enjoy about their product is the way it smells. It has a very natural smell with longevity. It doesn't smell like Axe Body Spray or Old Spice deodorant.

Pros & Cons
Pros
Love all the scents I have tried. There is a lot of refinement in each scent which makes them very appealing to men.
Clean and refreshing scents that you want to smell like.
Natural smelling!!!
7 Scents to choose from.
Made in the USA.
Skin-nourishing ingredients.
Aluminum-free.
They have many bundles in which to try with additional savings. I really like the Pine Tar Bundle.
No harsh chemicals.
Long-lasting deodorant.
I experienced no skin irritations when I ever used the product.
The product never stained a shirt, it always washed out cleanly.
Dr. Squatch has a subscription service for every item they sell that you can set up a subscription for. You can save additionally usually $1.00 for doing this plus using the Promo Code: SQUATCHSUB30 to save 30% off any new subscription.
The Pine Tar is the deodorant I grab the most.
The bar is a nice big square size but still able to hold.
Cons
Can leave a white residue on the inside pit area of shirts, especially on black. The white residue never leaked on the outer part of the shirt though.
A softer creamy texture deodorant I generally go through and use up faster than harder denser deodorants.
All natural marketed deodorants are on the high price side.
The product can tend to go on heavy, so lighten your strokes.
Other Natural Deodorants To Try
American Provenance Deodorant I have also recently tried and reviewed, as well as enjoyed. Take a look at my review here too, American Provenance Deodorant Review – Best Damn Deodorant?
Also if you like natural-smelling deodorant you probably will like natural-smelling colognes. Check out my post on Natural Smelling Colognes – That Smell Good And Like A Man!
Promo Code
Get 30% Off Any New Subscription With The Promo Code SQUATCHSUB30.
The Final Shave
If you are into more manly natural scents or want to try a more natural scent I would highly recommend giving Dr. Squatch a try. They work great and provide adequate protection throughout the day. I was really pleased with its performance as well as its scent profile.
Dr. Squatch has great products from its soap line to its deodorant line and everything in between. Check them and you will be happily rewarded.