Recently I have run through most of the available back shavers on the market and I am focusing occasionally on hygiene products. Thus this post, American Provenance Deodorant Review Natural & Safe?
After all, this is made just a couple of hours from me in the same state of Wisconsin, and I thought it would be cool to review them and also to try their product. As I have been buying and looking for natural deodorants I like for years. As well as, I thought it would fit nicely into any back shavers repertoire as well.
Who The Heck Is American Provenance?
Some key features you should know about them.

They make all-natural personal care products by hand. They make quite a few items deodorants, hand soap and sanitizers, shave & beard products, hair & body products, skincare. As stated above American Provenance is based in Southern Wisconsin and was founded by a former science teacher Kyle Lafond. He messed around with different formulas for years trying to find perfect his craft with natural ingredients.
The Scents I Purchased & Tried
In an effort to try a few scents and get an honest assessment of the American Provenance deodorant game I purchased their Build Your Own Natural Deodorant 3 Pack. You pick the three scents that would appeal to you the most.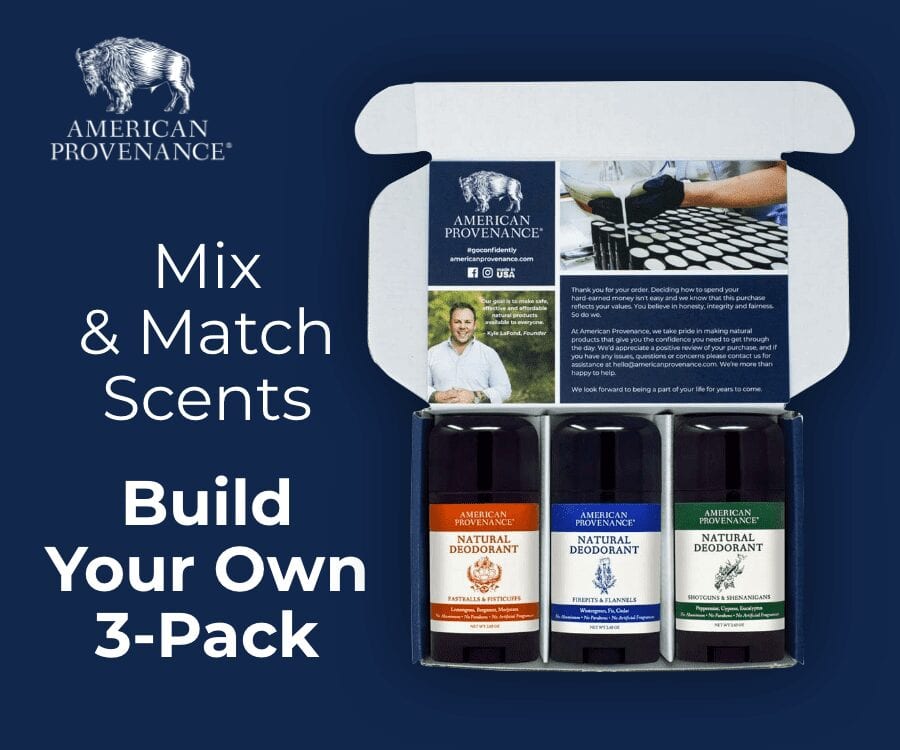 By the way, you can buy their deodorants singly or in a three-pack.
Some of the scents I was interested in trying for this review were out of stock and was bummed about not being able to try them out But I made some educated guesses on what scents I might like. As I have dabbled in colognes and essential oils in the past so I know what I like.
I was a little bit leary of the Firepit & Flannels due to not liking smoke scents, as Firepit is in the name, but there is no smokiness here. Fantastic!
I purchased the:
Key Lime Natural Deodorant
Shotguns & Shenanigans Natural Deodorant
Firepit & Flannels Natural Deodorant
Scents Available
AP has a total of 13 available scents in their current lineup of Natural Deodorants.
Daggers & Diamonds (Rose, Bergamot, Jasmine)
Fastballs & Fisticuffs (Lemongrass, Bergamot, Marjoram)
Firepits & Flannels (Wintergreen, Fir, Cedar)
Horseshoes & Hand Grenades (Ylang Ylang, Bergamot, Clove
Key Lime
Lavender
Lemongrass
Patchouli
Pinups & Paramours (Coriander, Mandarin, Tangerine)
Rosaries & Revolvers (Geranium, Bergamot, Lavender)
Shotguns & Shenanigans (Peppermint, Cypress, Eucalyptus)
Summits & Streams (Cedar, Bitter Orange, Marjoram) *
Sensitive Skin Unscented (baking soda-free formula)
What Is In The Sauce?
We as consumers must start reading what is on the labels more, both in food products and hygiene products. The more natural a product is the more healthy and the more environmentally friendly it is. We need to support companies that look out for the consumer and patronize these companies.
There is a minimum of six ingredients depending on the essential oils used in the deodorant That is pretty cool.
Original Formula Ingredients: Cocos Nucifera (Coconut) Oil, Beeswax, Butyrospermum Parkii (Shea) Butter, Maranta Arundinacea (Arrowroot) Root Powder, Sodium Bicarbonate (Aluminum-Free Baking Soda), Essential Oil(s)
Sensitive Skin Ingredients: Cocos Nucifera (Coconut) Oil, Beeswax, Butyrospermum Parkii (Shea) Butter, Maranta Arundinacea (Arrowroot) Root Powder, Magnesium Hydroxide
Does It Keep Your Pits Fresh?
After using this for a few weeks I found it does a damn good job at staving off stink pit. I work 11-hour shifts at my regular full-time manual labor job and I haven't noticed any bad odors coming from myself.
It applies well, as it is slightly creamy in texture and soft but not too soft, I do about 3 to 4 swipes making sure to cover the entire armpit. I can slightly smell the fragrance during the day if I lift my arm up and try to smell it. Which I prefer as I don't want strong scents anymore. Maybe it's just me maturing or something.
I want it to smell nice without the projection. This fits the bill nicely!
The product should last a long time as long as the lid is put on. As AP states it should last two times longer than traditional deodorants. One minor problem I found when putting the lid back on is without turning the dial back down the lid will skim off the deodorant and collect on the inside of the cap. This can be rectified by simply turning the dial, lowering the deodorant to below the top of the container.
Pros & Cons
Pros
They offer a Sensitive Skin Unscented for the man or women with sensitivity to chemicals or fragrances. As this is unscented and free of baking soda.
No preservatives!
Protection lasted for me during my 11-hour shift.
They offer during certain seasonal times special seasonal scents.
The product is slightly creamy in texture and applies to the skin easily.
This isn't AXE!!! I find the scents subtle, this speaks to the natural fragrances and quality. I enjoy and seek out subtle natural scents for myself. I don't want to smell like Axe or Old Spice.
Have been using this for weeks at work, while it hasn't been hot yet due to weather I haven't notice any unpleasant body's order after using any of the scents.
They offer smaller Natural Travel-size deodorants. Great for throwing into your Dopp Kit. Recommend getting these for your toiletry kit. Do you need a Dopp Kit, check out a couple I have reviewed here, Bakblade Leather Travel Bag Review & Habitoux Dopp Kit Men's Travel Toiletry Bag Canvas & Leather With Waterproof Lining Review.
They offer a Subscribe & Save feature for most of their products in which you can save 10% by signing up for it.
They only sell deodorants as I despise antiperspirants as these use metals in their formulations.
Have scents for both men and women.
AP states their deodorant lasts 2 times longer than traditional deodorants. I haven't own this deodorant long enough to verify this is true but according to reviews, it does.
Cons
Some of the scents I wanted to buy and try online were out of stock for the Build Your Own Natural Deodorant 3 pack. Bummer! Oh well…next time.
For some, the scent won't be strong enough for them. I find the scents subtle I love this but for others, they might not like this, so I'll add it to the Pros & Cons.
Would love to see some kind of Sandalwood scent in the lineup, as this is one of my favorite naturals scents. I own quite a few colognes and hair pomades with this scent and I just love them.
The lid skims product off when putting the lid back on and collects inside the lid. Just retract the product before applying the lid…problem solved.
Tips On American Provenance Deodorant
The best way to save money on American Provenance Natural Deodorant is to Subscribe & Save, this will save you 10% over the One-time purchase price of the deodorant. This will save you at the time of writing this $1.00, which is mind-blowing or anything but it is something. The subscription is offered for their other products as well and you set the schedule and can easily modify and cancel at any time.
Of course, I would highly recommend trying out the product first before committing to a subscription. But you could also cancel at any time afterward.
They have a 20% discount for all active and veteran military members. Use code MILITARY20. Love this!
Lowering the dial before placing the lid back on will also make it last longer, as the lid scraps off some of the deodorant when putting the lid back on.
Another All Natural Deodorant To Check Out
I have reviewed another amazing all-natural deodorant you should also check out here, Dr. Squatch Deodorant Review – Smell Like A Man.
The Final Shave
Pleasantly surprised with the scents and the amount of protection provided by this deodorant given that this is an all-natural deodorant. Kudos, American Provenance! If you are looking for a natural deodorant without nauseating smells and/or simple working ingredients. American Provenance does work and well. Avoid stink pits and get you some.
Can't wait to try their other products as well.
Purchase American Provenance Deodorant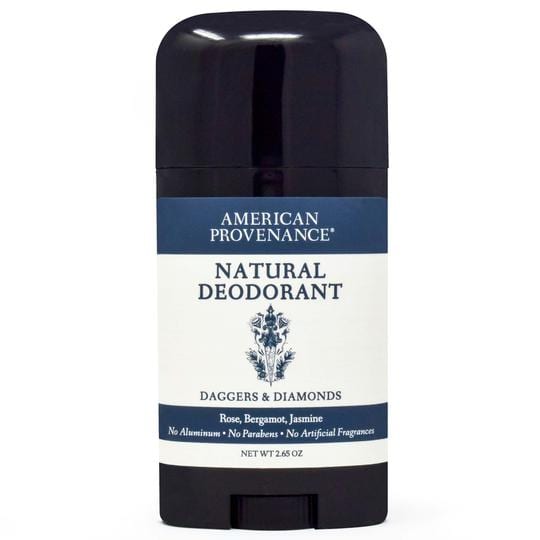 Let me know if below if you want to see more products reviews like this one in the future. Also would love the opportunity to answers and questions too you might have. Thanks!