Who Is Bravo Sierra?
Bravo Sierra is a personal care (grooming) company that is built around the U.S. military with many members involved in the development of the company. Bravo Sierra provides products for the active person who wants quality products without all of the harsh chemicals.
Bravo Sierra products are made in the USA.
Before we get started I am an affiliate of Bravo Sierra and links contained in this post will have affiliate links provided here that I make a small commission off of. I purchased the deodorant myself in order to review it here. Please feel free to support my website by clicking the links.
What Scents Are Available?
Bravo Sierra has a total of five different scents from which to choose. These come in clear plastic dispensers and come in at 3.2 oz for weight.
Original
Citrus & Cedarwood
Sandalwood & Fig
Tonka Bean & Lemon
Unscented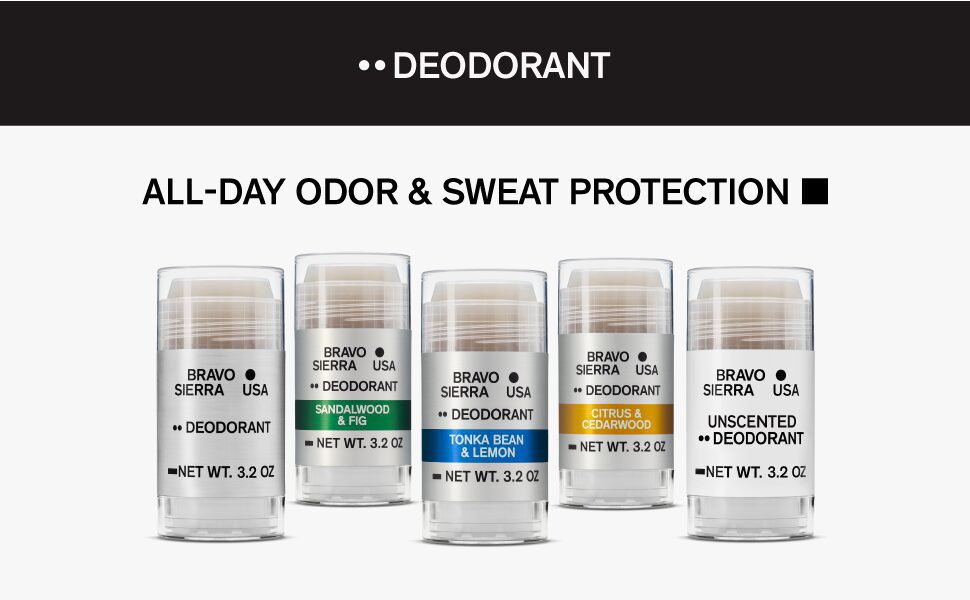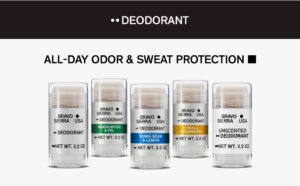 The Scents I Bought For This Review
I bought three of the Bravo Sierra deodorants to try out and write a review of. All of these scents are meant to be appealing to both men and women are considered unisex.
I bought the Citrus & Cedarwood (my favorite btw), Sandalwood & Fig, and Tonka Bean & Lemon.
My favorite is the Citrus & Cedarwood. The citrus comes at you first and is really refreshing and clean. The cedarwood is laying in the background and blends very nicely with the citrus. It is a very enjoyable scent.
Tonka Bean & Lemon was the middle of the row for me. It's a decent scent and not great but not off-putting either. I could wear this scent.
My least favorite is the Sandalwood & Fig. I was expecting to love this scent since I love most sandalwood products. I have many colognes with sandalwood in them and I really love them. This I do not love as I find the fig to be too harsh and off-putting. I wish it was more sandalwood than fig in the mix, the fig for me smells medicine-ee.
Ingredients
Propylene Glycol (BIOBASED), Water (Aqua), Propanediol, Sodium Stearate, Tapioca Starch, Glycerin, Saccharomyces Ferment Filtrate, Diatomaceous Earth, Silica, Fragrance (Parfum), Polyglyceryl-10-Caprylate, Sorbitan Oleate Decylglucoside Crosspolymer, Aloe Barbadensis Leaf Juice, Hydrolyzed Jojoba Esters, Nannochloropsis Oculata (Algae) Extract, Panax Ginseng Root Extract.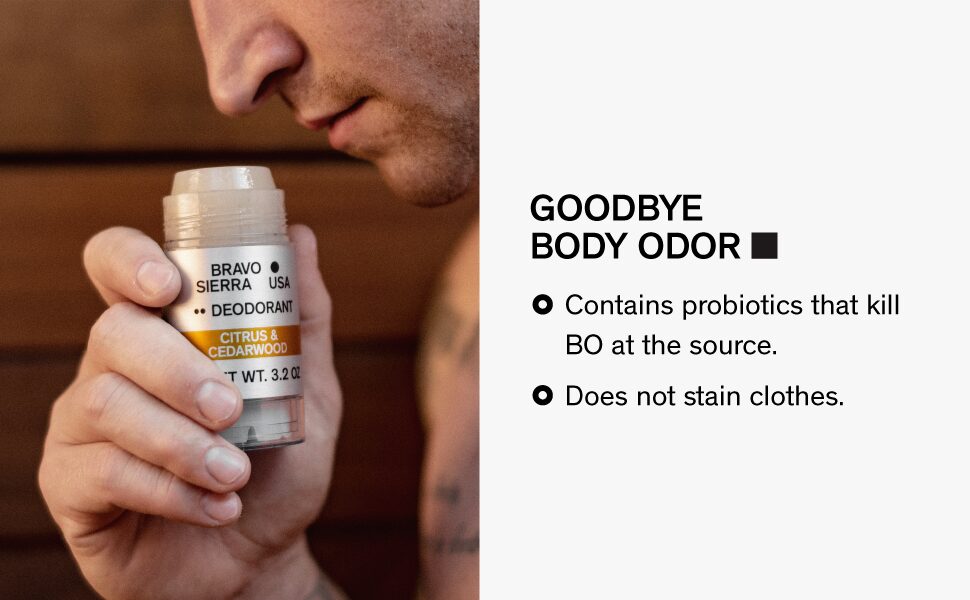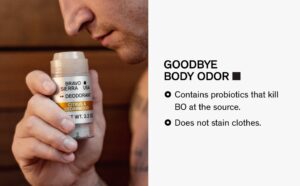 Does It Work?
All of the deodorants glide on clear and won't stain clothes. The deodorant is wax color and easily applies to the underarm area. The company claims that the deodorant has probiotics in the product that kill the BO bacteria.
I wore this deodorant for a whole week after purchasing this product for a review. I experience zero offending odors and it performed quite well. This putting in a ten-hour shift at a factory where I do manual labor. I was never blasted with its scent when I lifted my arms like some deodorants. The scent hung close to the body which I prefer and didn't project out to my co-workers. Who by the way would comment on it if it was projecting.
It applies very easily and goes on a bit greasy but quickly dries down. I appreciate the firmness of the product as well, as I know this will last a long time. In the past, I have reviewed deodorant that is soft and you seem to apply too much and the product doesn't last as long. I can see this pit stick lasing a long time.
I love the container too, it is a simple clear plastic container that properly raises and lowers the deodorant. I hate when deodorants have super cheap plastic containers that quite working or the product falls through. The lid also seals nicely to retain the product and lifespan.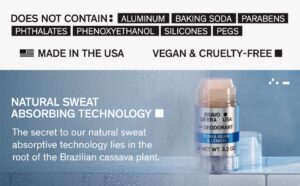 Pros & Cons
Pros
Aluminum-free.
Baking soda-free.
Long life. The product should last a long time being that it is hard, as compared to deodorant that is super soft, as I find myself going through deodorants that are soft.
Love any product made in the USA, especially products you apply to your skin.
Vegan & Cruelty-Free products.
5% of all sales are donated to the M.W.R. to help U.S. Service Members, Veterans, and their families.
Glides on clear.
No Stains after applying.
The product doesn't crumble when applying it.
Made in the USA.
Scents are subtle and not over-powering.
Love that they offer an unscented version.
Uni-sex scents for both men and women.
Cons
Mid to high price but also around what other natural deodorants are selling for.
Not that impressed with the scents if I am to be truthful here. I really wanted to love the Sandalwood & Fig (as I love anything Sandalwood) scent but I think it doesn't smell good. It has too much fig essential oil in it and it does not have a good smell. It needs to be balanced more with another scent or more.
Some scents leave me wanting a more pleasing aroma to them and more refinement in the scent profile.
Other All-Natural Deodorants To Check Out
Dr. Squatch
There are so many All-Natural deodorants available for purchase but one of my favorites is Dr. Squatch both for performance as well as smelling great and natural. I would give Bravo Sierra a 5 for the scent but I would give Dr. Squatch a 9 out of 10 for scent. I really love the Pine Tar scent for both their deodorant and soaps, as they also carry amazing soap as well. You have to check out the Pine Tar!!!
Check out my review here, Dr. Squatch Deodorant Review – Smell Like A Man.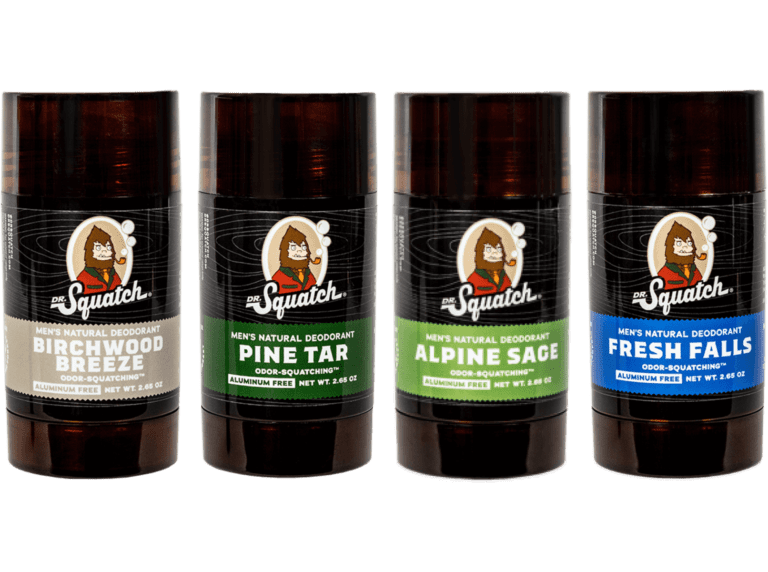 American Provenance
American Provenance is another USA-based company that produces natural deodorants. They have a huge selection of different scents, umm…13 scents available to be exact. Another product worth the look.
Check my review out here, American Provenance Deodorant Review – Best Damn Deodorant?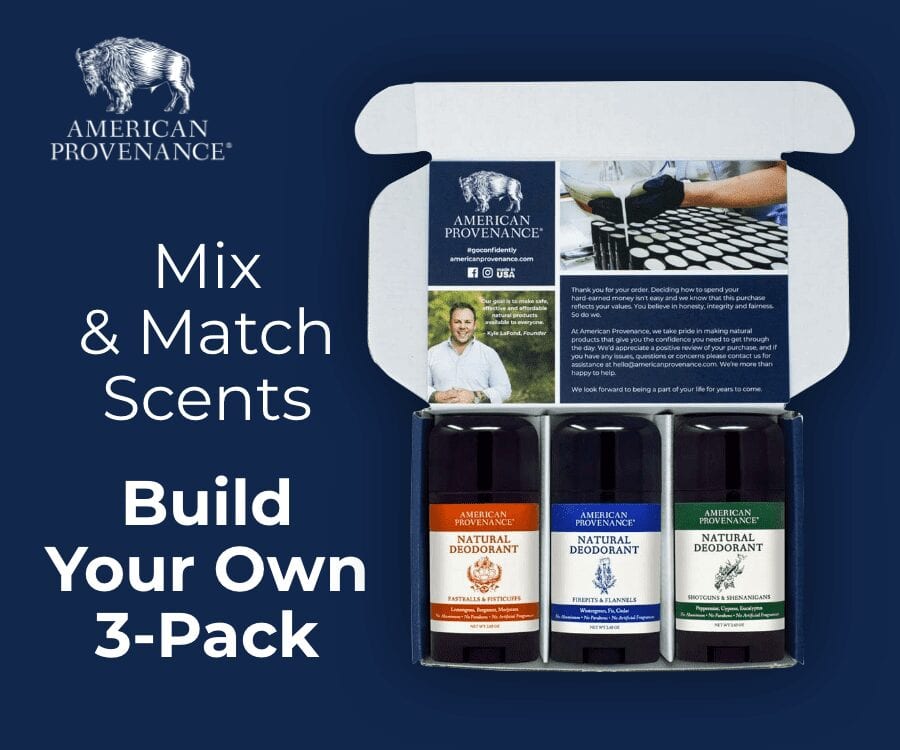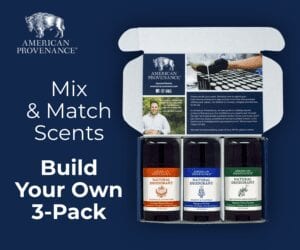 The Final Shave
A decent natural deodorant without all the harsh chemicals.
I wasn't wowed by the scents and the Sandalwood & Fig I actually hated. The Citrus & Cedarwood is the clear winner as far as scent is concerned, while the Tonka Bean & Lemon is okay and acceptable. I wished I had purchased their Original scent and tried that as well to get a complete sense of their fragrances. I feel at least with the Sandalwood & Fig that it was blended by an amateur and it needs a lot of refinement. Maybe less fig and something more to balance the scent out.
That being said, I never found it to have any offensive odor when using the Bravo Sierra line of deodorants. It did its job at defending the homeland (my armpits) against any foreign invaders (smelly bacteria). It applies nicely and the product should last longer than most other deodorants on the market.
Great product that keeps you from smelling like BO but some of the scents need refinement. Love the packaging and container.