A Way To Affordably Search
Getting into wearing cologne and/or finding a cologne(s) you love can be expensive and challenging. To say the least. Nobody wants to be stuck with a full bottle of expensive cologne that they hate the way it smells. That is why for some people I hope to offer some information and explain What Is Scentbird? & Is Scentbird Worth It?
Because I do believe Scentbird is right for some people and might not be right for others. So I hope to lay out information to better help you make the best-informed decision for yourself.
A Cheap Way To Explore Colognes
Scentbird is a subscription-based company that delivers a 30-day supply of your choice of fragrance for a low premium straight to your mailbox. They deliver to you an authentic designer or niche fragrances, which you choose from their vast product line options. They send you your 30-day supply (.027 oz) of fragrance in a vial atomizer and a sleek reusable case. The vial sits in the case and with a simple twist of the case, the spray button lowers or raises, ready to spray or store.
Everybody wants to smell good. Smelling good increases your attractiveness factor and who doesn't get a confidence boost when you hear someone say to you, "You smell good, what are you wearing?"
Sure you can watch a video about a specific cologne and get a general idea of its scent profile and notes but nothing replaces actually smelling it and formulating your own specific opinion on whether or not you like it. There is nothing worse than blind buying a whole bottle of cologne and upon spraying it, you hate the smell. Scentbird offers a cheaper way to explore fragrances for a fraction of the price of a full bottle. You are still in essence blind buying but with less money spent.
Scentbird moto is, "Date before you Marry!"
How Much Is Scentbird?
If you are new to Scentbird the first month is $7.97 and you receive a free case. After that, the price is $15.95 a month.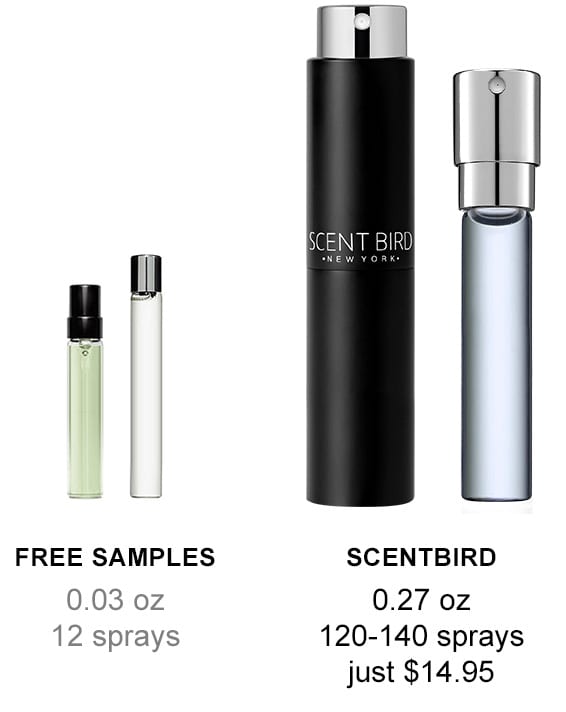 What Do I like About Scentbird
You are guaranteed all scents from Scentbird are 100% authentic fragrances from the designers.
A low-cost method of exploring and finding colognes.
A superb atomizer that sprays great, a real quality product.
Great for beginners that are looking for a cologne they like and that want to explore and try different colognes.
Avoid being stuck with a full bottle of cologne or perfume that you don't like.
The ability to truly test the fragrance on your skin before investing in a full bottle. Because believe it or not, it can smell differently after applying it to your skin.
These are great for traveling for two reasons. First, they are very small and compacted and secondly, they are TSA compliant for traveling on airlines.
The ability to carry your favorite scent in your pocket and refresh as needed.
Have a great many choices for both men and women. Some of the best name-brand are Cartier, Versace, Valentino, Prada, and Dolce & Gabbana, to name a few.
Can cancel at any time and rejoin at any time it is super easy.
No hidden fees. What you see is what you pay.
Many reviews on each fragrance help you decide if that particular scent is right for you.
Different color atomizers to choose from.
Many features on their site help you determine what scent profile you are looking for. This is a great way to help people that are unsure what to choose a scent and is a starting point.
The ability to purchase a 0.27 oz vial without joining the subscription for a more expensive price of course.
The ability to find colognes you love that fit situationally or seasonally is much easier.
There are many resources to help you decide what cologne or perfume to try. From Scent Type, Style, or Occasion.
Makes a wonderful gift for someone as they can choose the scents they want to try.

What I Don't Like About Scentbird
They don't sell a lot of the higher-end boutique fragrances that are super popular and expensive. See below in Common Question Answered to see where to get great smelling clones of these higher-end boutique fragrances.
I like a natural scent profile personally, this is where they use more natural ingredients. Scentbird does have some more natural smelling fragrances but not many.
Scentbird has a no refund policy on any of its subscription fragrances. If you don't like it you are stuck with it. At least it is only a small amount and not expensive.
Once you have found your perfume or cologne you love for both the different seasons (summer, winter, spring, fall) and situations (wedding, date night, etc.) the appeal of Scentbird at least for me personally has lost its glamour. But I've spent years collecting and searching and I am no longer on my search. I have found for the most part what I want. Want to know what my favorite colognes are? Head on over to my page, Natural Smelling Colognes – That Smell Good And Like A Man!
If you already know what fragrance you want, just buy the full bottle of that cologne and skip Scentbird. Scentbird is for exploring or gifting.
How To Find Your Scent
When you first go to Scentbird's website you will be offered to take a quiz. This quiz will get you headed in the right direction for choosing a scent you will hopefully like. Scentbird will offer some recommendations.
Once you have the recommendations check out the reviews for those products that are recommended. A lot of useful information can be found in their reviews to help you decide what your monthly choice should be.
Common Question Answered
How Many Sprays Can You Get With Scentbird?
On average you expect to get between 120-140 sprays which is a monthly supply that is 0.27 oz. Which breaks down to 4 sprays a day for 30 days.
How Many Fragrances Does Scentbird Have?
Scentbird has over 500 designer fragrances for men and women in which to choose from. A vast library of fragrances for sure.
Is ScentBird Hard To Cancel?
No, it is easy both to resubscribe and unsubscribe. I have done both and it is painless and super easy.
Other places to find quality cheap fragrances? Plus they offer full bottles at very affordable prices!!!
Another fantastic company that sells great smelling cologne is ALT. Fragrances. They are a clone house that sells both cologne and perfume. Don't let the clone house title scare you, their fragrances are almost exact copies in the scent profile of the most popular and expensive fragrances out there. ALT. Fragrances have a stellar reputation in the fragrance world and many people love their low cost for a bottle. Been impressed with almost every cologne I have got from them and I can't wait to try more.
Check out my review of ALT. Fragrances here, ALT Fragrances Review The Best Discount Designer Fragrances.
The Final Shave
For both men and women that are in search of fragrances, Scentbird is a real winner! Offering a huge collection of name-brand colognes and perfumes at a very affordable price. For old seasoned veterans maybe it is not so much but who knows right. But it does offer a great way to try lots of different colognes and perfumes and also makes a great gift to give someone a subscription.
I do believe Scentbird is worth it if you are new and looking for new colognes or perfumes.

If you have any questions or comments would love to hear them below.