Move Over Loofah Here Is A Better Washcloth?
Today, I am super excited about reviewing this product as I have been told multiple times I should review this product. This is truly a game changer for the shower! This is a Japanese grooming product that has made its way over to the States and for people that are in the know, this is a must-have. Let's get into why this is a must-have grooming tool in this Salux Washcloth Review.
What Is Salux? Different Colors & Numbers Explained
Salux is a synthetic cloth material that is made from 60% nylon and 40% polyester. The magic of this product is mostly in the patented texture that exfoliates the skin and feels amazing. Soap The Salux measures 38″ inches long and 11 1/2 inches wide. I am 6'2″ and I can easily scrub my whole back with this easily.
Basically, Salux is a long towel that has exfoliating texture to clean the whole body. You wet the towel then apply either bar or liquid soap to the center of the towel then scrub with it for an amazing clean.
I purchase a three-pack off of Amazon because I wanted my wife to try it too as she often uses loofah in the shower. Plus the three-pack is a much better deal than buying a single Salux or two for that matter.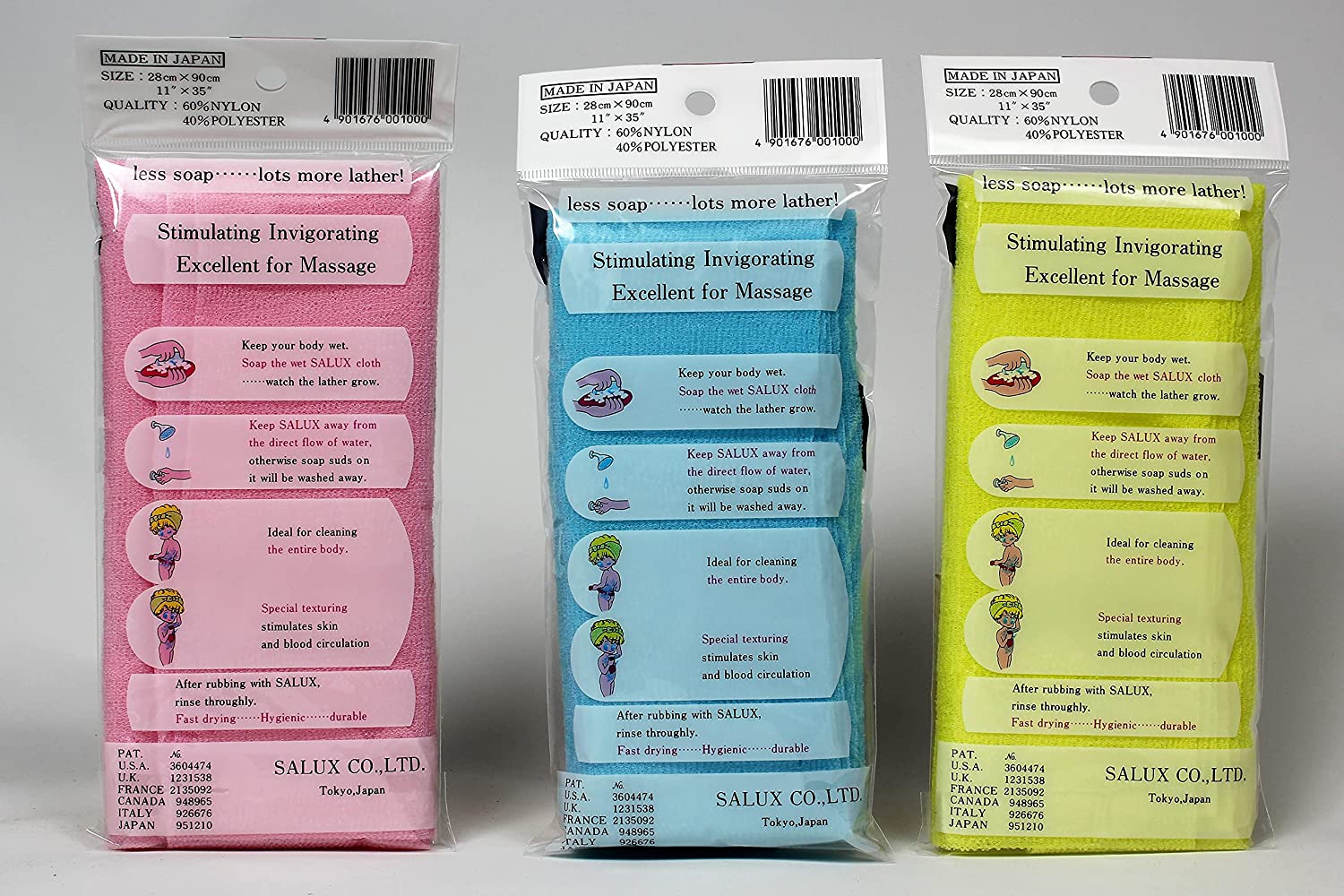 What Do The Different Colors & Numbers Mean?
Actually, the different colors and numbers don't really mean that much. There are basically three different sets of numbers Salux uses. They are #100, #200, and #300 located on the front top of the package these numbers just refer to the color group and have nothing to do with different textures.
No. 100 is the classic blue, yellow, and pink.
No. 200 is white.
No. 300 is the pastel group of green, peach, and powder blue.
There is also called Salux Super Hard which is 4 inches longer than the regular Salux towel. This has a much thicker weave and has more texture but also a more luxurious feel to it too.
How Big Are These Washcloths?
I measured one and I got 37 inches long and 11 1/2 inches wide. I see other dimensions online saying they are 35 inches long by 11. So, there might vary slight size differences. I am a tall guy and this allows me easily to wash my complete back comfortably.
How To Use Salux
This Japanese washcloth is used with soap and water. Wet it and place your choice of soap, bar, or liquid, in the center, massage it into a luxurious lather. It can also be used without soap and water for dry brushing.  No need to rub hard; let the cloth do its work. The patented Salux cloth is easy to incorporate into your skincare routine.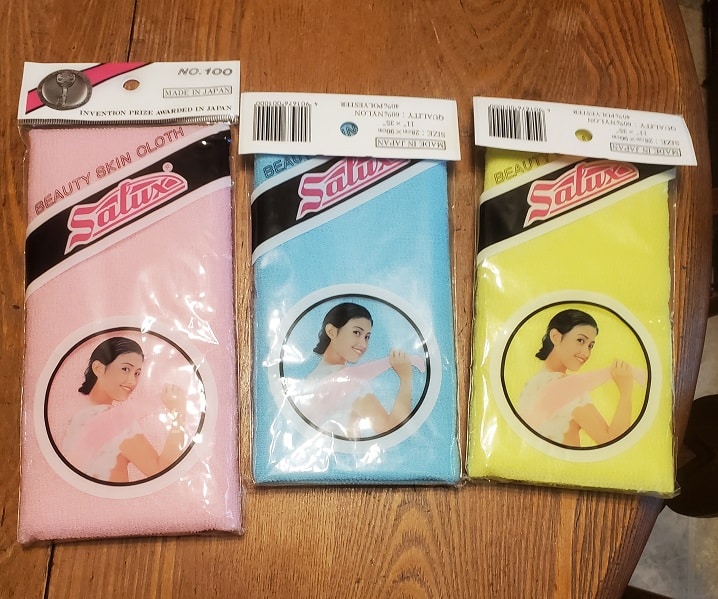 How Well Does It Work? Worth Getting?
This works amazing! The texture is just perfect in that it isn't too hard or too soft. It really leaves you feeling very cleaned and refreshed after using it. Removing dirt, and old skin cells plus it also invigorates you in the process. The lather you get also when soap is applied is divine. The exfoliating texture really also helps the soap to lather to the next level.
It works very well and it is easy to care for too. See below for care instructions.
There are so many benefits to using this towel it is so worth getting and I highly recommend this product!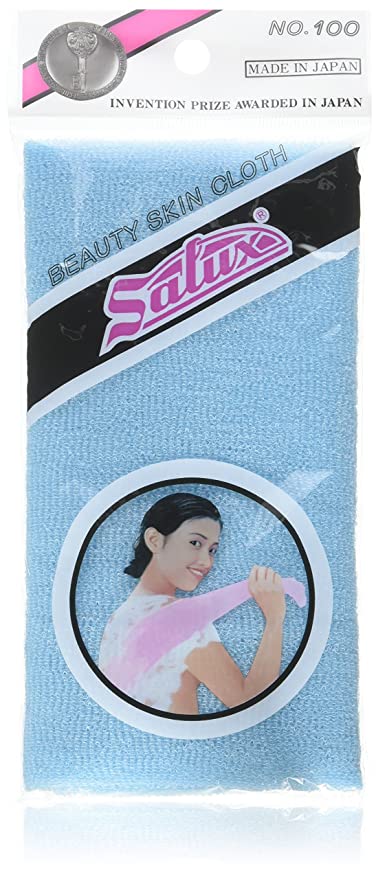 How Does It Compare To Other Similiar Products?
I have to say this is my favorite new shower towel. I have used and reviewed two other similar products, the Goshi Exfoliating Shower Towel and the Daiso Body Towel. Along with other various shower accessories like a sponge, loofah, natural loofah, etc and the Salux is my new favorite shower towel.
You can read my other reviews here to check them out Goshi Exfoliating Shower Towel Review and Daiso Body Towel Review.
Why is this? Well, the Goshi Towel is a close second to the Salux but the texture is just perfected with the Salux towel. It simply just scrubs effortlessly and feels the best.
Pros & Cons
Pros
Helps prolong the use of a bar of soap or liquid soap by applying it to the material but you must keep the Salux out of the direct stream of water.
The best amazing texture!!! For me personally, this has just the right texture, not too hard, not too soft but just right.
Really makes you feel clean and fresh after using it.
SUPER LATHER!!! Soap easily lathers up and soon you are covered in a mass of small bubbles. Amazing!
Great exfoliator. If you are used to regular washcloths or loofahs, this blows those antiquated products literally out of the water. Get this and be amazed.
This completely dries really fast for your next shower, unlike a typical washcloth which can harbor funky smells and mildew if not properly dried before your next shower.
Great for people with skin conditions.
Pretty cheap to purchase and they last a long time too.
Long enough to easily scrub your entire back clean.
Can be washed in the washing machine but needs to be hung to dry. Do not put it in the dryer.
Can help with acne problems as this Salux product does a great job of exfoliating skin. Which can help remove dead skin cells, dirt, and oil that often times block pores.
Make great gifts or stocking stuffers too!
You can buy these singly or in various pack sizes.
Different colors make a multiple family members in a house easy to distinguish what Salux is their own personal towel.
Cons
A little simple maintenance is required after using just simply wash out soap completely and hang to dry.
Believe it or not, there are counterfeits of this product out there. I've tried other similar brands but this one is the best hands down. Get the Salux brand and thank me later. Make sure it says made in Japan. eBay is full of counterfeit products and I would avoid buying these on eBay. I would purchase from Amazon. The counterfeits are nowhere nearly as good as the Salux.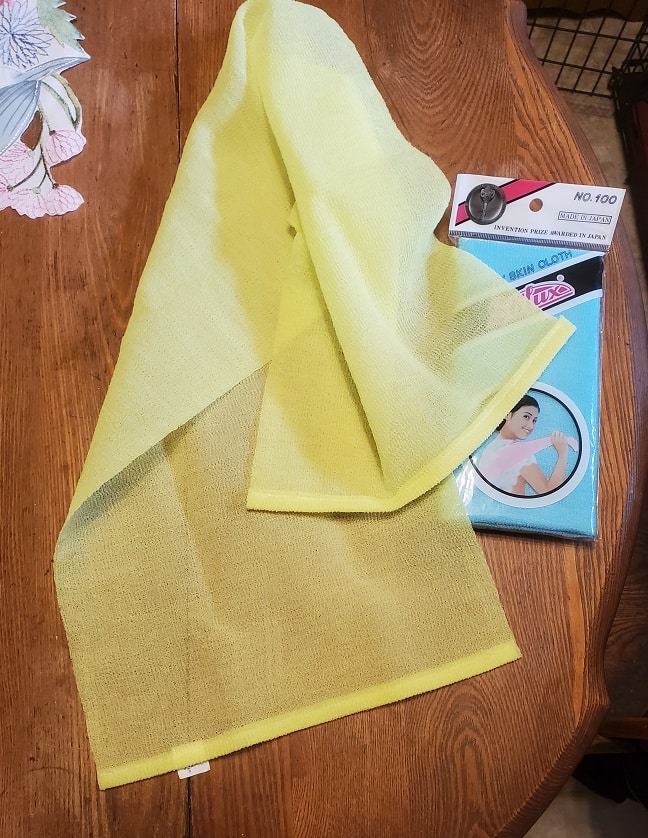 Tips On Using It
I know this is a simple device but there are some common sense areas that might need to be addressed to benefit your experience using this product. As well as some
How To Clean It
I often just rinse all the soap out of the Salux when I am done scrubbing myself I then simply hang it over the shower spigot to dry. I have never reached for this and it is still wet. These dry so fast.
The manufacturer also says you can put it in the washing machine but not in the dryer if you feel the need.
Are You Looking For A Better Soap? Two Of My Favorites Soaps
If you are looking for a new soap to try I highly recommend you check out these two soaps.
Sudsy Bear – Probably the best soap I have tried. Great scents and super high-quality soaps. You can read why I love Sudsy Bear here, Sudsy Bear Soap Review.
Dr. Squatch Pine Tar Soap – One of my favorite bars of soap out there specifically designed for men. Their other soaps are great too! Read more about it in my post, Dr. Squatch Pine Tar Soap Review.
The Final Shave
I had originally thought I found the perfect shower towel but I was wrong I found an even better one in this Salux Japanese Washcloth. I had a couple of people tell me to try this and I wasn't so sure it was going to be better, but boy was I wrong. This is a great towel, washcloth, exfoliator, or whatever you want to call it. It works amazingly well and is super easy to use and care for and should last a very long time too.
I highly recommend you check this out and also be amazed at how well it works. Get It!!!