Soap is an essential grooming tool and using a quality bar of soap can really boost the atmosphere of taking a shower or simply elevate your mood by just washing your hands and not to mention help clean your skin and smell good too. In today's review, we will be looking at a smaller soap company in this post Sudsy Bear Soap review.
I found Sudsy Bear by reading comments in a YouTube video that mentioned how great their soaps were. So I reached out to them and asked for some samples to review and I paid for the shipping and handling. I never know where I'm going to find new and interesting grooming products but I am always looking.
Stick around towards the end of the article to save money with a Promo code worth 15% off at Sudsy Bear.
What Is Sudsy Bear Soap?
Sudsy Bear soap makes a high-quality natural soap for men. But don't think women wouldn't enjoy the soap either. I had my wife sniff test them as well as use them and she really likes Sudsy Bear.
The scents and exfoliants used in the soap vary greatly depending on which soap you buy and any man wouldn't feel his manhood tested by using or buying their products. This is made and marketed to men. Nothing in any of the soaps has harsh chemicals or unpronounceable names, just simply easy-to-understand ingredients.
What Other Products Do They Sell?
I think Sudsy Bear is generally more focused on soaps they do have other products as well. Their other products are generally focused on men's grooming products.
Shampoo Bars – Never tried a shampoo bar but would love to try it too.
Men's All-Natural Lotion
Organic Beard Oil
All-Natural Candles
Organic Honey
Soap That Are Available At Sudsy Bear
Sudsy has currently a whopping 29 different soaps to try. Surely something to catch your eyes. I will put an asterisk by the soaps I received.
Blueberries & Cream
Old Forest Pine Tar*
Hunt Camp*
Big Woods Buck Hunter Soap*
Twisted Pumpkin
Jurassic Earth
Bear Rum
Limited Editon Gettin' Lucky
Smoky Mountain Fog
Twisted Mango*
Charred Cinnamon Bark
Woody Maple Bourbon Scrub
Icy Eucalyptus
Fresh Clean Aloe*
Petrified Wood & Honey
Summer Raspberries & Cream
Grinch Scrub
Wild Cherry Almond Goat's Milk
Pepperminty Sage & Oatmeal*
Old Glory
Dark Side Of The Moon*
Milky Bee Hive
Citrusy Cedarwood
Cool Mint Julep
Arctic Peppermint*
Backwoods Brew
Ol' Saint Nick*
Twisted Grapefruit
Swamp Dweller*
What Is In The Soaps (Ingredients)?
Each of Sudsy Bear soaps has its own unique and different listed set of ingredients. So be sure to check it out if you are concerned but there isn't anything that looks unnatural or hard to pronounce in their ingredients. Just natural easy to understand ingredients. I will post a couple of soaps ingredients so you get an idea below.
Ol' Saint Nick Soap
Ingredients: Saponified Oils of (Organic Extra Virgin Olive, Coconut, Sustainable Palm, Castor, Sunflower), Organic Shea Butter, Essential Oils of: (Sweet Tobacco, Peppermint, Frasier Fir, Lemon, Citrus, Birch, Cinnamon), Organic Peppermint Leaves, Peppermint Bark, Volcanic Pumice, Kaolin Clay, Sea Salt, Natural Mica, Natural Scent.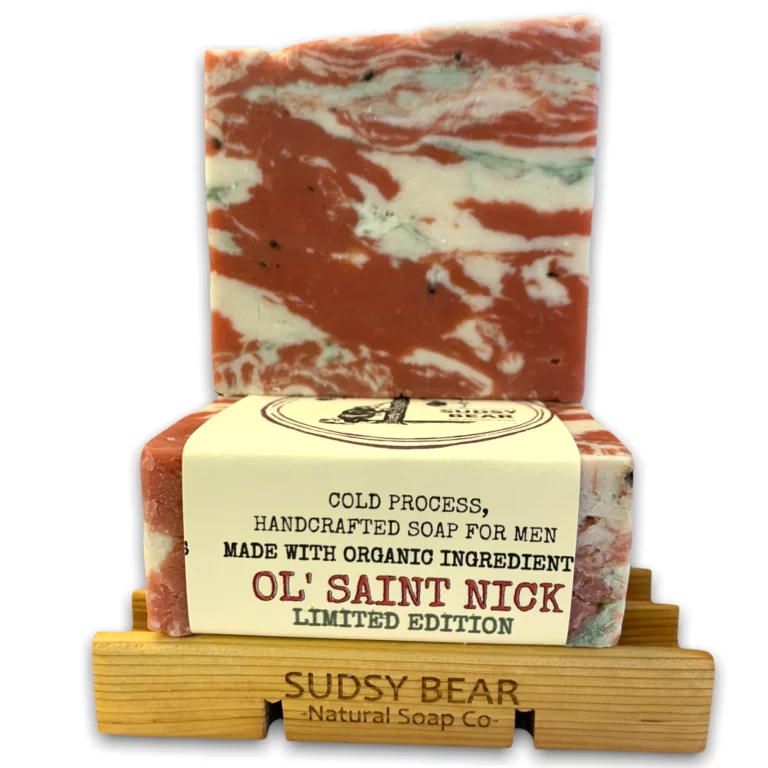 Twisted Mango
Ingredients: Saponified Oils (Coconut, Olive, Sustainable Palm, Castor), Organic Mango Butter, Organic Shea Butter, Kaolin Clay, Sea Salt, Organic Mango Extract, Guaiacwood Essential Oil, Oakmoss Extract, Honey, Bourbon, Activated Charcoal, Poppy Seeds, Mica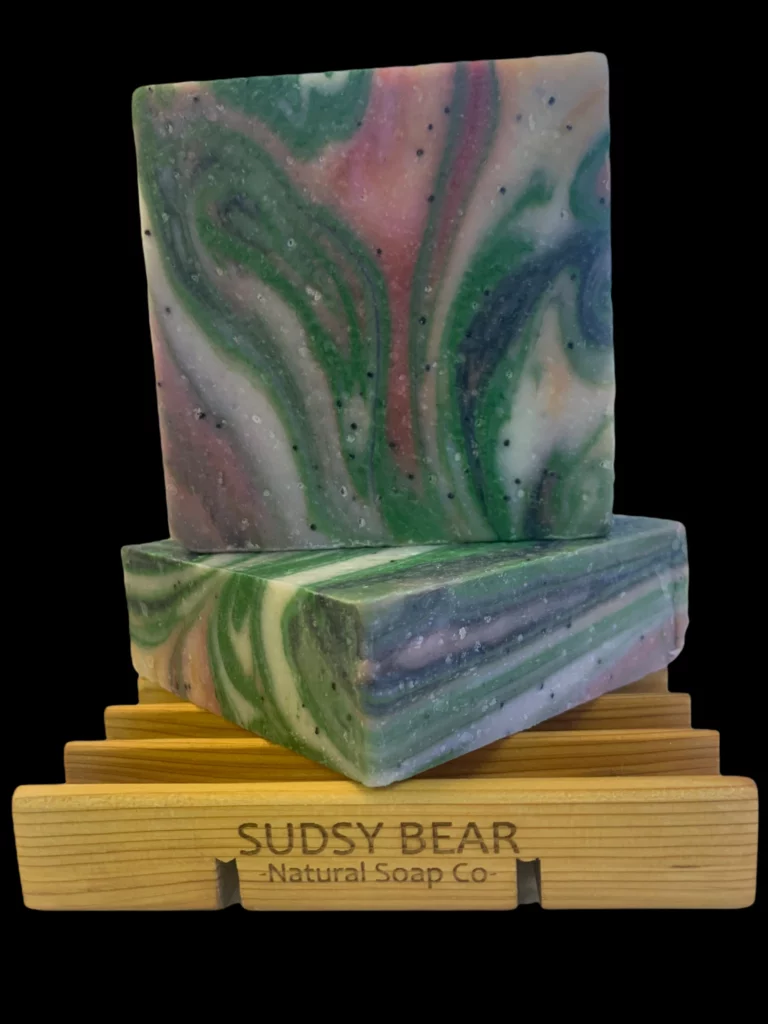 My Opinion On Using Their Soaps – Worth Getting?
100% worth checking out and buying. A great soap with great ingredients and great scents to match. The soap suds up very easily and is fantastic.
I really appreciate the added exfoliant to the soaps, there are different kinds added depending on what soap you use. This can be any combination of materials used like pumice, salt, different types of seeds, and oatmeal. This is really appreciated when you have some type of grease or oil as this really scrubs off this kind of dirt. The abrasiveness is just right and not too abrasive if you know what I mean or have experienced a soap that has too much abrasiveness.
The soap is a medium to a semi-hard bar of soap and I would say a medium density. The harder the soap generally the longer it lasts, but due to it being natural with no harsh chemicals the soap is softer. This is understandable considering the ingredients.
The scents and natural ingredients are what really win me over and are top-notch. Quality, quality, and quality.
My Favorite Soaps
I only tried ten of their soaps from their line of 29 soaps. But from what I smell, I see someone that knows what they are doing by using quality ingredients and expertly blending these scents to have appealing scents. I am thoroughly impressed!!!
Old Forest Pine Tar – Smells just like Dr. Squatch Pine Tar Soap.
Twisted Mango – A very delicious appealing scent that is super refreshing.
Ol' Saint Nick – I love the smell of peppermint and this is blended very exceptionally well with other ingredients like tobacco, fir, lemon, and cinnamon. A must-try for sure!!
Artic Peppermint – Another great mint scent that really smells invigorating.
Dark Side Of The Moon – A gritty bar of soap that smells of oakmoss. This is a subtle scent but also very pleasing to me.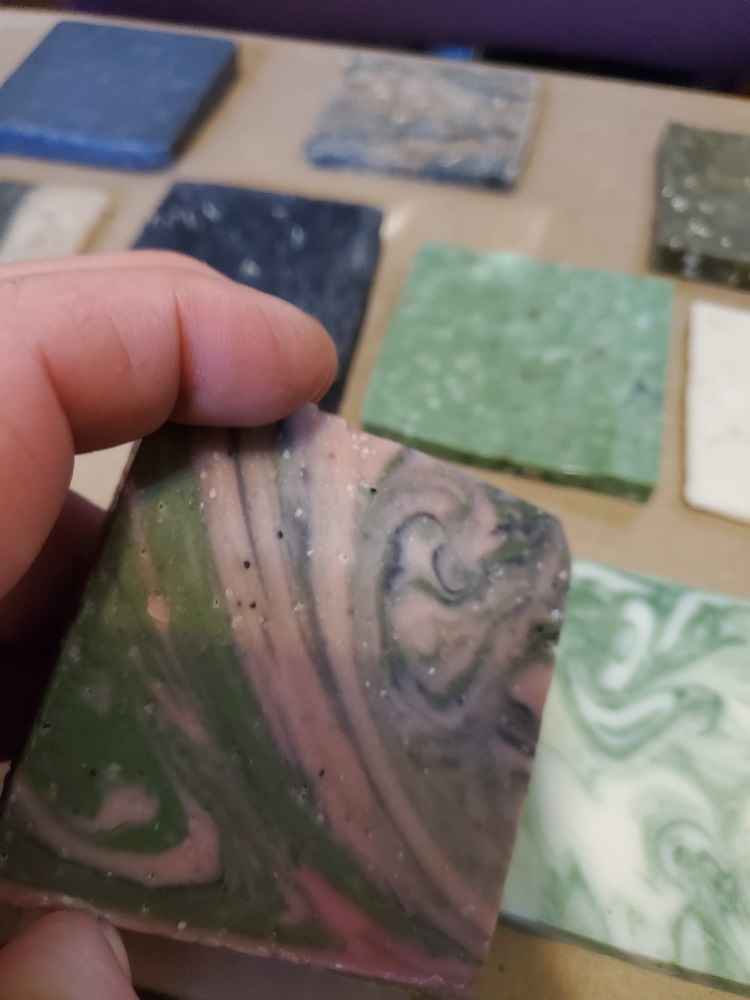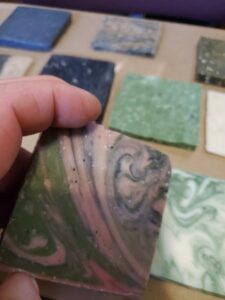 I am a big fan of Dr. Squatch Pine Tar soap so I had to see Sudsy Bear's version of their own pine tar soap Old Forest Pine Tar. I would have to say it smells almost exactly the same to my nose, so needless to say I love Sudsy Bear Old Forest Pine Tar Soap too!
Twisted Mango – Just an amazing fruity smell that offers a very natural scent profile.
Ol' Saint Nick I thought I wouldn't like it as I thought it would be just a Christmas soap but oh hell no! This can be used in any season. The natural ingredients really allow you to use it in this fashion throughout the year. The tobacco really is light but present as I normally don't like tobacco scents but this is so well blended it adds to the whole scent profile and doesn't overpower or take away anything. I find using any natural mint scent when first waking up really helps wake you up and is super refreshing.
Another mint scent in Arctic Peppermint is just another must-have in my book. Very fresh and lively.
Dark Side Of The Moon smells like oakmoss which to me is subtle and natural but super pleasing.
Pros & Cons
Pros
Fantastic scents!!!  Just about every soap I ordered I love and is very pleasing to smell. This is very important to me and I think to people looking to purchase for themselves.
High quality!!! From their ingredients to their scents. Top-notch.
Cruelty-free!
Natural and/or organic ingredients.
Decent-lasting bars of soap.
Suds up well… it better, with a name like "Subsy Bear".
Huge selections of soaps to try. Sudsy Bear is stacked on different scents. They have currently 29 different scents to choose from.
Are you a hunter? They even have a scented bar that helps you blend into the great outdoors without spooking the animals. Great to see.
Made in the U.S.A.
Most of the soaps have some type of exfoliant and textures to help clean the day's dirt away.
Handmade soaps.
Soaps are beautiful to look at as well and often fit their names. Handpoured soaps are great to look at.
The scent profiles are very well blended and thought-out. This is harder than you think and it takes time and resistance to formulate a great selling soap.
They have a subscription service for soap where you can save 15% off on soap.
They also have a Build Your Own Bundle where you can also save money by just bundling products together.
They also have limited edition runs of certain scents. So keep your eyes peeled.
Cons
They only have a limited number of scented candles for purchase (4). Would love to see more!
Natural soaps have a tendency to fall apart quicker than commercial soaps. This is from not using unpronounceable chemicals in their formulation which are often harsh to the human skin.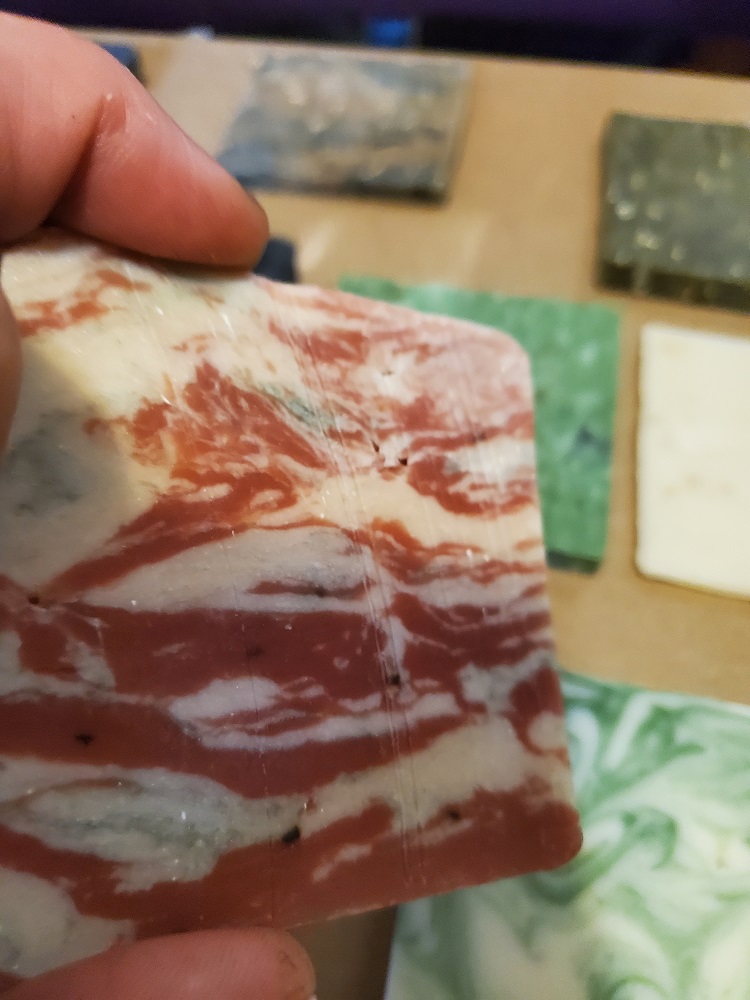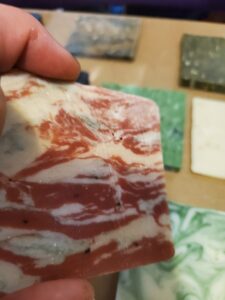 Questions & Tips
What Soaps Should I Get?
Picking soaps in an attempt to get scents you will hopefully love is hard. But I believe if you are looking for naturally smelling soap made with quality ingredients it a lot harder to go wrong with the soaps at Sudsy Bear. You can go off of my favorite soaps I have listed above or just go through their soap and pick scents you know you like. I would recommend throwing in a couple of "out of your wheelhouse scents" as well. It is nice being surprised by something you have no idea how it will smell.
How Long Does The Bars Last?
Generally the bigger the bar the longer the soap last. Sudsy Bear has two size bars 5-5.5oz bars which last between 4-5 weeks and their 6.25-6.5oz bars which last between 4-5  weeks. Sudsy Bear also makes a wooden soap saver that also helps prolong the life of a bar of soap.
Does Sudsy Bear Have Soap Samples?
Yes, as long as you place an order you can order one or two samples. Just use the text box "Order Note" on the checkout page and write the sample(s) you would like to try.
Where Is Sudsy Bear Located?
Sudsy Bear is made in Pierson Florida which is located in Central Florida.
What To Do When The Soap Gets Down To Small Pieces?
What I like to do when the pieces get small and hard to hold is put the small pieces into a Daiso Loofah cloth. It is like a loofah and a washcloth had a child together. Great for exfoliating and getting suds. Works great.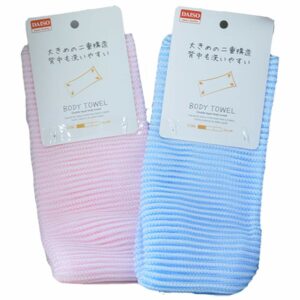 Comparisons/Other Soaps Worthy Of Looking At
I have reviewed several different soaps from different companies and overall Sudsy Bear is right at the top compared to similar companies and products.
I just love Dr. Squatch Pine Tar Soap and Sudsy Bear Soap Old Forest Pine Tar is so very similar in performance and smell I wouldn't hesitate to buy any of these two products. You can check out my review of Dr. Squatch Soap here, Dr. Squatch Pine Tar Soap Review. Overall I think Sudsy Bear has better scents but Dr. Squatch is close behind.
Another noteworthy soap company I have reviewed is Swanky Badger. You can find my review here, Swanky Badger Natural Soap Review. Another all-natural soap company with great ingredients and great smelling soap too. I believe Sudsy Bear has better scents compared to Swanky Badger.
Sudsy Bear Promo Code
Use the coupon code BACKSHAVERFORMEN to receive 15% off your entire order at checkout. 
The Final Shave
Natural ingredients and very pleasing scents with a soap that suds easily.
What more do you want?
One of the best soap companies that I have reviewed to date and I am so thoroughly impressed with their quality.
This is a must-have and try.