So…Harry's Makes Razor Blades & Now Soap
Harry's makes razors, we all know this. But now Harry's also makes other grooming products that maybe you didn't know about. That is where this review comes in. To see if their soap is worth getting in my Harry's Soap Review – Is It Any Good. I will be highlighting the good and the bad in order to paint the most honest picture for my readers.
So let's get into the weeds…shall we?
Full Disclosure
I am an affiliate of Harry's as I have recently just joined. I will earn money at no additional charge to you if you click and purchase through links on this page. I pride my website on bringing honesty and actually using the products I review. I highlight all features of the products I review both negatives and positives. I purchased with my own money the soap in this review shown.
What Is Harry's Soap?
All of Harry's Soap come in 4 ounces bars of white soap with no added dyes to them. The soaps are vegan and have no sulfates or preservatives in them. They do have palm oil in them but it is a sustainable palm oil. They have six scents to choose from.


Soaps Available At Harry's
Currently, at the time of writing this review, there are a total of six different scents to choose from with their bars of soap.
Stone – Cool, Fresh, Citrusy
Shiso – Bright, Herbal, Earthy
Redwood – Brisk Sharp, Woodsy
Fig – Rich, Warm Juicy
Grove – Lush, Zesty, Lively
Wildlands – Crisp, Clean, Serene.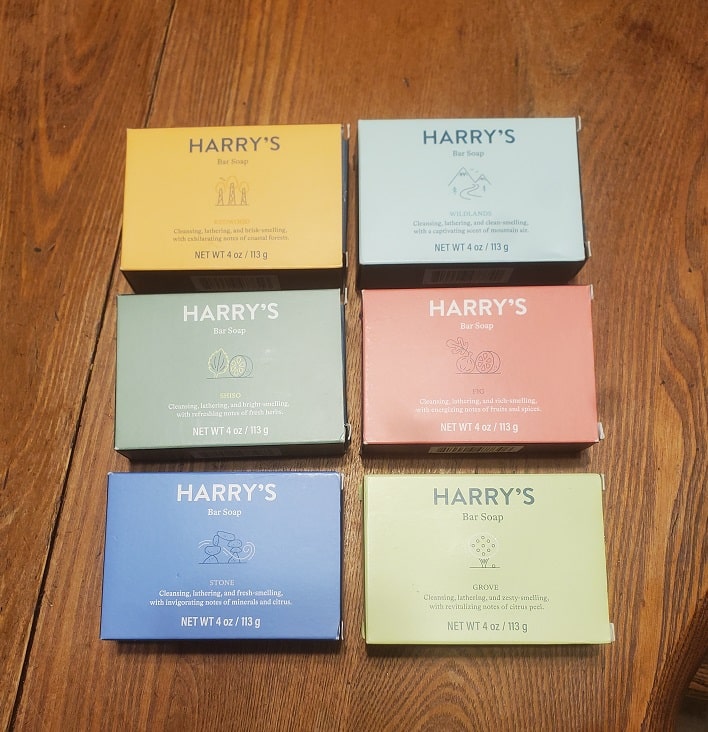 What Are The Ingredients Used?
Sodium Palm Kernelate, Water/Aqua/Eau, Sodium Palmate, Potassium Palm Kernelate, Palm Kernel Acid, Fragrance/Parfum, Glycerin, Potassium Palmate, Sodium Gluconate, Cocos Nucifera (Coconut) Oil, Butyrospermum Parkii (Shea) Butter, Titanium Dioxide, Sodium Chloride, Palm Acid, Menthol, Benzyl Salicylate, Limonene, Linalool
My Experience & Opinions Using Their Soaps
Right freaking away and I mean almost instantly you get a fantastic lather.
Boom! Rich thick lather. Who doesn't want that? It's a "lather-er" people.
I love this and this is a great feature to have in a bar of soap. The soap also doesn't dry out your skin either. It actually leaves it softer. So, it must be gentler on your skin. I also experience no residue on my skin from the soap.
I love or like all the scents too. There is not one that I hate or dislike. So, Harry's you nailed the scents and they have a good mixture of available scents too. The scents are not overly powerful either, it's present and account for but not beating your nose up either. The fragrances are well-blended and balanced.
This is a harder-density soap, which I prefer as you typically get a longer lifespan than say softer density soap that melts away quickly.
This is some good soap and not your average typical bar of soap. This has some quality to it. The price point is I would say average, as I have seen worse soap sell for double the price. So, Harry's comes through with a good quality soap just like their razors all for a price that doesn't rape your wallet.

My Favorite Scent Of Harry's Soap
My favorite soap from Harry's is Redwood. I am a complete sucker for a good sandalwood scent and this smells great and woodsy.
My next favorite is stone as it is very fresh smelling and enjoyable. But I like all of their scents
Pros & Cons
Pros
Amazing lather!!! Right away this forms a great lather.
Leaves my skin feeling softer after using it.
Great scents! I like or love all of their scents. I hate nothing.
The scents are not overpowering. The scents are there but not totally in your face if you know what I mean.
Very affordable price for a bar of soap. Prices change a lot and I don't have the time to keep up with posting new prices but it is currently around $3.00 for a bar of soap.
The design of the soap is made so it is easier to grip and to allow for easier drying of the soap as the bottom of the soap is indented allowing the soap to not sit in water and to easily dry.
Made in the USA.
Made with sustainable palm oil.
No sulfates, preservatives, or dyes.
Their soap page does a good job of explaining the different scents available.
A dense bar of soap that shouldn't melt away in the shower in a week.
No residue.
1% of Harry's sales go to nonprofits providing mental health care services to men in need. Great!!!
You can sign up for Harry's Membership ($15/year) and save 10% plus a lot of other features.
Harry's provides a unique scent profile.
Cons
Avoid buying Harry's Soap from Amazon. As I see the soap is mislabeled at 5 ounces and the price seems higher than Harry's Website. This is probably a reseller on Amazon and not actually Harry's.
Seems a bit smaller than a typical bar of soap. Coming in at 4 ounces is probably why as most soaps are slightly bigger.
Tips & Questions
How Long Does A Bar Of Harry's Soap Last?
Depending on how much you use it should last a good month to a month and a half if you use it once every day.
Is Harry's Soap Organic?
No, I can not find anywhere saying it is organic.
Can Women Use Harry's Soap?
Yes, I don't see why not. As long as you enjoy the scents there should be no problem. A note on the scents, while made for men I don't see a real problem with women having any issues with the fragrances.
Is Harry's Soap Vegan?
Yes, almost everything at Harry's is vegan except for the Texturizing Putty which does contain lanolin.
Is Harry's Soap Good For Sensitive Skin?
In general, I think Harry's Soap would be good for sensitive skin but everyone is different and it would be hard to make a blanket statement for all people.
If you are really concerned or have super sensitive skin I would suggest taking a look at Bend Soap. Bend Soap is made from goat's milk (which is known to help skin problems) and has one of the best lists of ingredients (all-natural) I've seen. Super high-quality soap that has a great price too. You can read more about it here Bend Soap Company Goat Milk Soap Review.
Does Harry's Soap Have Exfoliants?
No, currently Harry's Soaps do not have any exfoliants added to their soaps. But they do have an Exfoliating Face Wash if you are interested in trying that out.
If you are looking for the best exfoliant washcloth for that extra scrubbing power, try the Salux. I've tried most of them and they just nail the texture perfectly on this shower washcloth. Get it and be happy.
I have written a full in-depth review found here, Salux Washcloth Review – You Need This Shower Towel?
The Final Shave
Harry's delivers a pretty darn good soap here, I found I really enjoyed the lather and the soap not drying out my skin. The scents I found all likable or loveable. Not much negative here, and that is a good thing.
For a very, very decent price, Harry's delivers you a quality bar of soap that is sure to please.