Today's post is Bend Soap Company Goat Milk Soap Review. We all use soap; at least, hopefully, we do, right? Soap can be amazing, and it can be bad, and everything in between. At least for me, I am always looking for quality soap with unique scents. I want to have the most natural ingredients and possibly some added benefits.
I am fully excited to review this soap. Initially, at first glance, it checked all the important boxes I was looking for in quality. Plus, I have never tried a goat milk soap before. So, let's find out how well it holds up after using it in the Bend Soap Company Goat Milk Soap Review.
Full Disclosure – I have recently joined the Bend Soap Co. affiliate program and will make a small commission on purchases through clicked links on this website. This will not impact the review either way. If you find my page helpful, please help support my website. I purchased the soap with my own money in order to write this review, as I believe in ONLY using the product first and then reviewing it and not just finding information on the internet.
Table of Contents
What Is Bend Soap Company?
The origin of Bend Soap Co. is really an important aspect of this company because it was made out of necessity and really helps to understand the overall product and its benefits of Bend Soap Company.
Bend Soap Company is a family-run business, and it all started when one of their young children suffered from eczema. Finding no relief with medications, they started really paying attention to all the chemicals found in various products they used and tried eliminating all unnatural products. So, in this effort, they started making their own soaps. Oh, and by the way, they had a goat farm, so naturally, they tried making goat milk soap. What they found was their young child's skin condition cleared up after using their soap.
In the natural progression, they started making it and selling it to friends and family and quickly grew their business to where they are today.
Why You Might Need Or Want Bend Soap?
Skin problems (itchy skin, eczema, dry skin, sensitive skin, etc)
Looking to use all-natural products.
Health problems.
High-quality ingredients
Goat milk (helps with skin problems)
List Of Soaps Available At Bend Soap
Bend Soap Company has 16 different soaps, all made from goat's milk. Surely something to please everyone. All of their soaps are made from goat milk which is the first ingredient listed on their list of ingredients.
Their soaps come in two different sizes: a full bar of soap of 4.5oz and a travel-size bar coming in at 1.5oz.
I put an asterisk by the six different soaps I purchased for this review below.
Oatmeal & Honey Goat Milk Soap*
Unscented Goat Milk Soap*
Tangerine Spice Goat Milk Soap
Chai Tea Goat Milk Soap
Black Licorice Goat Milk Soap
Mount Bachelor Pine Goat Milk Soap*
All Shield Goat Milk Soap*
Almond Delight Goat Milk Soap
Eucalyptus Spearmint Goat Milk Soap*
Hint of Lavender Goat Milk Soap
Honey Grapefruit Goat Milk Soap
Lavender Blossom Goat Milk Soap
Lemongrass Goat Milk Soap
Sweet Orange Goat Milk Soap*
Tea Tree Goat Milk Soap
Vienna Rose Goat Milk Soap
Ingredients
To quickly understand any soap, one only has to look at the listed ingredients to gain an understanding. With Bend Soap Co., it is quickly apparent that only simple natural ingredients are used. Take a look for yourself and see what I mean. Of course, different soaps have different ingredients, but you will get the gist of what I mean.
Oatmeal & Honey Goat Milk Soap Ingredients
Fresh Goat's Milk, Saponified Coconut Oil, Olive Oil, Red Palm Oil, Oats, and Honey.

My Opinion On Using Their Soap & Is It Worth Getting?
Scents = Good & Natural
Right off the bat, I just loved using Bend Soap Co. soaps. The first thing I assess about any soap is how it smells. I knew immediately I loved these scents as their smell was both natural and pleasing to my nose. As I age, my preferred scent profile has refined over the years, and I only accept natural scents in any product I use.
So basically, I knew right away I was going to at least enjoy the scents while using their soap in the shower. I love using mint and pine soaps; thankfully, Bend had these scents.
Skin Problems
I don't have any skin issues to speak of (knock on wood), so I can't really address that issue personally. But my mother has itchy skin due to her nearing very close to kidney failure. So, being a caring son, I gave her a couple of the bars of Bend soaps I had purchased to try and use and see if it would help her with the itchiness. She told me it had lessened the itchiness even though it had only been a couple of days.
If you know someone with skin issues, I would highly recommend checking out Bend Soap Companies' line of soaps, or any goat's milk soaps, for that matter. I have recommended this soap to many friends and family members with skin conditions, and they all report they love it.
The soap never dried my skin out, and I even think it has helped my skin become softer as well. I am a man and don't really pay that much attention to those things overall, but I have seen more suppleness in my skin.
Ingredients Used & Cost
All-natural soaps very rarely don't cost a lot of money. But that is not the case here. Bend Soap offers soaps at a very reasonable and affordable price. This is the main strength of their soap line—100% all-natural soap for less than $6.00. I've seen soaps loaded with all the lousy ingredients sell for $12.00 for a bar of soap (some of which I have reviewed on my website).
For this reason, mostly but all the other reasons I listed above, I highly recommend checking out Bend Soaps' line of soaps. They even have trial sizes, which cost a lot less and make an excellent buy if you just want to try them out for cheaper.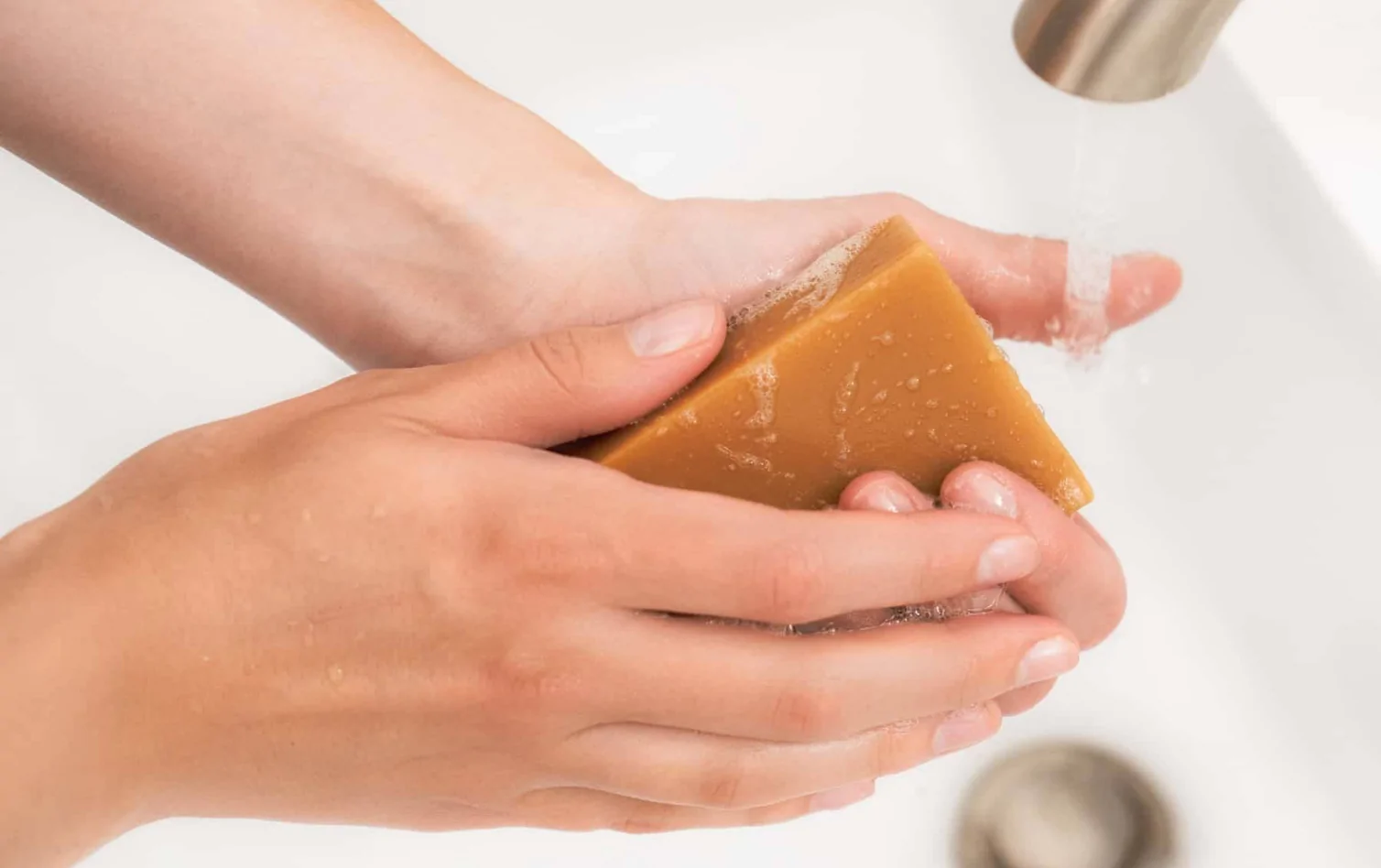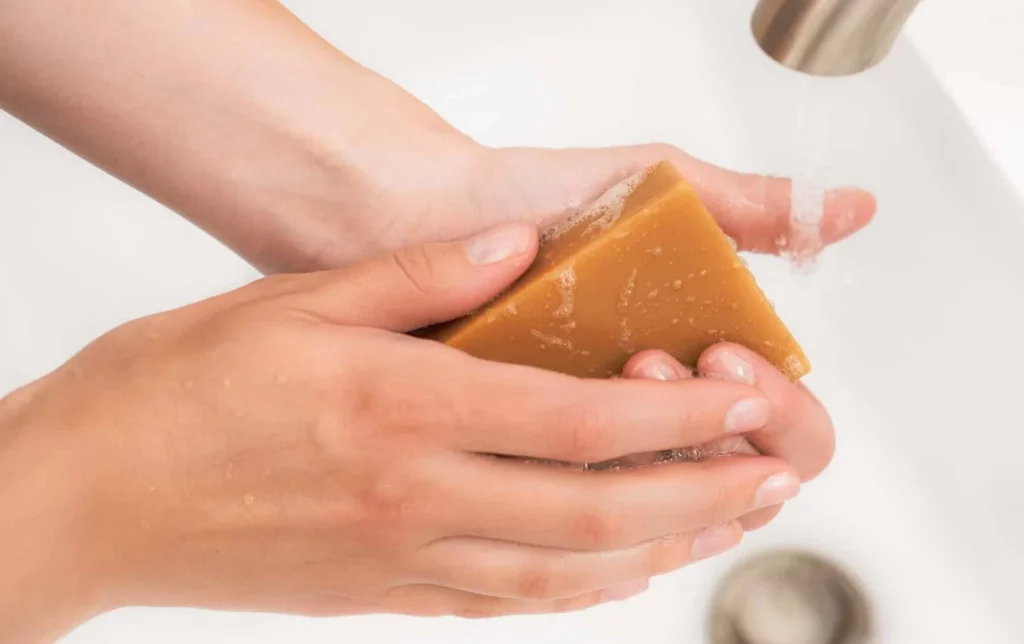 Which One Is A Must Buy?
I love pine scents and any kind of mint scents in my soaps. I find these really invigorate me in the shower and help to wake me up. So, I would recommend the Eucalyptus & Spearmint & the Mr. Bachelor Pine. On that note, I would also say all the scents I have tried were excellent.
The Oatmeal & Honey Soap and the Unscented are recommended for skin problems and eczema.
The All Shield soap is excellent if you are looking for natural antibacterial and antifungal properties, along with being a great soap.
Highly recommend!!!

Pros & Cons
Pros
Very affordable soaps! When writing this, it is less than 6 bucks for a full-size bar of soap. This is exceptionally nice to see and a relief to see for an all-natural product. Love it!!!
All natural ingredients.
Essential oils and other natural products are used to make their soaps smell great. Loved all of the scents I tried. Nothing smelled bad.
There is a large variety of scented and unscented soaps to choose from.
They have an unscented soap. This is great for those with super sensitive skin.
No unnatural ingredients were used. Simple ingredients that anybody can fully understand.
Goat milk is used in all of their soaps. Goat milk is known to help with skin conditions.
Multipurpose uses. Soap can be used for body wash, face wash, shampoo, bubble bath, and shaving cream.
Cruelty-free.
Sustainable Palm Oil.
Two different sizes of soaps are available to purchase: the full size (4.5oz) and a travel size (1.5oz).
Made in the USA.
No dyes, GMOs, soy, corn, canola oils, alcohols, parabens, or phthalates are used in any of their products.
Have some soaps that can be an exfoliant, like the Oatmeal & Honey and the Lavender Blossom Goat Milk soap.
Cons
Some soaps have a limited run. So, if you see a soap you want, you might want to purchase it.
I really can't think of any real negative thing to say about this soap.
How Does Bend Soap Compare To Other Soaps Available?
This is at the top of the list when it comes to ingredients. Simple, easy-to-understand ingredients and potential properties of healing, too, with goat's milk as their main ingredient. I would rank their scent profile from medium to high compared to other soap brands.
Another great soap company is Dr. Bronner's Pure-Castile Bar Soap. I have reviewed it here and have enjoyed using it for many years. Check out my full review here, Dr. Bronner's Pure-Castile Bar Soap Review.
What Other Products Does Bend Soap Sell?
I've tried and written about Bend Soap deodorants as well, and I highly recommend checking that out as well. I have also written an article here about it, Bend Soap Co Deodorant Review – Works?? Stink Protection??.
The Final Thoughts On Bend Soap Company Goat Milk Soap Review
I have found that Bend Soap has a ton of integrity and is to be respected. Their very affordable prices and quality of ingredients are second to none. There is nothing bad about this company or its products that I can see or experience.
It is this vane that makes it a very high recommendation from me, especially considering the use of goat's milk as potentially helping with various skin problems.
Highly Recommend!!!


If you have any questions or comments, please see them below.