I will be reviewing Dr. Bronner's Pure-Castile Bar Soap in this review today. To help determine if it is a good quality bar of soap and worthy of purchasing. Both scents and soap I find amazing, and when these two attributes when combined together it can really ellivate your whole mood and make washing yourself enjoyable and transformable. Often times a shower washes away problems leaving us fresh and able to face the world with a whole new aspect. A quality soap can definitely also help wash your soul clean as well as your body. Come and find out if Dr. Bronner's Soap lives up to this standard in my review of this company.
What Is Dr. Bronner's Soap?
You have probably strolled through your local grocery store or big boxed store and seen this simple but colorful packaged soap and wondered if this soap was any good. Well, I did and took a chance to see by purchasing a bar to see if I would like it over ten years ago. Initially, I knew I loved the scent, and later when I used it I fell in love with using Dr. Bronner's Soap. It's just great soap.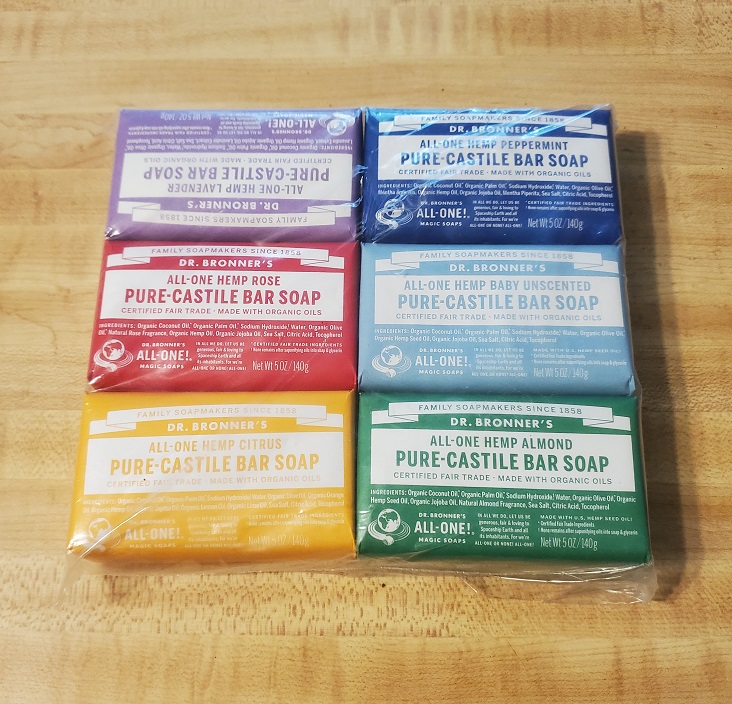 Some Key Features About Dr. Bronner's Soap
Certified Fair Trade
Made with organic oils.
Made with U.S hemp seed oil
5-ounce bar.
Only all-natural ingredients
Vegan ingredients
No synthetic preservatives, detergents, or foaming agents.
Packaged in 100% post-consumer recycled wrappers.
What Else Do They Sell?
They sell a whole list of products.
Soaps
Lotions & Balms
Hair Care
Home & Laundry
Toothpaste
Hand Sanitizer
Coconut Oil
Soaps Available From Dr. Bronner's
Peppermint – This is by far my favorite as I find peppermint to be refreshing and invigorating.
Baby Unscented – Truely unscented soap.
Lavender – Very fresh and calming scent.
Almond – A clean scent that smells of a fresh cracked almond. This is my second favorite scent.
Citrus – Light and clean smelling of orange.
Tea Tree
Rose – A light rose scent but I don't think this is a manly scent.
Eucalyptus
Ingredients Of The Soaps
Each of the different soaps will have a different list of ingredients due to the different scents available. I will post the list of ingredients for the All-One Hemp Baby Unscented Pure-Castile Bar Soap to give you an idea of the basic ingredients.
Baby Unscented Ingredients
Organic Coconut Oil*, Organic Palm Oil*, Sodium Hydroxide**, Water, Organic Olive Oil*, Organic Hemp Seed Oil, Organic Jojoba Oil, Sea Salt, Citric Acid, Tocopherol
*CERTIFIED FAIR TRADE INGREDIENTS
**None remains after saponifying oils into soap & glycerin.
Are Their Soaps Any Good? Worth Getting?
On my journeys of reviewing grooming products that include a lot of other soap companies, I have found I always come back to Dr. Bronner's Soap it is just high quality and very affordable soap. You can purchase soap elsewhere and find lower-quality soaps for a much higher price. Dr. Bronner's soap offer is hard to beat and it is sold at most stores as well as online. A great soap for a great price.
I love using their soaps as they lather great and clean the skin very well but without drying the skin out. I highly recommend checking them out both for the price and for the ingredients, as well as it's just a great bar of soap.
These soaps are very worth getting and are very affordable.
What Is My Favorite Soap?
Dr. Bronner's All-One Hemp Peppermint has been a very favorite of mine for many years. I love having this soap on hand when I take a shower in the morning. The peppermint really helps to invigorate and wake me up in the mornings. I look forward to using it every time I step into the shower and I know it's in there.
Another favorite of their soaps is the All-One Hemp Almond Soap. Smells like almonds which are very light and refreshing and smell very natural and clean. Another great soap scent in their line of soaps.

Pros & Cons
Pros
You can buy a six-pack of all their scented & unscented soaps on Amazon for a very decent price. A great way to explore their scents and not spend a lot of money.
Very affordable! With everything going up in price this is still very affordable when compared to $12.00 bars of soaps.
High-quality ingredients. As they use real organic essential oils and I find this to be the most pleasing scent as well. Can't say enough about how well their products smell.
Made with organic oils.
A very conscientious company both for the environment as well as for communities and people. They have many programs in place to help the earth and people. Companies like these should always be supported.
100% post-consumer recycled bottles and wrappers.
Soap can be used for both the body as well as a shampoo. Many people use it as a shampoo as well.
Easy to find! You can find many box stores as well as online places like Amazon that carry Dr. Bronner's soaps.
Longevity. It's a hard bar of soap which at least for me last a lot longer than softer bars of soap.
Have an unscented soap for those with sensitive skin.
Doesn't dry out the skin.
Cons
As a guy, I don't really like the rose-scented soap but my wife likes it. Just a little too feminine smelling for my taste.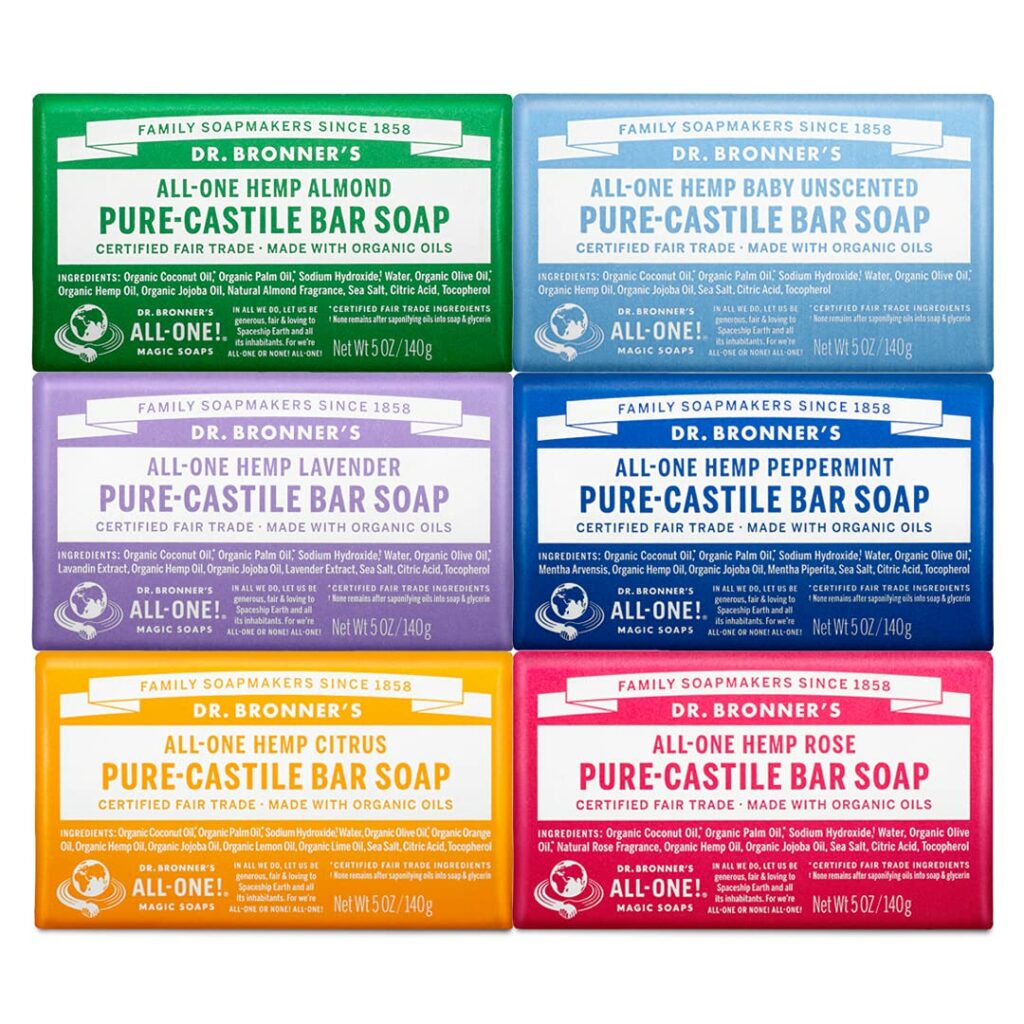 How Does This Generally Compare To Other Soaps?
A hard soap to beat. Great price, great ingredients, and great scents. The whole trifecta. It's a really good soap that lathers easily and gets you clean all the while smelling great. Most boutique soaps will cost you a lot more and might not smell as good. Ranks at the top when compared to other contemporary soaps out there.
Other Soap Maybe To Try
One of the best soaps out there as well as Dr. Bronner's Bar Soap. Sudsy Bear also uses the best ingredients and also has a ton of amazing scents that are just fantastic and out of this world. This little-known company is quickly gaining traction. I wrote a full in-depth review here if you would like to learn more about them here, Sudsy Bear Soap Review.
The Final Shave
In the world of soaps, this is a super great value! Try to find an organic soap for this price that smells this great, it's hard to do. The good news is this is almost available everywhere. I've been a customer of theirs for at least 10 years and have always enjoyed using their products.
I highly recommend getting some of Dr. Bronner's Soap.