Take Care Of Ear, Nose, & Eyebrow Hair
As men get older we need tools to deal with the hair growing where hair never used to grow before. It sucks but to be well groomed we must take care of these unsightly hair problems. Today we will be looking at another device that specifically tackles the nose hair, the ear hair, and trimming eyebrow hair and that device is the Wahl Lithium Two-In-One Pen Detail Trimmer Model 5643-200.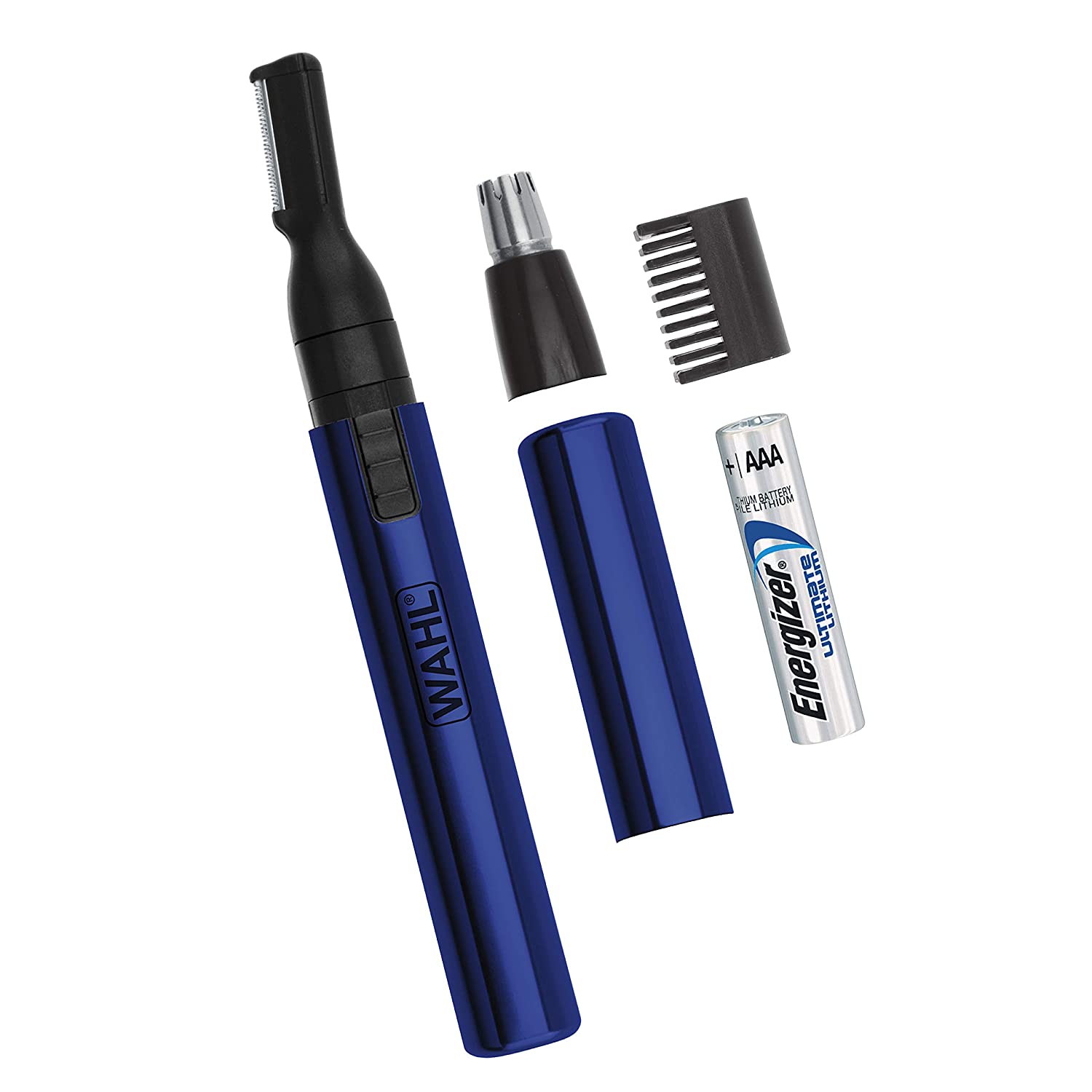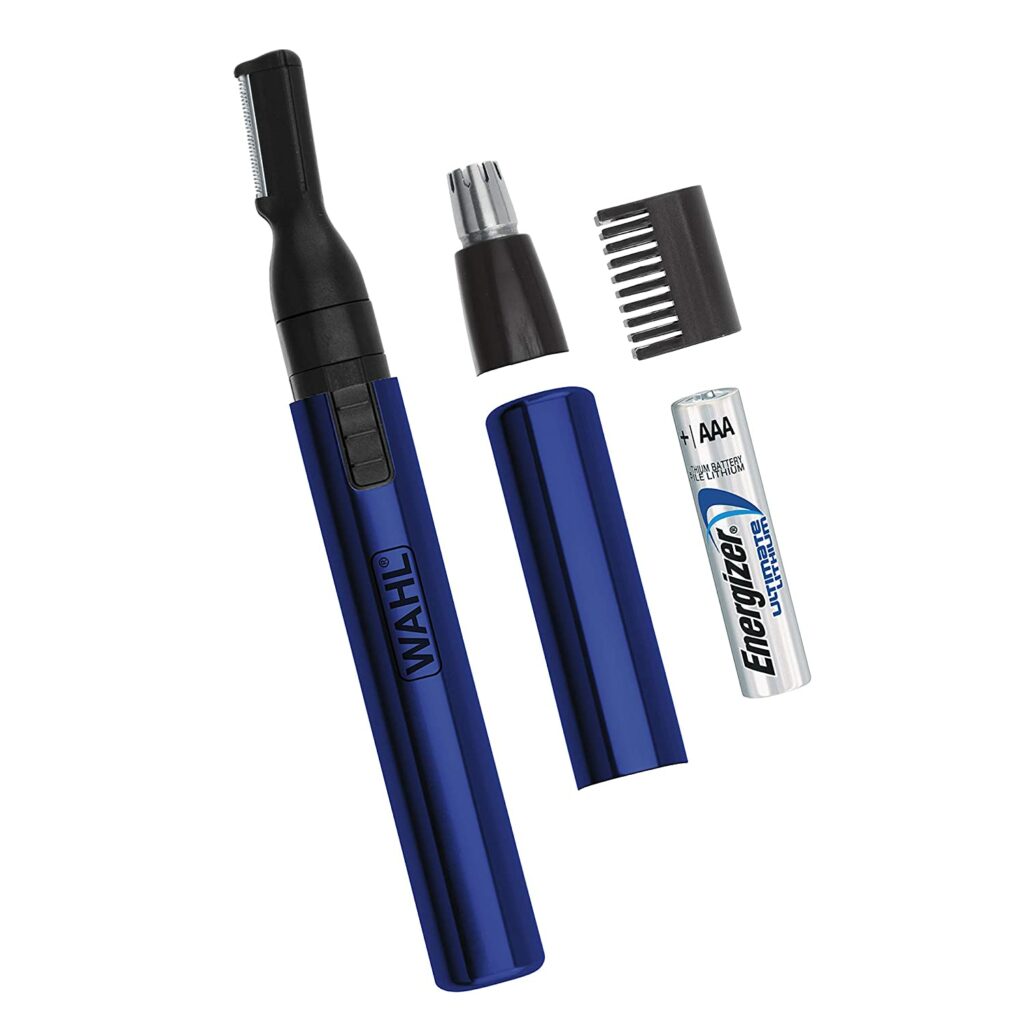 I will be taking this Wahl trimmer through the paces to show both negative and positive features of this device and to give my overall opinion as well.
Let's get some…shall we?
What All Comes With Purchase?
1 – Wahl Lithium Two-In-One Pen Detail Trimmer (Model 5643-200)
1 – Energizer AAA Ultimate Lithium Battery
1 – Rotary Nose & Ear Trimmer
1 – Precision Detail Head Trimmer
1 – Eyebrow Guide Comb (2 possible positions)
1 – Set Of Instructions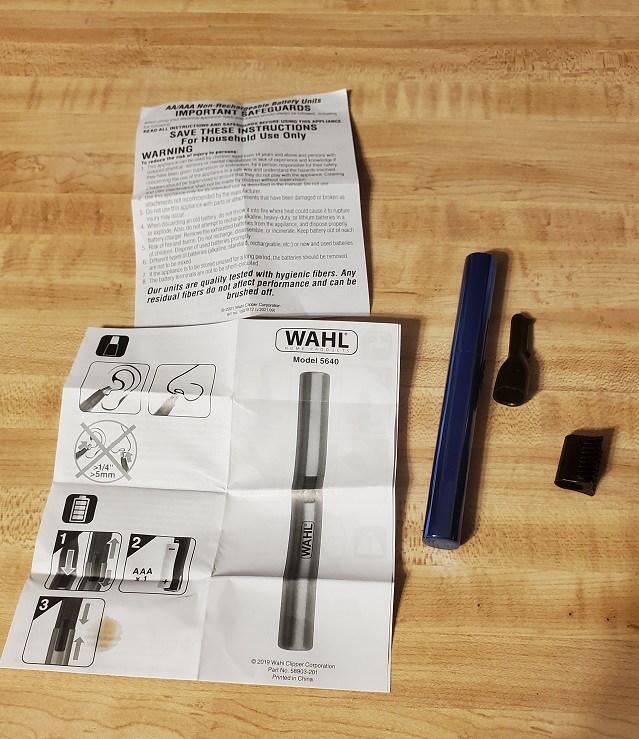 Specs
With the cap in place, this measures 5 5/16 inches long and has a nice slim design that at its widest is 5/8″ of an inch wide. The aluminum metal casing is anodized blue and offers solid sturdiness for longevity.
The blades on both trimmers are made out of stainless steel. The heads are easily interchangeable with a simple twist.
The battery supplied with this is an Energizer Ultimate Lithium AAA battery.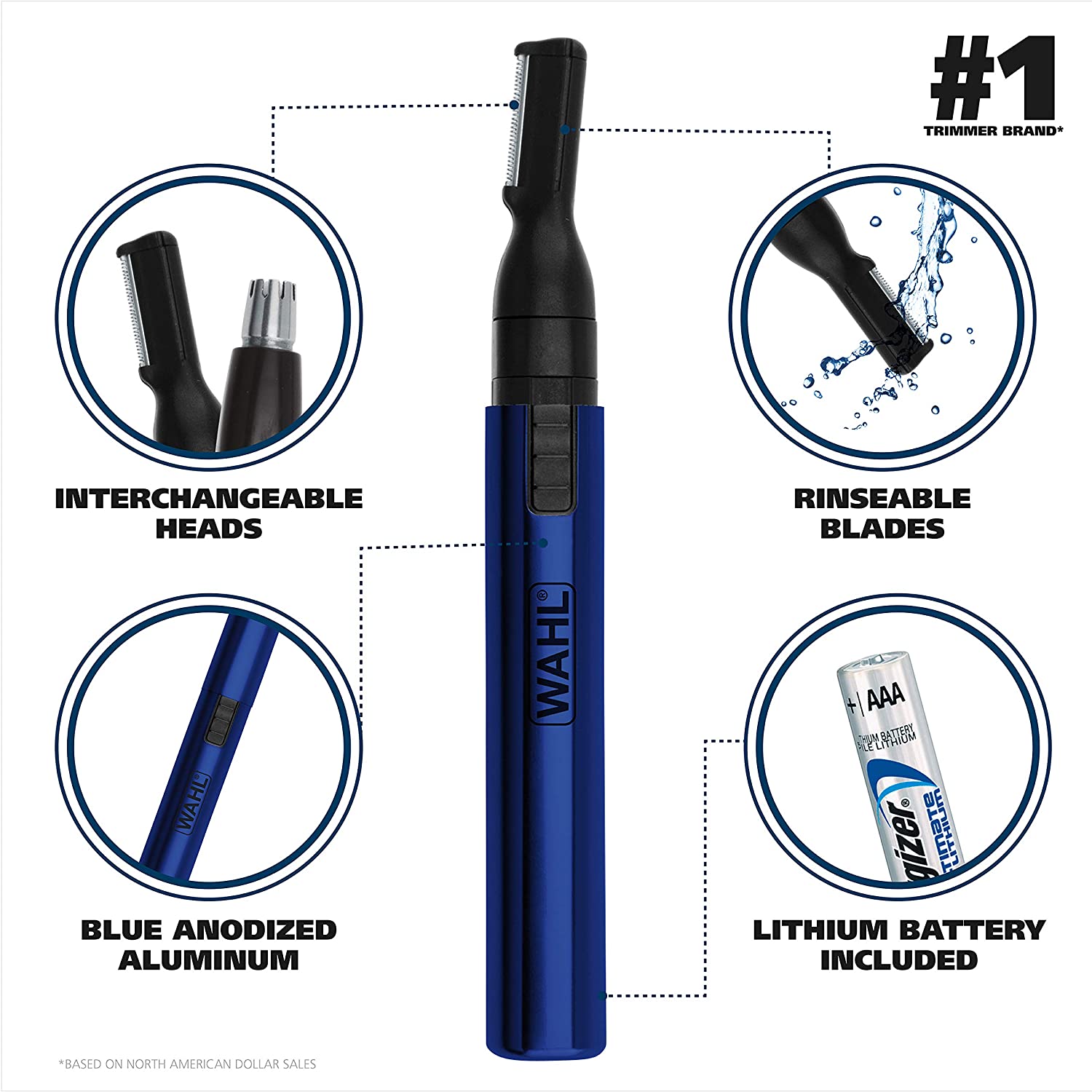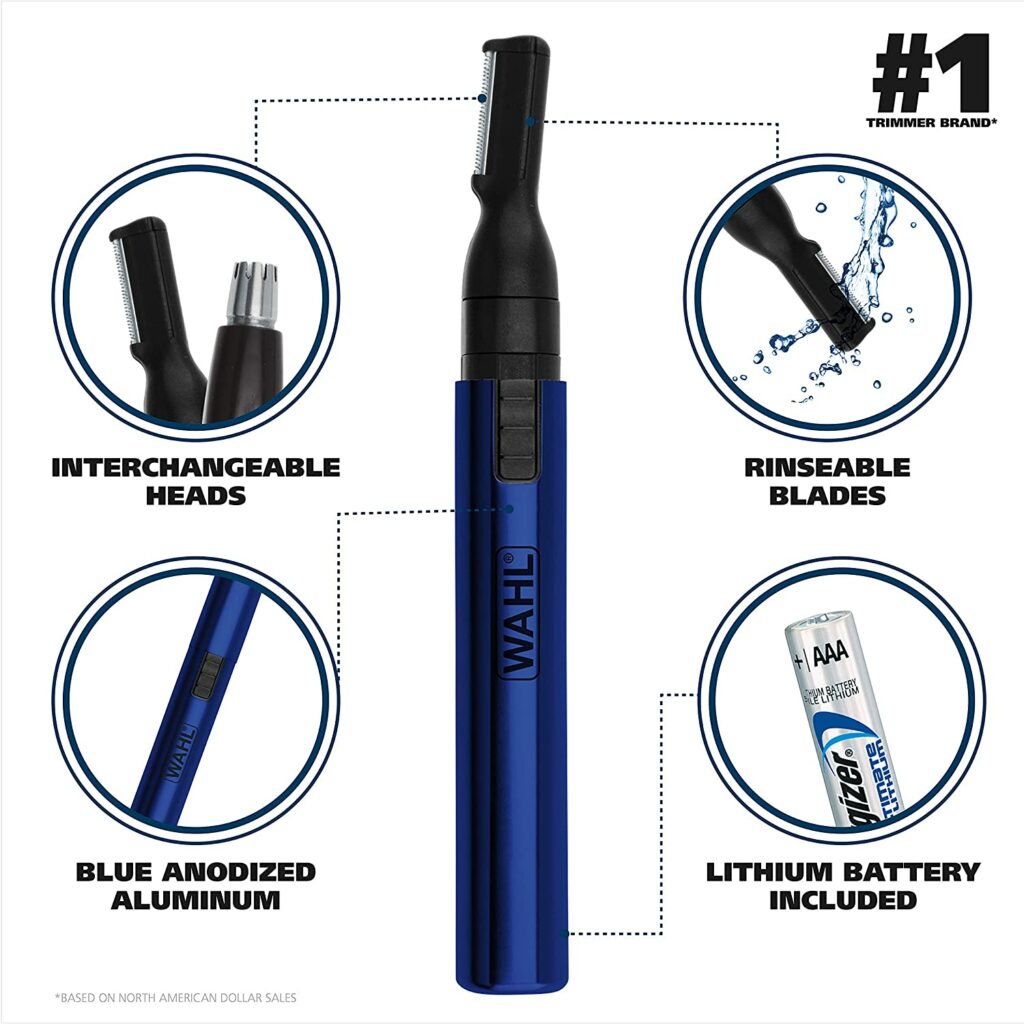 Where Can You Use This?
This offers a few more options than a standard nose & ear trimmer as it has a Precision Detailed Trimmer that can be used almost anywhere you have unwanted hair. From the eyebrows to anywhere on your face like the beard, mustache, and sideburns. and even your neckline. The standard rotary blade is used for both ear and nose hair to protect against nicking yourself in these sensitive areas.
Nose
Ears
Beard
Eyebrows
Goatee
Beard
Neckline
How Well Does It Really Work? Worth Getting?
Wahl as a company has been a stalwart in the grooming industry for many decades and has developed a rock-solid reputation. I am always happy to review any Wahl product.
Now is it worth buying?
For the price point as well as the performance I would say yes it is worth buying. Most similar devices sell for around the same price point for this type of grooming tool.
First off it is probably the most powerful device I have ever used or reviewed for nose & ear hair. The motor is powerful and both the trimmers work great. I experienced absolutely no nicking or pulling of hairs when I used this Wahl. The powerful motor and performance are the main attraction here.
The Precision Detail Trimmer does a great job of cleaning up hair for beards, mustaches, and sideburns.
I love the convenience of using stainless steel blades on both of their trimmers. This makes clean-up easy as you just rinse under the tap and for product longevity as the parts do not rust over time.
Some issues to consider.
Are there problems with this device? Sure, hardly any device is perfect.
The motor is so powerful it is definitely on the loud side as this is only logical. The rotary trimmer spins really fast and is loud when compared to similar devices. The Precision Detail Head Trimmer is crazy loud but also very powerful. Give and take I suppose and a good trade-off if you are looking for power.
Other issues are the protective cap hardly stays in place. A minor issue but it needs to be stated. Another is the power switch which doesn't seem like it would last a long time.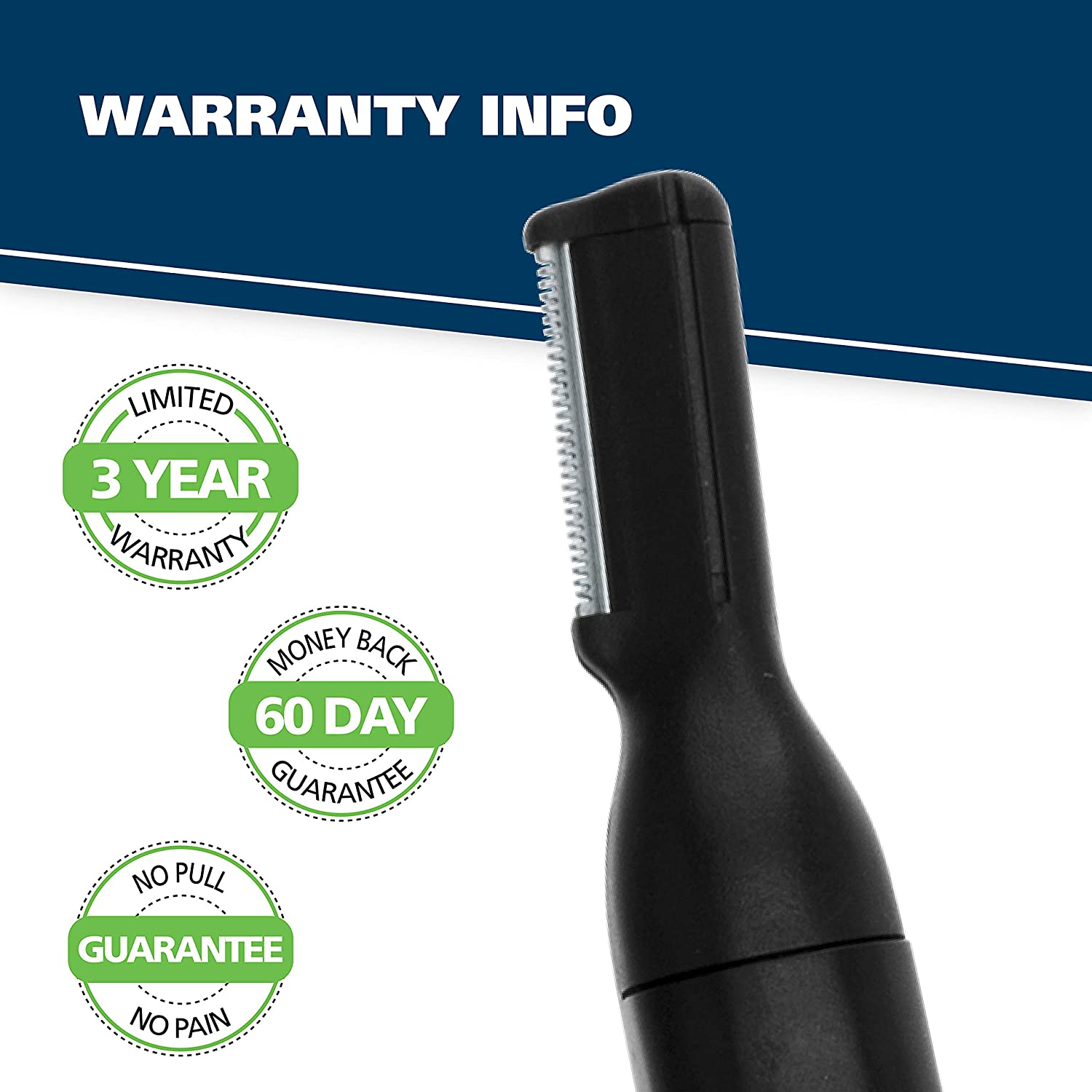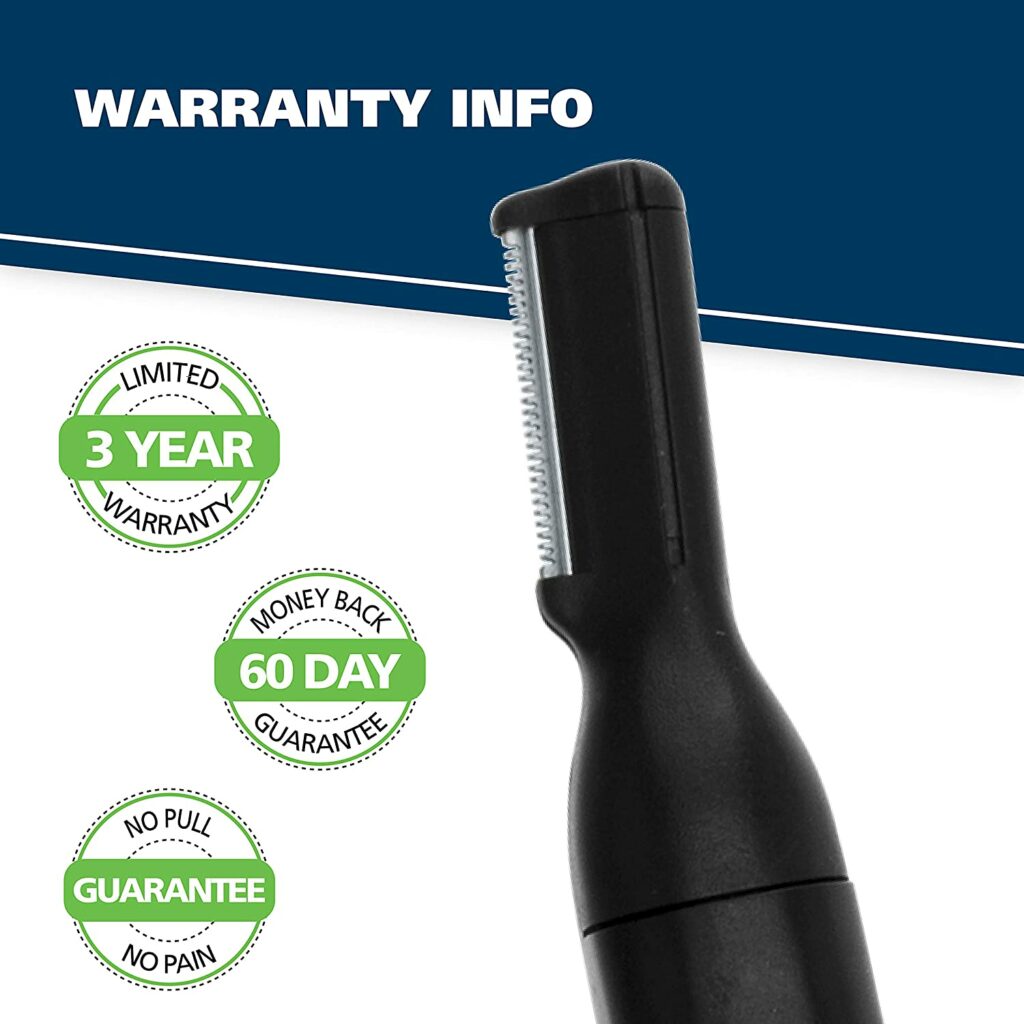 Pros & Cons
Pros
One of the most powerful little nose & ear hair trimmers I have EVER reviewed. This has power for days!
Switching out the different trimmer heads is fast and easy.
Both trimmer heads are both plenty powerful enough for whatever job you throw at them.
The Guide comb works great.
Small and lightweight. Can be stored in a Dopp kit or toiletry bag easily.
All blades can be rinsed under water to help keep them free from debris.
A quality battery is included (Energizer Ultimate Lithium).
I experienced zero pulling and zero nicking when using any of the two trimmer heads.
The guide comb provided does a decent job of trimming the longer eyebrow hairs and the results are consistent.
Cons
Nothing to store these small parts in as this doesn't come with any storage bag. Small parts can be easily lost. I typically use a resealable sandwich bag when I see products like this without a storage bag.
The power switch is super sensitive and kind of janky. It will turn on and off when walking around with it your hand.
The protective cover cap does not stay in place. As this easily falls off and doesn't have enough compression tension to keep it in place. Disappointing.
This is not a rechargeable trimmer and you will have to use a different battery when the original dies on you.
The Precision Detail Trimming Head is LOUD! It almost screams at you it's that loud.
Doesn't seem like it is built for years. This is just something I formulated by observing the power switch and plastic parts not through actual knowledge.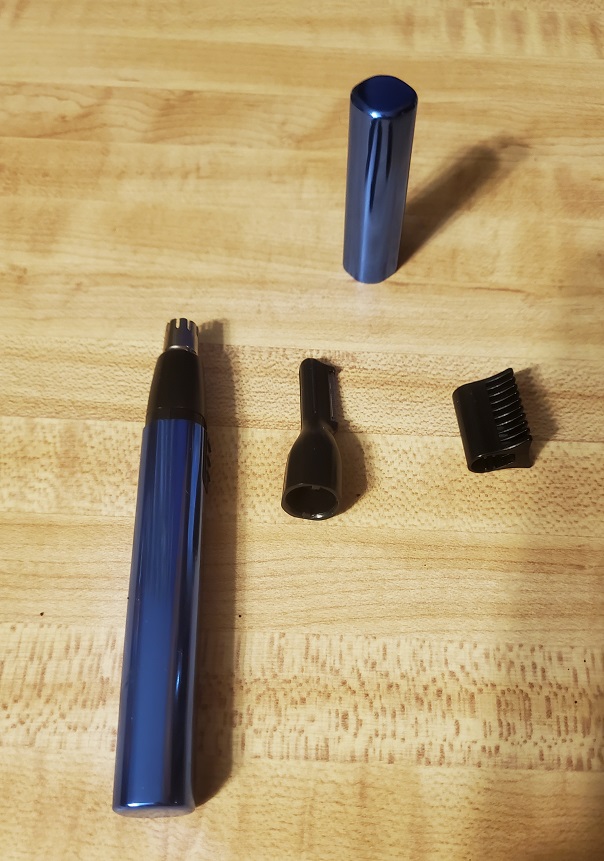 How Well Does This Compare To Other Nose & Ear Trimmers?
No other ear & nose hair trimmer has as much power as this Wahl trimmer…end of story. But that doesn't everything either. Another device I like for how well it is built for longevity and performance is the Brio Nose & Ear Trimmer. Not as powerful as this Wahl but still performs great.
You can read my full article here if interested, Brio Nose & Ear Trimmer Review.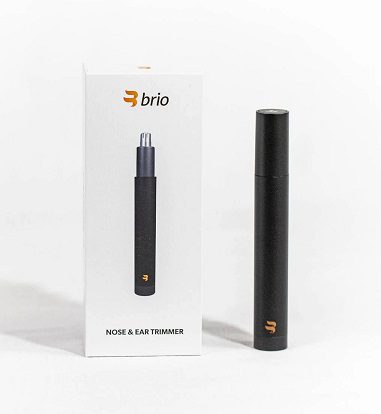 The Final Shave
A good device and if you are looking for such a device for this price point this would make a wise buy. Plenty of power here and in conjunction with the trimmers which all work wonderfully you got a pretty kick-ass device for controlling unwanted hairs.
The good definitely outweighs the bad here.