Passage into full fledge manhood is marked by unwanted hairs.
Yep…ear and nose hair.
Remember seeing elder men that sported these unsightly hairs (both nose and ear hairs) when you were a kid and thinking I hope this doesn't happen to me. Or if it does, I will cut/pluck them.
Then when it does, we revolt against ourselves.
Thinking…WHY ME? NOOOOOOOO!!! Oh shit, I have to deal with this now.
Despite our resistance to the passage of time. Despite our resistance to our genetic traits. All men will have to deal with this at some time in their life. Some sooner than others, and some lucky bastards, well into their 50's and 60's.
Gaaawwdd Dammmmmnnnn! Shee-yeee-yit! Look at the hairs coming out of that guy's nose! Look at the ear hair.
You know. You've seen those guys that don't give two flying F's,  what people think of their unusually long unsightly nose and ear hear.
It even grosses out the manliest of men, guys who can gut a deer out all the while eating a ham sammich.
Imagine…what the ladies think about unsightly hair on men.
Since my website is dealing with unsightly hair (back hair), I thought why not tackle other unsightly hair?
Enter The Remington WETech Nose, Ear, & Brow Trimmer.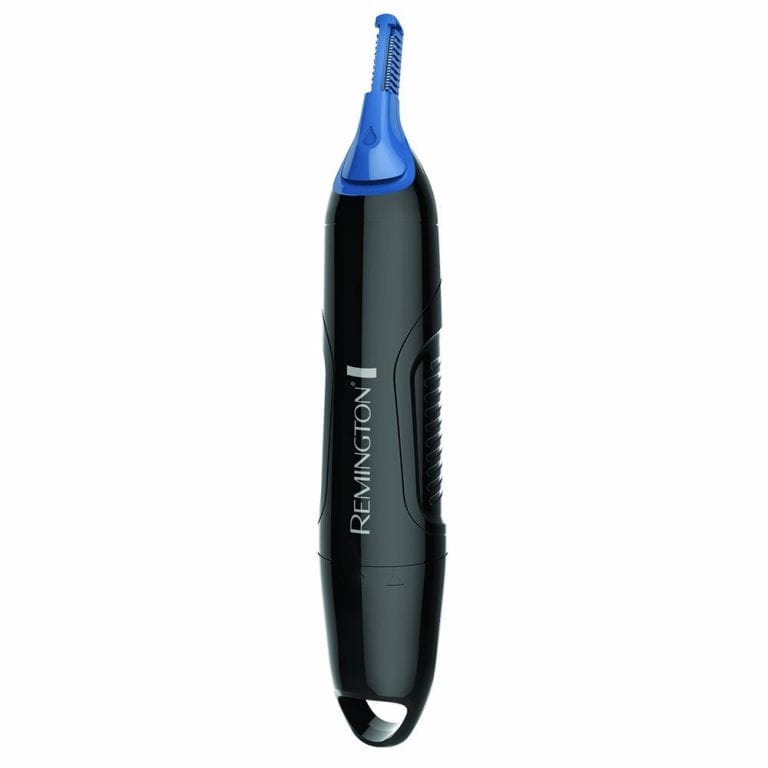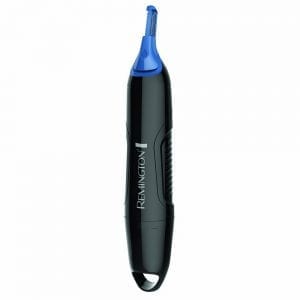 What Is Remington WETech Nose, Ear & Brow Trimmer?
The WETech is a device used specifically to tame and trim unsightly hair be it nose hair, ear hair, or for trimming eyebrow hair. This device uses one AA battery to run. This Remington device provides two different trimming heads to switch to.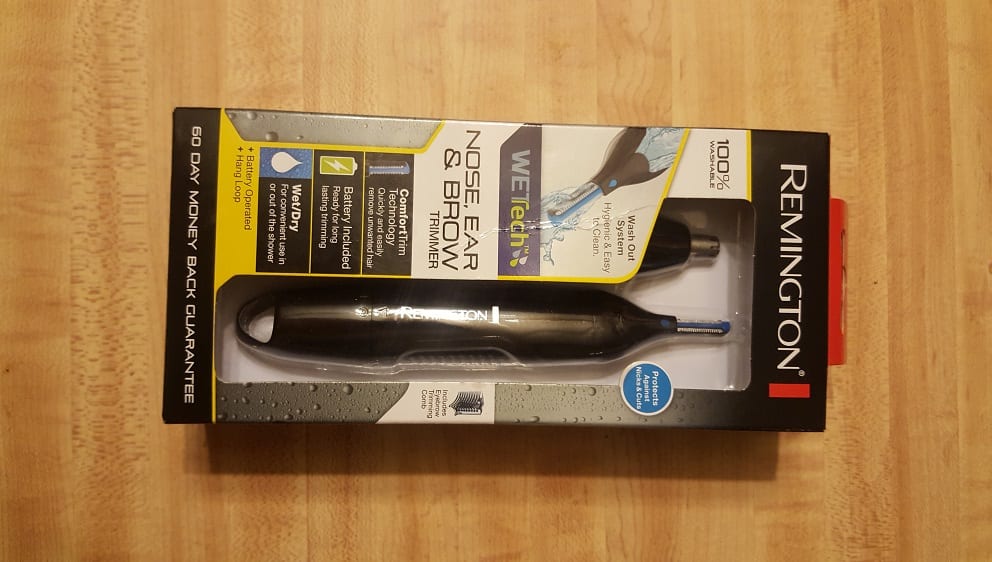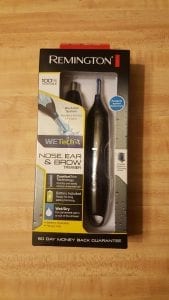 What Is Included?
1 – Remington WETech Nose, Ear, & Brow Trimmer model #NE3250B
1 – AA battery.
1 – Rotary Head
1 – Vertical Head
1 – Detail trimmer comb.
1 – Set of instructions.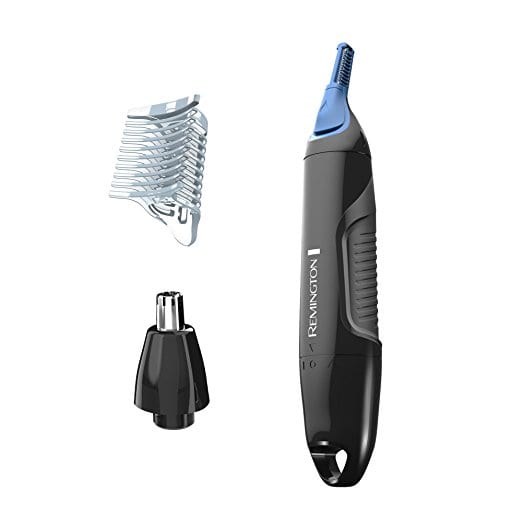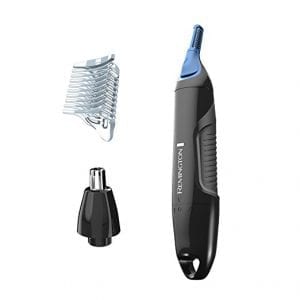 Specs On The Remington NE3250B WETech 
The device with the vertical head on is six inches long. The cutting head on the vertical head is 5/8 inches long. The vertical trimming head is the more versatile of the trimming heads provided, as this will trim the eyebrows, ear, and nose hairs.
With the rotary head on it measures 5 3/4 inches long. This attachment is for trimming the ear and nose hairs only.
How Does It Perform?
Overall, this performs the middle of the road. As it will trim your unsightly nose, ear, and brow hairs. If you apply the business end of any of these attachment heads to hair, they will be trimmed. This is usually confirmed by the noise the trimmer head makes when trimming hair. If you don't hear the slight change in the noise you're not trimming anything. So, listen for the change.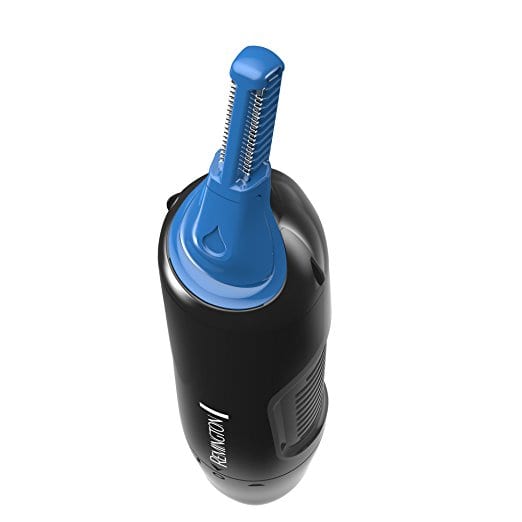 I had to check in the mirror after my first go with this device and was surprised to see I had missed a few areas. This leads me to be more precise with my attack, to get the stubborn ones.
An important note here, this has never pulled a hair out or cut me yet! Gotta love that for sure.
The first time you use this kind of device, at least I found myself very cautious inserting this into my nose. A little scared I guess, expecting to cut or at least pull some hairs in the process. Nope…not here. After using this type of device for a while I am a little more adventurous now. Shoving it further into my nose and against the side of my nostrils more, unafraid as my confidence using this has grown.
Pros & Cons
Pros
Can be used both wet and dry. Yep, in the shower is okay, if that's okay with you.
This trimmer has a blade guard to prevent nicks and cuts. Haven't ever been nicked or cut with this unit.
Battery supplied.
Provides a painless more risk-free way to trim nose and ear hair.
The blades on the vertical trimming head move in a bidirectional motion, to help trim hair fast.
Eyebrow comb provided, great for trimming and getting the odd stray brow hair to act like the others.
Options, as you get two trimming heads. Use whichever one you feel more comfortable with.
Cheap for around a 10 spot, you can take care of them pesky hairs. Money well spent.
Easy to clean, as their Wash Out System is hygienic and super simple to get the unit's head clean.
Simple to change the different heads, just turn the headpiece counterclockwise to loosen and clockwise to attach it back on.
A 2-year warranty!!!
Could be used for mustaches as well.
Portable, could easily be thrown into a Dopp kit when traveling, as this doesn't take up much space.
I didn't have any hair that was painfully pulled out when using the WETech NE3250B trimmer.
Can be stored in the shower, just don't submerge it in the water.
Has a hanging loop on the end of the device for hanging wherever.
Cons
No button to turn it on and off. As you just turn the bottom of the unit.
Had to make multiple passes and mirror checks to do a real roundup of all the hair.
Instructions state not to use rechargeable batteries with this unit. Bummer!
The handle is okay but doesn't feel the best in my thick wide hands.
Found the comb attachment for the vertical trimming head hard to work properly on the eyebrows. Had to make multiple passes to cut hair or just gave up and took the comb off and attacked the offending hair with the bare trimmer.
Tips On Using The Remington WETech
Blow your nose afterward to help ensure that the cut hairs are out of your nostrils.
Use a mirror to double-check your work. Along with a bright light. Sometimes you will miss areas and you need to pay closer attention to them.
Try the different attachment heads to see which one you like the best. Or to perform the job with both ensuring all hair is gone. As both heads can do both ears and nose trimming.
The Final Shave
I am not blown away or anything but this does do the job adequately and more importantly without any pain. I really enjoy the ease of use and having a simple AA battery to operate this. As I have enough charging cords to choke a whale with and don't need anymore. I have to check and trim then check and trim to get every hair trimmed in my nose. But It will get all the ones close to the entrance of your nostrils for sure in the first pass. I believe the blade guard is the culprit here, but I would rather avoid the nicks and cuts and spend a little more time doing a thorough job.
I prefer this method of hair removal for the nose to using scissors. It's much safer and a whole lot faster. Would I recommend this to a friend, YES, I would.