Get Rid Of Unsightly Nose & Ear Hair
We need tools to trim hair that grows out of weird areas on our bodies. Today we will be reviewing one such tool in this post the Pete & Pedro Nose Hair Trimmer review.  We will be putting this through the paces to find out if this is a worthwhile grooming device.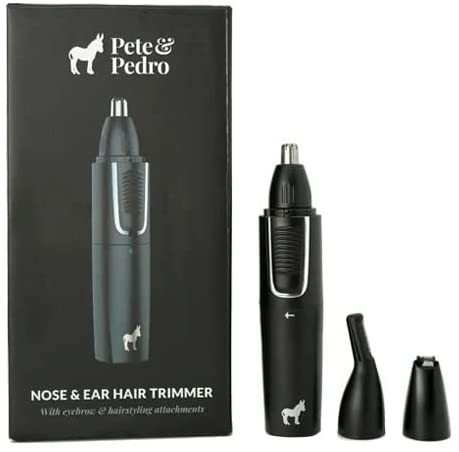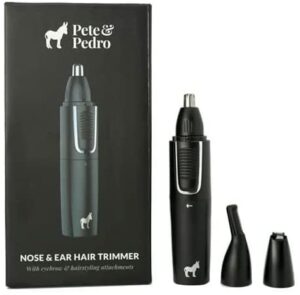 Full Disclosure
I am an affiliate of Pete & Pedro and will receive a small commission on clicked purchased links. This will in no way affect my determination of how well this device works in this review. I try to write a balanced review highlighting both positives and negatives and informing the reader through my experience on how well it works. I have also reached out to Pete & Pedro and asked for products to review and they sent me this Nose & Ear Trimmer. I often ask companies to send me products to review but oftentimes have to purchase products with my own money.
With all that said let's get to it…
What Is Pete & Pedro Nose & Ear Hair Trimmer?
To better understand this nose & ear trimmer we first must look at the owner and founder of Pete & Pedro and that is Aaron Marino or better known by his very popular YouTube channel Alpha M. His video deals with men's grooming issues and other men related topics (clothing & style, haircuts, fitness, advice, and more). Check him out, it is full of useful information! I have been a big fan and follower of Alpha M.'s for many years and I am excited to review his line of products too.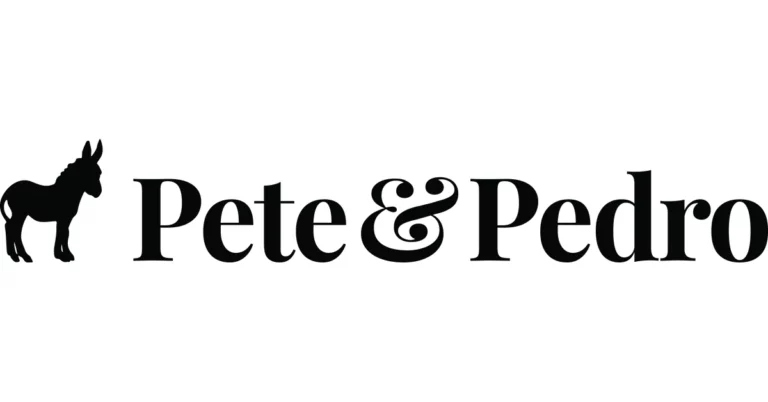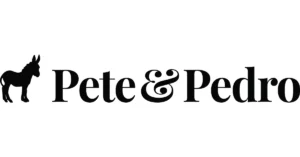 The Pete & Pedro Nose & Ear Trimmer is a rechargeable trimmer that comes with three easy-to-change blade attachments. The three blade attachments are the standard nose & ear hair trimmer, an eyebrow/mustache hair trimmer, and a facial and beard hair carve shaper. Basically, the three attachments are meant to taming hair in or around the facial area. This is able to charge by USB outlet and a charging cable is included.
The trimmer is also water resistant to make cleaning the different blades simple and fast.
What Is Everything That Is Included With Purchase?
1 – Pete & Pedro Nose & Ear Hair Trimmer
1 – Nose & Ear Trimming Attachment
1 – Eyebrow/Mushace Hair Shaper/Cutter
1 – Facial/Beard Hair Carve Shaper
1 – USB Cable
1 – Small Cleaning Brush
1 – Set of Instructions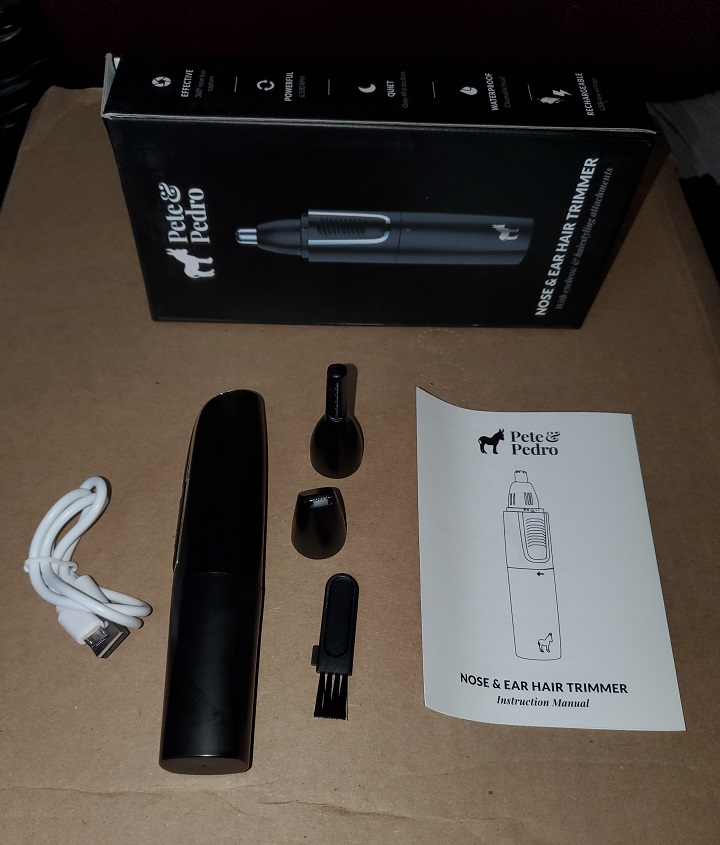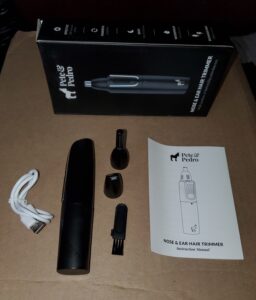 Specs
This trimmer measures with the protective cap on at 5 3/8″ inches long. This is the chunkiest handle I've seen on a similar device at its base it measures roughly 1 inch wide.
The trimming attachment blades are all made from stainless steel. The Nose & Ear attachment uses a standard rotary blade that is shrouded with slits that allow the hair to pass through and still be trimmed but still allow for protection against cutting skin.
The battery takes up to 4 hours to charge and provides a full 60 minutes when fully charged.
The Eyebrow Trimmer blade measures 5/8″ long.
The Facial Shaper blade measures 5/16″ wide.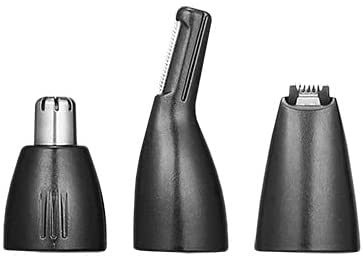 Where You Can Use This Trimmer
Nose
Ear
Eyebrows
Under the nose.
Around the mouth and lips.
Hairline
Sideburns
Nose Hair Annihilator? Does Well Does It Work? Worth Getting?
The quick short answer is it works fantastically.
I spent only less than five minutes using the trimmer on both my nose and ears and I was hairless in these areas afterward and happy. I know because I checked in the mirror. I experience absolutely no pulling of hairs when using this. This is mandatory if it pulls hairs it junk but thankfully it never did. The motor driving all this action was more than powerful enough to trim even my beard hair which is the thickest I have.
The Nose & Ear trimmer attachment is super quiet this is a good thing as you will be putting this right up next to your ear.
All Attachments Work Great!
The different attachment trimmers are super easy to change out and only take a couple of seconds to change out. None of them left me disappointed and they all performed great.
The "mini-clipper" which is also called the Facial/Beard Shaper is just simply amazing. I have never seen a clipper this small before and was highly skeptical of how effective it was going to be. This allows you to precisely detail and control your facial hair for clean and smooth lines as well as trim hair larger trimmers have a harder time effectively trimming. Despite its small size it still handles my thicker beard hair with no problem. I love using this attachment under my nose, around my mouth, and on my hairline (forehead) as I have some short hairs past my hairline that when trimmed look better. This tool is the ultimate precision detail trimming tool.
The Eyebrow/Mustache trimmer also worked great I used it on my eyebrows and it performed well.
The handle is one of the widest I have seen and at first, didn't care for it. But only after using it for one time did I really appreciate the wider handle and it fits good in my wide mitt.
I highly recommend this Pete & Pedro Nose & Ear Trimmer if you are looking for a good nose & ear trimmer as well as a very precise trimming tool.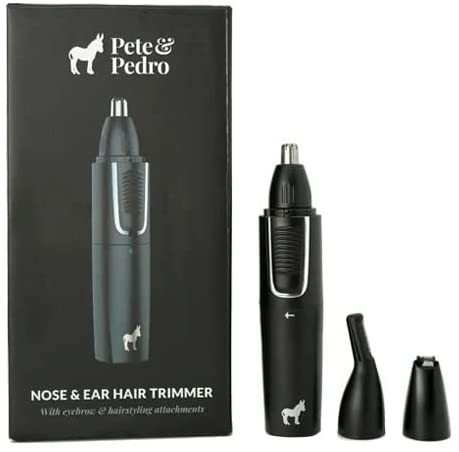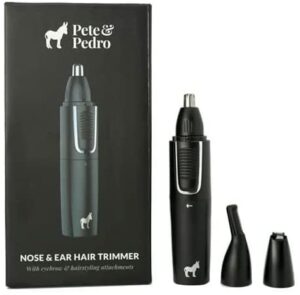 Pros & Cons
Pros
Zero pain! A no pain method of dealing with nose hair. You are using a trimmer that trims the hair and not pulling it out.
I experience zero pulling or tugging when I used this trimmer with any attachment.
Water resistant and can the trimmer heads can be washed under the sink to maintain and clean this unit.
Easy to change the three blade attachments that come with this trimmer. By simply turning the attachment counterclockwise and replacing it.
The handle or casing of this trimmer is wide (the widest I've seen on a similar device) and at first, I didn't like it. But I actually prefer its bulkiness.
The battery has a run time of 60 minutes on a full charge.
I always appreciate seeing a small cleaning brush included with any kind of trimmer. This really helps to clean and maintain any trimmer.
All trimming attachments work great! My favorite is the Shaper as it provides precise and detailed trimming.
Stainless steel is used for all three of the attachments.
Nose & Ear hair trimming attachment is super quiet.
Does quick work of trimming hair.
The handle fits well in my hand.
The charging port is protected by a shroud that you have to twist on and off so hair doesn't get stuck inside of it.
Overall a great company and great products.
Cons
In general trimming nose & ear hair instead of pulling the hair out will grow back much faster.
The charging cable is pretty short at about 20 inches, I wished it was just a tab bit longer but it works.
The protective cap only works when the Nose & Ear attachment is attached or when no blade attachment is attached. So you have to switch to the Nose & Ear attachment when storing to put on the protective cap.
Would have liked to see a small bag of some type included with purchase to keep all attachments and items together when not in use. I often see this with products and I use a regular-sized sandwich zip-lock bag to store everything together.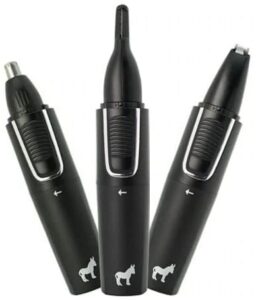 Tips & Questions
How Long Does It Take To Charge?
It takes about 4 hours to fully charge from a fully depleted battery.
How Long Is The Run Time?
When fully charged it has a run time of 1 hour.
How Does This Compare To Other Nose & Ear Hair Trimmers?
Well, this works just as well as other rotary blade nose & ear trimmers currently on the market but what sets this apart is the other two attachments that make precise trimming jobs so much easier than other bulking trimming heads. As these two other trimming attachments lend themselves to being better able to precisely trim harder to trim hairs that usually bigger trimmer blades have a harder time trimming with a ton more control and precision. Like for example under the nose, around the lips, or the eyebrows.
If You Want A Nose & Ear Hair Puller…Check These Out
Tweezy Nose & Ear Hair Remover
Tweezy is a small device that latches on to hair by a small spring and works wonderfully. A great simple little grooming tool.
Check out my full review here for more info – Tweezy Nose & Ear Hair Remover Review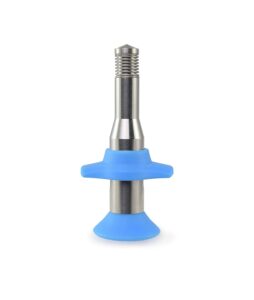 Good tweezers can be hard to find this one just simply rocks! Grabs every hair!!!
For more information on this check out my review here, Tweezerman Slant Tweezer Review.


Promo Code
Use the coupon code DNAGEL10 to save 10% at checkout for the Pete & Pedro Nose & Ear Hair Trimmer.
The Final Shave
This 3-in-1 trimmer takes an ordinary nose & ear trimmer to a new level. By giving more options and more precision than other strickly just nose & ear trimmers do not. It performs very well with all of the trimming attachments and never pulled or tugged any hair. I have great beard trimmers that work fantastically but sometimes you need a small tool for the job and the Pete & Pedro Nose & Ear Hair Trimmer fits the bill nicely.