La Da Da Trimming Your Balls
In today's post, Invjoy Pubic Hair Trimmer Review we will be looking at another groin hair trimmer and determining if it is a good device and worthy of purchasing. I will highlight both the negatives as well as the positives and give you my opinion on how well it works to give you the best-informed information to allow you to make the right purchase decision.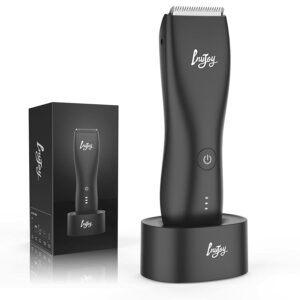 I recently purchased this trimmer off of Amazon in order to review it here on my website and have used this once since I purchased it.
Let's find out…
What Is The Invjoy Pubic Hair Trimmer?
This is a rechargeable trimmer that is designed to trim groin hair as well as body hair. Simple enough, right?
The Invjoy by the way I do not know how to properly pronounce the name or what it means. My best guess is "envy-joy". This comes pre-installed with a ceramic blade which is now the norm for groin hair trimmers and is good to see. This also comes with a docking station and charging cable that can be plugged into the docking station or just the trimmer itself. This also comes with two dual-sided guide combs and a cleaning brush.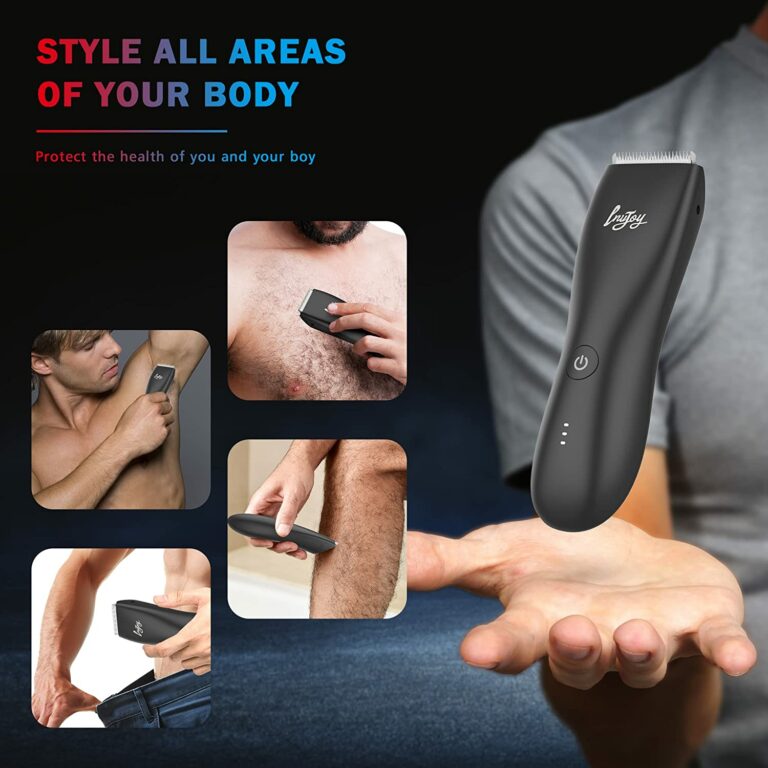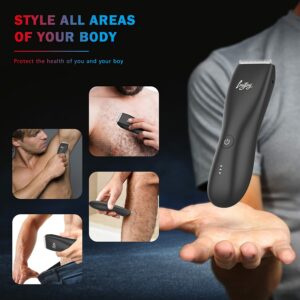 The power button is located on the front of the trimmer and below this is a set of three small white small lights that indicate the amount of charge on the battery.
What Is Everything That Is Included With Purchase?
1 – Invjoy Pubic Hair Rechargeable Trimmer
1 – Docking Station
1 – USB Charging Cable
2 – Dual-Sided Guide Combs (3mm-6mm, 9mm-12mm)
1 – Cleaning Brush
1 – Drawstring Cloth Bag
1 – Set Of Instructions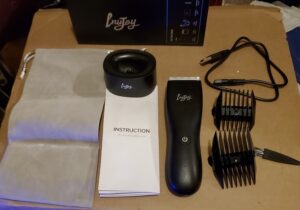 Specs Of the Invjoy
The length of this trimmer measures out at 6 1/4″ inches long which is the longest groin trimmer I have laid my hands on. The blade width is 1 1/2″ inches wide and is made out of ceramic with a backing of a stainless steel rake. The blade is replaceable and is easy to open and replace and clean.
This comes with a docking station and charging cable. Along with that, it comes with two dual-sided guide combs 1 -3mm & 6mm and 1 – 9mm & 12mm.
When fully charge it has a maximum run time of 60 minutes. It takes about 1.5 hours to fully charge.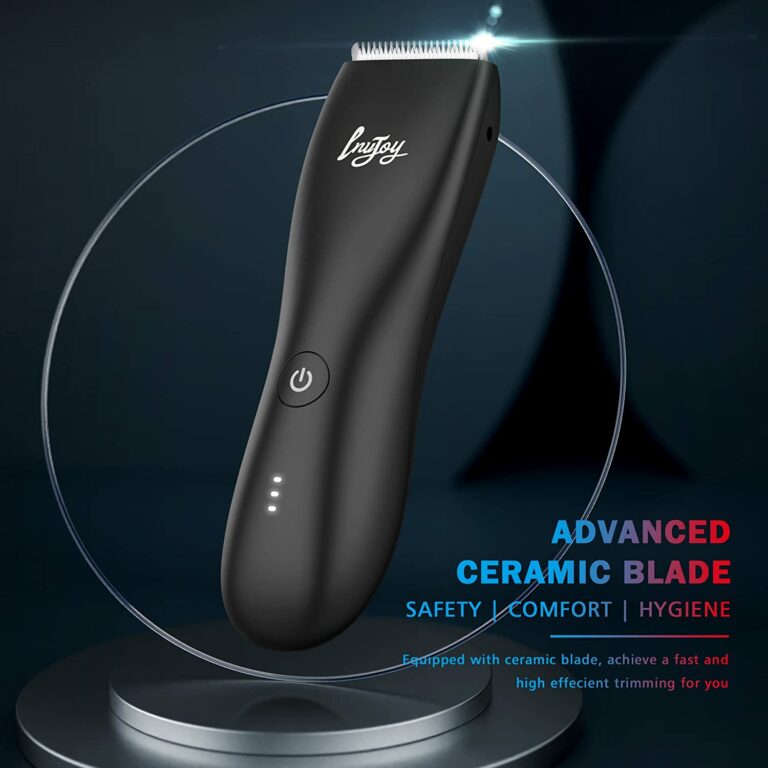 Is It Worth Getting? How Well Does It Work? Will It Nick You?
Picking up the Invjoy right away I love how it feels in my hand, as it is a pretty comfortable grip. Then turning it on you get a steady motor speed that is extremely quiet, the quietest I have ever heard. The motor runs at slower speeds than other ball trimmers I have used and reviewed. This feature can really put you at ease when heading down to your two boys' region. As I do not need a powerful lawn mower engine for trimming pubic hair and would prefer actually something that runs a little slower and steadier.
Okay, Invjoy you are starting to impress me a little. Let's see how you perform cutting pubes.
Does It Cut You?
The Invjoy does a good job of handling ball hair. Although the Invjoy Trimmer does not possess a powerful motor that runs at 7,000 rpm it has more than enough power to power through the thickest of groin hair. It does have enough power for trimming down there and other various body hair areas. Just not for cutting hair or beard trimming.
Now on to will it cut you, as this is the most important aspect of a dedicated ball trimmer. Don't you think? I know I do!
I did experience one nick but in all honesty, it was my own fault. I got careless. As ANY ball trimmer can potentially cut you down there if you don't use caution and proper technique. I got a little careless with my technique as I angled the trimmer almost 90 degrees to the skin and plunged cut. Bad move on my part. After all, it can be tricky trimming ball hair, you got sagging, weird skin folds, and different angles to be concerned about.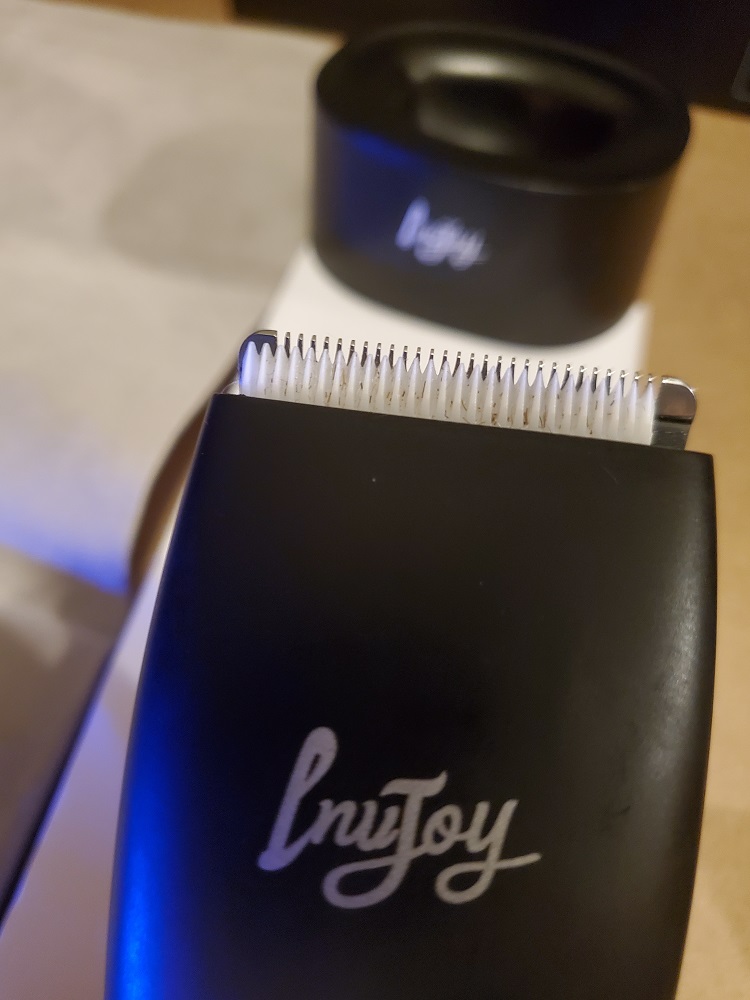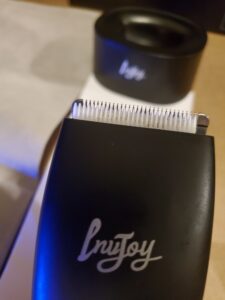 To prove to myself that it was my own fault I retrimmed my balls again with more attention to detail and technique and guess what? I didn't nick myself. I knew it was my own fault but still had to prove it to myself and retest the Invjoy anyways. Just remember to hold it roughly about 45 degrees to your skin. It can be tricky but it can be done.
I was impressed despite my carelessness. Just take your time and do a good job and the Invjoy will not cut you too.
Can You Use It On Your Beard?
No. You can do what you want but I have tried it on my beard and found it lacks enough power to adequately trim my beard hair to my liking. I would not recommend it to trim your beard hair as it runs at a slower speed than most beard trimmers. I had to go over an area more than three times to get the desired results I wanted. Basically, it lacks power for this task. Beard hair is thicker and courser than body hair and requires more power. This is the same as you would not want to take a dedicated beard trimmer or hair clippers to trim groin hair. It isn't designed for that purpose.
This is strictly a ball and body hair shaver and I would not suggest using it on your hair on your head or for beard trimming.
Would I Recommend This?
Yes, I would recommend the Invjoy as a dedicated ball trimmer and/or body hair trimmer. It is well suited and designed for this purpose for both men and women for the reasons explained above.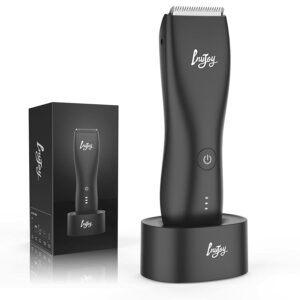 Pros & Cons
Pros
I love wider trimming blades, as I find they are more versatile and do a faster job than shorter blades, ie. the Manscaped Lawn Mower. They also, believe it or not, are less likely to nick or cut you. At least this is my experience.
Comes with a nice drawstring cloth bag for keeping all the parts together when not used and stored. I really appreciate this as oftentimes companies don't provide some sort of a bag even though they have a lot of small parts that are easily lost.
Super quiet when the motor is turned on probably the quietest I have ever heard.
Very Comfortable handle. Feels good in the hand.
There are three power indicator lights that let you know how much juice you have left in the battery.
The power button is located out of the way so no accidentally turning it on and off when using it.
A ceramic blade is used in the Invjoy. Most groin trimmers are all going to a ceramic blade for longer blade sharpness retention, and reduced risk of nicks, and this is good to see in this trimmer as well.
Waterproof and can be used in the shower. It has an IPX7 waterproof rating for those interested.
Comes nicely packaged in a quality box.
Love the charging dock as you could just leave it plugged into the wall and have it always ready to go.
The charging cable can be used both with the docking station or just simply plug it into the actual trimmer. I love options!
Easy to clean. As the blade easily pops back and allows easy cleaning with the supplied cleaning brush.
Replaceable blades are available to purchase if yours has become dull. Purchase replaceable blades here, Invjoy Replacement Blade.
Trimming body hair well. I never experience any nicking, pulled hairs, or missed hair when used for trimming body hair.
Guide combs are easy to put on and stay put.
Cons
Lacks power for beard trimming. I wanted more cutting power when I put on a guide comb and trimmed my beard. This is marketed as a pubic hair trimmer but I decided I want to try my beard hair first before going down below as some people will want to know if it is a multipurpose tool as well. I would say this would be best as a groin trimmer and body hair trimmer and that's it.
The handle is quite long despite being comfortable and makes it slightly unwieldy when using it.
Suggested to use this as a back shaver as well. I would strongly disagree as you are not able to adequately reach most of your back with this device unless you had a partner use it on you.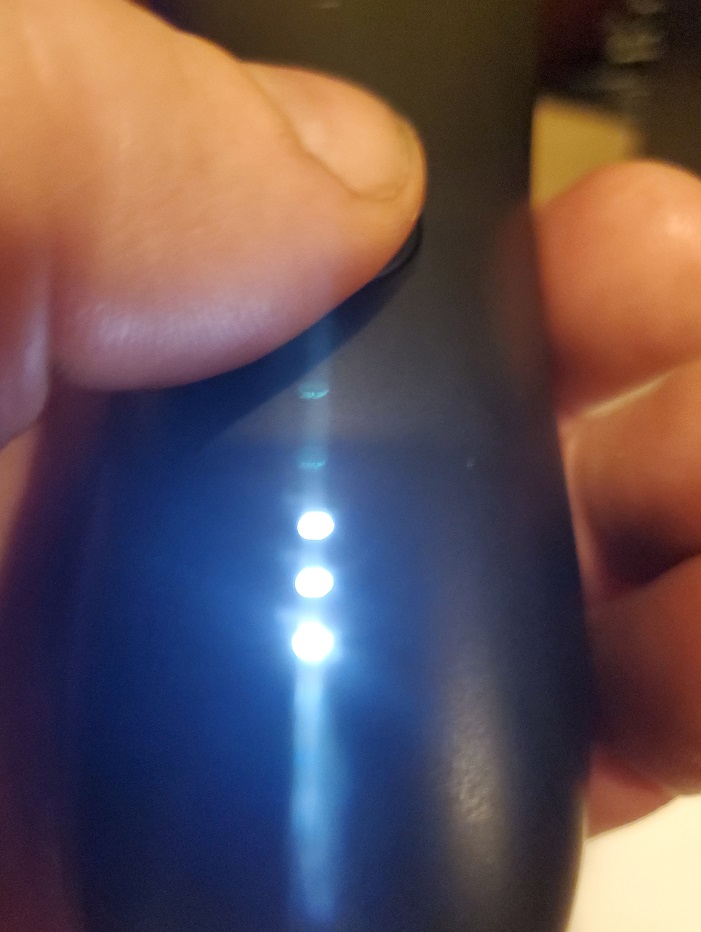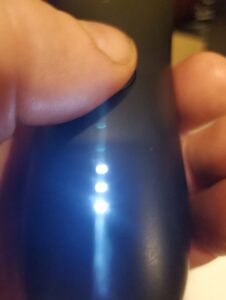 Tips On Using This Device
With any device, it is best to keep the blade clean. Thankfully they have supplied a small cleaning brush that can be used to clean the hair out of the blade. This should be done after every trimming session to ensure proper working conditions. Just put your thumb against the blade and push to the back of the trimmer and it easily pops open. There you will see hair and just simply brush out the hair inside. Follow the instructions for proper cleaning and storage found in the instruction pamphlet.
First Time?
If it is your first time trimming your balls I would suggest you attach one of the guide combs. Maybe the 3mm and start from there, as using a guide comb will bring the blade higher away from the skin and make nicking yourself far less likely. Then you can decide if you want to choose to cut it a little shorter take off the guide comb and try just the trimmer and no guide combs.
Can Women Use This Device Too?
Yes, women can use this for trimming groin hair along with body hair too. This is marketed to men but women can and do use this to trim unwanted hair too.
How Does This Compare To Other Groin Trimmers?
This is definitely towards the top of the list of best groin trimmers I have reviewed. It beats many more popular name ball trimmers in my opinion for example the Manscaped 4.0 Lawn Mower. Invjoy blows that out of the water.
The Final Shave
A lesser unknown name in the world of ball trimmers but don't let that scare you. This is a quality device that is specifically designed and performs remarkably well at its job of trimming ball hair and body hair. That's it. If you are looking for a do-it-all trimmer…look elsewhere.
This also made me rethink the importance of motor speed when trimming your balls and all the marketing hype associated with that. As the Invjoy operates at a slower speed but still performs very well.
A great ball trimmer!