An Affordable Multi-Purpose Trimmer
We are going to be looking at the Gillette Styler 3-In-1 Trimmer today and determining how well this jack-of-all-trades performs and to see if it is worthy of purchasing. As this is a trimmer and also allows any Gillette razor to be attached to as well.
I ordered this on Amazon in order to properly review this.
What Is The Gillette Styler 3-In-1 Trimmer?
This is a multipurpose grooming tool that can trim any body hair and facial hair and also shave, as there is a razor attachment that hooks on the end of the trimmer. This comes with 3 guide combs or just use the trimmer barebones.
What Is Everything That Is Included With Purchase?
1 – Gillette Styler Trimmer
1 – ProGlide Blade Refill
3 – Comb Attachments (2mm, 4mm, and 6mm)
1 – AA Battery
1 – Instruction Pamphlet
Specs
The trimmer with no attachments applied measures 5 3/16″ inches long and the trimmer head measures 7/8″ inches wide. This comes preinstalled with a AA battery for power. There are 3 guide combs and their sizes are 2mm, 4mm, and 6mm.
With the shaving head attached it measures 6 3/4″ inches long and has a shaving width of a standard blade width with 5 razors.
Where Can You Use The Gillette Styler On Your Body?
This can be used almost everywhere. It is not designed to give haircuts but everywhere else is fair game.
Beard
Mustache
Neck
Arm
Armpits
Chest
Stomach
Groin
Legs
Feet
Performance – How Well Does It Work? Is It Worth Buying?
There are a lot of questions I have about supporting and recommending this trimmer/shaver for performance. As Gillette Styler tries to do everything and it does do everything it claims…it just has the run-of-mill performance.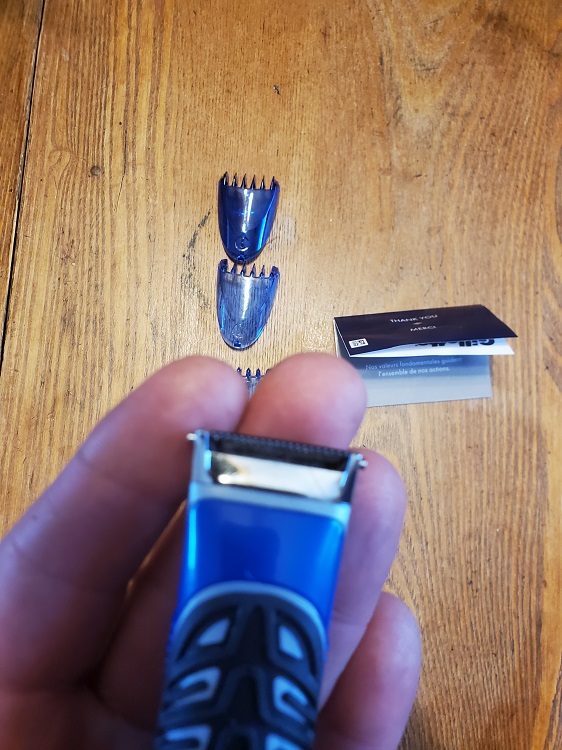 Beard
Would I reach for this to trim my whole beard?
No. I have better tools that do a better job and faster. But this would be better used to be an edger or to the beard groomed well. It is good for detailing the beard though as the small head can easily get under the nose or around the mouth with no problem.
Groin
Would I reach for this to trim groin hair?
Sure it works well for this. But is it the best groin trimmer I have used? No! The small trimming head makes trimming hair nice as it gets into tight spots and is easily maneuverable. I didn't experience 1 nick when using it down there. I also experience no pulling or tugging.
While it does perform every grooming task that it is designed for it just lacks that speed and blade width. Overall I would say this is okay.
Shaver
I personally hate multi-blade razors. I've used these for decades and I swear I will never go back to using one EVER!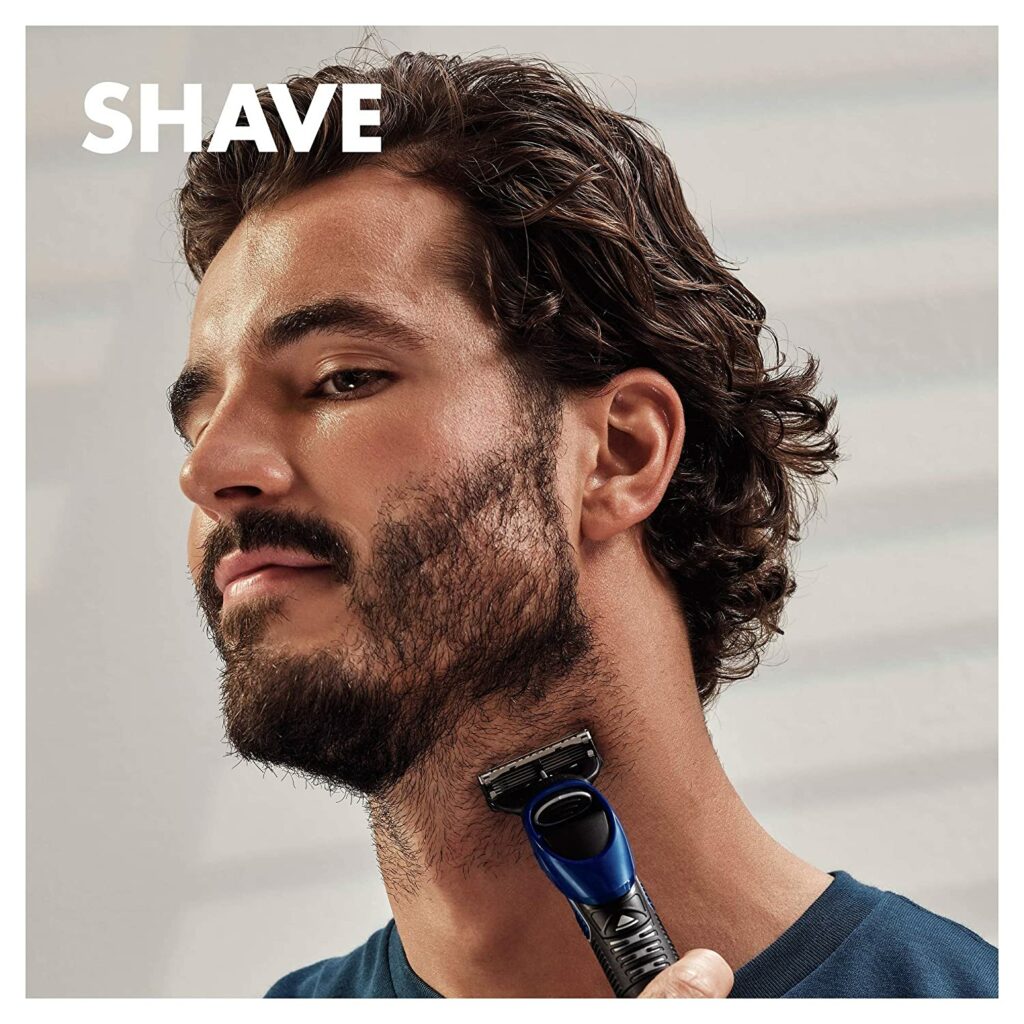 Multiblade razors leave my skin irritated, mostly because of razor bumps on my neck. I have solved this problem in two ways using a micro trimmer (Philips Norelco Oneblade) and using a single razor blade to shave my face. See Other Trimmers Worthy Of Looking At (below) for more details.
If you are a fan of these types of blades I love the thickness of the handle and gives a good feel when shaving.
Overall
If you are looking for a cheaper all-in-one body hair trimmer then this will do the job but don't expect the top of the line result. Also, for some tasks expect the time to complete them to take longer. It takes almost twice the amount of time a wider trimmer would.
There are better tools available you will have to figure out if you want to slightly pay more for a better trimmer.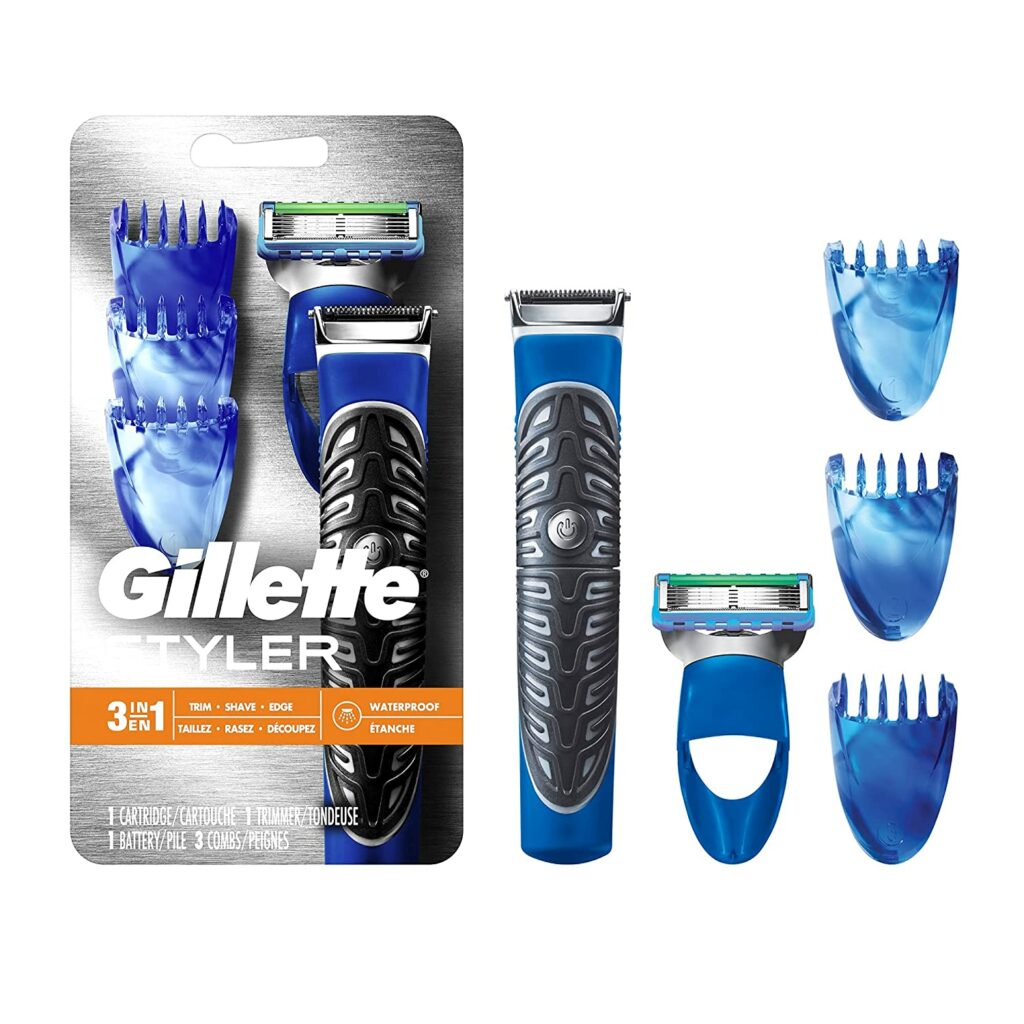 Pros & Cons
Pros
It will trim your beard, balls, and body hair. The trimming head works for all these areas.
With such a small trimming head it is easier to detail areas like your beard and private areas.
Comes with a working battery already installed in the device. So it is ready right out of the blister pack.
Waterproof design so you can use it in the shower or rinse it under the sink.
This will work with any Gillette 5-blade razor refill.
I didn't experience any nicks on my balls when I use this but I was careful to attack the hair at the right angle to minimize cuts and nicks.
The shaving head and guide combs are easy to attach to the trimmer itself.
When using it to trim the hair in the groin area the small head really gives you a lot of control and precision when using it.
It is about the middle of the road as far as noise is concerned.
Very slim design.
The handle is comfortable to hold and it has many counters to help hold it steady.
The razor is nice and sharp. If you are a fan of 5-bladed razors and I for one will not be using it on my face, I am not a fan of the 5-blade razors as it causes razor bumps. I got tired of this and switched to a quality single razor blade. I really love these two razors the OneBlade Hybrid & the Pete & Pedro Safety Razor. A single blade is where it is at for me and I never have skin irritations.
For shaving I really like the extra wide handle, this gives you a more secure grip and something to hold on to.
Cons
Small trimming head. Its small trimmer head makes just about any grooming job take longer as the width is pretty darn narrow.
The trimming head works but it just takes slightly longer for two reasons, the small trimmer head and I think the design of the trimmer head.
It needs a little bag to keep all the parts together. It says it has an organizer but it's just the plastic it came in and in my eyes not good enough. I will use a ziplock bag to keep everything secured and from getting lost. I guess the organizer was discontinued in 2017. Amazon should remove this.
No warranty on this product.
Other Trimmers Worthy Of Looking At
I will list some of my favorite trimmers below with brief explanations if you want a better product.
Philips Norelco OneBlade Face & Body Trimmer – This has double-sided micro trimmer blades that trim the hair so close it is almost like shaving. I'm not kidding, it's that good. It trims hair both pushing and pulling. It is powerful and has a bunch of different guide combs and is made for facial, groin, and body hair. I immediately fell in love with this trimmer because it's fast and reliable. One of the best grooming tools I own.
You can read more about the OneBlade here, Philips Norelco OneBlade Face & Body Review.
Beard Razors
Switching to a single razor blade to shave my face is another game-changer. No skin irritations at all and I am prone to razor bumps on my neck. One of my favorite razors I use is the OneBlade Hybrid Razor. This has a lifetimes with an "s" guarantee on the razor. That is how long this company stands behind its razors. While they are on the pricey side they are worth it.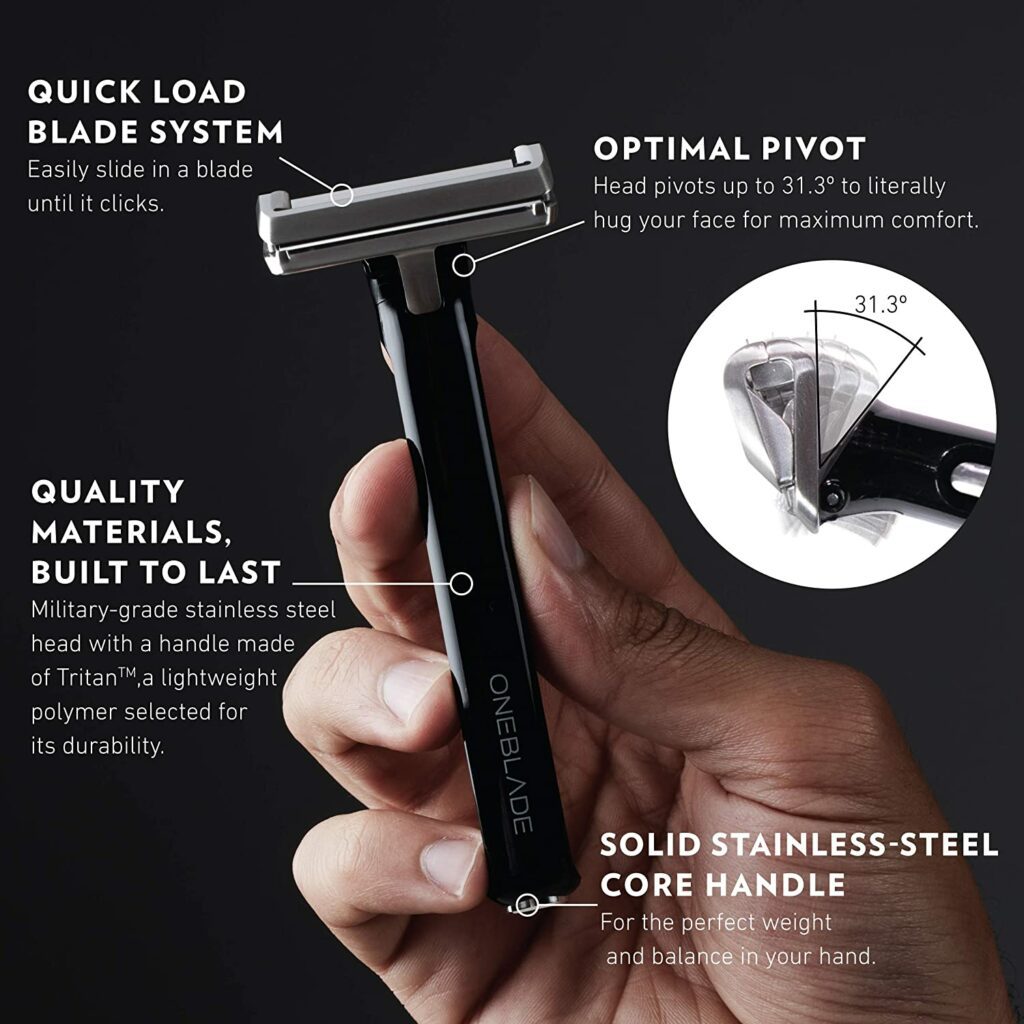 Check out my full review here if you want to make the switch, OneBlade Hybrid Razor Review.
Tips & Questions
Go Against The Grain For Better Trimmer Results.
When using the trimmer with or without the guide comb it is best to go against the grain when trimming hair.
Can You Have The Motor Running When Shaving?
Yes, you can shave with the motor running or with the motor turned off. The option is up to you. See if you like it with it on.
Do You Have To Take Off The Trimming Head To Apply The Razor?
No. Leave the trimming head on and apply the razor as shown in the instruction pamphlet.
Can You Use It In The Shower?
Yes. This device is marketed as waterproof so you can use it in the shower if that is your preferred method. Also, feel free to rinse it under the sink to clean the trimming head or razor.
Can You Use It On Pubic Hair?
Yes. It can be used with no guide combs attached or with guide combs to trim pubic hair. It does a decent job of handling the area.
How Long Does The Battery Last?
This uses a AA battery and on average, the battery should last approximately 1 to 1.5 months. Depending on the user, of course.
Can You Use This To Cut Hair (haircut)?
No. It is not designed to give haircuts.
How Do You Know The Battery Needs Replacing?
The trimmer will start to slow down or even stop working. Now is a good time to replace the battery.
The Final Shave
It's a decent trimmer for the money but I know of better products and wouldn't reach for this Gillette Styler 3-In-1 Trimmer/Shaver. Maybe I am becoming a grooming snob but after years of reviewing products, I think it is inevitable. Nothing wowed me about its performance but it works.
I like the idea of having this around for edging or detail work for my face as it works great for that.
It's an okay product but not mind-blowing by any means.