Another micro teeth trimmer has come up for review here at Back Shaver For Men website. It seems there are a lot of new companies jumping on this newer market that mainly focuses on beard trimming but also can be used elsewhere on the body as well. So in this post, Gaeruo Beard Trimmer Review I will be putting this trimmer to the test and see how it performs and if it is worth your hard-earned money and worth owning.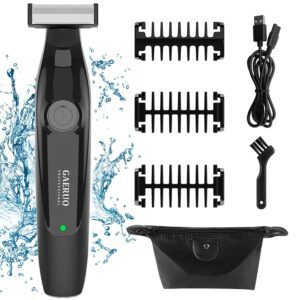 What Is The Gaeruo?
The Gaeruo Beard Trimmer IPX7 is a waterproof rechargeable beard and body hair trimmer. It comes with guide combs to allow you to alter the length of the hair you are trimming. The micro-teeth slim head design allows for the blade to get really close to the skin as well as edging and trimming around the mouth and nose easily.
What Is All Included?
1 – Gaeruo Trimmer
3 – Guide Combs (1mm, 3mm, and 5mm)
1 – USB Cable
1 – Cleaning Brush
1 – Small Dopp Kit
1 – Set of Instructions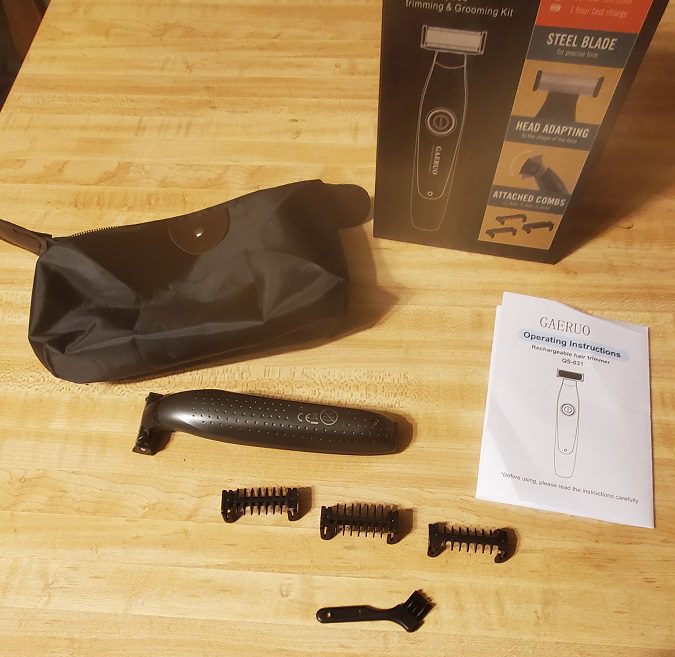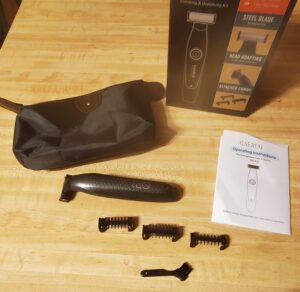 Specs On The Gaeruo Trimmer
This Gaeruo trimmer measures are exactly 6 inches long. The widest the shaving head measures is 1 7/16″ inches wide and the actual blade measures 1 1/4″ inches wide. The blade material looks to be stainless steel.
This comes with a rechargeable lithium-ion battery that takes one hour to full charge and at full charge will last for 90 minutes.
This is also waterproof and can be rinsed under the sink to help clean the blade.
The guide combs that come with this trimmer are 1mm, 3mm, and 5mm.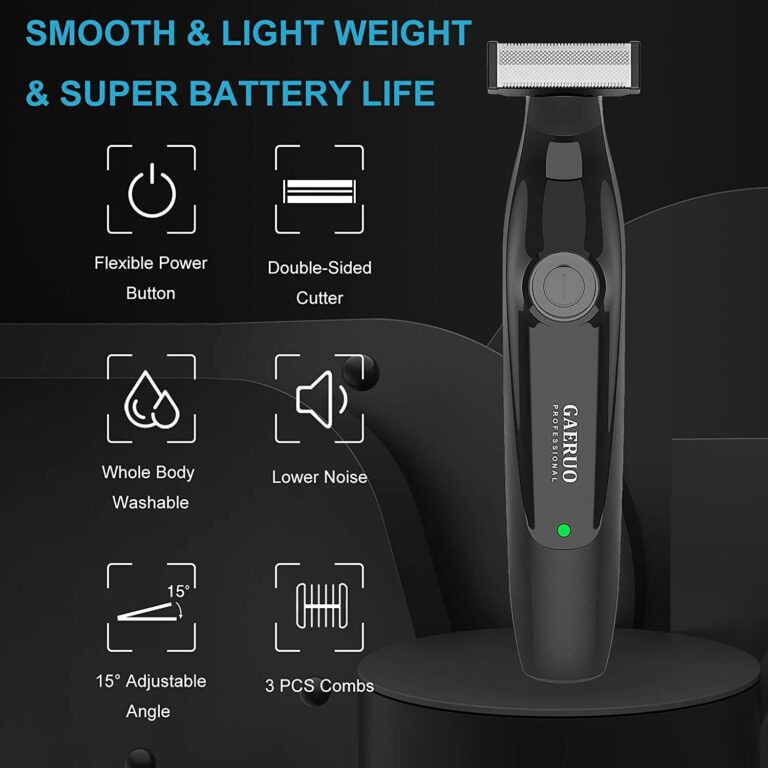 Where Can You Use This On Your Body?
This can be used just about anywhere with a few exceptions. This can be used on the groin area but I would highly advise using one of the guide combs that are provided. I will list the areas of the body below where you could potentially use it.
Beard
Face
Eyebrows
Arms
Legs
Groin Area with guide comb attached.
Feet
Underarms
Neck
Chest
Back (if you have a person do it for you)
Stomach
How Well Does It Work?
I was extremely disappointed when I first turn this trimmer on.
Why is that? 
Well, it just sounds weak and low power. Either that or the motor is of low quality. After spending years using and reviewing various trimmers you can really get a sense of how well a product works from the sound it makes alone. Once you have a powerful well-performing trimmer it is hard to go backwards, with a less powerful trimmer.
Aside from the initial sound I heard, let's talk about how it performs. I started off with the largest guide comb attached and started going to town on my overgrown beard. It will trim an overgrown beard but it is not the best trimmer I have used. I would say it performs in the lower end of the middle of the pack from other comparable trimmers I have used. It actually pulled my hair once with a guide comb attached and trimmed my beard. This made me dislike this trimmer even more and not off to a good start.
Without a guide comb attached, the amount of stubble it leaves on your face is about a two to three-day growth from a clean shaving state. It is close but by no means the closest. It does perform nicely around the mouth and under the nose, you know the hard-to-get areas on your face with a bigger bulker trimmer. This is a real selling point for these types of beard trimmers.
This is a lower quality trimmer and it does its job. It's just a cheaper version that performs notches below the best in the marketplace. Nothing to write home about…that is for sure.
I do like its fast charging ability, which charges in one hour and gives you a runtime of 90 minutes. This is pretty darn good. I also love the mini Dopp kit they provide. Many companies forgo thinking of offering some way to store the smaller part and keep everything neat a tidy and prevent misplacing them as well.
Pros & Cons
Pros
The guide combs are numbered on the sides so you can tell what number you are using.
This is waterproof.
Should be easy to clean with the ability to run under the water in the sink and with the cleaning brush (supplied).
Has a dual-sided blade at the top and bottom that can be used both pull as well as pushing when trimming.
Guide combs attach easily enough.
Came charged right out of the box. Love this.
A one-hour charge results in a 90 minute run time. Not bad, not bad at all.
Uses a lithium battery as this is the current go-to battery nowadays.
Never cut or nicked me.
It is a quiet trimmer.
Comes with a small Dopp kit that makes it really handy to keep all the parts together and from getting lost.
The blade pivots to allow better contact with the skin on areas of transitions.
Cons
Lacks power! Doesn't have a lot of power compared to other similar devices. A slower motor for sure.
No protective guard is included with the device. These kinds of micro blades are easily susceptible to damage from either banging on the sink to dropping them. Once the teeth are damaged the head should be replaced.
Doesn't provide the closest trim. I went over with the Philips OneBlade after I trimmed my beard and the OneBlade took the hair even further down.
Just took me longer to trim my beard as compared to similar devices.
Grabbed my beard hair once when using a guide comb. I said a bad word and it pissed me off! Not a good way to get acquainted with a new trimmer.
Claims to be "The Best Electric Trimmer Ever"…no…no, you are not and you are not even close.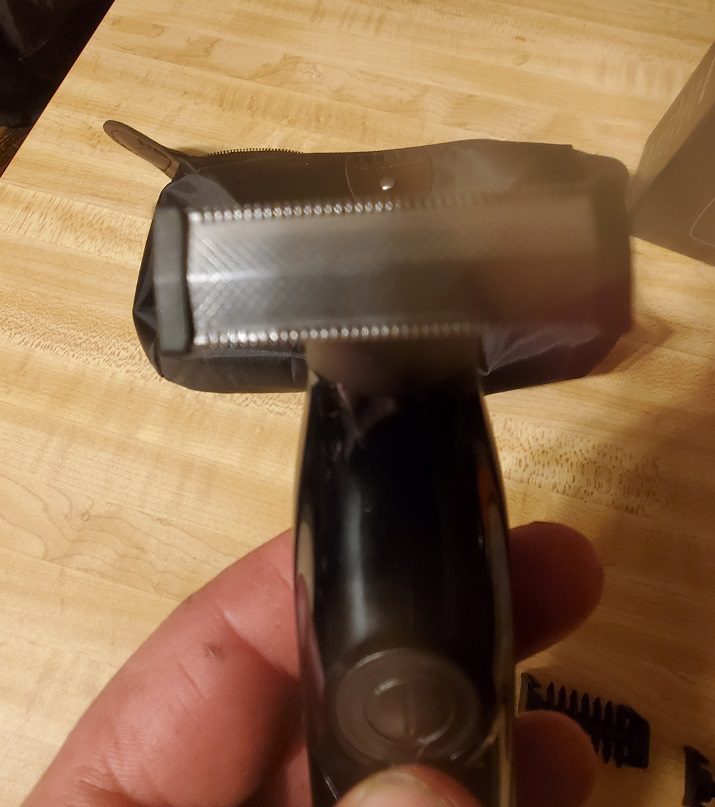 Tips On Using The Gaeruo Trimmer
It is always a good piece of advice to look over the instructions prior to using them. Although tedious it will usually help you with properly operating the trimmer as well as develop good practices on keeping your battery in optimal health and long life.
Rinsing the blade under the sink when you are done trimming and using the little cleaning brush will ensure you have a proper working tool.
If you are trying to get the right stubble length on your beard it is best to start with the biggest guide comb (#5 guide comb) and work down until you get the right length you want.
A Better Device Than The Gaeruo
A better trimmer and a better trimming experience are guaranteed with the Philips OneBlade. This is the first micro-blade trimmer I first reviewed and it kind of messed it all up for all of the other similar trimmers I have reviewed since. They just don't match up to the level of performance of the OneBlade. A must-have for your grooming toolkit. Just better all-around.
Check out my full in-depth review here to find out why this thing kicks ass, Philips Norelco OneBlade Face & Body Review.
I highly recommend this trimmer!!!
The Final Shave
Right away once I turned this on and heard the motor I was already unimpressed. It sounded weak and feeble. Using it didn't impress me much either. It took longer to trim my beard than using a better similar device.
I have used a better product and I can't help to compare it to that with that being said I am feeling blah about the Gaeruo Beard Trimmer. Yes, it will trim your beard hair, and more but I would suggest getting a better product with a better blade, better motor, and a better experience.
If you want a mediocre product get this otherwise keep shopping…or better yet get the OneBlade, a much better trimmer.