Nose Hair & Ear Hair Sucks
To be properly groomed, most men need to take care of their hair growing out of all places, for example, their noses and their ears. Hair growing out of these openings can be quite unsightly and offputting, to say the least. So in order to conform to society's norms and to have complete confidence, we must find an adequate method of getting rid of these hairs. Enter this Brio Nose & Ear Trimmer review.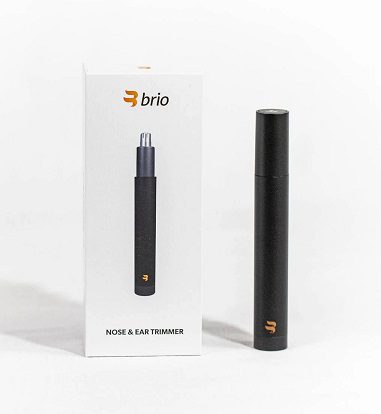 I recently purchased this trimmer off of Brio's website in order to review this and help other men determine if this is worthy of purchasing.
In full disclosure, I am an affiliate of Brio and will make a small commission of click purchases. This money helps support my website and bring quality content. I only provide honest reviews that highlight the positives as well as the negatives. This doesn't sway how my review is written.
So let's see if this thing is a good trimmer.
What Is The Brio Nose & Ear Trimmer?
Brio is a company I first learned about when searching for an all-purpose trimmer that can be used just about everywhere (hair on the head, body hair, groin, beard). I was so thoroughly impressed with their Beadscape Beard and Body Trimmer it made it to the top of my list here on my website but also what I reach for when I need to maintain my hygiene.
You can check out my full in-depth review here, Brio Beardscape Beard Hair Trimmer Review.
Brio has a stellar reputation in the grooming world and rightly so too. So it was a no-brainer to try out their other products as well and this is where the Nose & Ear Trimmer comes in.
Specs
This is a super slim design with a small rotary trimmer that can easily be put into the small opening of the nose and ears in order to trim hair that grows around and out of these orifices. This comes with a cap that goes on top to help protect it when you are not using it and storing it.
This measures a total of 5 3/8″ inches long with the cap on. There is no battery included with the purchase so you have to supply the battery yourself. There is a button located on the bottom of the trimmer that allows you to easily turn it on and off. The battery is inserted into the bottom as well as the bottom turns to allow for installing the battery.
The trimmer head looks to be made out of stainless steel and should be easy to clean. This is your standard-designed rotary trimmer for trimming the nose and ears. This type of trimmer really protects the delicate skin around and inside the nose and ears as the trimming blade is located inside and is sheathed with an external shroud that has slits for the hair to pass through in order to be trimmed.
What Comes Included?
1 – Brio Nose & Ear Trimmer
1 – Set of instructions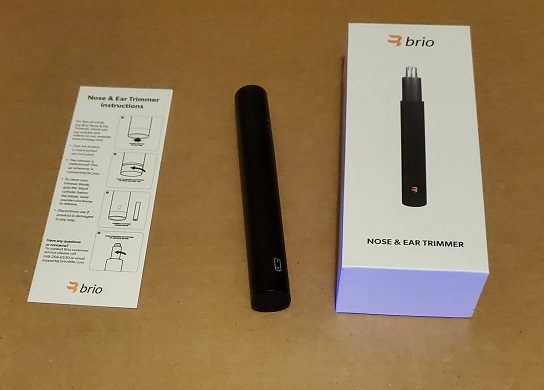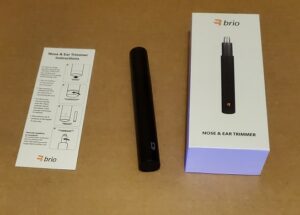 How Well Does It Work?
As far as performance goes if you have ever used one of these types of trimmers, with the rotary head, it works the same as other devices I have used. Nothing special here. I mean they all work roughly the same. Don't they? These work great at protecting your skin from cutting it but that protection comes with a price. Well, what is the price I speak of? This type of design (all of the similar type devices not just this one) for trimming hair misses hair and you have to spend more time adjusting your angle of attack in order to get every single last hair. It will cut hair, you just got to get the hair past the guards for those stray buggers.
This is me nit-picking but it does trim hair very nicely but with this kind of trimmer it does miss a few hairs. It will get the majority of the hair but it always seems to miss a few. This can be alleviated by spending more time at it varying your angle and being thorough. A quick mirror check or taking pictures on your phone is a great way to check as well (see Tips below).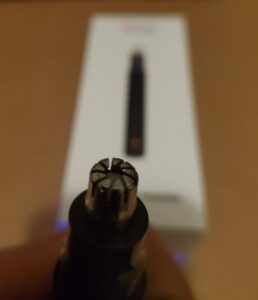 Wheat From The Chaff
Where I think the Brio shines above other nose & ear hair trimmers are the following and it does sparkle when you consider the alternatives.
A very quiet motor which I appreciate as I am going to stick this right into my ear and don't want something making a hell of a rachet. This is greatly appreciated!
As far as a nose and hair trimmer it is as good as any other I have tried. I really love the sleekness of it and simplistic of it as well. As this seems pretty darn sturdy with its metal outer casing. This is a great asset as it should hold up for many years. No cheap outer plastic here which could potentially break if dropped. I have reviewed other ear & nose trimmers that have easily broken over the years courtesy of cheap parts and dropping them.
The power button is out of the way too this minor detail is important as nothing drives me insane than accidentally turning off the power when using a device. As stated above the power button is on the bottom of the device.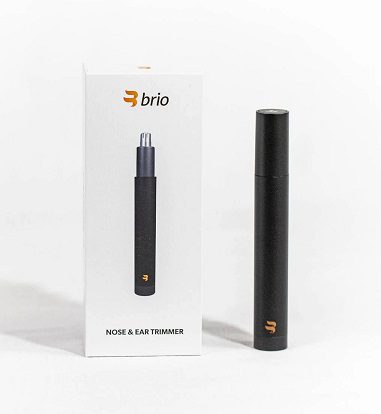 How Do You Know It Is Working?
The simplest way of telling it is working and trimming hair is by listening to the noise it makes. You will a different noise when it is cutting hair from the normal noise of just turning it on and it not cutting hair. There is no mistaking when you are actually trimming hair it will be super obvious.
Pros & Cons
Pros
A very slim and compact design that doesn't take up a lot of space. One of the smallest I have reviewed.
Being that this is so much slimmer it is great for putting into a toiletry bag or Dopp kit for travel or storage.
Using a trimmer is a superfast way of knocking hair down.
Completely safe! Never experience any pulling or cutting when I have used this device.
Decently priced.
Trimmer your nose hairs are a lot safer than using scissors or pulling hairs out. You could potentially cut yourself or develop a small infection from pulling the root out.
Very well packaged and designed.
Comes with a small-cap that helps to protect the trimming head when not in use.
Placement of the power button is strategically placed on the bottom to avoid accidentally turning it off or on when you are using it.
A proven design trimmer head that has been around for many years that really protects from cutting your skin.
Very quiet and more than powerful enough to mow through hair.
Metal outer casing should make this last a very long time. No cheap plastic here!!!
Cons
With any trimmer you are using on hair, you are just trimming it. While a trimmer for the nose and ears is super convenient you are only trimming it and it will grow back. You must stay on top with a regular routine to be hair-free in these areas. Where other methods of removing hair (waxing and using tweezers) pull out the hair by the root leaving you hairless for longer.
No battery included with purchase.
Not much information is presented on Brio's page about this trimmer, would like to see some more information.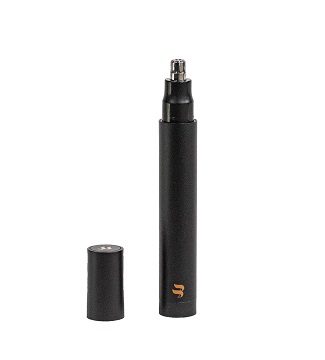 Some Tips On Using This Trimmer
Nose and ear hair grow in the most awkward areas and you must hit these areas to be rid of the unsightly nature of these types of hair. You don't want to miss any areas. So the best piece of advice when using any nose & ear trimmer is to be methodical in going over every possible angle and area. Places you wouldn't even suspect to grow hair on your ears and nose go over these areas too. Take your time and be thorough.
Develop a set schedule and routine to stay on this hairy nuisance.
Use Your Phone
Since we can normally see in our nose or ears easily it might be a good idea to take pictures of your nose and ears at different angles and use different light sources before and after to see what you are dealing with.
This is a great way to see check the results.
Then you can quickly delete these pictures once you are done so you don't accidentally show anybody else and avoid a potentially awkward situation.
The Final Shave
I will for sure be throwing this in my Dopp kit and I truly believe this is made to last, unlike some cheaper models you can find for roughly around the same price point.
I know this is the safest way to trim nose and ear hair there is by using a rotary type trimming blade. It won't cut you and it does a decent enough job of controlling hair in your ears & nose.
For these reasons, I would highly recommend the Brio Nose & Ear Trimmer.