Most men have or will have some nose hair and/or ear hair to deal with. There are many options out there for handling these problematic hairs. The Tweezy Nose & Ear Hair Remover is one such device for addressing this unsightly problem. So in this Tweezy Nose & Ear Hair Remover review, I will be casting light on this product to highlight the positives and negatives as well as give my personal opinion after using this hair remover.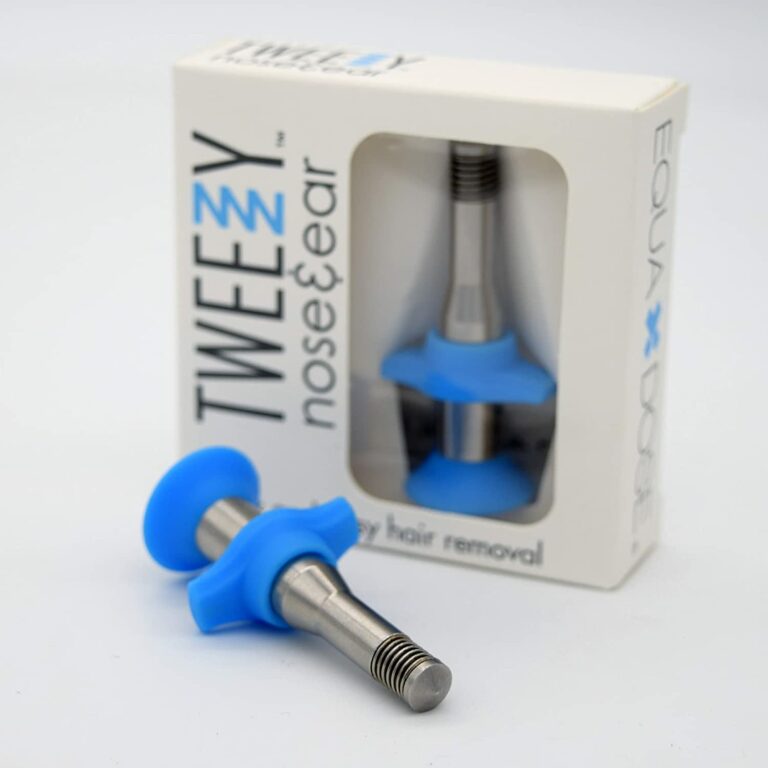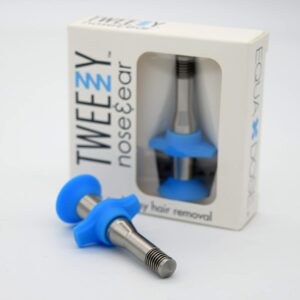 Let's get plucking…
What is The Tweezy Nose & Ear Hair Remover
This device was once called PLUCK but change its name to Tweezy. Which I believe is made from two words tweezer and easy. This grooming device is made by Equadose. This is quite a simple device that is well designed and machined out of stainless steel and plastic. There is a spring at the tip of this device which when squeezed traps any hair that has gotten between the spring. Then by swiftly pulling the Tweezy, you have pulled out the unwanted hair.
You can tell how well it works by the amount of pain that is followed shortly afterward and by looking at the hairs stuck between the spring.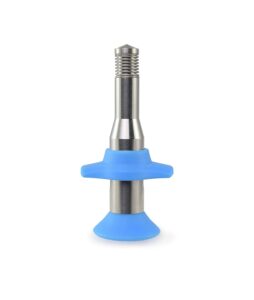 I Predict Pain!!!
Everything That Comes With Purchase
1 – Tweezy Nose & Ear Hair Remover
1 – Set of Instructions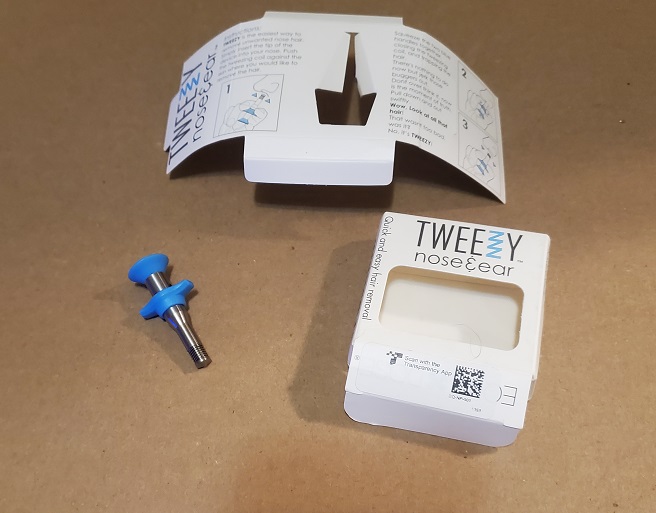 How Well Does It Work?
It does work and it does work well if you don't mind plucking painful nose hair. For me, it is an old grooming habit but I often go between plucking and also using a dedicated nose and ear hair trimmer. If I am pressed for time I grab a trimmer if I have plenty of time I might use some type of plucking device (wax, tweezers, or Tweezy). I have reviewed and used many different methods of dealing with this type of hair problem.
It grabs hair that I thought wasn't there because I had recently used an Ear & Nose hair trimmer. Yes, it works well but it takes time to get the job done thoroughly. You got to think you have to take care of both nostrils and possibly both ears as well, depending on your personal situation. It takes multiple times of inserting this into your nose to grab all the hair. It doesn't take just one time and you are done.
But the good part of using this type of device which pulls the whole hair out from the root to the tip is it takes a lot longer to grow back. But this will take some time as well as some pain as well. There are always trade-offs, aren't there. You just have to balance the trade-offs in your own head and then accept your decision and go with it.
Quality Material & Design
I work occasionally in a stainless steel machine shop for my regular full-time job. So, I can tell this is well made with quality parts and should last a long time. I can easily see these Tweezy lasting years from normal usage. A solid design as well. Hats off to Tweezy.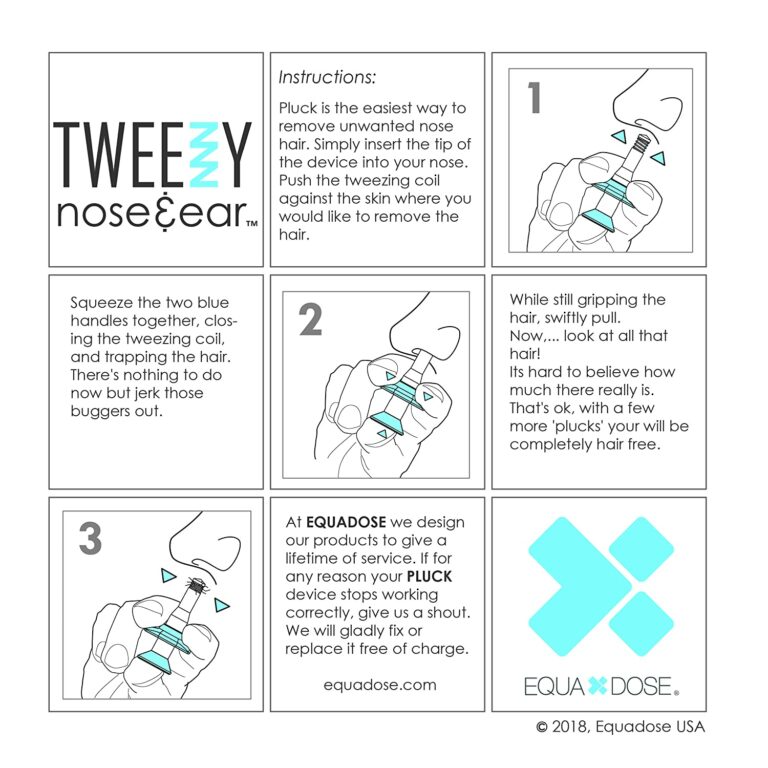 Pros & Cons
Pros
Stainless steel design. Should last a long time.
Removes hair from the root which means it takes longer to grow back. Unlike trimming hair which grows back quicker.
Simple and easy device to use.
Well designed and engineered.
Lifetime service to either fix or replace your Tweezy free of charge.
Easy to clean.
A small device that can be put anywhere.
Great at finding stray hairs you have missed.
Cons
You have to use this many times to get all the hairs out. It is not a one-and-done device. You have to keep going in and yanking hair out.
Takes longer to remove hair than some of the other methods of removing ear & nose hair.
It hurts!!! You are pulling your nose hair out and this can be quite painful. Especially if you are not used to it. If you are not used to it maybe it is not that big of a deal.
You have to be methodical and go over areas many times to make sure you have all the hair are gone.
I bought this off of Amazon and it says it is "painless" "Tweezy is virtually painless" BULLSHIT! Don't lie to consumers it hurts.
Tips On Using This
Level of Pain
The more you pull the unwanted hair out the less it hurts, especially with nose hair. The nose hairs can be quite painful but rest assured that eventually with time the pain will decrease and only become slightly discomforting.
Keeping Your Tweezy Clean
Some little effort must be applied after using this to keep it clean and germ-free. To possibly avoid getting a small infection inside your nose or elsewhere. I just run it under warm water with a little soap or use some rubbing alcohol on the tip end to keep it clean.
Two Methods Of Dealing With Nose & Ear Methods
I might suggest you do like I do and have at least two methods of dealing with nose and ear hair. Just simply have two devices one for plucking and one for trimming. This way if you have time you could use a plucking device and if you are short on time use a trimming device. This is what I do and it works for me and it might work for you too.
Other Methods & Devices To Remove Nose & Ear Hair
I will post some of my reviews of products for dealing with ear & nose hair below.
Kenashii Nose Hair Removal Kit Review – This is a Japanese-made product that uses heated wax and applicators to pull all the nose hair out of the nostrils at once. I've tried it and it wasn't that painful for me.
Meridian The Up-Here Trimmer Review Nose & Ear Hair Trimmer – This is a trimmer that works great.
Brio Nose & Ear Trimmer Review – One of the sturdiest and well-made Nose & Ear Trimmers I've seen. A real quality device.
Tweezerman Slant Tweezer Review – One of the best tweezers I have used and is highly affordable. Grabs every hair you go after.
The Final Shave
If you don't mind the pain plucking hair is a great way of getting rid of the hair for the longest amount of time before having to do it all over again. The pain is very mild after getting accustomed to the practice.
It's a great little device and it works great, especially for finding stray hairs.