If you are anything like me, depending on what your job is, you get your hands pretty dirty. My job constantly has me working with grease and other dirty equipment that leave my fingernails looking truly atrocious. Dirty by the amount of dirt or grease under your fingernails or grease around the outside of your nails in the side crevices. This can look pretty unruly and unkept and is totally unacceptable at any dinner table. Believe me, my wife lets me know about it and is a serious whole in my whole grooming game. So, this post is going to be all about how to clean your nails for men. Methods, tools, and techniques to adequately take of the mess at the end of your fingers.
Let's get started being a better well-groomed gentleman!
The Steps
This isn't rocket surgery but it can often go overlooked, so I decided to make a pretty simple and effective grooming routine to handle dirty fingernails.
Have A Good Quality Nail Clippers or Men's Manicure Set and Keep Your Nails Short.
Have a Gritty Soap & Use It
Use A Nail Brush
Nail Clippers & Manicure Sets
Having shorter well-trimmed nails is the first step to having a clean well kept fingernails. Longer fingernails can easily collect more dirt than shorter nails. The shorter the nail the easier it is to keep clean, plus it looks better. Granted a shorter fingernail can still collect dirt but it sure is easier to clean and maintain.
Most everyone has a nail clipper or a small pair of scissors. Depending on the money you spent on them will factor in how well they perform. Most cheap nail clippers will work well at first but over time will quickly become subpar in performance. Either becoming dull and not as sharp. Or just being too cheaply designed so as not to cut thick fingernails adequately. Most men have thicker fingernails and need a good sharp quality fingernail clipper.
I have bought cheap manicure sets in the past and they just are simply a waste of money. Save your money and buy a quality set right off the get-go. I would suggest purchasing a quality manicure set or a quality nail clipper. Nothing cheap as the cheap ones hardly ever work well and often can not handle trimming nails. Anything under the twenty-dollar mark I would avoid purchasing.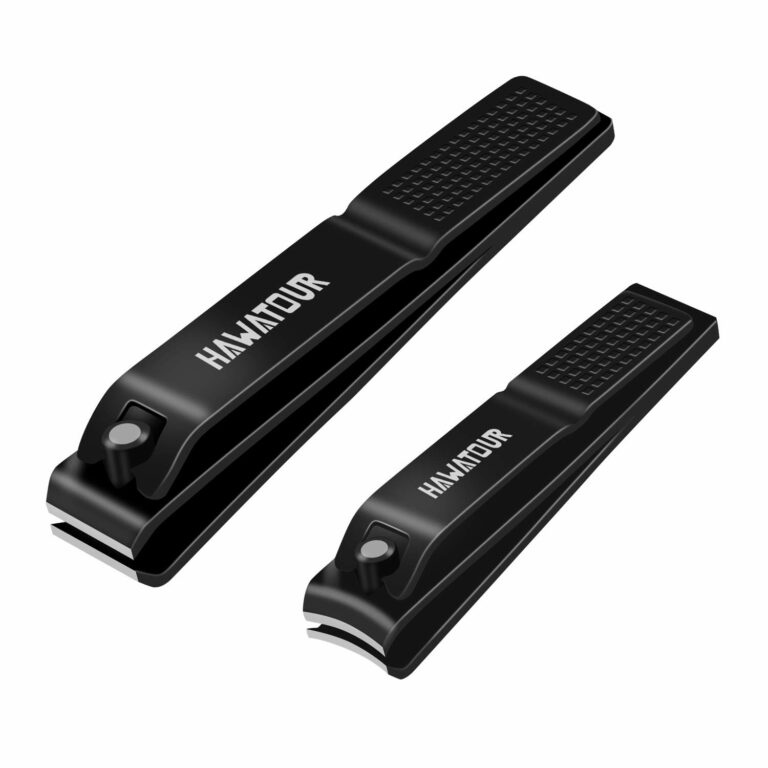 A Good Gritty Soap
Dirt on your hands and fingernails is often enough easy enough to clean with regular soap and water. But throw some grease or oily substance into the mix and normally regular soap won't touch it. Most mechanic shops know this as they often have some sort of abrasion soap in their restrooms.
We need some soap with some type of extra abrasion added to help get into the small cracks and lines of our hands. This abrasion can come in various forms like ground pumice stone, salt, sand, oatmeal, seeds, etc. You get the point.
Having a gritty soap really helps your hands become cleaner much much faster than ordinary soap and will often get into those hard-to-get clean areas. So if you often work with grease or your hands are hard to clean seriously consider using a gritty soap. I know I have found this to get my hands clean much faster and I always try to have at least two types of soap around my bathrooms. A bar of regular soap and an abrasive type soap.
What Soaps I Recommend
Dr. Squatch Pine Tar Soap – This is one of my favorite soaps I have tried. It is a very pleasing natural pine smell with added sand, oatmeal, and activated charcoal that quickly cleans up the dirtiest of hands in no time. You can check out my full review of their soap here, Dr. Squatch Pine Tar Soap Review. Find out why this soap is so popular.
Sudsy Bear Old Forest Pine Tar -Sudsy Bear has some of the best smelling soaps I have ever smelled. They also have a huge selection of different scents to choose from. All of their soaps are made with organic natural ingredients. This soap also has activated charcoal, gritty pumice powder, and oatmeal to deal with any possible dirt on your hands or body.
Swanky Badger Coral Reef & Lumber Scrub Soaps – Another great soap company with great smelling soaps. Both of these mentioned soaps have pumice added to them to really help scrub the dirt and grim away. Read more about Swanky Badger here, Swanky Badger Natural Soap Review.
A Nail Brush – Pulvirises Dirty Fingernails
A good nail brush, along with a good gritty soap, and warm water will destroy any dirt or grease under your fingernails or on your hands. This is the trifecta of having clean hands and fingernails. This combination will get your hands cleaned up and look neat and clean. This tool for some reason or another I never thought of using until my wife commented on how dirty my hands were and she suggested I get a nail brush.
So me being me, I went to Amazon and purchase three different nail brushes in order to find the one I like the best and to have two for both of our bathrooms. I've been using these brushes on and off after my full-time job for about two weeks now and I will briefly review each of the nail brushes below and let you decide which one is right for you.
A well-thought-out brush!
This is the easiest to hold and to go to town cleaning your hands as per the great handle design. The large handle and angled grip make this super easy to get your hands clean. I have pretty big hands and I can easily hold this and scrub away with it to my heart's content. The bristles are medium in flexibility and hardness. This would be my top pick for just about any man out there. The Goldilocks principle is not too stiff and not too soft just but just right. A good happy medium. The handle makes it easy to hang around the shower and keep out of the way.
The Tweezerman Dual Nail brush is a two-sided brush the softer bristles are for cleaning the top of the nail and the smaller stiffer bristles are for cleaning under the nails. This makes a lot of sense as you don't need a really stiff bristle for cleaning the more sensitive top of the nail but you want a stiffer bristle for getting under the nail. The handle fits great in your hand is really comfortable to hold and use.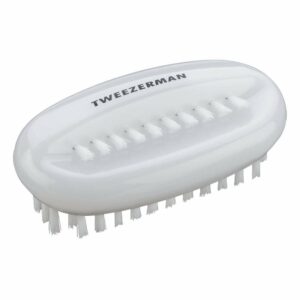 This has longer bristles but the bristles are a lot stiffer than the other two nail brushes and would be a top choice for mechanics or people who really get their hands dirty. I would highly recommend taking off the suction cups and just throwing them away though. As one of the suction cups didn't stick to anything for long and I actually think it works better and feels better holding it without the suction cups. But maybe it is for hanging it in the shower. I'll leave it up to you to decide. But this really gets under the nail the best and is the stiffest of bristles which I also really like. But might be too stiff for men with softer hands.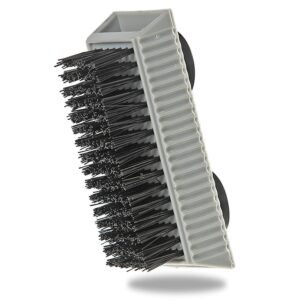 How Long Should It Take To Clean Your Hands With This Method?
Even the dirtiest of hands and fingernails shouldn't take long to clean using the methods I listed above. I would say no longer than well under ten minutes to clean.
Can You Use The Nail Brush On Other Areas Of The Body?
Yes, I often use it on my toes and feet along with my arms too. My arms are often covered in grease that is hard to get off but I use it more gently and softer than I would on my fingernails. Just don't over scrub the area otherwise you're going to irritate the skin too much. I would recommend a medium of soft bristle for your arms.
The Final Shave
Using the methods and tools I listed above has really cleaned up my hand and fingernail game. It is simple and very effective and doesn't take a lot of time.
Would love to hear how you clean your fingernails. Do you something different? Leave a comment below.