A Classic Designed Dopp Kit
I just love Dopp kits both for their practicality and the organization they offer. I have been eyeing up this Dopp kit for years now and I finally just recently pulled the trigger and purchased this Komalc Buffalo Leather Dopp kit on Amazon. Both for selfish reasons (my own personal use) and to share with readers to this website in a review of this product. I have three toiletry bags that I currently own, it is such a great way to have all your grooming essentials in one spot.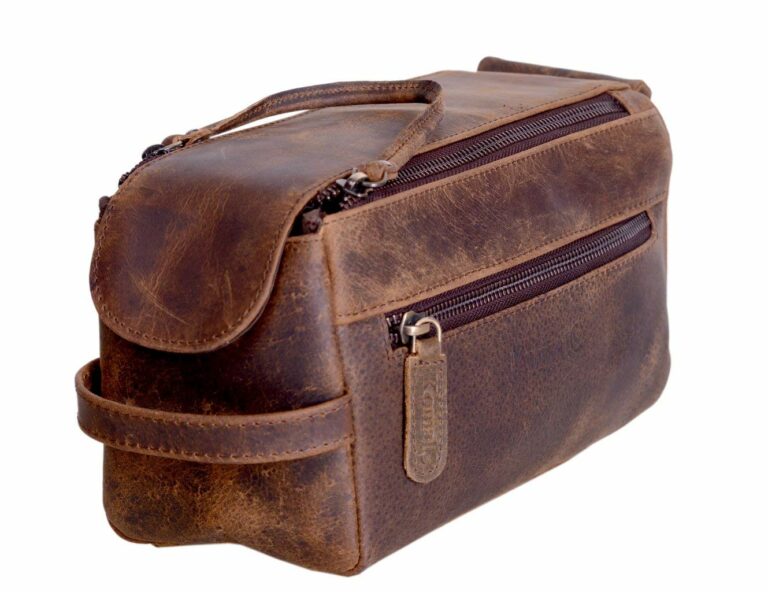 So, let's see if this lives up to my expectations…
What All Comes With The KomalC Dopp Kit?
1 – KomalC Leather Dopp Kit
1 – Cloth Bag
1 – Set of Care Instructions & Contact Information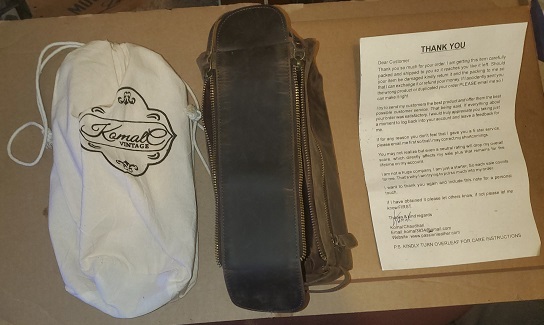 What Is Komalc Dopp Kit?
Dopp kits go by many different names like toiletry bags, travel kits, ditty bags, and wash bags. These are separate bags that hold hygiene items and toiletries items.
This is a toiletry bag that is made from quality full-grain buffalo leather and is handmade by craftsmen in India. The exterior is completely leather and the interior has a cloth lining that is water-resistant. There are a total of three storage compartments, a large main compartment, an exterior compartment, and a smaller interior compartment for storing items separately.
There are a total of four YKK zippers. The two main zippers are attached to a leather grab handle and hold the top lid open or close. As this KomalC has a unique designed lid which is basically a large leather flap that is attached to the two main zippers. The flap also has a small magnetic snap at its end to also keep the lid securely closed.
There is also a double layer of leather on the bottom that also has five brass bottom studs to help prolong its lifespan and keep it from getting the leather wet from wet floors or countertops. There is also a wider hefty grab handle located on one end of the bag for easy grabbing.
Specs & Features
I would classify this as a medium-sized Dopp kit that measures approximately 10 inches long and 5 3/4 inches tall with a width of 5 inches.
As stated above this is full-grain buffalo leather with a water-resistant inner lining. 3 separate storage compartments.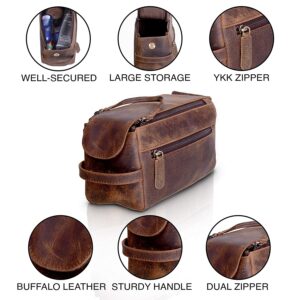 What I Think About This Dopp Kit
Rustic and vintage look to it which I truly love. A throwback to earlier days made with quality leather and should easily stand up to the test of time and wear and tear. This is what I love most about this Dopp Kit.
It has a minimalistic look to it with no logos or writing on the outside of this bag and this is what I prefer and want. The size is a medium-sized Dopp kit and should hold everything I could possibly want to bring along with me without being too big or too small.
I love having separate storage compartments in a toiletry bag. It is a must for me as you do not want some items sitting next to each other for hygiene reasons. This has 3 separate storage compartments, one big main compartment, an easy-to-access outer pocket, and another small compartment on the inside.
I also love the wide opening. The unique leather flap along with the double top zipper allows for a wide opening that one can easily reach in and find what they are looking for. The leather lid did constantly want to flop over to the close position but I used the leather strap that connects the two zippers to hold it open. This small problem will probably be solved on it is own with constant use, as the leather will get accustomed to being opened (break-in).
You want high-quality zippers as soon as the main two zippers fail then you might as well throw it away. YKK zippers are great and love to see them being used in this bag and really adds to my overall sense of quality and buying decision.
A lot of big and little details are designed and implemented into this simple bag which means someone put a lot of practical thought, ingenuity, and care into it. A true quality piece that would make a spectacular gift for yourself or for someone you know.
I highly recommend checking out this Dopp kit and from what I see is a must-have!!!

Pros & Cons
Pros
Beautiful vintage look!
Real leather!!!
Very spacious.
Comes nicely protected in a cloth outer bag.
A small discrete logo is printed on the outside of this kit (minimalistic). I think it is stamped. Glad this isn't easy to see or stands out as I think this would take away from the vintage aesthetics and I applaud this.
Great Size!!! For me personally, this is just the right size. I don't like huge Dopp kits and I don't like small Dopp kits, this medium-sized one fits the bill for me.
Leather is tough but flexible too as it holds its shape with nothing inside.
Wide top opening for easily getting my big hands in and out of this bag. The sides are also stiff but flexible, so the sides don't fold in on you when you open the top flap.
Love the buffalo leather used. Seems really sturdy and is a truly stunning piece of craftsmanship and quality.
3 separate storage compartments. 1 on the outside and two separate compartments on the inside. I love the option of keeping some things separated inside a Dopp kit, like for example a toothbrush and a comb should never be stored together. You'll be spitting hair out when you are brushing your teeth.
Would make an excellent gift.
Great zippers. YKK metal zippers are probably the best there are out there.
Any Dopp kit or toiletry bag could be used by either sex, but I feel the color and material used are more suited for men.
Care instructions provided are on a full sheet of quality paper that is easy to read. Along with contact information if you run into any problems with the product. Great to see!!!
Cons
Closing the double zipper on top of the Komalc doesn't close the easiest. It does close but with this Dopp kit I got, it hangs up on one side of the zipper before being fully closed. You have to pull individually on the zipper to fully close it. It does open easily with the leather strap connecting the two zippers though just not closing it. I think this happens because the bag is flexible and the zippers are not fully in line when closing. Not a deal-breaker in my book but worthy of note.
The Lid when unzipped doesn't stay open it falls back closed. This can be a pain in the neck if you want it to remain open. I have found folding the lid in through the leather strap that is connected to the two zippers about 3/4 of the way helps the lid stay open for easy quick access. Maybe this will change in time as the leather becomes used to being folded over to have the lid fully open.
Tips On Using It
I own several Dopp kits and I recommend that you own at least two for yourself.
Why?
Well, because I have one stock with general grooming tools and accessories that I use either daily or weekly and one fully stocked and ready to go with a moment's notice for traveling purposes. This makes packing for a trip less stressful and much easier. All the essential grooming products are already packed and ready to go making it super easy to travel.
Need A Little Help On Useful Items To Pack Into Your Dopp Kit?
I have compiled a list to help people with essential items to have in your Dopp kit. Very helpful and practical items for sure!
Head on over to my page, What To Put In A Dopp Kit.
How Does This Compare To Other Dopp Kits?
This is the best-looking and quality Dopp kit I have owned for sure. It doesn't have the best side compartments, as compared to the Habitoux Dopp Kit I also own, like for example, it has an outside side compartment that has an area where you slide a toothbrush or a razor blade for easy access. But sure is easy to get in and out of the Dopp kit with its wide opening and to also easily see what you want.
But overall it reeks of quality and ease of use.
Check out my other Dopp Kit Reviews
The Final Shave
There are a few minor negatives about this KomalC Dopp kit but overall this thing is just awesome. These negatives can easily be dealt with and the positives truly override them. This Dopp kit will impress anybody that sets eyes on it. It is a truly quality piece from outside to inside and would make a great Dopp Kit for even the most stylish.
I highly recommend getting the KomalC Dopp kit!!!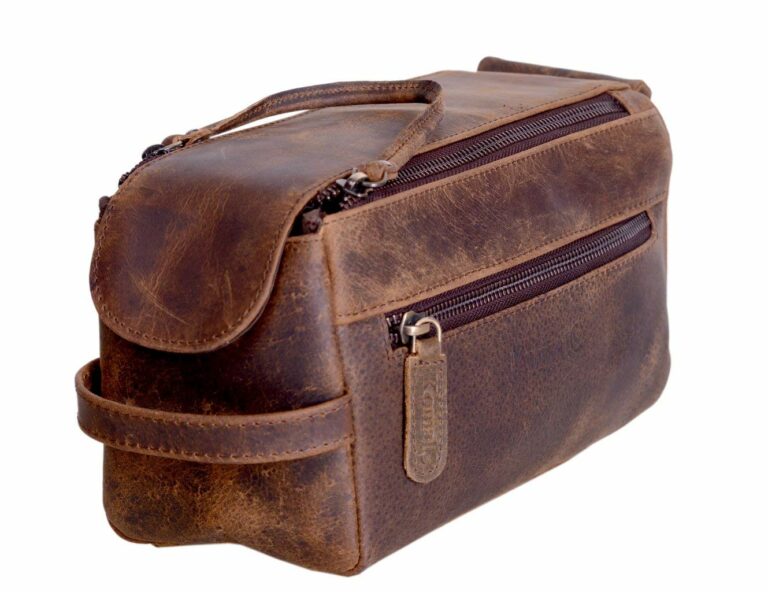 Any questions or comments are always welcomed here at Back Shaver For Men.