Antiquing Your Balls For Comfort & Dryness
I've been a big fan of Alpha M. for many years now as he deals with men's grooming and other related men's issues on his highly popular Alpha M. YouTube channel. So much good and practical advice and so worth checking out, if you haven't already. Alpha M. actually name is Aaron Marino and he created a full line of amazing grooming products called, you guessed it "Pete & Pedro". So in this post Pete & Pedro Powder Review – Does It Work?? is about reviewing his Body & Ball Powder called just simply Powder.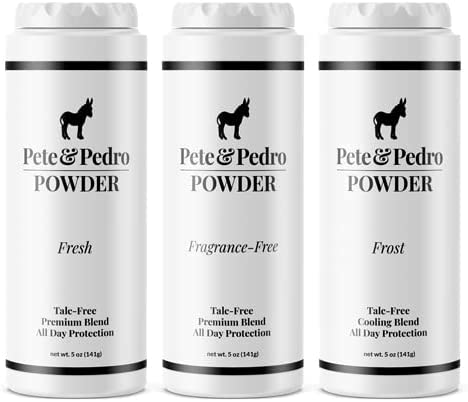 So pumped to be reviewing one of Pete & Pedro's products after all the help I have gotten from his YouTube Videos over the years.
Let's get some…
A Quick Note
In full disclosure and transparency, I recently joined Pete &  Pedro's affiliate program and earn a small commission on clicked purchases through links on this page. This will not affect my review in any way, as I solely do only honest reviews on my website from actually using the product and then writing about that experience. If I don't like it I will let you know and the transverse as well. No punches pulled here! I reached out to P & P to ask for some sample products to review and they happily sent me products to review.
What Is Pete & Pedro Powder?
This powder is designed for the body & balls or anywhere you need to absorb moisture and sweat. For me, it is strictly for the balls as I occasionally have problems down there in the hot humid summers during a 10-hour shift at work doing manual labor. But it can be used anywhere on the body where needed as well. The Powder also protects against chafing as well as irritation and just increases more general comfort in that region.
Where Can It Be Used?
Do you suffer from excess moisture, funky smells, or chafing in these areas then you might need this product.
Hands
Feet
Balls
Inner thighs or groin region
Butt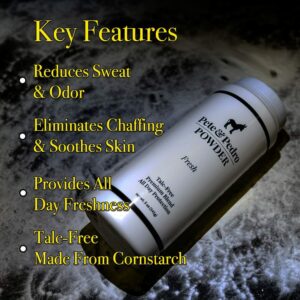 Scents Available
There are a total of three different types of scents available in the Body & Balls Powder.
Fresh (Clean & Crisp)
Frost (Cooling Sensation) – This can be surprising and interesting after you apply it because it gives a tingling down which can be perceived as cooling.
Fragrance-Free (Unscented)
How To Use
Just simply remove the sticker from the top of the bottle twist the cap open and either sprinkle some over the area or apply some to your hand and apply to the needed location.
For the best possible results, it is probably best to apply when just freshly showered and fully dried.
It might also be better to apply the powder when you are naked so as not to get the powder on your clothing like your pants. Especially if you are wearing black pants or shorts.
Ingredients
Zea Mays (Corn Starch)
Maranta Arundinacea (Arrowroot) Root Powder
Sodium Bicarbonate
Silica
Microcrystalline Cellulose
Fragrance
Hydrolyzed Rice Protein
Allantoin
Aloe Barbadensis Leaf Extract
Avena Sativa (Oat) Kernel Powder
Zinc Oxide
Chlorphenesin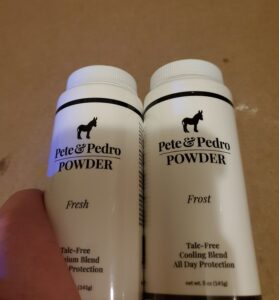 Does It Work? How Well Does It Perform?
This is the first time I have used a ball powder. I have used ball creams and have reviewed them on this website but this is my first time for actual ball powder.
Wearing this for over a week I definitely feel more confident and drier down there. As I only used this on my groin region. I do not suffer sweaty funky balls in the Spring, Fall, or Winter but occasionally suffer this during the hot moist Mid-West Summers. As I am currently writing this in a very cold Spring for my part of the country FYI and haven't tried in the brutal Summer heat yet. But I definitely will.
But important enough I do find that using this product despite the cooler weather that everything "down there" just overall feels better and moves easier. Things just move more easily, glide, and don't bind. This feature in itself is enough of a reason to at least try and explore the slicker world of a quality ball powder.
The scent lasts a long time and I experience no foul odor when I returned home from a shift at work. I just love the two scents, both smell of quality and smell accordingly to their names given (Fresh & Frost). The Fresh scent is a very clean almost baby powder smell but most pleasant. It has a sweetness smell as well, almost like a baked good. The Frost scent smells "icy" if that makes any sense to you but there is definitely a hint of menthol at least to my nose. Also, the frost has a cooling tingling sensation when applied to the skin. When I first applied it I didn't realize this and quickly thought I was having a reaction to the product but quickly read the bottle and it is meant to have an effect. The sensation leaves after about 10 minutes.
I find the ingredients very appealing and of high quality. Love that talc powder isn't used due to health reasons and concerns and love the workaround on using Corn Starch instead.
Pros & Cons
Pros
Save money! Buying in combos at Pete & Pedro's website is always cheaper either with the Powder bought in a bundle or other products as well.
All the scents smell great. Very pleasing to the nose. Just the right amount of scent profile, nothing too strong or too weak.
The fragrances used in both the scented powder are high quality and would be very appealing to the masses.
Spend $60.00+ and receive free shipping worldwide.
Does protect against chafing. The powder leaves a dry slickness to your junk that lasts for hours.
P&P has an unscented version for those with sensitive skin.
Made in the U.S.A. I love supporting and buying American-made products.
No talc is used in the product.
This 5oz bottle should last a good amount of time as you don't need a lot to cover an area.
6 months of trial and error along with 27 different formulations of hard work to come up with this product.
The performance worked great and never experienced any foul odor after using this powder.
Cons
Can be considered pricey to some.
Do You Need A Ball Trimmer?
Since we are talking about balls and the whole groin region we might as well discuss your pubes as well. Do you need a ball trimmer? Is it a mess down there? Want the best ball trimmer?
I have reviewed a bunch and the best one to date that I have reviewed is The Meridian Trimmer. Don't worry…it won't nick or cut you either. This is simply the best!
Promo Code
Use the Promo Code SUMMERFUN10 at checkout to get 10% Off valid through Sept 30, 2023. 
To read more about why this is the best ball trimmer on the market head on over to my page, Meridian Trimmer Plus Review – Worth Getting? Find Out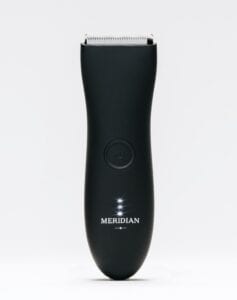 How Does This Compare To Other Similiar Products I Have Reviewed?
I have reviewed other ball creams and this stands in line with other high-quality ball creams. It provided the same level of sweat protection along with the slickness to prevent binds from happening. If you don't like ball creams then this is for you! This is the best ball powder out there.
Fresh Balls – My review here, Fresh Balls Lotion Review – Does It Really Work?
Happy Nuts Comfort Cream – My full review here, Happy Nuts Comfort Cream Review.
Promo Code
Use the Promo Code DNAGEL10 to save 10% off of all purchases at checkout.
The Final Shave
If you suffer from musty balls or monkey butt I would highly recommend slapping some of this powder onto your problem areas and giving it a try for sure. An added benefit is the slickness it provides that everything down in the groin area moves better and can be a real eye-opener for those that have never experienced that sensation. Underwear and pants just don't bind and you feel more freedom of movement when you have applied this to the groin area.