Brand New Trimmer From Meridian
Okay, I am super pumped to be reviewing the newest trimmer from Meridian in this Meridian Trimmer Plus Review. As their first ball trimmer, the Meridian Trimmer was the best I have used or reviewed. So, I am excited and eager to try this sucker out, and hopefully, Meridian Trimmer Plus performs even better than the last model.
Let's see how well this does…shall we?
Full Disclosure
I am an affiliate of Meridian. I purchased the trimmer in this review with my own money. I will post affiliate links within this review and will make a commission from these links. This is how I keep this website running and bringing you honest reviews.
Table of Contents
What Is The Meridian The Trimmer Plus?
The Meridian Trimmer Plus is Meridian's newest trimmer. This rechargeable trimmer is used and marketed as a groin area trimmer but can be used elsewhere on the body where there is unwanted hair. This trimmer can be used for both women and men.


You can use the trimmer without any guide comb for a close trim or the Adjustable Guide Comb to alter the height to what you want.
Critical Features Of Meridian Trimmer Plus
Ceramic blade for a long blade life and better protection for the skin.
Waterproof.
6500 rpm motor.
LED light.
Comes in six different colors. (Onyx, Sage, Solar, Blaze, Sky, and Ocean)
A fixed guard with five adjustable settings.
A charging dock.
A multipurpose trimmer is designed to trim the hair from the facial, groin area, body hair, armpits, arms, legs, chest, and even back hair if you have someone do it for you.
90-minute runtime.
Lithium-Ion battery.


What Is Included With Purchase?
1 – Meridian The Trimmer Plus
1 – Detachable Blade
1 – USB Charging Cable
1 – Charging Dock
1 – Adjustable Guide Comb (5 settings)
1 – Cleaning Brush
1 – Instruction Pamplet
Specs Of Meridian The Trimmer Plus
The length of this trimmer is 6 1/16″ long. The blade measures 1 1/2″ wide. The guide comb settings are (0mm, 2.5mm, 5mm, 7.5mm, and 10mm).
Battery
The battery is Lithium-Ion 800 mah. It can take up to 2 hours to get a full charge. The running time with a full charge is 90 minutes.
Performance – How Well Does It Work? Worth Getting? My Opinion
The original Meridian Trimmer never cut or nicked me once down under, and I've used it for almost two years. So…I am expecting a lot here. So, how does the newest model fare?
Zero nicks or cuts from the Meridian Trimmer Plus!!! These are fantastic results, but to be honest, I am not surprised at all. I just found the best groin trimmer in the world.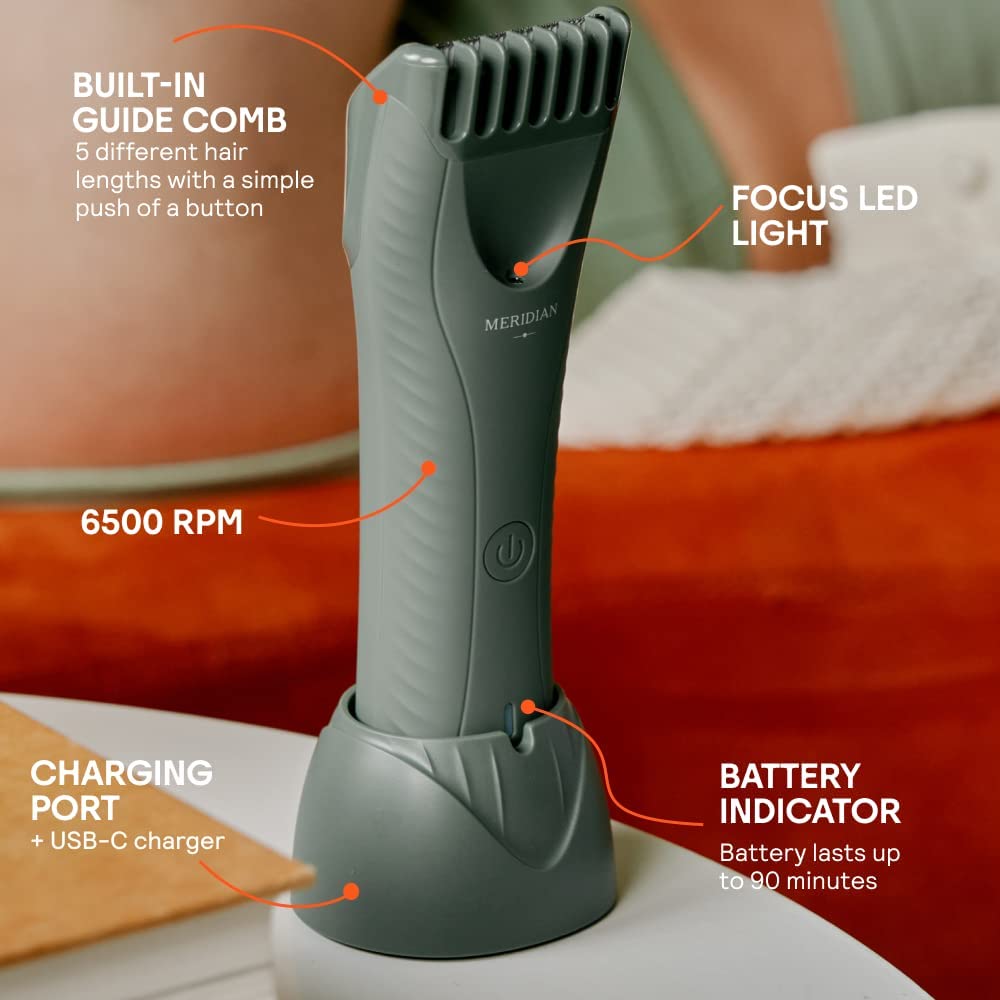 Meridian continues holding the line at providing a quality grooming tool that doesn't nick or cut you. I reviewed a lot of groin trimmers, and they all don't perform as well as Meridian. Other well-known and marketed brands in this field have left my private area in a bloody mess. They were nicking me several times, no matter how careful I was.
The Meridian Trimmer Plus is well-designed with quality parts that Meridian gets right each and every time. The handle is super comfortable and feels good in the hand. The motor is so quiet and yet never bogs down, no matter how dense the hair.
It's the safest groin trimmer in the world. It's a must-have, and I highly recommend it.
Promo Code
Buy One, Get One 50% Off use the code HOLIDAY at Meridian. Offer expires December 15th at 11:59pmPT 2023.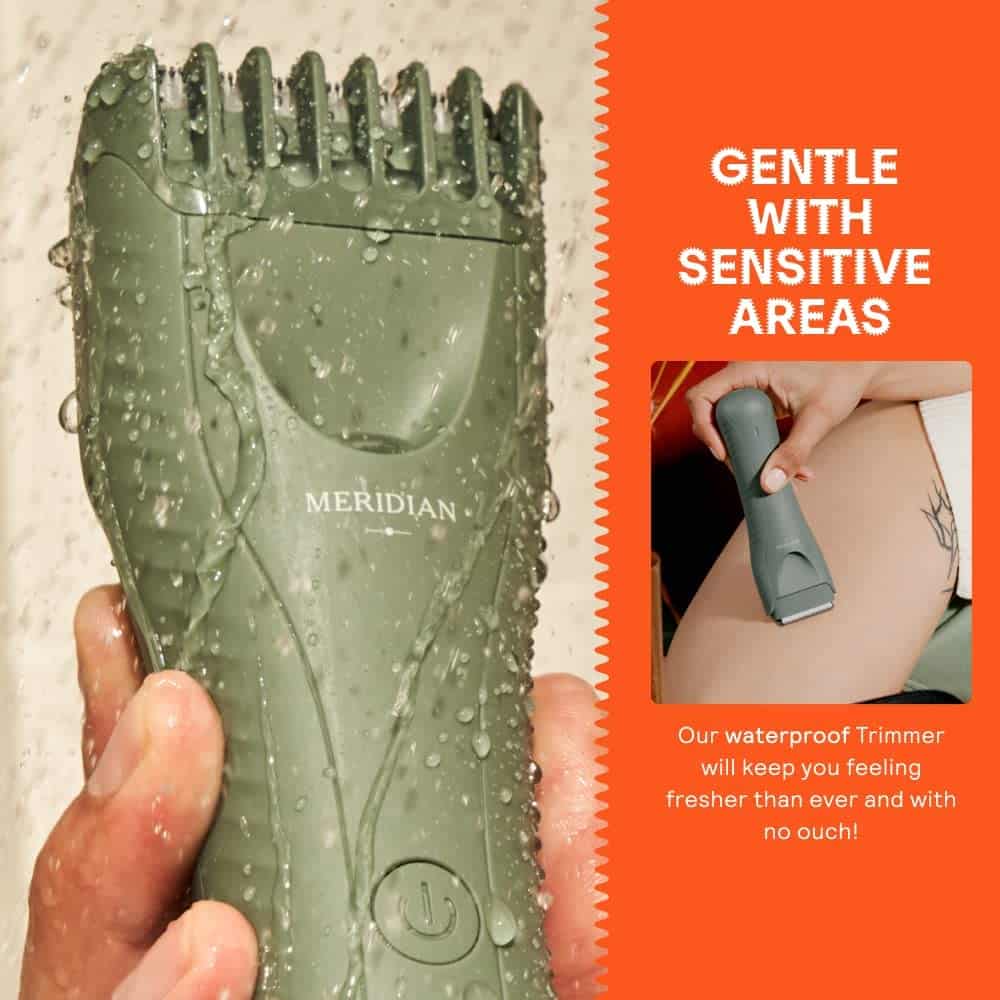 Pros & Cons
Pros
I experienced zero nicks trimming my balls!!! The design and quality of the parts used to make this rechargeable trimmer solidify this a real winner.
Mulit-functional trimmer. It can be all over the body to trim hair. For example, groin area, body hair, armpits, and beard hair.
It comes in a nice small smartphone-like box and is neatly packaged. The box can be used as a storage container to keep all the parts together once opened.
It's waterproof, allowing you to trim in the shower if that's your thing.
Ceramic blade. This stays sharper for longer and is safer for the skin.
Very comfortable in the hand. The handle is texture and fits quite nicely in hand.
Surprisingly very light-weight.
Super quiet motor. It's one of the quietest I have used.
Quality design and build. This isn't a cheap trimmer found ubiquitously on the internet. Solid through and through.
A fast motor at 6500 rpm.
The power button is placed in a fantastic location to avoid accidentally turning it off or on.
Comes in six different color options: Onyx, Ocean, Solar, Blaze, Sky, and Sage.
Replacement blades are available for purchase. From what I can see on their website, these are interchangeable between the Meridian Trimmer and the Meridian Trimmer Plus.
6 settings to choose from: five from the guide comb and one with no guide comb attached.
I love the smallest of these trimmers, coming in at roughly 6 inches, which makes it very easy to maneuver.
Beneficial and informational set of instructions from care and maintenance to proper use.
Take the risk out of trimming the groin area. Makes it super easy.
LED charging light indicator is great for letting you know how much charge is left on your battery.
1-year warranty.
Cons
Remember, this is a trimmer, not a shaver, as the hair will be slightly above the skin. But it is hardly noticeable, and I prefer trimming to shaving as it is much quicker and simpler.
You must fully charge your trimmer before use. This is to ensure optimal battery life. It's not a big deal, but it's a bummer to wait. Mine was almost fully charged and only took a few minutes to charge.
Doesn't come with a wall wart to plug into the wall with the supplied USB cable. Again, it's not a big deal, but I have plenty of them lying around.
Questions & Tips
Does This Trim Close Enough To The Skin, Or Do I Need To Shave Also?
Trimming and shaving are two separate things. You will obviously remove more hair with shaving, but hold on a second here. Using a trimmer is better than shaving, and here is why. One, it is much faster and safer with the right trimmer. I don't know about you, but I don't have a lot of free time, so if I know of a faster way, I am doing the faster way. Two, trimming the hair with the lowest setting is almost like shaving as it is hardly noticeable both in feel and sight. I have done both shaving and trimming my balls, and I much prefer trimming.
But if you are a person who prefers a shaver, trimming the hair first can make it a much faster process too. A razor will quickly clog with hair, and you have to deal with unclogging the razor often.
Does Using This Irrrate The Skin?
Nope! The Trimmer Plus is far less irritating on the skin than other, more traditional body hair removal tools. (shaving, depilatory creams, waxing, etc.)
Can Women Use It Too?
Yes! Yes! Yes!
The Meridian Trimmer is designed for both men and women to use wherever they have unwanted hair. Meridian has been actively marketing this fact recently on its newly designed website.
Can You Remove The Guide Comb?
Although Meridian's website states that the guard is fixed, it is removable. Just press the button on the guide comb and push upwards until it comes off. This is great if you want to get even closer to the skin trim.
It is also important to remove the fixed guide comb to effectively clean out the blade to keep it running optimally.
How Do You Turn The LED Light On?
Hitting the Power Button once will turn the motor on, and then hitting the Power Button again will also turn the light on while still leaving the motor running.
Should I Upgrade From The Orginal Meridian Trimmer To The Meridian Trimmer Plus?
I would generally say no. The original works just as well as the newer model at trimming hair, but there are features on the newer model (Trimmer Plus) that make it better overall, for example, the LED light, charging dock, and newer designed guide comb (which I like a lot more than the older two dual-sided guide combs.
But I also think it is not necessary to upgrade if you already own the Meridian Trimmer. As the upgrades are nice I don't it as a game changer and a must-have. You will still get the same great trim with either model.
I have written a full, in-depth review of The Meridian Trimmer here, Meridian Trimmer Review – Best Male Pubic Trimmer.
Can You Overcharge The Battery?
Yes, do not overcharge the battery. This will shorten the lifespan of the battery. I recommend charging it when you get a red light from the LED Indicator light.
Is This Waterproof?
Yes. So feel free to use it in the shower or to rinse out the blade.
Is There A Warranty?
Meridian offers a 1-year warranty on their trimmers for any manufacturer defects.
Can It Be Used Elsewhere On The Body To Trim Hair?
You betcha! Works wonderfully for trimming body hair, too—things like armpits, arms, legs, abs, and chest.
How Often Do The Blades Need Replacing?
Meridian recommends that you replace the blade every 3 months. I would say longer than that and would recommend replacing them when you start to notice any tugging or pulling or when you notice the blades becoming dull.
How Does This Compare To Other Groin Trimmers Out There?
This is the best groin trimmer I have reviewed to date. It doesn't nick you and keeps you pain-free. Along with that, it is a quality-built trimmer. A super quiet motor with a ceramic skin-safe blade, all the features you would want in a groin trimmer.
It has the most options and performs the best compared to everything I have tried.
Simply the best!
The Final Shave
If you want the best trimmer for groin hair, this is it, baby!
Get this, and don't look back. When I review a ball trimmer, I want something that works well and doesn't cut the skin. Meridian has always had this feature on lockdown. A quality-made grooming device with great design features. Plus, this can be used to trim other areas of the body, too.
I highly recommend the Meridian Trimmer Plus!

Any comments or questions are always welcome.