This is my first go-around with a dedicated ball shaver and to be perfectly honest it is a bit weird writing about it. Sure I used all the likely tools in the past to shave my boys, scissors, hair shears, razors, and such to tackle the jungle down there but never thought I would write about it. But oh have times changed. Today, in this Meridian Trimmer Review – Best Male Pubic Trimmer we will be reviewing The Maintenace Package from Meridian.
As I forego my reluctance and my embarrassment I hope to help others decide if this is a worthy purchase by taking it through its course. I guess I will have to just grab my nuts and "sack up" on this one.
In full disclosure, I reached out to Meridian to ask for some products in which to try out and write about them here on my website. They sent me some products to review and I will be giving my honest opinion on how well they work. If you find my review helpful please support it by clicking the links provided in my reviews. BackShaverForMen.com is a very small website and I make a small commission on sales through clicked links.
Now, let's get to it!
All About Meridian Grooming
Meridian is mostly about grooming below the belt, you know the delicate areas. As they sell products that help maintain a clean and hair-free groin area. Basically, shaving your balls. This is their business and their business is built around this, getting rid of hair around the "junk" areas.
They also sell other hygiene products like a nose hair remover, skin products, and four different bundles for grooming.
The Maintenance Package – What Is It?
I was sent the Maintenance Package in which to review but this included the Meridian Trimmer and it can be bought inside a bundle or bought separately. I really appreciate the extra two replacement blades provided in this package, as you can replace the blades as needed. This package is essential for taking care of grooming hair around the groin area. The trimmer can also be used elsewhere on the body that needs hair to be trimmed, love multifunctional tools.
What Is Included?
1 – Meridian Trimmer
2 – Adjustable Guide Combs
2 – Replacement Blades
1 – Cleaning Brush
1 – USB
1 – The Spray
1 – Set of Instructions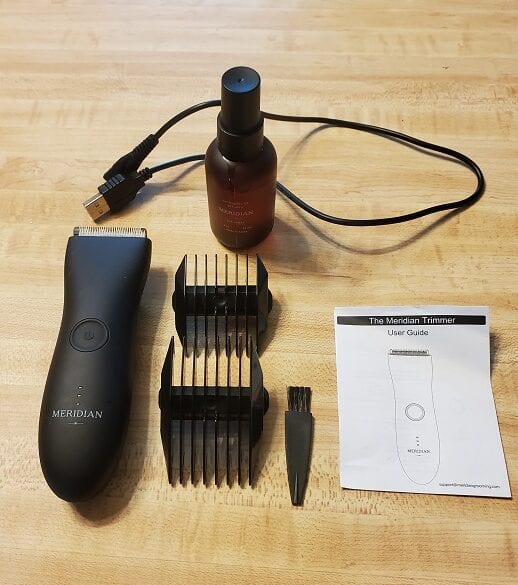 The Low Low Down On Performance
First off, I am very happy with the performance of the Meridian Trimmer. Absolutely no nicks or cuts from using this trimmer in the down-under region.
Whew! Right?
The first time is always the scariest but it can very quickly become "old hat" and a normal essential hygiene routine.
If you have ever had bloody nuts after shaving down there with hair shears or a razor it will not happen with this trimmer. This is due to the ceramic blade, design, and quality of the product. So rest assured, one of the best options to avoid nicking the old beanbag.
The speed of the trimmer seems very adequate and powers through the hair without bogging down in the slightest. You can usually tell by the sound it makes when you run the device if it is going to work properly, and this trimmer doesn't disappoint. They claim it runs at 6,000 strokes a minute.
Fits in the hand very nicely and is easy to hold and maneuver. They nailed this! It would be hard to improve upon the handle. This can also be used in the shower as it is waterproof. I am personally not a fan of shaving in the shower but I know some men are and this would be excellent for that.
The Spray I found out to be great! Subtle and clean scent profile, not perfumery. Great if you have a problem with odor and sweating down under. I was expecting to hate this but actually loved it. It is nice to be surprised.
How Does It Perform Against Other Groin Trimmers?
I recently put this head to head with Manscaped The Lawn Mower 4.0 and The Meridian Trimmer easily beat The Lawn Mower overall. Check out this head-to-head post here, Manscaped Vs Meridian – Which Is The Better Ball Trimmer?
This is the best groin trimmer I have reviewed to date and I have reviewed a lot of them. The number reason for this is because it does not ever nick you. Plus it is a quality device with a well-thought design that simply just works.
Pros & Cons
Pros
Makes manscaping easy!
A real confidence booster!!!
Takes hair pretty darn close to the skin and can't really fill stubble at all.
Works fast, a couple of swipes here a tug here, and your done. Way faster than shaving.
Removing hair around the groin greatly reduces the chance of having a bad odor down under. As hair collects sweat and gives bad bacteria a breeding ground in which to thrive.
Using a pubic trimmer greatly increases the appearance and attractiveness down there. Your partner will thank you later. After all, it is not the 70s anymore.
No bloody nuts! Zero nicks and cuts using this! A real plus! Bye-bye using hair shears and the bloody aftermath.
The (Balls) Spray leaves a real clean scent (almost neutral but not) and feel. Quite surprised by this and thought I would hate it but actually, I like it.
Perfect size and handle. Fits very comfortably in the hand.
Waterproof and rust-resistant. Can be used in the shower too. Just be sure to use it when charging it to keep it away from any water.
Depending on what package you purchase or if you just buy the trimmer Meridian sells replacement blades for all their products.
It is powerful enough that it does not bog down with trimming hair, as it has 6,000 strokes a minute.
1-year warranty on any manufacturer defects.
Trimmer can be used to trim the whole body from head to toe.
Comes with a full 90-minute charge. This is unusual as often you must first charge for hours and then use.
Guide combs work great for shorting the length of hair anywhere on your body.
The Meridian trimmer comes in two colors Onyx and Sage.
Battery indicator lights. Three lights on the front to let you know how much charge you have left.
Cons
Would be nice if this came with a small case or bag.
Tips
How Does The Meridian Compare To Other Ball Trimmers?
This is the best ball trimmer I have reviewed to date. To see how this compares to another popular ball trimmer with a full breakdown of both trimmers here, Manscaped VS Meridian – Which Is The Better Ball Trimmer?
Meridian Newest Trimmer
I've reviewed and written a full in-depth post about Meridian's newest trimmer found here, Meridian Trimmer Plus Review – Worth Getting? Find Out. It has more features and still has great performance with the quality you would expect. Worth checking out.
Can Women Use The Meridian?
Yes, Meridian states women can use this to trim hair down in the groin area, arms, legs, or anywhere to get rid of hair. On top of that many women also state this is a great trimmer for trimming groin hair.
Is Trimming Your Ball Hair Good Enough?
This is advertised as a trimmer and not a shaver, so if you want those super smooth dolphin nuts, your gonna have to shave them with a razor. Don't get me wrong the Meridian trimmer does a great job of getting really close to the skin but for closeness, you're going to have to shave with some type of razor. It does get hair pretty darn close to the skin and is way better than other methods. Trimming hair is also a lot faster than shaving.
When you trim your ball hair with a trimmer oftentimes it is enough and you can not really tell there is stubble down there either by sight or feel. I just trim using a ball trimmer and it is more than good enough and I have zero need to shave down there.
The Meridian does a great quick job of taking care of removing pubic hair that you could just skip shaving. I find shaving takes too long and is more problematic than trimming. Plus it is way faster and easier.
Where Else Can You Use This Trimmer?
Feel free to use this on other parts of your body, this can be used on the entire body, from head to toe.
If you want to reduce the length of arm or leg hair I highly recommend using the Guide Combs that are provided as they do a very nice job of reducing the length of hair. Unless you want to be hairless. Start with the biggest guide comb and work down to the smaller guide comb to find the perfect length you want.
Should You Clean The Trimmer?
Yes, use the cleaning brush (provided with purchase) after a trimming session to help keep the trimmer working its best after each use. You can also rinse it under the sink to help flush hair particles out of the blade. I also recommend patting the trimmer down with a towel to remove any excess water before storing it.
Is The Spray Good?
Oh yeah, this stuff is great and it is super easy to just spritz a few times and go.
Using The Spray (provided) definitely adds a layer of refinement and was pleasantly surprised I like it. I thought I was going to hate it but how wrong was I? I actually loved it. As it has a very pleasant scent that is very natural and low-key.
How To Use The Meridian Trimmer?
Their trimmer is pretty freaking safe to use and I have never been nicked by it yet. Yet, there are some techniques and guide combs to throw into the mix as well to help. When first initializing a cut, do not go straight down with the blade at 90 degrees to your cutting surface, this is called a plunge cut. This type of cut can potentially nick you with any trimmer. What you want to do is an approach with the trimmer at more of a 45-degree angle.
Also check Meridian's guide on how to use the trimmer here, Meridian Guide.
PROMO Code
10% off any purchase – use code SUMMERFUN10 from Sept. 30, 2023.
The Final Shave
I just stepped over that line from mediocre to greatness after I used this product…in a grooming sense.
It's that damn good! Really ups your confidence as well.
From using hair shears and scissors to a dedicated modern manscaping trimmer I feel a veil has been passed to another level up in my "grooming game". I've gone forward and no longer ever want to go back to the old ways. It's fast and painless and I never will go back to the way it was before. A complete game-changer.
Update: Since I initially reviewed The Meridian it's been over a year and I have yet to review another ball trimmer that works as well as the Meridian trimmer. I have reviewed a bunch of different trimmers on this website since then and the king of ball trimmers is still the Meridian.
Needless to say, I am pleased and very happy with this product. Does a great job! It makes quick work of unwanted hair and I highly recommend getting it. Nice job, Meridian!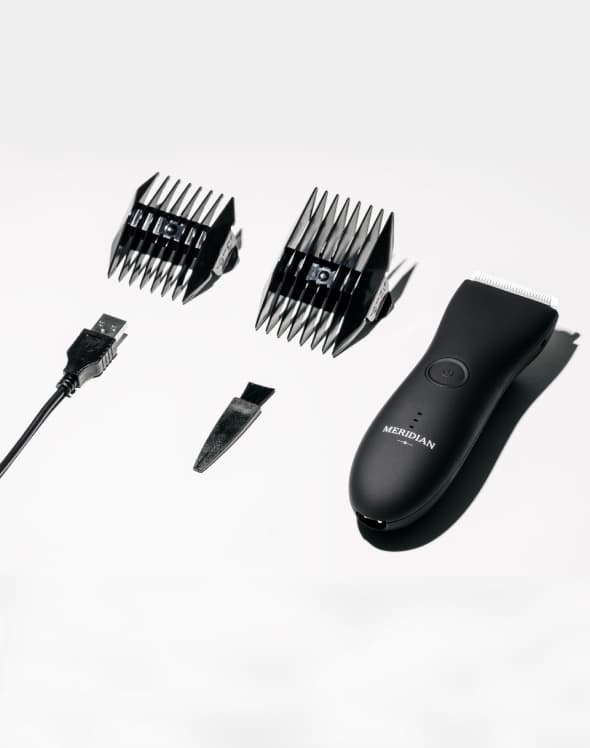 Any questions? Any Comments? Love to hear them!