Manage Your Groin Hair
Today there are a whole plethora of groin trimmers on the market today to choose from, more than there were just a few short years ago when there were absolutely none available for purchase. Some of these trimmers work good and some not so much. In this post, we will be looking at a newer kid on the block and seeing if it can perform and is worthy of purchasing. As always in my reviews, I will highlight the key functions and pros and cons of this particular grooming device to better help you determine if it is worth buying. Let's get to it, shall we in this Manspot Groin Hair Trimmer Review.
I love trying out new grooming products cause you never know when you will find a great performing product and you get to share this with other people.
What is Manspot?
Manspot Groin Trimmer is what I would call a dedicated ball trimmer but it can also be used for body hair grooming as well. Places on your body I would say below the neckline.
The Manspot has a ceramic blade that most dedicated ball trimmers are going to nowadays and is the standard. The ceramic blade has quite a longer life than the conventional stainless steel blades. This is a rechargeable trimmer that comes with it a USB cable to charge this unit. With key features designed into this product, they potentially allow you to trim your scrotum without experiencing nicks, pulling of hairs, and cuts.
What Is All Included?
1 – Manspot Groin Hair Trimmer
2 – Multiside Guide Combs (3-6mm and 9-12mm)
1 – Quick Start Guide
1 – Free Replacement Blade Card
1 – Cleaning Brush
1 – USB Charging Cable
1 – Instruction Guide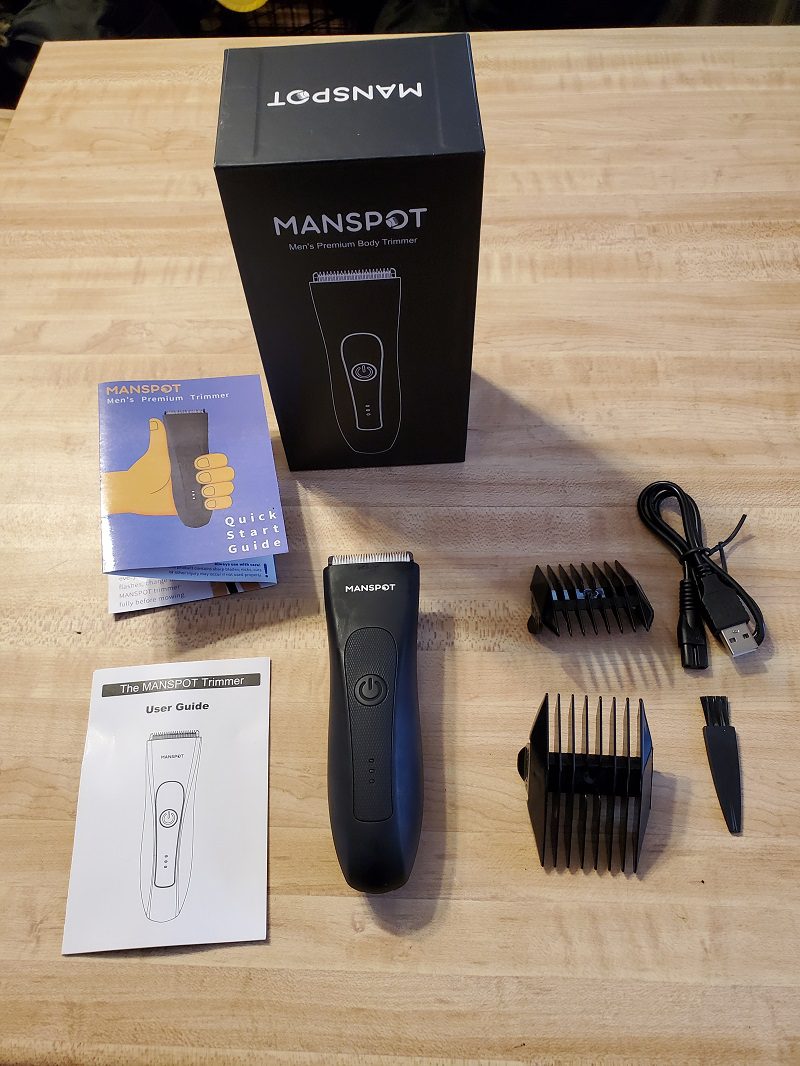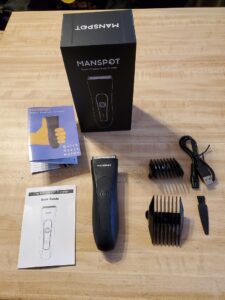 Specs Of The Manspot Trimmer
I like to run through the specs on products for people that are interested in these matters and to help determine if this is worthy of purchasing.
Measurements & Material
The total length of the Manspot is 5 1/2″ inches long and the trimming blade is 1 1/2″ inches wide. The blade is made from ceramic and the rake looks to be stainless steel. For those that don't know the rake is the back portion of the blade assembly right behind the blade.
There is a total of two guide combs that are double-sided giving you a total of 4 options. The sizes are 3mm, 6mm, 9mm, and 12mm.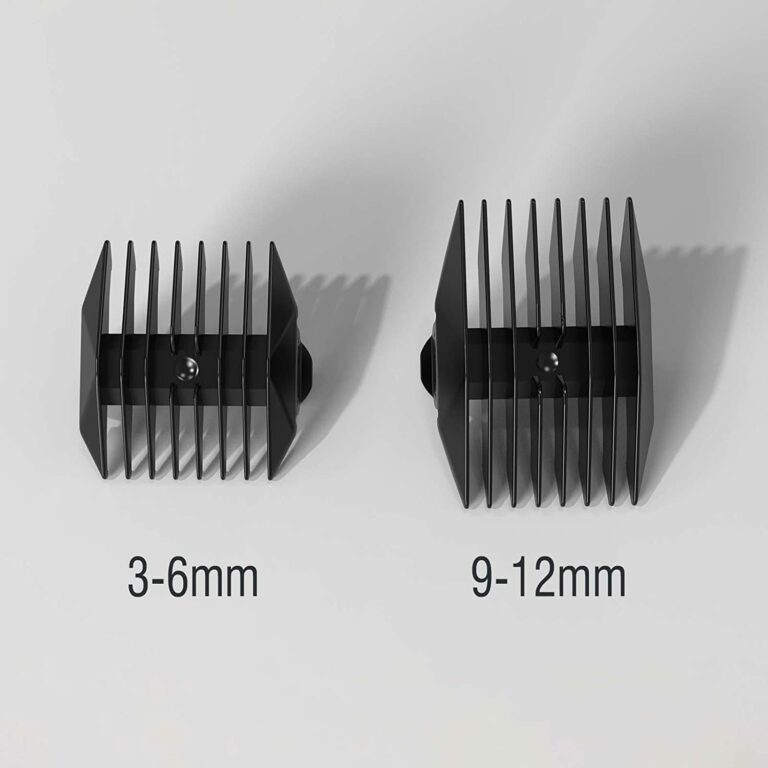 Battery & Motor
The battery is a rechargeable 800mAh lithium-ion battery with a 90-minute run time on a full charge. A USB cable is provided to charge it. There are also three charge indicator lights on the handle to let you know how much charge is left on this trimmer.
The motor operates at 6,000 RPMs.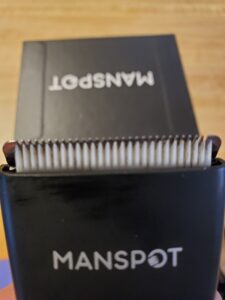 How Well Does It Work? Will It Nick You Down There?
Works great!
I first tested this out on my arm hair when I am just sitting in my office to get a quick initial impression which is often the case with new products I review. Right off the bat, I noticed the motor is quiet and it easily buzzes right through hair. Okay Manspot, you passed the initial first test. It needs to be noted that this came ready to use right out of the box with a fully charged battery. Thank you Manspot, I appreciate this.
Now it's time to drop my trousers and see how well it performs on the old boys down there.
But before I do it needs to be stated that any dedicated ball trimmer has the potential of nicking you down there. It is just the odd skin feature that lends to the greater potential of nicking yourself down there. It can be just pure weirdness down there. Am I right men or what?
So how did it perform?
It performed great and caused no nicking, no pulling, and no cuts. This is always a big relief I mean granted it is only a nick and some little blood but I really don't need that, does anybody? I am pleased with the design and features of this trimmer. It doesn't ever bog down as the motor and blade just plow right through the thickest of hair.
The handle is extremely comfortable and wieldy. I much more prefer the blade width (1 1/2″) of this unit to the smaller blade widths (Manscaped) of other ball trimmers. You think this would be counterproductive but it is not. The blade width is just the right sweet spot for trimming hair.
The guide combs are easily attached and detached from the trimmer and are clearly labeled what size they are.
A great ball and body trimmer for sure and gets a high recommendation by me.

Pros & Cons
Pros
Experienced zero nicks or cuts when using this device!!!
Never bogs down from trimming hair.
Powerful 6,000 RPM motor.
Great price point and with my promo code below even better.
Comes with a ceramic blade for longer blade life and less risk of nicks.
Great 12-month warranty plan sign up on their website after purchasing through their official seller on Amazon.com.
They have replacement blades for the Manspot Groin Hair Trimmer.
Comes neatly packaged and presented in a nice box.
This comes fully charged right out of the box. I love seeing this as I hate waiting to charge it to use it.
Has a quick start guide that is very helpful.
A free replacement guard card is included with information on obtaining a free guard. Great!!!
Waterproof and can be used in the shower if you want.
A very comfortable size and handle, much better than a much more popular but worse-performing groin trimmer.
There are three charge indicator lights are on the front of this unit to let you know how much charge you have left.
Guide combs easily attach and detach and are clearly labeled on the side of which size they are.
Cons
No wall wart is included with the cable.
Would have liked to have seen a smaller-sized guide comb included say like a 1mm or 2mm.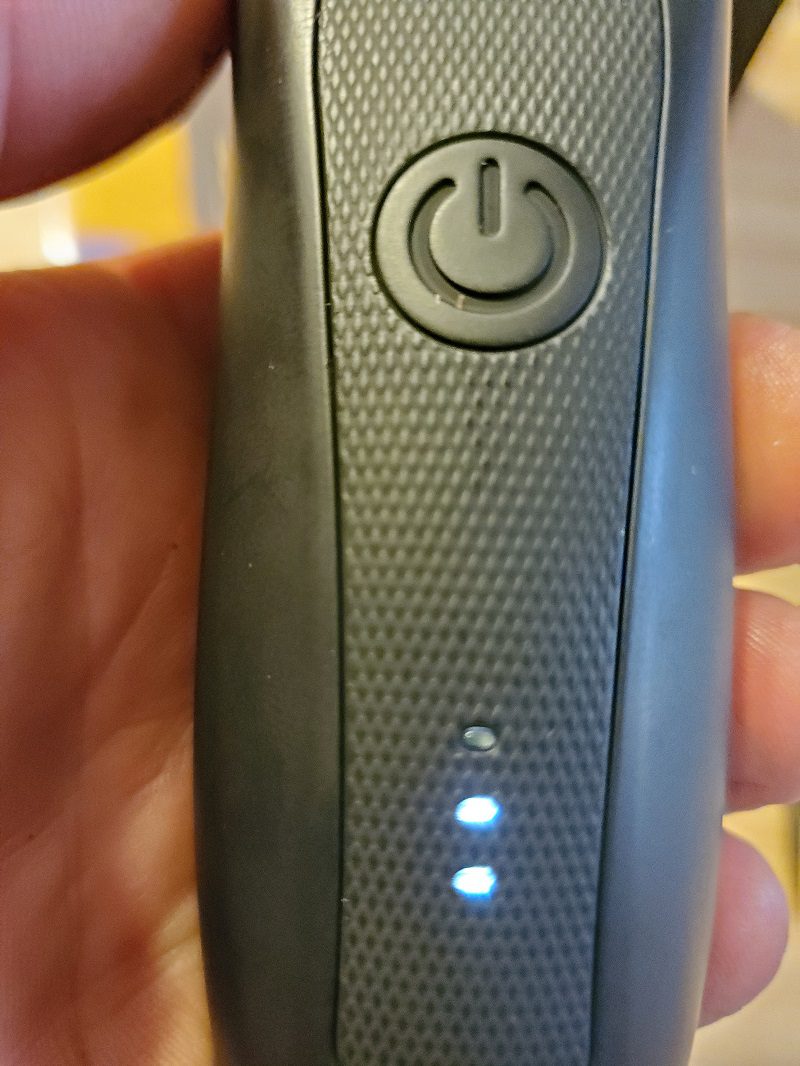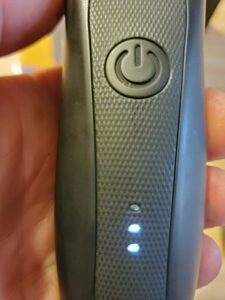 Promo Code
Had problems with the Promo Code but you will still get 50% off by just clicking the orange purchase button down below. A super great price for my readers!!!
Use the Promo Code MANSPOT50 to save 40% off of Manspot Groin Trimmer on Amazon. This offer is good until 04/02/2022.
Tips On Using The Manspot
For first-timers and even experienced pros out there, it goes without saying to read the instructions and quick start guide to understand the proper techniques and features.
With all ball trimmers, it is recommended to always take your time trimming the hair down there. Make sure you are not in a rush or pressed for time. The slower and more precise you are the better the results will be.
After receiving the product make sure you register the product to receive the 12-month warranty.
You can also always use the trimmer with the guide combs to shave your balls as well, this will prevent any possible chance of nicks down there. I found I didn't need to.
The Final Shave
In today's environment of social media and product reviews, it is hard to hide a bad product. This thankfully is not in that category. It performs its purpose of a ball trimmer and general body hair trimmer with well-designed features and manufacturing. It didn't nick me even once when used to trim my groin area. It has a powerful motor and will handle any hair thrown its way.
I am very please and happy to recommend this product if you are searching for a dedicated ball or body hair trimmer. Don't forget to use the promo code MANSPOT50 at checkout to save 40%.