Want A Quick Answer Or Short On Time?
The best ball trimmer I have used is the Meridian Trimmer Plus. Meridian makes great products and the Meridian Trimmer Plus is their newest ball trimmer and it is hands down the best I have used. As I have reviewed 20 groin trimmers.


I Actually Have Used Every Trimmer I List In This Post – I Have The Pictures To Prove It
This isn't your typical top ten list of products. Why? Well, because I own everything I review on my website. Pure honesty is what is different. Most of these lists you see online are contrived from other people's work, totally made up, and from reviews found online and NOT from actually purchasing the product, owning, using, reviewing the product, or actually experience gained from real-world experiences.
Do you really want a product recommendation from someone that doesn't even own the product?
I only review products I have in my hand. I always post unique pictures proving I own the product.
So, on those other top product lists from other websites, you never see one unique picture from those sights. Huh…wonder why?
To date, I have reviewed 20 ball trimmers, so I know what I am talking about.
Full Disclosure
I am an affiliate of Meridian and Amazon as I earn money when readers purchase items through my links. This doesn't affect how I rank products. It is how I support this website to bring honest content reviews. If you find my page useful please help to support it.
Best Ball Trimmer At A Glance
There are a lot of decent ball trimmers out there and some bad ones. I don't know about you but I want the best I can have to forgo the potential headaches of owning an inferior product. Believe me when I say there is one that stands out among all the others.
If you want further information I will post links to my original reviews of each of the products below.
#1 Best Overall Pubic Hair Trimmer For Balls
I just recently reviewed this amazing ball trimmer as its older brother Meridian The Trimmer was my former current best ball trimmer but this has been improved upon in many ways. This has it all from nick protection to a comfortable handle. Nothing is even close. It is that good.
You can read my full in-depth review here, Meridian Trimmer Plus Review – Worth Getting? Find Out.
The Meridian Trimmer Plus has a 6,500 rpm motor that runs pretty darn quietly. It also has a ceramic blade that is rust-resistant and great for sensitive skin. The device is also waterproof and can be used in the shower.
The battery is a Lithiun-Ion battery with a 90-minute run time that only takes about 2 hours to fully charge. The adjustable one-piece guide comb(0mm, 2.5mm, 5mm, 7.5, and 10mm) is fully adjustable and can also be taken off if preferred.
It also has a charging dock that is very functional and practical. Has a LED light which works really well to illuminate the undercarriage. This also comes in three colors sage, onyx, and ocean.
Why do I love Meridian so much? Because of its quality and the level of protection against nicks and cuts. I have never nicked myself with any Meridian trimmer ever. The Most protection and the safest. This is a quality device from top to bottom. This feels good in the hand and is very wieldy.
This trimmer also comes with a 1-year warranty and even offers an extended protection warranty period at the time of purchase which covers accidental damages and more.
This is priced very fairly for such a great trimmer and is a steal. I've seen much more expensive ball trimmers sell for much more.
Promo Code – Use the promo code MARCH10OFF to save 10% off all purchases.



#2 Best Groin Hair Trimmer – Runner Up
This is the second-best groin trimmer. This is slightly cheaper than the #1 ranked Meridian Trimmer Plus mentioned above, as it is the older model. This should tell you that Meridian makes quality products as this trimmer was the ball trimmer that was my top groin trimmer before the Meridian Trimmer Plus.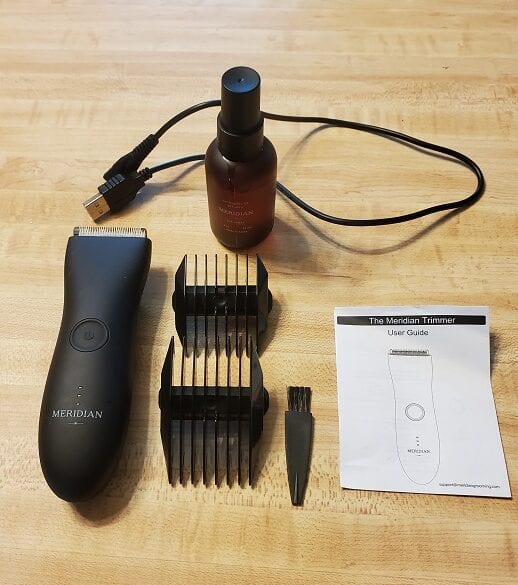 The Meridian The Trimmer doesn't have all the upgraded features its younger brother does but it is still a powerful and user-friendly device. This is more of a barebone ball trimmer, functional and highly capable.
I have written a post highlighting the differences between these two trimmers here, Meridian The Trimmer Plus VS Meridian The Trimmer Compared.
This comes with 2 two-sided guide combs (3-6mm, 9-12mm) and these are easy to take on and off. This is the first dedicated ball trimmer I owned and reviewed and it has never let me down. Always providing excellent protection against nicks and cuts.
This has a super comfortable handle and I find I like the handle design better than the newer Meridian Trimmer Plus even. It is smaller and more compact. You can read more about this trimmer here, Meridian Trimmer Review – Best Male Pubic Trimmer?
The motor powers through the densest of foliage as you get a 6,000 rpm motor. This also has a ceramic blade that helps to stay sharp longer and stay cooler against your skin. This is also waterproof and can be used in the shower. This only comes in two colors sage and onyx.
Promo code – Use the coupon code MARCH10OFF to save 10% at Meridian.
#3 Best Groin Trimmer – Third Runner Up
Manspot Groin Hair Trimmer
This comes in a close third as it is a performer that also does a fantastic job of protecting your skin from nicks. Very similar to the Meridian mentioned right above as it comes with 2 guide combs that are double-sided (3-6mm, 9-12mm).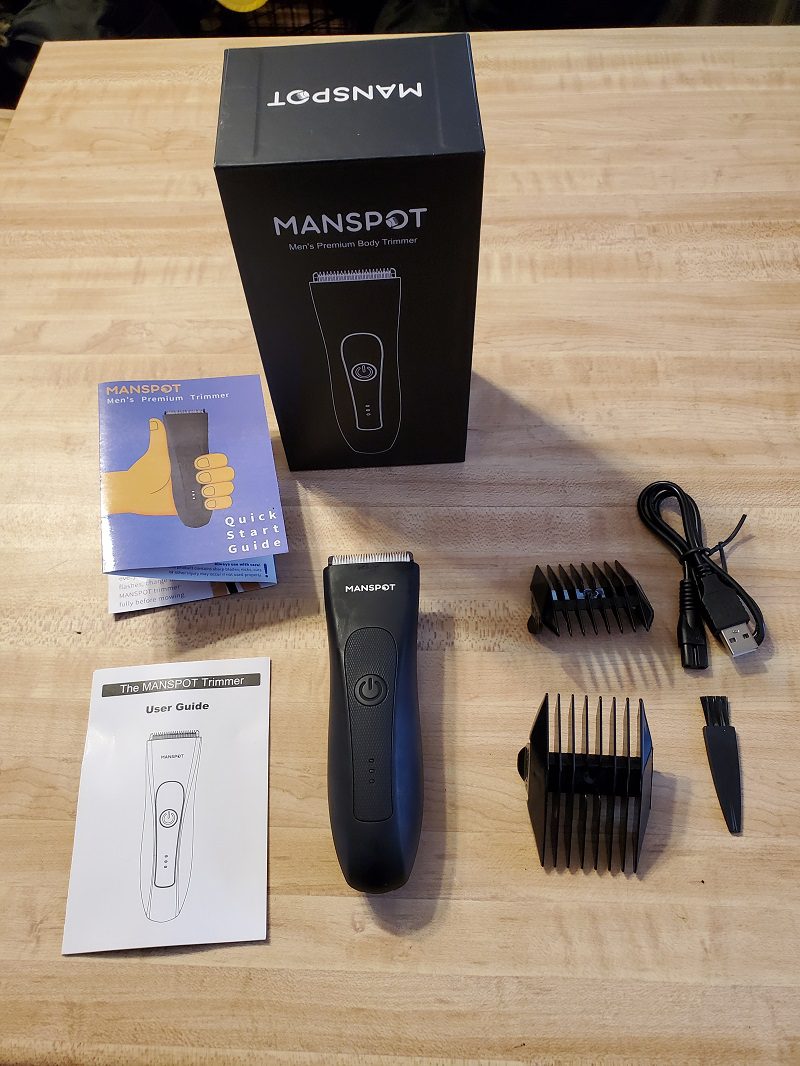 The motor operates at 6,000 rpm and is more than enough to handle the toughest of jobs. It also has three charging indicator lights to let you know how much battery life is left.
This also has a ceramic blade and this does a good job of trimming hair and being pretty quiet during operation.
A very comfortable handle that makes it super easy to maneuver those tight spots. This doesn't have any LED light and is just a barebone trimmer that performs pretty darn well.
For more information about this trimmer head on over to my page, Manspot Groin Hair Trimmer Review.
This is good at protecting yourself from nicks too. This has a 1-year warranty too.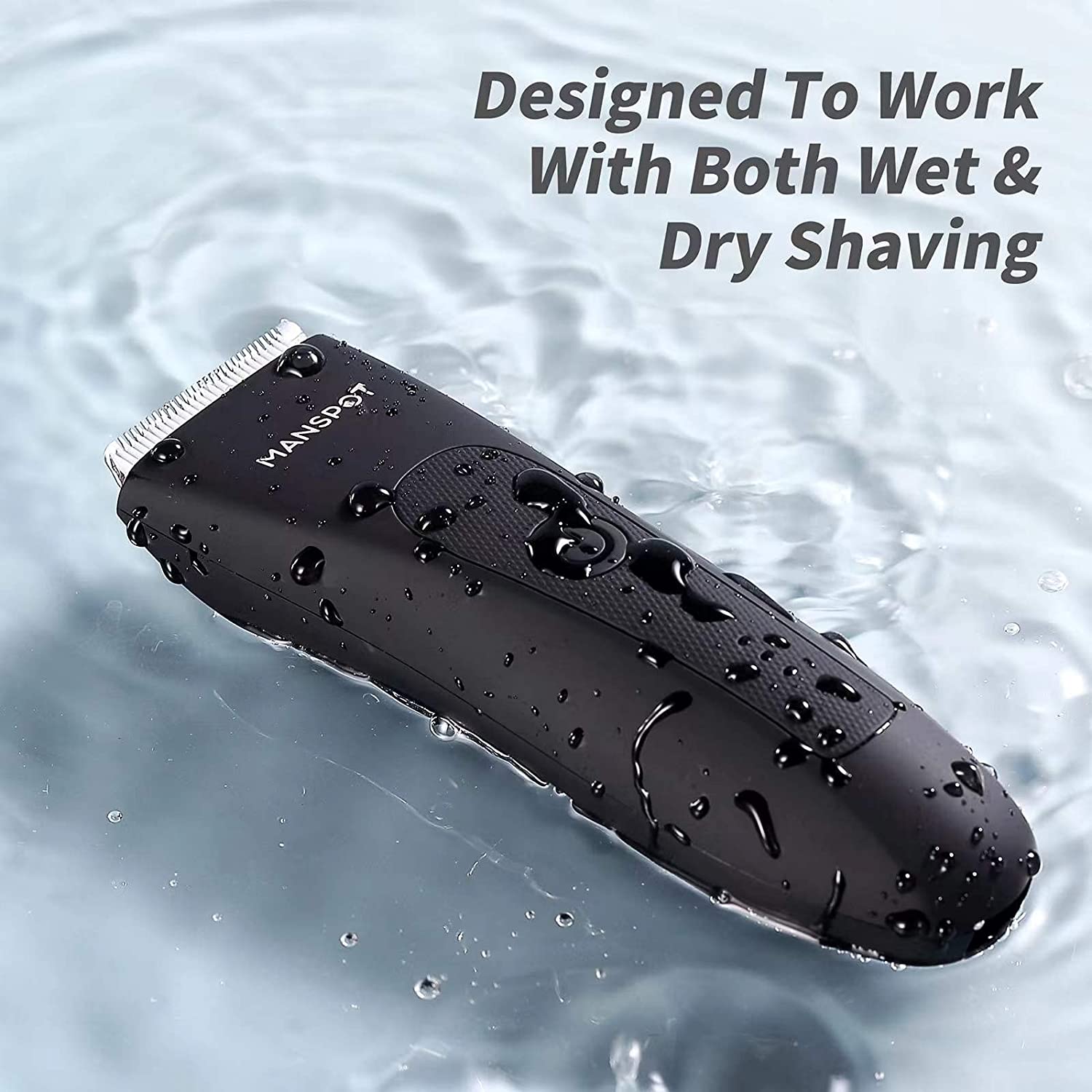 Best Trimmer For Beard & Balls
Philips Norelco OneBlade Face & Body
By far and away the best multipurpose beard and ball trimmer is the OneBlade! This comes with two separate blades one for your face and one for your balls. As this is a good way to remain very hygienic. Some people love having the same device to do multiple jobs.
As far as beard trimming goes this is so amazing. This has transformed my life. The OneBlade uses micro blades to trim hair. This is the best microblade I have used to date. I can have a full beard and in under three minutes be fully shaved. Shaved because it trims that close to the skin it is almost akin to shaving but with the reduced time of trimming the beard. Almost the best of both worlds.
You have to get one of these they work that great. It takes the work out of trimming your beard and is great also for detailing your beard.
As far as using it on your balls you are going to have to attach a guide comb. As it is not recommended at all to use this down there without a guide comb attached as it will cut you. But with a guide comb, this thing works pretty darn well.
This comes with 6 guide combs. Four for the beard 1mm, 2mm, 3mm, and 5mm. The Skin Guard Comb is used for the groin area and a larger Body Comb.
You should get this for your beard alone especially if you hate shaving your face. I always recommend this product because it is such a transformable product.
Read more about this amazing grooming tool here, Philips Norelco OneBlade Face & Body Review.
Best Budget Ball Trimmer
If you are looking for a cheaper ball trimmer on a budget then get this. As it is cheaper than most other ball trimmers but still does a great job without cutting you. You still get the performance but with a reduced price tag.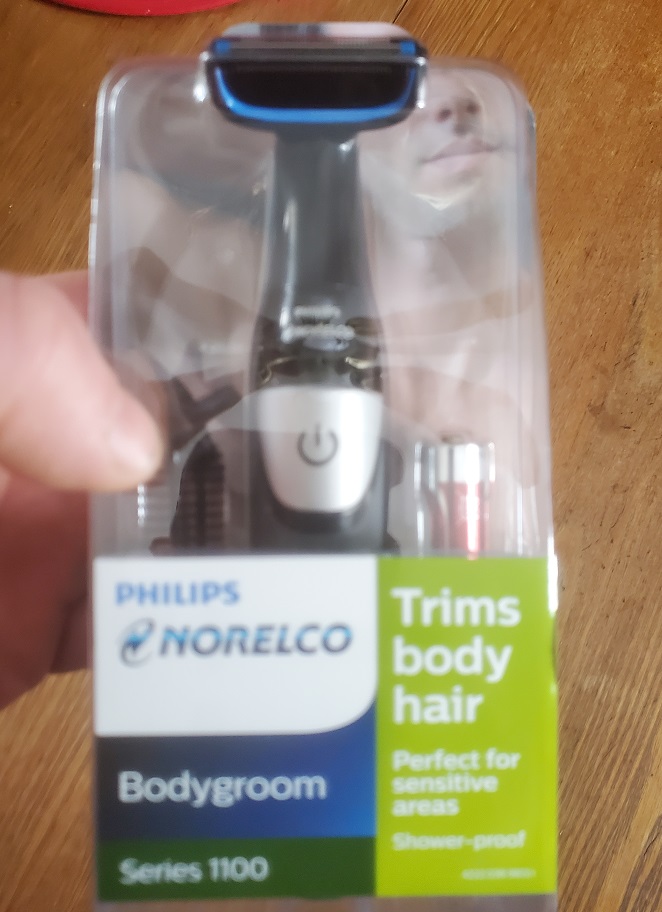 The Bodygroom 1100 can be used on the shoulders, chest, abs, underarms, arms groin area, and legs. So it is very versatile. I experience no nicking or cuts from using this on my groin area and for such a cheap device to own that is really saying something.
This comes with two guide combs a 1/32″ Skin Protector Guide Comb and a 1/8″ Trimming Comb. These both do a great job of protecting against. You can also use this without any combs attached but I wouldn't recommend this on your balls without a guide comb.
This runs off of a single AA battery that is included. This is also waterproof and can be used in the shower. This has a 45-day money-back guarantee too.
My full in-depth review can be found here if you want additional information, Philips Norelco Bodygroom Series 1100 Review.
This works better for ball trimming than it does on the beard and it is not recommended for the beard anyways. But for all other hair, it works great.

Features That Make A Good Ball Trimmer – Things To Look For
Safety – Protection Against Nicking
This is one of the most important characteristics of a quality groin trimmer. This is what separates it from average hair clippers the ability to save your scrotum skin from looking like a bloody massacre. As most hair clippers are not designed for protecting against nicks on the weird skin of the ol' nut sack.
The quality and design of the trimmer fall under this too because if you are lacking any of these features you will have a problem with bloody nuts. Groin trimmers are specifically designed to drastically reduce nicks on your balls.
Blade Material
This in the past 5 years has completely changed, as most companies have gone from using a standard stainless steel blade to using a ceramic blade. All the big names in the groin game have made the switch to using a ceramic blade.
Why?
It is better suited for trimming the groin area because it stays sharper longer and provides more protection from nicks & cuts. It is also more heat-resistant and also rustproof.
Quietness
A good quality trimmer usually is pretty quiet overall. Some people want their trimmer to be quiet so other people in the house don't want others to know what they are doing. This is understandable and is something that people want in a ball trimmer -quietness.
Instructions
Most quality groin trimmers go into detail about how to use their products properly because you can use any groin trimmer wrong. This information is provided through the instruction pamphlet (when purchased) and/or on their website. This shows that they care enough about providing the best experience for people that buy their product.
Warranty
This is a little protection potentially for purchasing a trimmer for your groin area. Check before purchasing the warranty the company offers. Most companies offer a one to two-year warranty on their product but sometimes you see a 60-day or a 90-day warranty too. Every company is different so just make sure to check it out before purchasing.
Waterproof or Water Resistance
Some people like shaving or trimming in the shower and that is fine if you like doing it this way. But if you are one of these people make sure the trimmer is waterproof before taking it into the shower.
A quick personal opinion about trimming in the shower I don't do it. As I just don't like it but it does contain the mess for clean up better. Some people just stand in the shower or tub without the water running to allow for better cleanup afterward.
Guide Combs
See when using a groin trimmer you have the option of not using any guide combs (barebones) or using a multitude of different settings by attaching a guide comb. A guide comb provides two features first, it protects more against nicks and cuts and second, it allows you to trim hair to a specific length.
I always recommend when using a ball trimmer for the first time to use a guide comb and follow the manufacturer's instructions. This allows you to practice with the added protection of the guide comb. There is a learning curve on how to trim your nuts properly, believe it or not.
A good quality ball trimmer without a guide comb attached will protect against nicks & cuts anyways.
Battery Life
Rechargeable batteries are a godsend for groin trimmers. You are already bending and reaching awkward positions to properly trim your pubes. You don't want to worry about a cord tangling up or hindering movement.
Most groin trimmers have a 60 to 90-minute run time on a full charge. This allows you to get multiple grooming sessions before having to worry about charging again. Lithium-Ion is what I typically see in most of these ball trimmers and is the top-of-the-line for batteries, allowing a quick charge and long battery life.
Handle Design
The handle design is very crucial for having a good experience with any groin trimmer. If the trimmer is not comfortable in your hand how are you going to effectively use it?
Some handles are long whereas others are short. Longer handles make getting into weird positions harder and I find the medium and shorter handles to be the most maneuverable from my own personal experiences.
Blade Width
You would initially think a smaller blade width would be better for ridding oneself of pubic hair but I have found the wider the blade width the better. There are quite a lot of variances in blade widths for nut trimmers 7/8″ of an inch to 1 1/2″ inches.
I prefer a wider blade because I get better results and fewer nicks. As with smaller blades, I seem to cut myself more often. I also prefer the wider blade because it takes less time for a grooming session. As it covers a larger area.
Blade Replacement
A good quality groin trimmer will have a replacement available for purchase. You will need to replace these over time or over damaging the blade. These are usually easy to quickly change out.
Most companies tell you, you need to replace the blade over a given time, say 6 months. But I have found that most of the time the blades hold up much longer than their stated blade lives.
So, if you notice any tugging or pulling, or even nicking of your skin and you have owned the product for a long time, order a new trimmer blade.
Tips & Questions
What Is A Ball Trimmer?
A ball trimmer is specifically designed to handle the delicate and weird skin of the ball sack and penis to trim pubic hair. Allowing for a pain-free experience as typical beard trimmers or hair clippers are not designed to handle this chore without nicks.
Ball Trimmers are almost always rechargeable devices that come with guide combs to trim hair to your desired length.
Why Do I Need A Ball Trimmer?
Nobody needs a ball trimmer but if you want to maintain a clean and well-maintained appearance you're going to have to address it and the fastest, safest, and best method which is trimming. It is far easier and simpler than shaving by a factor of ten-fold.
Also concerning the appearance, most people prefer the look of a groomed groin area to one that looks like a jungle (all hairy and wild). Also, pubic hair can trap additional heat, sweat, bacteria, and dirt. Thereby reducing the effects of smells and unpleasantries.
Can A Ball Trimmer Trim Body Hair?
Yes. A ball trimmer can also trim body hair on the other parts of the body. It is important to clean the trimmer before using it elsewhere to maintain proper hygiene. You can trim leg hair, arm hair, armpits, and chest hair with just about any ball trimmer.
Using this on other parts of the body to trim hair can be used with the guide combs or just the trimmer itself.
Do I Need To Shave My Balls After Trimming Them?
No. Trimming your balls with a quality ball trimmer will leave them pretty darn smooth and most men will not bother with additionally shaving them. It gets it pretty darn close to the skin and you won't even notice it by sight or feel.
Trimming is good enough. At least for me, it is.
If you still want to shave your balls go for it. Trim your balls and see if you think you need to shave them afterward. Take an assessment of the situation and go from there. I find shaving your balls unnecessary after trimming them.
Is A Beard Trimmer Or Hair Clippers Okay To Use Use On Your Groin Area?
No. Those types of products are not made to trim the hair on your groin area. You can do it but you are going to get pretty bloody down there.
As those types of trimmers offer little protection from nicks and cuts. It is best to purchase a separate trimmer specifically for trimming groin hair.
How To Use A Ball Trimmer?
I refer to the manufacturer's directions because each device has its own unique features. So, refer to the specific manufacturer's directions.
But basically, you don't hold the head of the trimmer to a 90-degree angle you hold it at a 45-degree angle to the skin. This takes some practice to get good at but over time you become better and better at it. Pulling the skin tight also helps as also having a stool where you can put on foot up on it. This helps you get into a better position.
Can Women Use A Ball Trimmer?
YES! This is not just for men it is for the ladies as well. Most companies are now aggressively marketing their trimmers to women too. Going as far as to offer more color-friendly trimmers to women. Trimming a nutsack is much harder than trimming a women's area…I think. I don't really know but when I think about it nothing is weirder than balls.
Does An LED Light Really Help?
Yes, it does really help to have an LED light on your groin trimmer. If you like to do a thorough job and get every single hair it will definitely illuminate that lone hair. But you also can get the job done without an LED light too.
Most companies are slowly making the switch to adding a LED light on their groin trimmers. Some have the option of leaving the LED light off or on when using the trimmer.
Do I Need To Use Shaving Cream To Trim My Balls? Any Prep?
No. This is trimming your balls not shaving your balls. A trimmer doesn't require the use of any lubricant whether it be shaving cream, shaving powder, gels, etc. It is not needed.
Why Don't I See A Manscped Product On Your List?
Well, simply I have reviewed Manscaped The Lawn Mower 4.0 and found it to be more akin to a chainsaw. As it left me a bloody mess downstairs. So, despite all the marketing and hype surrounding this product, it failed to impress me and so I do not think it is a good groin hair trimmer. Every time I use this it nicks the hell out of me.
You can read my review here and see why Manscaped The Lawn Mower 4.0 Review.
The Final Shave
I am really proud of my list of the best ball trimmers and I fully stand by each product. I have reviewed each individual trimmer and these are the ball trimmers that have stood out from the rest and I am fully confident in their performance.
If you want the best get the Meridian Trimmer Plus.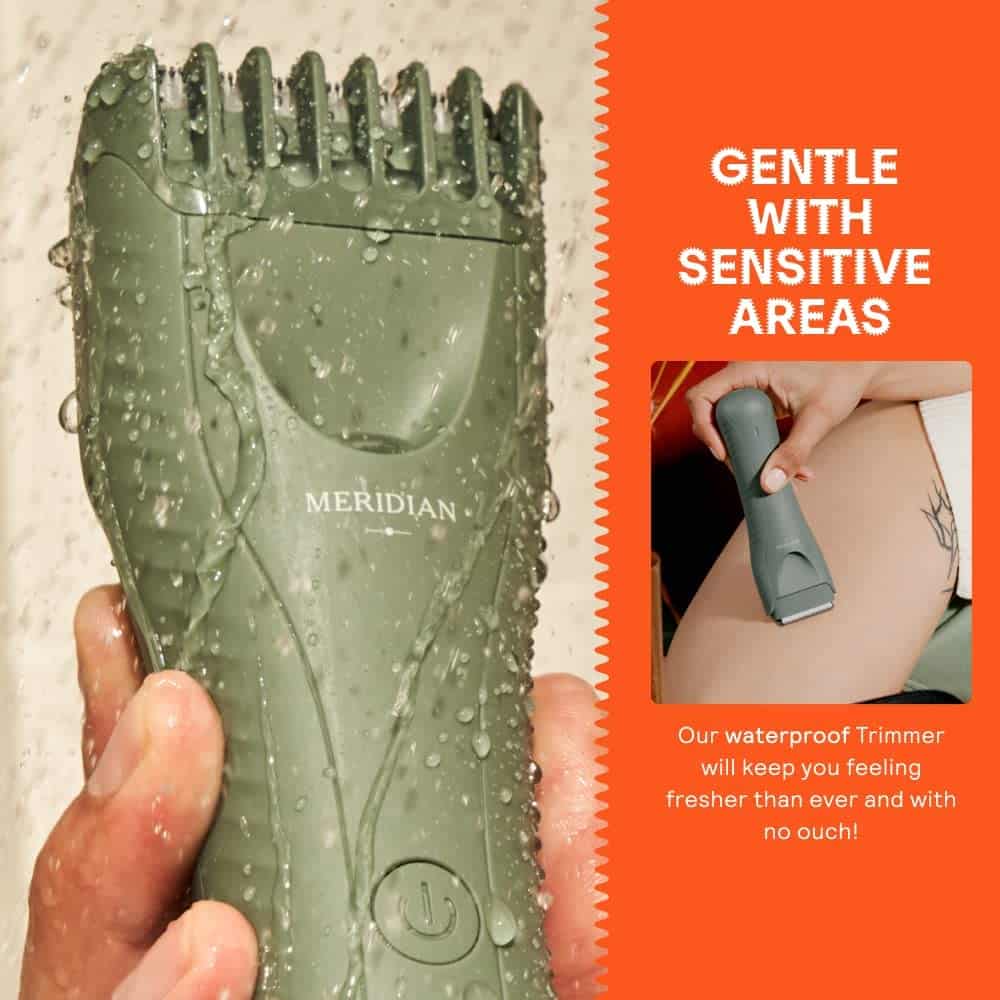 Let me know what trimmer you use below. Or if you have any questions or comments I would be happy to answer them.