A Unique Back Shaver For Sure – Is It Worth Getting?
Today in this review we will be looking in-depth at another very unique design for a back shaver the Nekmate BackRover Back Shaver. I will be going over the positives and negatives of using this back shaver in order for you to determine if it is worth buying. As well as giving my overall opinion.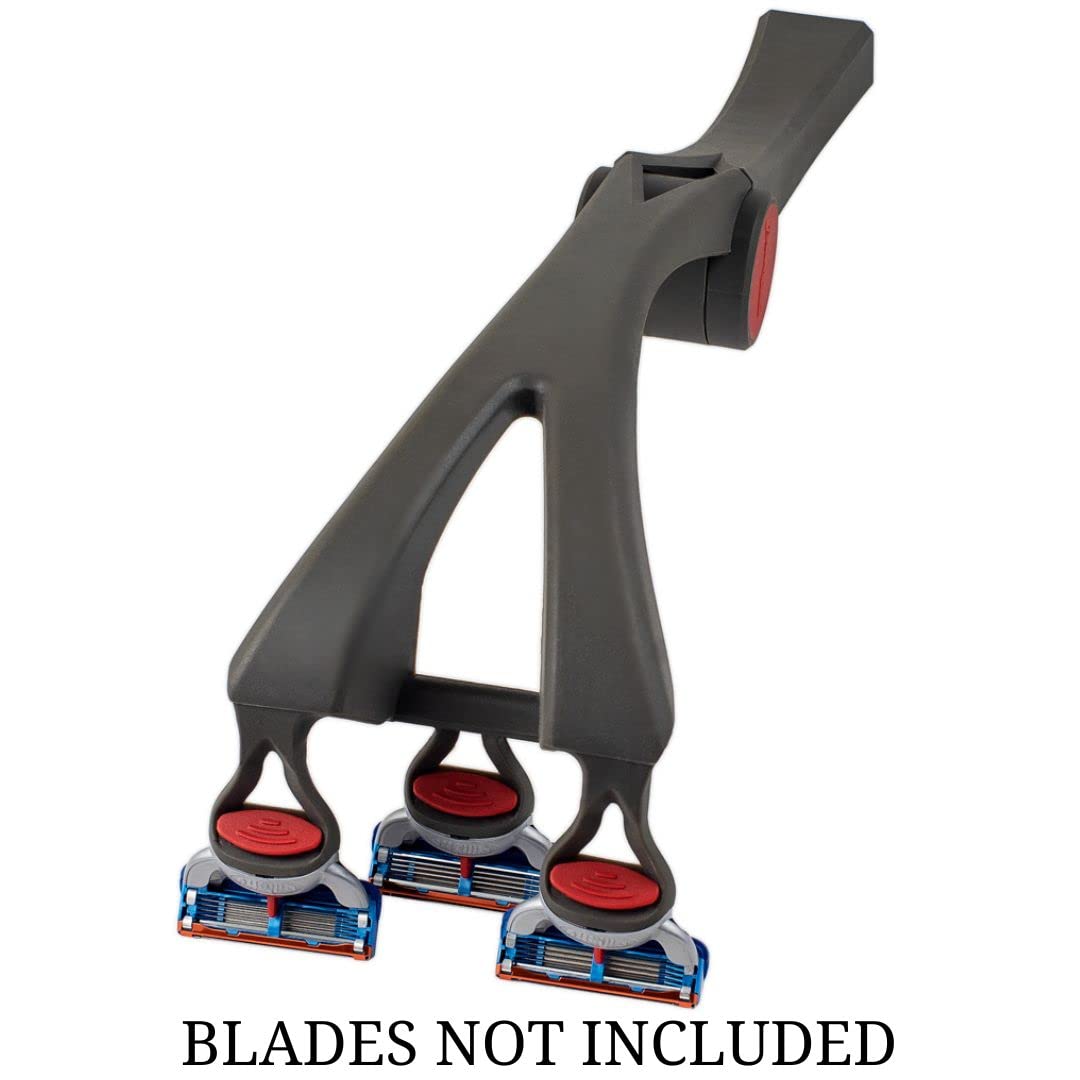 To be honest, I don't have high expectations for this because, after years of using and reviewing back shaver, I can pretty much tell right away if it will perform well or not just by looking at it.
Full Disclosure
I reached out to Nekmate when I saw they had a back shaver for sale and asked for a sample product in order to review for my website. They happily sent me their back shaver to review. This will not affect my review in any way.
What Is The BackRover?
This is a new product from Nekmate as they are venturing into the world of back shaving. As I have reviewed a product of theirs in the past, the Nekmate a device used to trim the back of your neck with consistent results. You can read more here if you are interested, Nekmate Review.
Right away I must talk about the very unique (as I have never seen this before) head of the back shaver. As it takes three disposable standard beard razors. Two of the places where you attach the beard razors are in line with each other while the third is offset from the other two and placed below the other two. This allows you to increase the shaving width, as you will be shaving a large area such as a back.
This does not come with any razor blades. You have to buy them separately. The razors are attached to the handle just like a standard beard razor.
The handle folds in half for easy storage and travel. The handle is very robust and sturdy and is a decent length with a slight s-curve to it.
What Is Everything That Is Included?
1 – Nekmate BackRover Back Shaver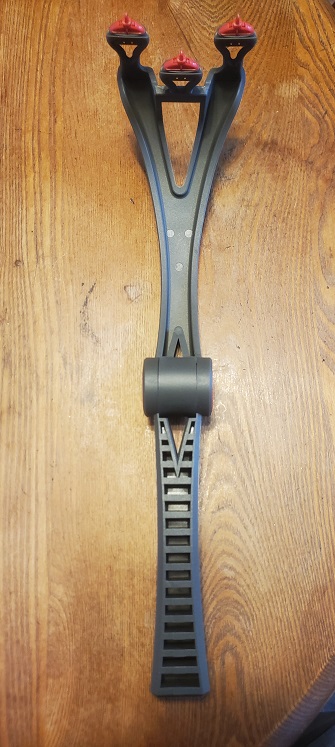 BackRover Specs
The handle measures 16 3/8″ inches long. Depending on what razors you attach depends on the width of the shave but without any shaving cartridges applied, you get a width of 3 3/4″ inches wide.
How Well Does It Work? Is It Worth Getting?
First off, I no longer recommend back shaving with any beard razor. When I first started my website I was open to it but now (much wiser) I am no longer.
Why?
Because it will frustrate you. These beard cartridge razors are meant and designed for shaving facial hair. It is not meant for longer and sometimes thinner hair on the back. Another reason is that a single sharp razor is better suited to this task. Trust me, I've been back shaving for over a decade now and have reviewed almost every back shaver there is.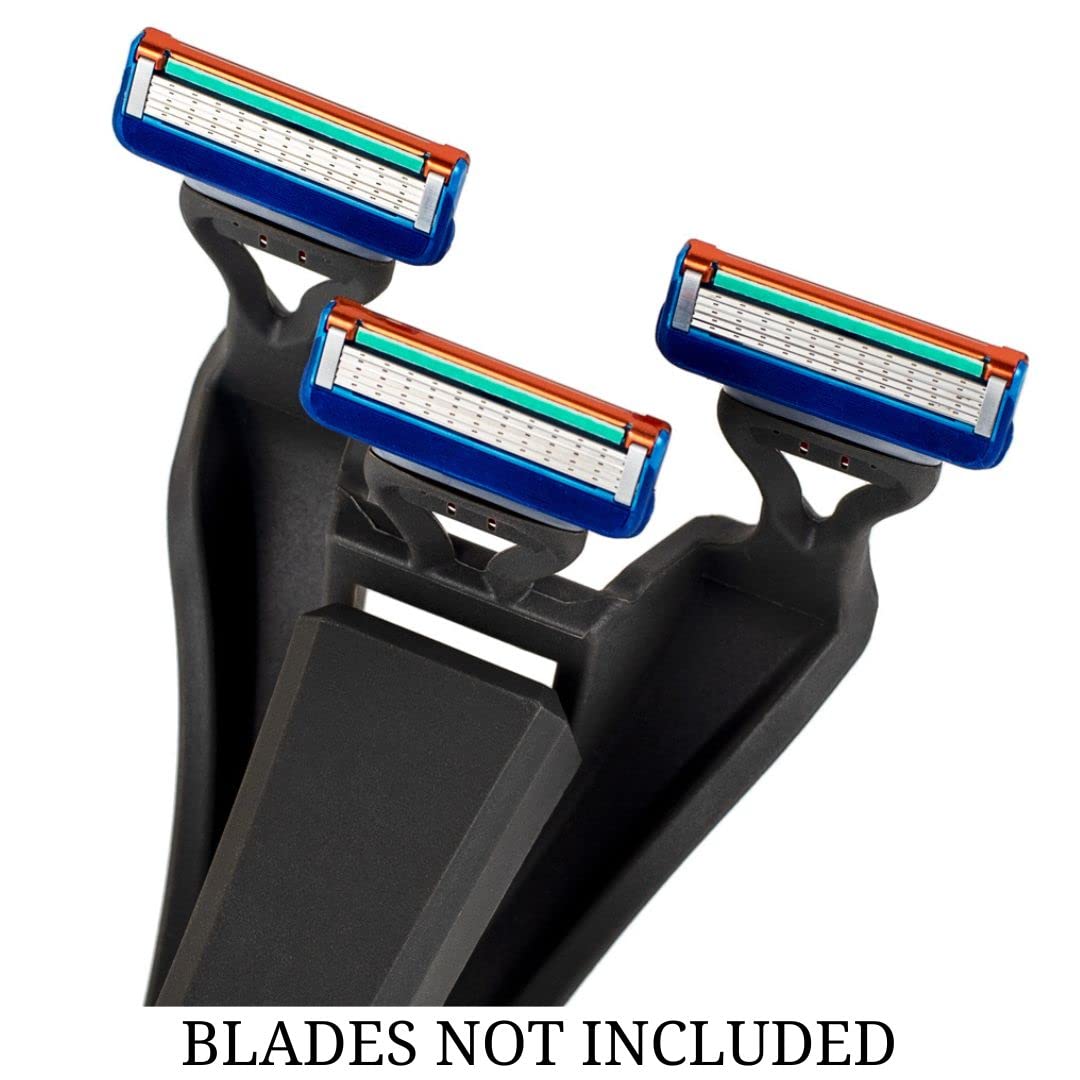 Using a beard razor to shave your back is going backward in time to when back shavers first started coming onto the market. It is not going forward toward progress and innovation. It is repeating the past with a bad design. The big names in back shaving (Bakblade, Bro Shaver) do not use a beard shaving cartridge.
Now on to the actual review.
Well, how bad is it?
It is worse than I initially thought. Yeah…it is that bad.
The reason is that only one razor is in constant contact with the skin most of the time. This is usually the middle razor which sits lower than the other two and so it makes contact first. I kept struggling to get it to shave with all three razors at once but this is next to impossible.
I quickly gave up trying to shave my back after only a couple of minutes. I refuse to struggle this much, it would probably take an hour to effectively shave my back and I do not have the time or patience.
Avoid buying this overpriced and ineffective back shaver. I will provide a link if you are still interested in purchasing below.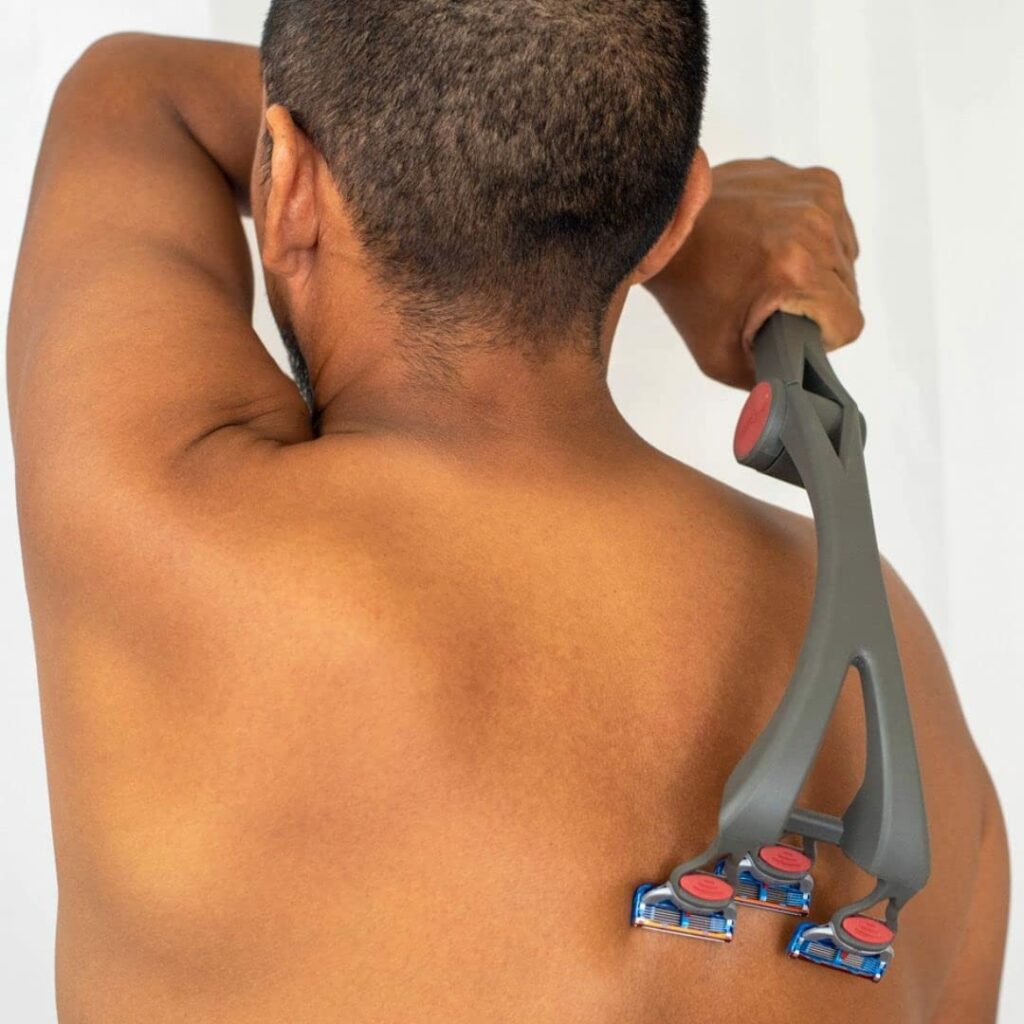 Pros & Cons
Pros
Comes nicely and securely packaged.
The handle is foldable for easier storage or travel.
Solid handle. It feels strong and would be hard to break. One of the strongest I've seen.
The handle feels decent in the hand and the textured underside helps you maintain a secure grip.
Cons
Doesn't shave very well at all.
Blades are NOT INCLUDED. Does not come with any razor blades as you have to purchase the razor blades separately. What a pain in the ass! I no longer shave with 5 razor blades as they irritate my skin to much (I use a single razor), so I have to purchase these blades just for this review.
It uses beard razors for shaving your back. I never recommend using any beard-type razor for shaving your back, it just doesn't work well. Beard-type razors don't work with back hair as well as single razor blades do. This is going backward in the field of back shavers not forward. It shows a lack of research and knowledge.
Overpriced. For this back shaver, you are paying only for the plastic back shaver and not any razor blades. To charge you what they charge you to purchase this it should come with more, after all this is only plastic.
The types of razors they built this back shaver for will clog with hair very quickly. Back hair is lighter but often longer. This longer hair will clog these razors in one or two passes and you will be spending a lot of time unclogging them. The types of razors they recommend also clog quickly while using them to trim beard hair which is shorter generally. I hate these types of razors. Why, because there are better products available for cheaper and which perform better.
Only one of the three blades was in constant contact with the skin. The other two sometimes made contact and most often did not.
Not good for shaving around edges like your shoulders and sides as only one blade (middle) is working.
You have to work, think, and constantly change the angle to get it to shave. Does not index well at all. So frustrating.
Blades clog with hair.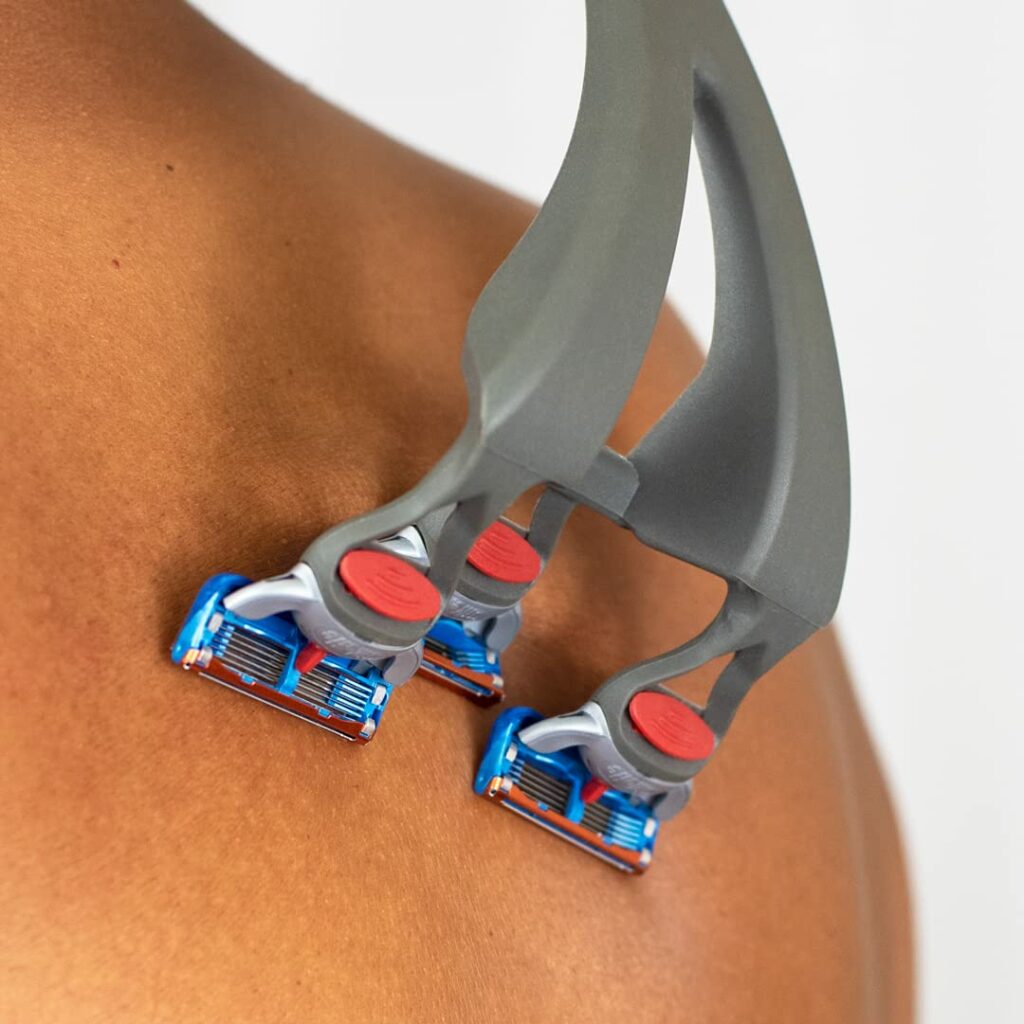 What Blades Are Compatible With The BackRover?
You will have to purchase separately the razors and I will list what is compatible with the BackRover Back Shaver below. According to the Nekmate Back Rover fits both manual and power versions of the models mentioned.
How Does This Compare To Other Back Shavers? Other Recommendations
This doesn't hold a candle to the best back shavers on the market. It has a decent handle but other than that it gets whoop like a red-headed stepchild.
For the best back shavers, I highly recommend you check out my post on the 5 Best Back Shavers In 2023. It lists the top 5 best back shavers and helps you understand everything about back shaving.
For specific products, I recommend the following products.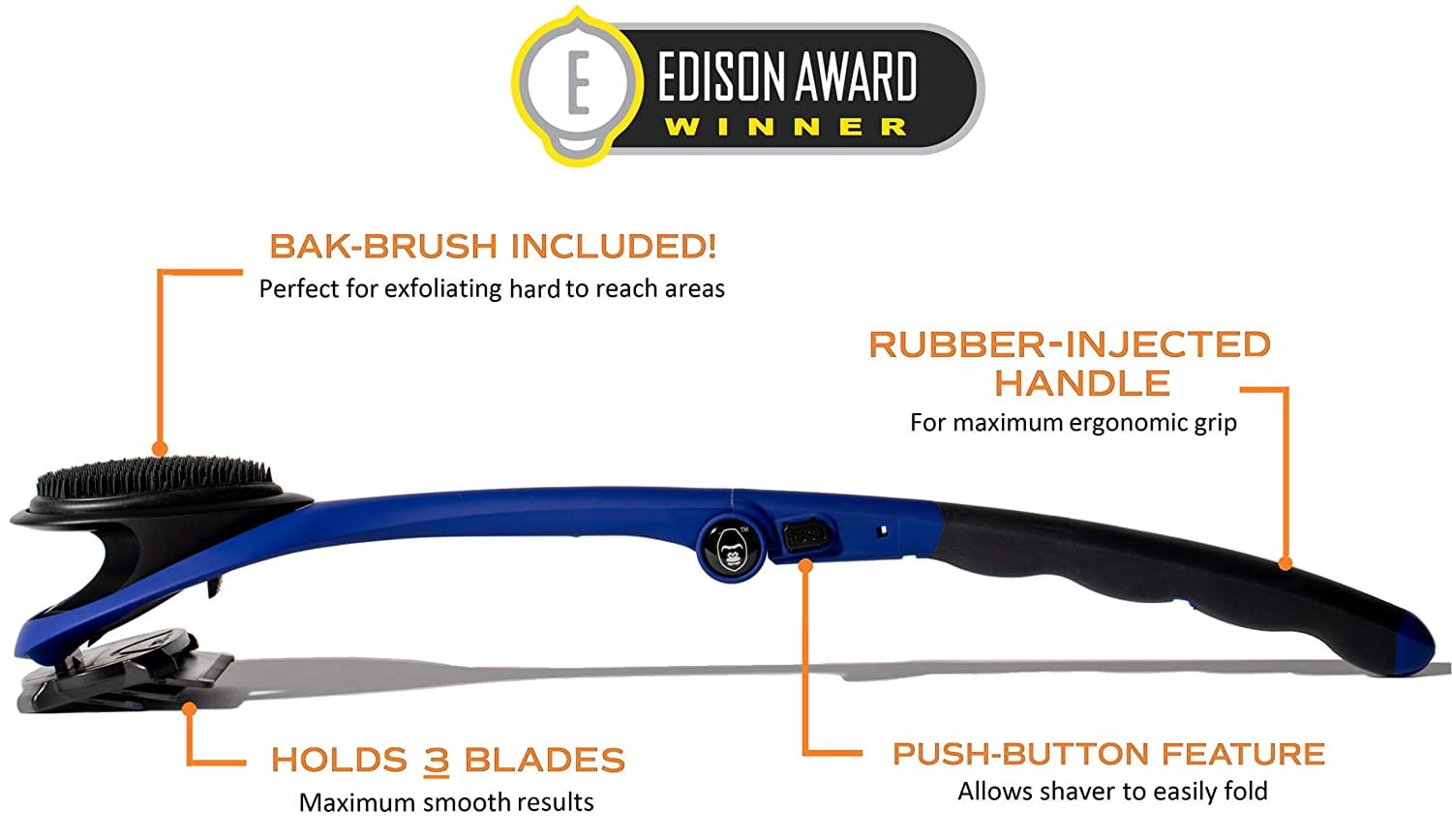 The Final Shave
I'm sure the person or people that designed this had the best intentions but this is a total lemon and should be avoided at all costs. It will shave your back but do you have an hour or two to do this when with a good back shaver it takes under 10 minutes and with far less frustration?
Nekmate needs more time in designing and researching a little bit about a back shaver before making one.
I would highly recommend you don't buy this back shaver.