Some people prefer electric shavers over manual (razor) shavers for different reasons. They like the option of just trimming the hair instead of shaving it or they just enjoy all of the options of both. There are not as many electric back shavers being sold as there are manual back shavers on the market but in this post, What Is The Best Electric Back Shavers? I will list the top electric back shavers along with their strengths to better make a well-informed decision.
It Can Be Very Confusing, Can't It?
Taking a first-hand chance on a back shaver for the first time and hoping and wondering if it really works is a shot in the dark sometimes. Luckily at BackShaverForMen.com I own and have used every back shaver I write about. Unlike other websites, that just point to what they think works the best without the actual knowledge and experience. But rest assured I have will give my honest opinion about every product I write about. That is why I created this website to help men find a good back shaver.
Check out my page on why you should trust me here, Why You Should Trust My Reviews On Back Shavers?
I Must Be Honest I Prefer Manual Back Shavers That Use Razor Blades Over Electric
I have just about every back shaver on the market and what do I reach for when I want to shave my back the Bakblade 2.0 Elite Plus. But I know everybody is different and some people will just prefer an electric and that is fine but I feel I have to be perfectly honest and just disclose this anyways.
Read my full review here, Bakblade 2.0 Elite Plus Back Shaver Review.
Also if you want all my top 5 back shavers listed in every field check out my page, 5 Best Back Shavers In 2021.
With that being said let's move on to the electric side of things. zzzzzz
The Best Electric Back Shavers Currently
Get this and don't look back.
This is no question the current and reigning king of all-electric back shavers on the market is the Mangroomer Lithium Max Plus Back Shaver. This is quality in spades, as every aspect of this back shaver is quality, from the motor to the handle and everything in-between. Somebody gives a shit and it shows on the performance side of things as well as the aesthetics.
Mangroomer makes a bunch of different electric back shavers but this is their top-shelf model. Their other ones work great too and are slightly cheaper as well.
This uses two shaving head attachments, 1 is for trimming the hair, the other is a foil type shaving head to get hair below the surface of the skin. This has provided me with the best shave from an electric back shaver ever.
To read the full breakdown on why this back shaver is king head on over to my page, Mangroomer Lithium Max Plus Back Shaver Review for more information.
Why The Lithium Max Rocks!
The motor is great and supplies enough power for the hairiest of beasts.
This model has the widest trimming head to trim hair the fastest. 2.7 inches wide!
Comes with two heads, 1-Trimming Head and 1-Shaving Head.
2-year warranty. Nice!
Super comfortable handle that fits the hand very well.
Highly adjustable handle to get any angle you desire.
If you are worried about cutting yourself this device will never cut you, super safe.
Uses Lithium batteries, so it charges well and holds a good charge. Will last through multiple uses.
Folds in half for easy storage.
Changing heads is super easy.
Has a power burst button for increased power.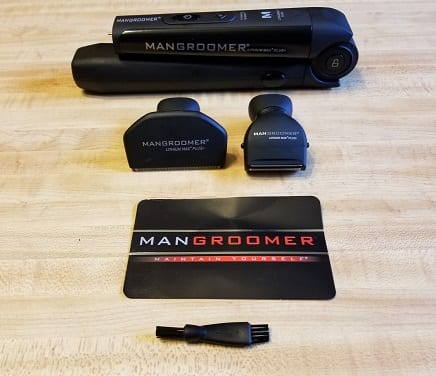 Electric Back Shavers To Stay Away From
Yes…there are definitely back shavers that suck and make back shaving really hard. A general rule is anything without a real name, just a general name is junk and not worthy of buying it. I will post some pictures of electric ones that suck below to help you avoid them.

Mangroomer Is Legit
Rest assured this is the best electric back shaver! I fully get behind this as the best in its field.