What Is The Bakblade 2.0 Elite Plus?
Excuse me…hairy man-beast, excuse me…The Best Back Shaver in the World coming through here. In this BaKblade 2.0 Elite Plus bach shaver review, I hope to explain and show why this thing just simply rocks!
Needless to say, I am pretty impressed with this BaKblade, come to think of it I've been impressed with all of their (Bakblade's) back shavers over the years of reviewing back shavers. You can check out my other review of BaKbalde back shavers here. They are all great back shavers.
BaKblade Makes Great Products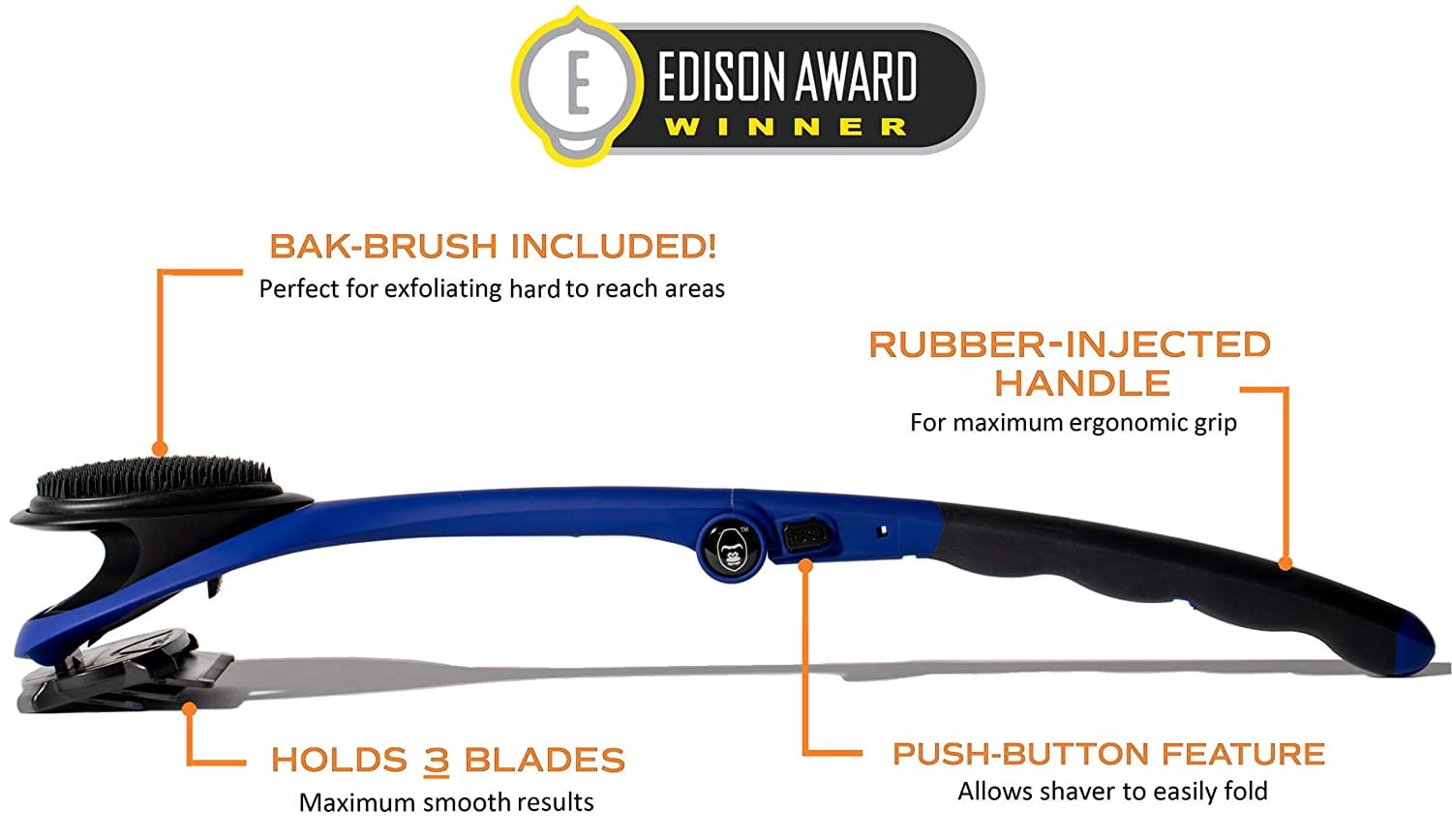 What Is Included?
1 – Ergonomic handle and Shaving Head
1 – 3 attached DRYGlide Blade Cartridges
1 – 3 extra DRYGlide Blade Cartridge
1 – Back Exfoliating Brush (detachable)
1 – Cleaning Brush
1 – Suction Cup Mount for hanging
1 – Set of instructions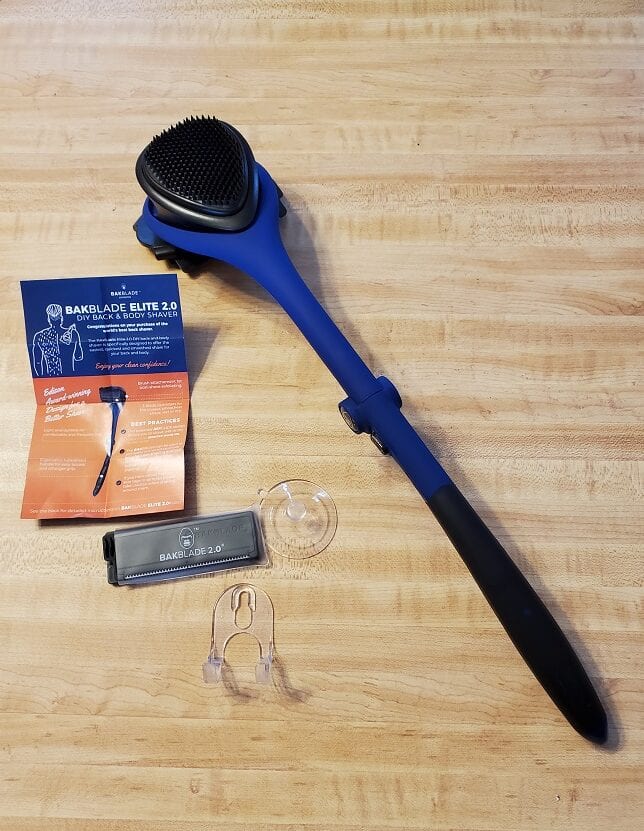 Bakblade 2.0 Specs
The Handle
The length of this handle fully extended is 17 3/4″ inches long. I got about 9 3/8″ inches in length when collapsed for traveling or storage.
The handle has gone through some changes since I last reviewed it. The S-handle shape has been replaced by a simpler handle and I might add a better handle. It still has some bend to it, which is highly needed for reaching all areas of the back.
The handle is also the best I have used. It's super comfortable in the hand and provides a firm and even grip.
Shaving Head
The shaving head is 3 3/4″ wide at its widest. The shaving width has the equivalent of two safety razors side by side at a 3″ inch shaving swath.
This newest model has 3 DRYglide Blade Cartridges strategically stacked on top of each other to provide the best back shaving experiences you can currently buy on the market. These are patented and rightly so because of how well they work.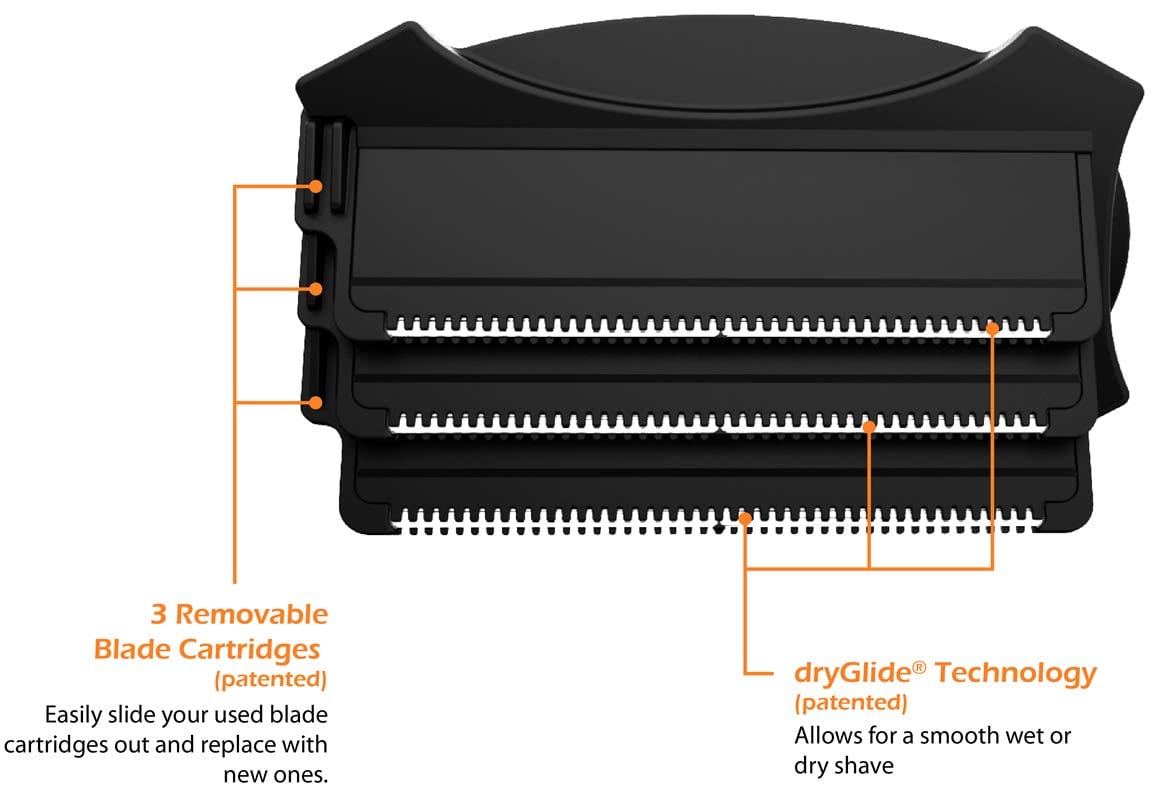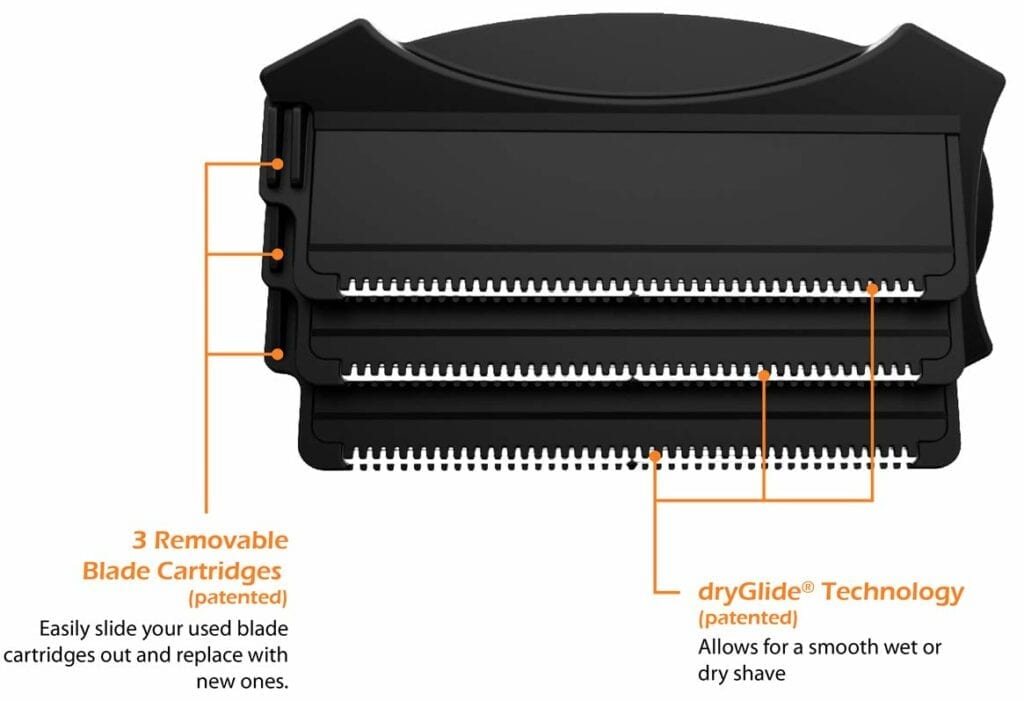 I have used other stacked razors and they just don't measure up to the performance of the Bakblade DRYglide shaving head. The competition is not even close.
How Does It Perform?
I was expecting it to perform on the same level as past models (which was GREAT btw) but no, it actually performed better!!
I know I was shocked and surprised.
Better?
Yes, a lot better!
So, my highest ranked shaver (BaKblade 2.0), this shaves better? Yeppers!
DRYGlide Rocks!!!
The combination of the extra DRYGlide Blade Cartridge (3 cartridges instead of the last model 2 cartridges) and maybe the slight redesign of the angle(s) get this thing a cutting better than their previous models and keep in mind their previous model was the best rated back shaver I have reviewed.
They just keep improving with each newer model.
So how is that, for how good this current 2.0 Elite Plus works?
Pretty amazing! I know, right?
Hair comes off effortlessly with a stroke of the handle. Leaving the skin free of ugly unsightly back hair. Shaving time is reduced as well, as the extra cartridge leaves you not having to go over an area a bunch of times to make sure every hair is gone.
Saving you a whole bunch of time as well as being hassle-free.
Probably the fastest shave time I have experienced. As I don't have to go over an area as much as I do with a back shaver with a single row of razors.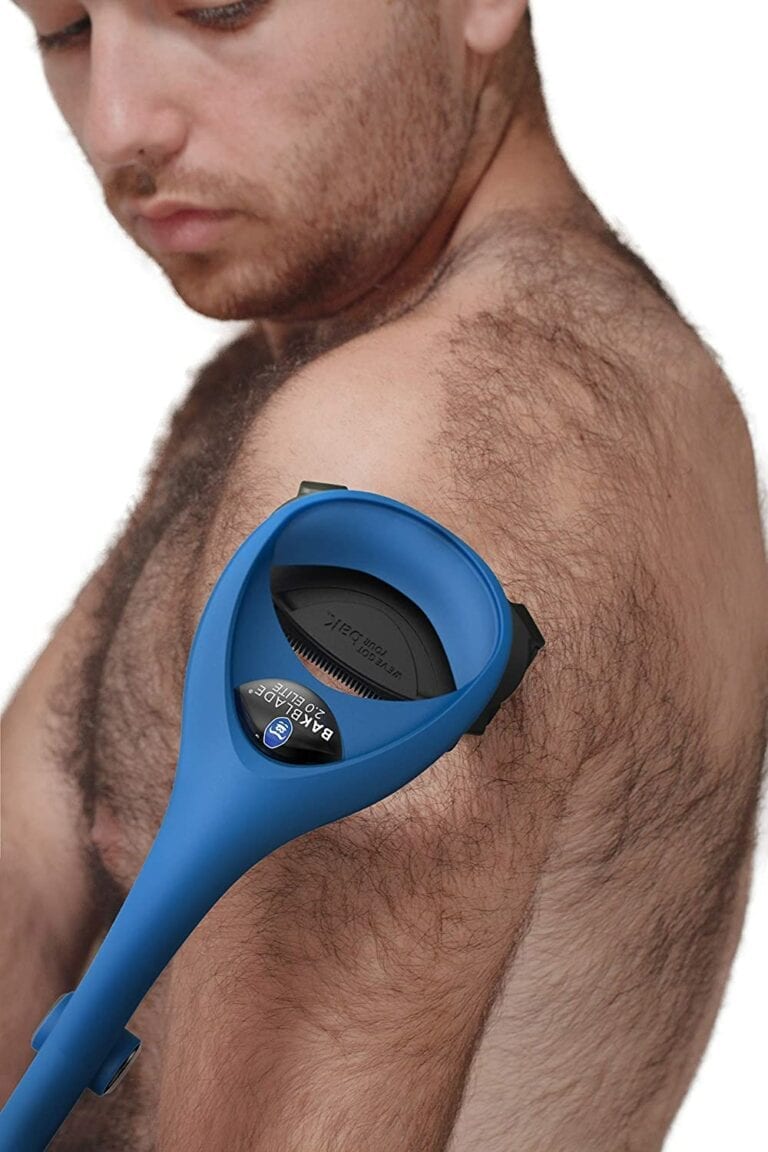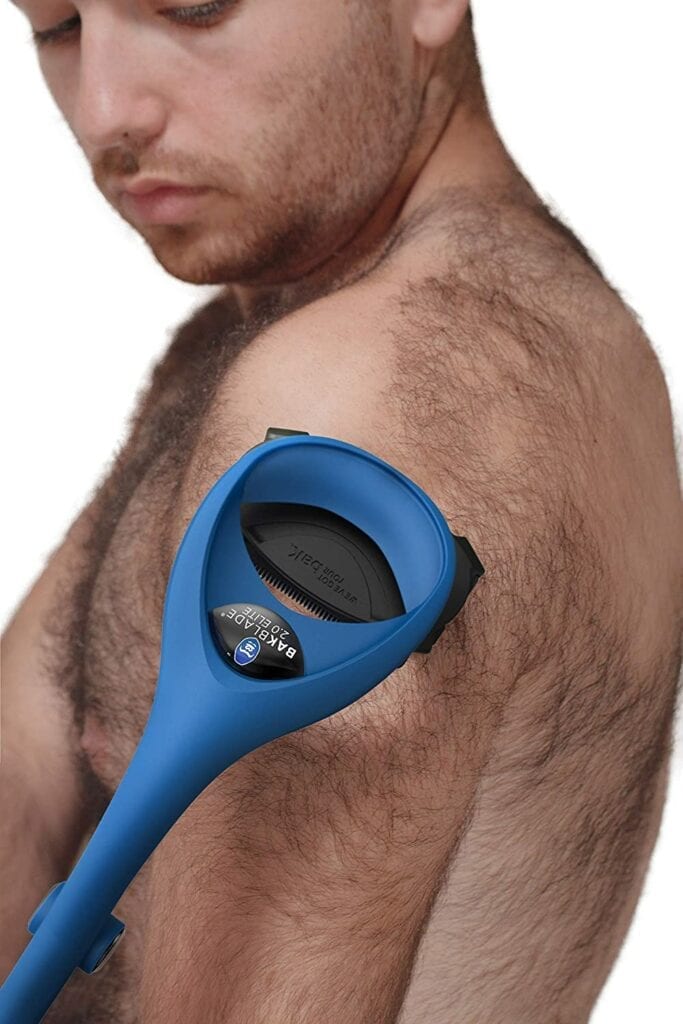 Pros & Cons
Pros
THE BEST Handle in the back shaving game. Tina Turner's "Simply The Best" comes to the forefront of my mind!!! So comfortable and easy to reach anywhere. Handles are not the real game-changer but it sure is nice.
A super close shave!!!
The amount of careful thought and engineering put into this back shaver is apparent as soon as you pick it up. I've picked up just about every back shaver out there and trust me this is the best engineered one out there.
Collapsible handle for easy storage and traveling.
Shave time is cut down as you need to go over body parts less with a third DRYGlide Blade cartridge.
Cartridge changing is simple. Just slide to the left to remove and slide to the right to replace.
Suction cup and hanger supplied for hanging in the shower if you shave your back in the shower.
Forgiving cartridges for moles. This didn't cut me on my one mole, FYI.
I have been reviewing a lot of cheap China-made back shavers and I can tell you this, BaKblade is not cheap China-made junk. It uses the best materials and design. Only the best plastics are used.
No clogging of hair.
Can be used for both wet and dry shaving.
I love when instructions are included with back shavers, as a lot of men have never shaved their backs before and this helps them past their first back shaving experience.
The handle length has gotten longer since the older 2.0, which I find is better.
No cuts or nicks after shaving my back.
High customer praise. The Amazon Choice for back shavers.
Cons
Everything has its negatives and the Elite 2.0 Plus is no exception, with any back shaver that uses cartridges there is going to be an issue with the cost of replacing those cartridges, as compared to just replacing the safety razor blades. As some models of back shavers use safety razor blades, for those that don't know safety razor blades are pretty darn cheap, depending on the brand. By using a back shaver that uses cartridges you are going to be paying more for replacement cartridges than just buying bulk safety razor blades.
You're dependent on BaKblade for choosing the supplied safety razor blades in their cartridges. There are options for safety razor blades like extremely sharp, sharp, and mild. I think BaKblade makes a good choice on the razor supplied but for some, maybe it will be a problem.
Not a big fan of the exfoliating scrub brush, but I can see it used in the shower for people that shave in the shower.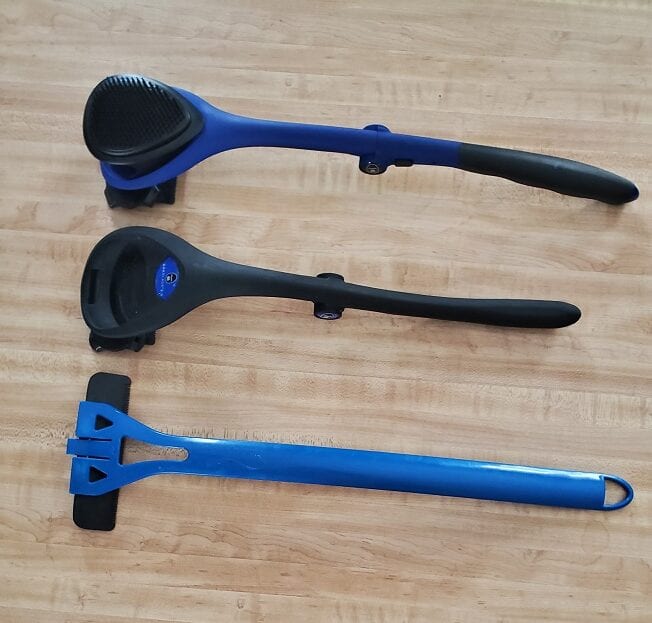 Tips On This Back Shaver
GET IT! That is the best tip I have. I fully and highly recommend and support this product and is the best back shaver on the market. Quality product all around and rock-solid performance.
That being said it might not be for everybody. For the frugal at heart in the long run they might be turned away by the cost of replacement cartridges. As the replacement cartridges are not that expensive but compared to a back shaver that uses replaceable safety razors they can seem more pricy. Plus you will get 5 to 7 shaves before needing to replace cartridges.
Another tip I have to save you the most money is to buy the 12-pack of Bakblade replacement razors. This will save you more money by buying the larger quantity of blades as compared to the smaller quantity of blades. This is true for just about anything but thought I would just mention it.
You should have no problem with this back shaver.
Common Questions & Answers
Will This Cut Me?
Any device that uses a razor can potentially cut you. So always respect such a device. Just read and follow the instructions provided by Bakblade and you will not cut yourself. That being said, I have never even so much as nicked myself using any of Bakblade back shavers and I have used them all for years!!! They are the safest and best designed on the market.
Remember to take it slow at first and make straight deliberate pulls. You will shortly become a pro and you will no longer worry about it or even think about cutting yourself.
Should I Shave Dry Or In The Shower?
I like shaving my back dry. I don't like doing it in the shower, just my personal preference I guess. I find shaving in the shower to be more problematic, as the hair clumps and clogs in the cartridge when wet.
Dry shaving just falls and doesn't really clump or clog the razors and this is why I love dry shaving my back hair.
Both methods will work just find out which one works for you the best by trying them both. But dry shaving is my favorite by far.
Can You Travel With It?
Yes, it stores and travels very nicely. As the handle folds in half and easily fits into luggage or a Dopp kit.
If you don't have a Travel Bag, also called a Dopp kit or toiletry bag, I highly recommend getting one, BaKblade makes a nice one, and for a good price to match. The Elite 2.0 Plus fit easily within it too.
Check out my review of the Bakblade Leather Travel Bag Review.
How Long Do Bakblades Blades Last?
Depending on how hairy you are, the blades will shave your whole back between five to seven times before needing to be replaced. I typically get about 5 to 6 shaves before I notice the blades are getting dull, this is highly subjective to the individual. As for some people, their back hair is thicker and denser and will need to replace the cartridges more often than somebody with thinner back hair.
Does Shaving Your Back Hair Make It Grow Faster?
No, it doesn't affect thickness or rate of growth.
How Often Do I Need To Shave My Back?
This is dependent on the individual but most men stay on top of the back hair situation weekly. This is to maintain a clean and fresh look and improve confidence. Sometimes I go through months without shaving my back depending on the season. Shaving my back more in the spring and summer months and less in the colder months.
You set the routine around your life, if you don't want to shave your back and have nothing going on then leave it.
How Long Does It Take To Shave Your Back?
It can take roughly around 10 minutes to completely shave my back. Again this is dependent on the individual. Your shaving time will take longer when you are new to back shaving but shaving time will decrease soon afterward.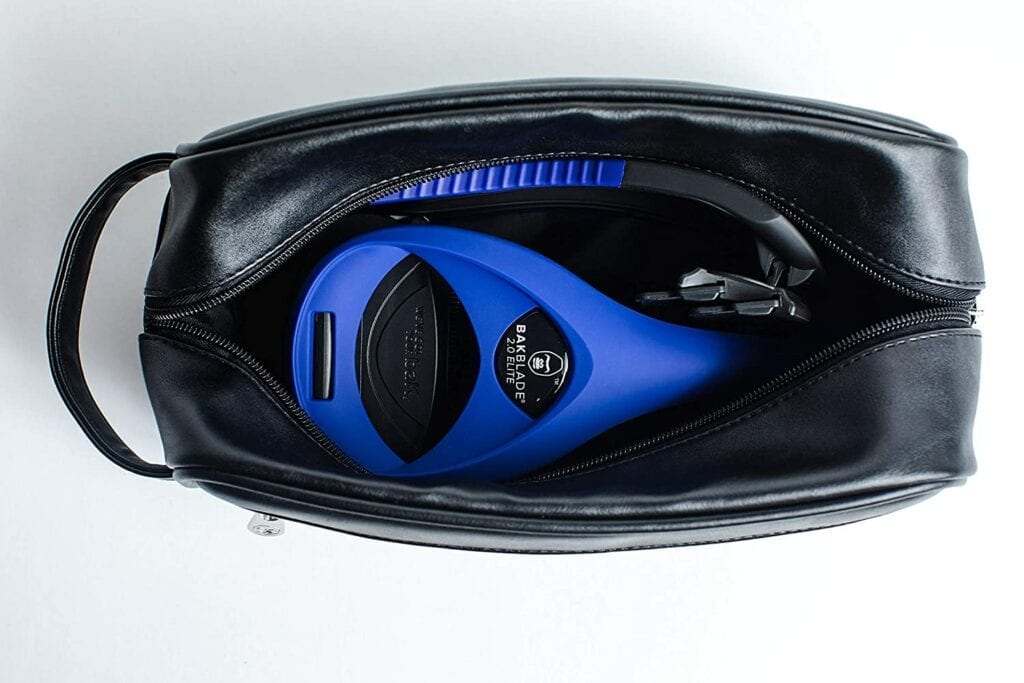 What Is The Difference Between 2.0 Elite Plus and 2.0?
The Bakblade 2.0 has just two cartridges while the 2.0 Elite Plus has 3 cartridges. The Bakblade 2.0 has a shorter handle as well as it has an S-curve handle. I don't like the S-curve as much as the newer longer handle as the 2.0 Elite Plus. I also believe the angle of the cartridges has been slightly adjusted to provide a better shave too. A total better working upgrade from the 2.0 to the 2.0 elite plus.
Does The Bakblade 2.0 Use The Same Cartridges as the 2.0 Elite Plus?
Yes, they both use the same exact cartridge. The only one that has a different cartridge is the original Bakblade 1.0 Big Mouth. This uses a single row of three safety razors lined up side by side, while the 2.0 and the 2.0 Elite Plus use 2 safety razors lined up in each of the cartridges.
Will This Shave Off Moles?
If you have any skin abnormalize you should definitely avoid shaving these spots. Moles, scars, skin tags, and pimples should be avoided or shaved right up to them. I have never had a problem with this but I don't really have any skin problems on my back. (just hair)
The Final Shave
Matt Dryfhout (owner) over at BaKblade is constantly pushing improvements and never stagnating on his products. He just keeps improving his products year after year, earning a solid reputation for quality products. This shows through the three back shavers he has produced over the years.
Also, setting the standard very high and just impressing me with every product released.
This is the best shaver I have reviewed to date currently and I highly recommend it. There are a few minor negatives but nothing is perfect, but this is damn close.
Get it and don't look back!