BAKblade Leather Travel Bag
Having reviewed every back shaver from BAKblade I jumped at the opportunity to review their Dopp Kit. It is also called a toiletry bag or travel bag, hygiene items are usually stored. I hope to share another great product from BAKblade in this BAKblade Leather Travel Bag Review.
Since we are on the subject of back shavers and if you are in need of a recommendation of the best back shaver in the world currently, I know because I have reviewed just about all of them on this website, head over to my page, Bakblade 2.0 Elite Plus Back Shaver Review. Trust me this thing is the best out there.
Review & Features
This is a solid travel bag with no real thrills or unnecessary parts, just a simple elegant-looking black leather toiletry bag. Simple and effective. A real classy look.
The easy grab exterior handle makes for simple grabbing and going. It has two zippers and two compartments. The side pocket is for thinner objects and the main compartment is obviously for the larger items.
This folds smaller naturally when it is not full but also expands when packed full of items. This kinda adapts to whatever you put in it.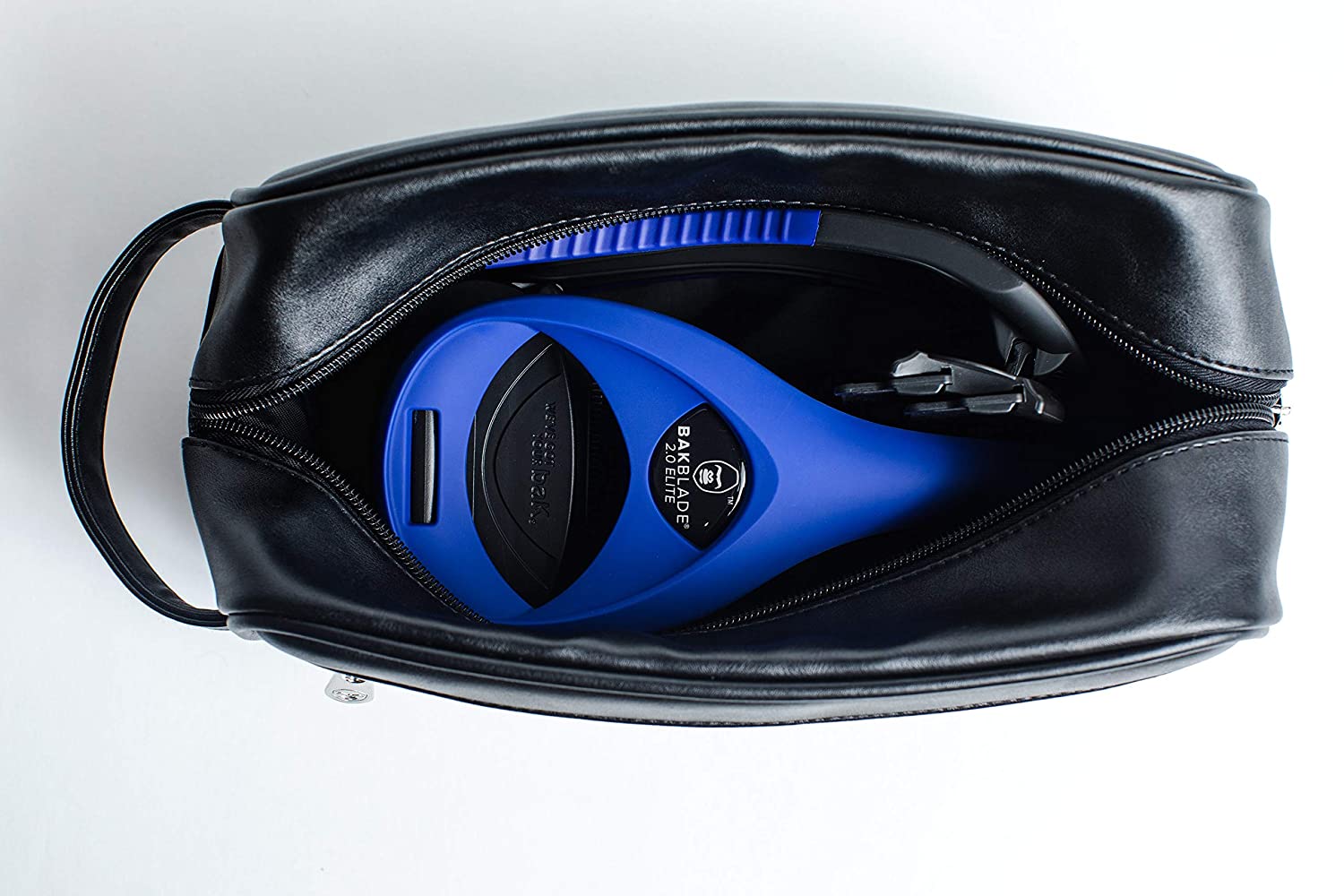 What I Like About It
Very roomy! Plenty of room for all your toiletry needs.
A great product and very affordable.
Can fit 2+ BAKblade and shaving products easily.
Thick premium leather. The sidewalls are thick and sturdy.
1 Side pocket for additional storage.
Specifically designed to store all of BAKblade products and BODblade products. Except for the original BAKblade 1.0 no foldable handle.
Looks high end. The black leather is really eye-catching.
Zippers seem high-end and also have a gorilla on them.
Lined interior to help protect your contents.
Can serve two purposes. One, back shaver storage solution or two, a travel kit with all your hygiene items.
Has a nice grab-and-go exterior handle.
What I Don't Like
No interior pocket or divider, to help separate anything that needs to be separated.
No idea if this is waterproof.
Specs
This travel kit is approximately 10.5 X 5 X 5 inches. The kit exterior is made of a matte black leather. It has two zippers, one for the main storage and a second zipper for the side pocket on the exterior of the bag. Smaller thinner items should be stored in the side pocket, as not much else can fit into this slim pocket.
There is a real sense of roominess when you start putting items in here and this is a good thing. As you don't not want a fully loaded travel kit, it would be hard to find things in there.
I have also reviewed another Dopp kit you can read about it here, Habitoux Dopp Kit Men's Travel Toiletry Bag Canvas & Leather With Waterproof Lining Review.
The Final Shave
For how cheap this bag is and the quality you get, this is a real no-brainer. It's big enough for your hygiene needs and great if you want to keep all your back shaver equipment in a simple and easy storage solution, instead of always searching for them in your drawers.
A great way to keep things organized and ready to go.
Any questions or comment feel free to post in the comment section, as I enjoy helping people.